Air Snapshot: Send Photos From iPhone/iPad To Mac Over WiFi
If you're an Apple fan, a loyalist or just a believer in the concept that software companies should make their own hardware for better results, then it's possible you own both a Mac and an iPhone. Both are superb devices, and their respective OSes work as well as you would expect. Like all software and hardware, there exists with Apple products a disparity between how a device works and the way you want it to work. Apple products follow a certain pattern, and while you may not always like how things get done, it doesn't necessarily mean there is something wrong with the product itself. Of the many things that Apple is rather adamant about, the method of moving files between a Mac (or a Windows PC) and an iPhone via iTunes is one of the more commonly known and faced constraints. iPhone owners don't really have to care much for this, since there are many apps available for utilizing the space on an iPhone. Then, another rather annoying behavior (to some users) is that when you connect your iPhone to your Mac, Image Capture will always load and ask to import your pictures. If you disable it, you will have to use iTunes to sync photos, and that, too, gets complicated. If you've ever wanted to end your dependency on an app for transferring photos from your iPhone to your Mac, you need, ironically, another app for that. Air Snapshot is a free Mac app that works with an iOS app of the same name (worth $1.99 in the the iTunes App Store). It is nothing complicated and requires both devices (iPhone/iPad and Mac) to be connected to the same Wi-Fi network in order to transfer pictures.
Before you can start transferring pictures to your Mac, you need to specify a location for saving them to. Air Snapshot does not automatically create a a folder in your default Pictures directory. Open the app's preferences from its Menu Bar icon, and in the Settings tab, specify a location for your images. You can also enter a name that all images will be saved by.
Next, launch the app on your iOS device. You can take new photos and save them to your Mac, or transfer ones already present in your Camera Roll. On your iOS device, you will notice two buttons at the bottom left of the app. One opens the Camera app for taking new photos, while the other allows you to access the Camera Roll. After you take a photo or select one from your Camera Roll and it is duly loaded by Air Snapshot, click Save and the photo will be transferred to your Mac. A small counter on your Mac's Menu Bar will tell you how many images have been transferred in total.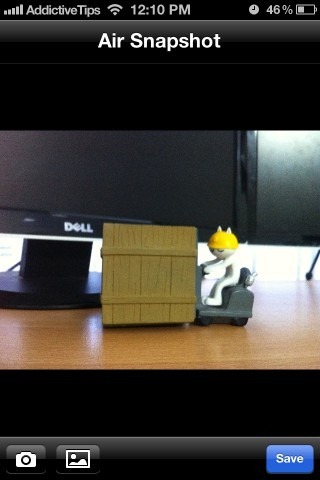 Since both apps are new to their respective app stores, there is undoubtedly plenty of room for additional features. The apps' concept is to be able to send pictures from your iPhone to your Mac without having to connect with a cable or syncing it via iTunes.
Improvements that can be incorporated in the app are to enable a password protected connection between your Mac and iPhone. Currently, in the iOS app, once you've clicked the Save button and a photo has been saved to your Mac,  it gives no indication that the save has been successful. The screen does not change either, and if you continue to hit Save, you will be storing the same picture over and over to your Mac. A notification for when an image has been saved and subsequently a method for ensuring you don't save the same image twice to your Mac should be added. Lastly, you can only send images one at a time. A method for selectively sending images from an album or sending an entire album (where a folder of the same name is created on your Mac) will make it far more productive.
Overall, Air Snapshot presents an easy way of transferring photos to your Mac, and if you're willing to pay the small price tag, it will make life a little easier.
Get Air Snapshot From Mac App Store