How to view battery for Bluetooth devices on macOS
macOS lets you view the Bluetooth battery percentage for connected devices. The devices that it supports are very limited. It supports Apple devices mostly, i.e., Airpods, trackpads, keyboards, and it supports select Beats headphones, but the list is small and unlikely to grow any time soon. For non-Apple devices, you don't have a lot of options.
Battery for Bluetooth devices on macOS
To view, the battery for Apple manufactured Bluetooth devices, follow the steps below.
Open the System Preferences app.
Go to the Bluetooth preference.
At the bottom, enable the 'Show Bluetooth in menu bar' option.
This will add a Bluetooth icon to the menu bar. Click it, and it will show the battery percentage for connected Apple devices, though, not for iPhones.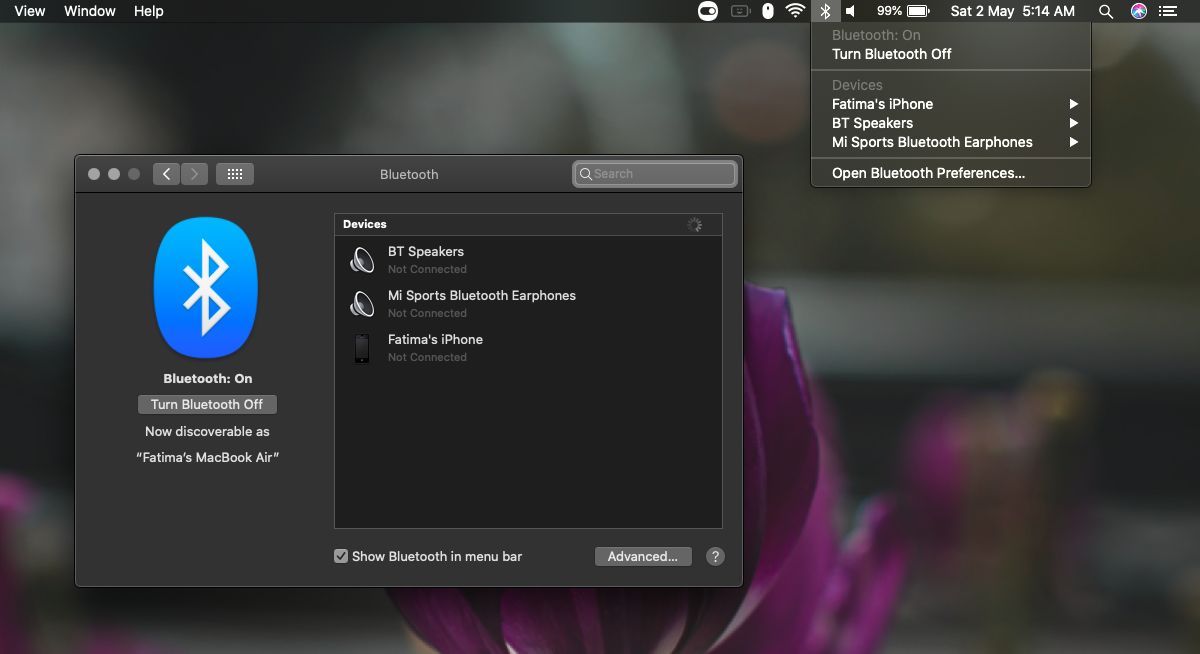 Bluetooth devices are generally capable of showing their battery, but they do need an app for the job. On macOS, Akku is a free, open-source app that can show the battery percentage for non-Apple devices.
Download Akku, and move it to the Applications folder.
Run the app, and it will add a battery icon to the menu bar.
Connect your Bluetooth device to your Mac, and click the icon.
You will see all your devices listed and their battery percentage.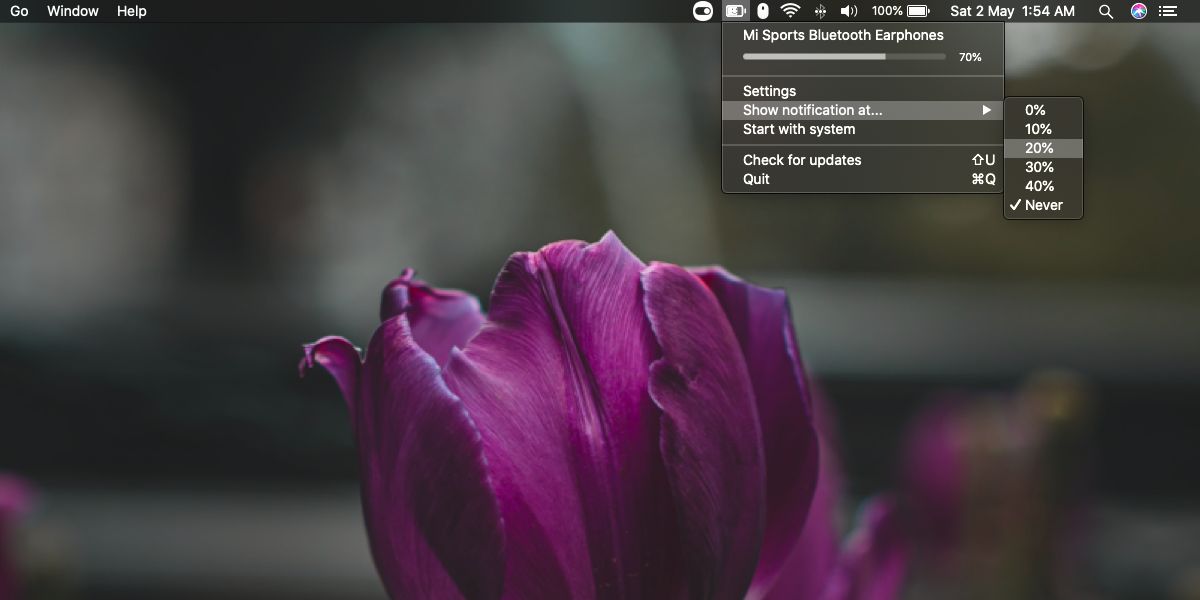 Akku can also alert you if your device's battery is low. Go to Show Notifications at and select the level that should trigger a warning. For Apple devices, there isn't a built-in method for getting alerts, so you're going to have to keep an eye on them yourself.
Bluetooth Battery percentage
Akku works for headsets and not other types of Bluetooth devices. If you need to view the Bluetooth battery percentage for a mouse or a game controller, you can try an app called ToothFairy. It isn't free. It costs $5, but it supports more devices than Akku does.
An app isn't the only thing you need to view the battery percentage for a Bluetooth device. Most Bluetooth devices do report their battery levels, but not all do. They may be a small subset of the devices in the market, but they are there.
Apple isn't alone in only displaying the battery for a limited number of Bluetooth devices. Windows 10 has the same limitation. It can display the Bluetooth battery percentage for a very small number of devices, and like macOS, users need a third-party app to view the battery levels for these unsupported devices. Unlike macOS, though, the app for Windows 10 isn't free. It is really good, though, and worth the one-time purchase.