How to get the Catalina menu bar on Big Sur [macOS]
Big Sur has made a significant change to the macOS design. Many users have yet to warm up to it even though there are some aspects that are a much-needed improvement on the old design. The menu bar has changed too; it used to be a solid color but it is now transparent or translucent.
For many users, the new translucent menu bar is a problem because the menu bar is home to many apps and their icons aren't as easy to identify on a bar that isn't solid.
Catalina menu bar on Big Sur
If you miss the nice solid white or black color that the menu bar was in Catalina, you can get it back with an app called Boring Old Menu Bar.
Boring Old Menu Bar is not a free app. It costs $9.95 for a single user license, and an additional $9.95 for lifetime upgrades. The app does have a 14-day free trial that lets you try the app out before you choose to buy it.
Download Boring Old Menu Bar.
Move the app to the Applications folder when prompted to.
Run the app.
Click the app's icon in the menu bar.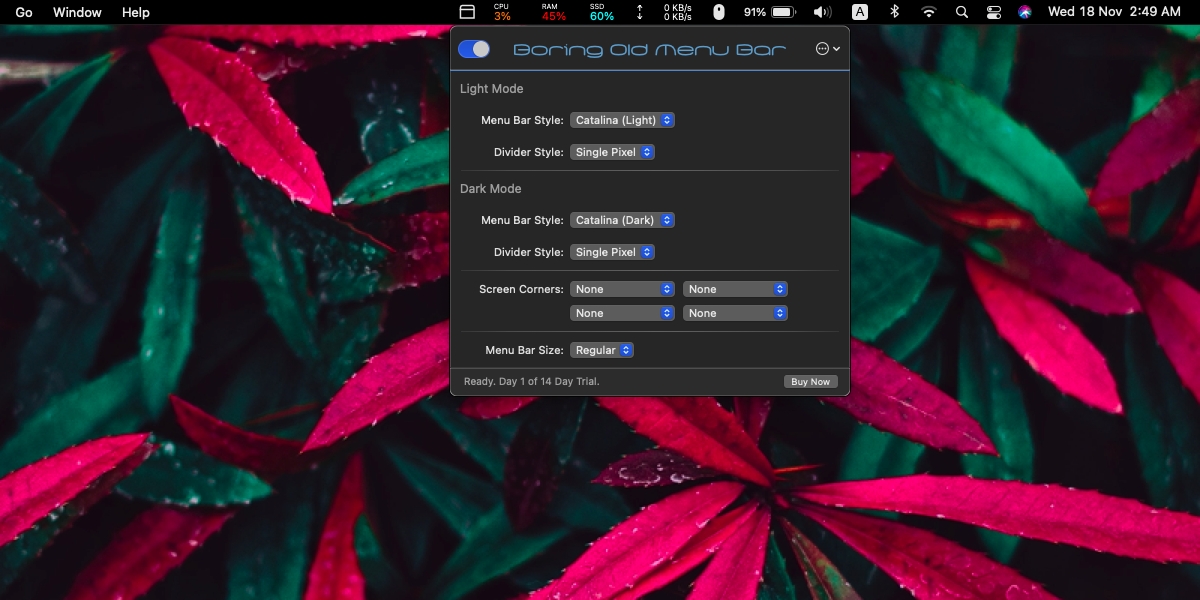 Under Light Mode, select 'Catalina (light) in the Menu Bar Style dropdown.
Under Dark Mode, select 'Catalina (Dark) in the Menu Bar Style dropdown.
The change will be applied however if it isn't, use the switch at the top left to toggle the app Off and then on.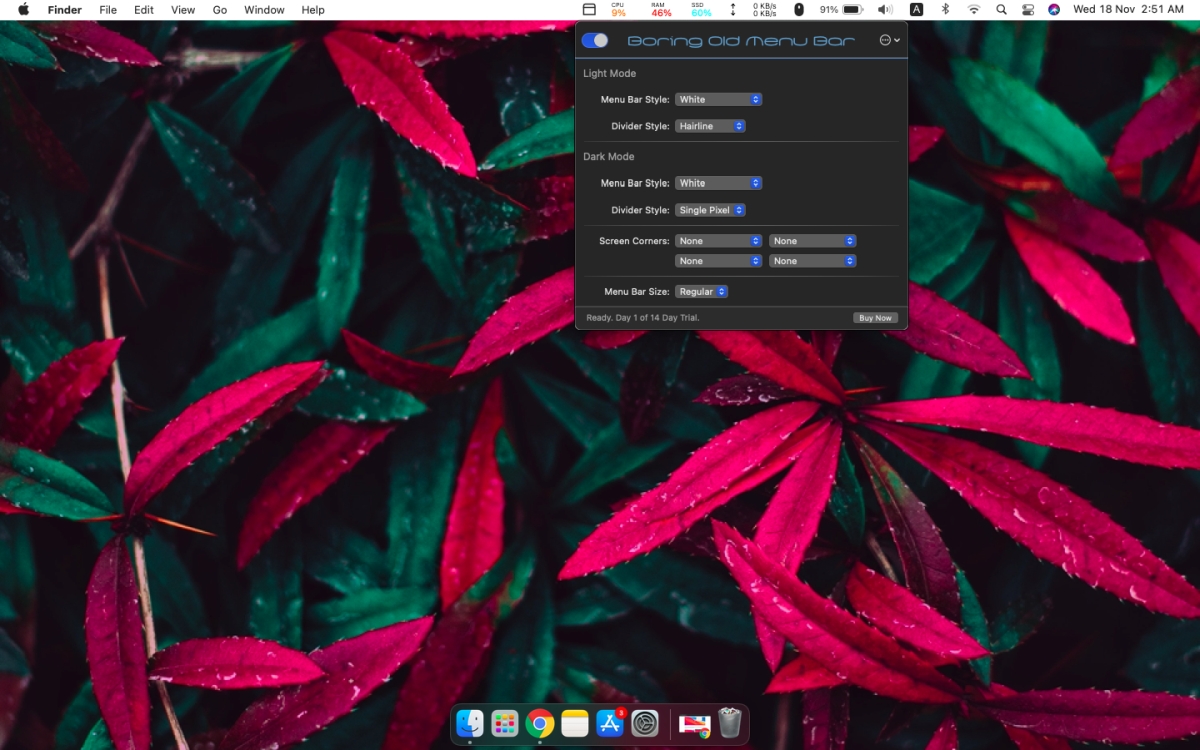 Customize menu bar color
Boring Old Menu Bar offers other customization options for the menu bar. We covered an app that allows users to set a custom menu bar color on Big Sur however, if you don't like the transparency of the menu bar in Big Sur and would like a solid color on the menu bar, Boring Old Menu Bar can do the job.
Open Boring Old Menu Bar's settings.
Open the Menu Bar Style Dropdown.
Select Custom.
Select any color of your choice.
The menu bar will change to that solid color.
You can set a different color for light mode, and dark mode.
Conclusion
Boring Old Menu Bar can also add rounded corners to the menu bar. It may not appeal to everyone but for those looking for a more iPad-like look, they're easy to enable. Users can also make the menu bar slightly thicker by adding 1px to its height from the Menu Bar Size dropdown or make it slightly thinner by taking 1px away.