MailRecent: Copy Or Move Emails From Mac Mail App To Recently Used Mail Folders
Apple Mail is arguably one of the easiest email client to configure but it's devoid of some features which would've made it more useful and efficient. For instance, if you've configured multiple mail accounts and want to move messages from current mail folder to recently used email folders, you have to manually search that folder from Move To context menu menu which appears when you right-click a message. MailRecent, a small Apple Mail plugin, provides you with a quick solution that doesn't require searching through mail folders. It lets you navigate through recently used mail folders and most importantly, move and copy selected message to previously used mail folders of any configured mail account. It adds Go to Recent option in the Mailbox menu, and Move to Recent and Copy to Recent options in Message menu to perform the said tasks.
Using these menus, one can easily view the recently used mailbox folder, and move or copy currently selected messages to any previously used mailbox folder. Before installing the plugin, close all the instances of Mail App. Now open System Preferences, move to General window and make sure that show recent items for Applications is not set to None. If you're using Mac Snow Leopard, open Appearance from System Preferences and set the number of recent items for Applications. Once done, close System Preferences and install the plugin. Now launch Mail app to verify the installation from Mailbox and Message menus.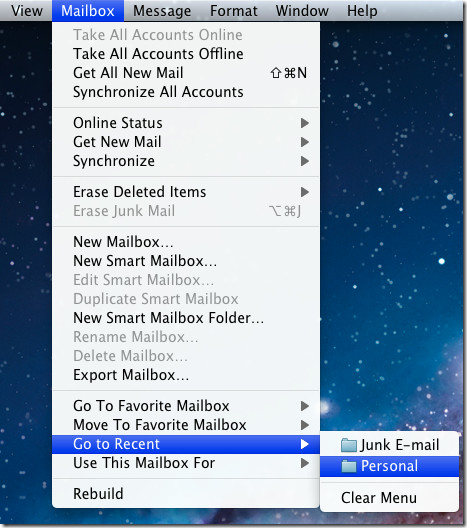 MailRecent makes it easy to locate and move or copy selected items to most frequently used mailbox folders. Just right-click the message which is to be moved, and select required folder from Move to Recent menu.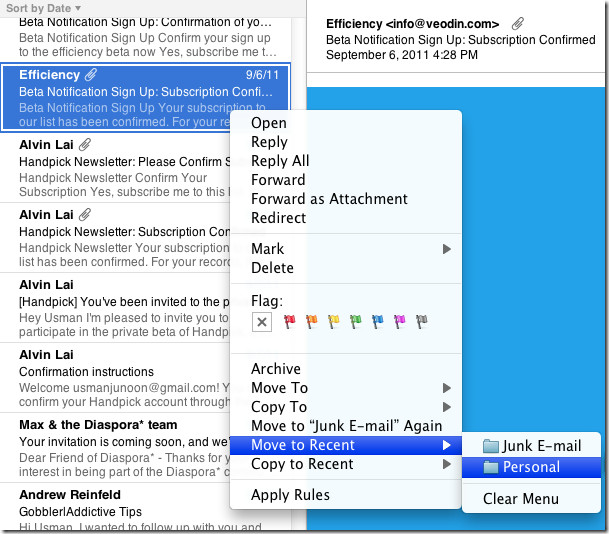 The Copy to Recent menu copies the message to selected folder. The Clear Menu option is available in these menus to quickly clear the recent item list. MailRecent Mail Plugin works on Mac OS X Lion. The Snow Leopard version supports Mac OS X Snow Leopard, Leopard, and Tiger.