DelegateLite – Handle Multiple Project Tasks & Assign Them To The Team
Managing tasks can become a bit difficult when it's required to not only list them on paper but to assign them to different team members as well. Generally, task managers focus on only individuals rather than teams, and thus, do not provide options to add team members to share tasks and collaborate on different projects. Newly developed DelegateLite is for advance task management. It is a small task manager with simple UI, providing a long list of features to create and assign tasks to different team members.
The basic design is based on GTD (Getting Things Done) concept, letting you quickly create, edit, assign and handle tasks for multiple on-going projects. With GTD based UI, managing over-whelming to-do list becomes fairly easy. You can simultaneously deal with as many projects as you want to. Each project is listed in different category with option to create a separate task list.
Delegate allows creating unlimited numbers of tasks, all of which are listed in different project categories with option to change tasks details and edit involved team member lists. When launched for first time, you need to create a new project task category followed by specifying team members. You can import team member contact details from Address Book (if already added).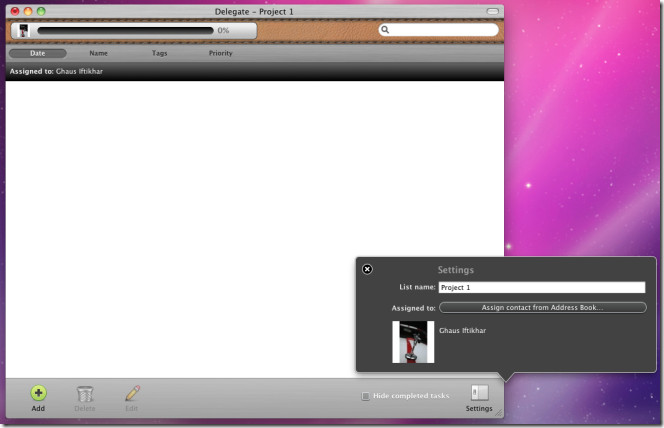 Once project or task category is added, start adding new tasks from bottom-left corner. You will be asked to specify task commencement data, task title, details, task tags, and priority. Once defined, click OK to add more tasks under newly created project.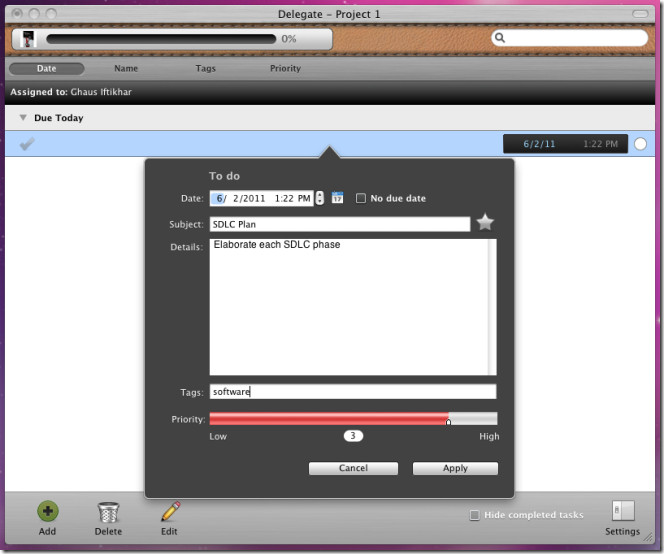 All the tasks with specified date, priority level, and task tags are shown on main interface. Editing existing tasks is one click away. Select the task and edit any of the specified details. The tasks are categorized according to their date of commencement. You will get to see all the tasks for current week in Due Within This Week and later are shown under Due Later field.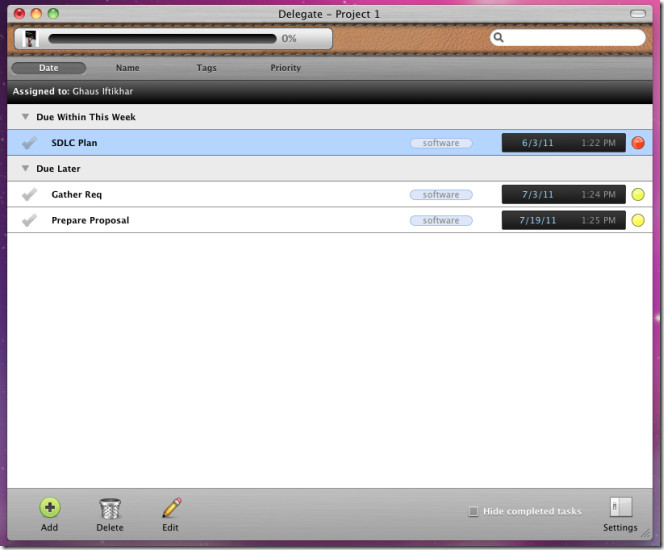 Ticking a selected task will mark it as completed. The project progress bar at the top shows how much work has been done on the project in question.

Delegate has a Pro version costing $29.99 as well, which offers advance sharing, sync, and task details import & export options. We tested the Lite version. It works on Mac Snow Leopard and Lion.
Get DelegateLite from App Store