Dupe Guru Finds Duplicate Files Even When File Names Do Not Match
Dupe Guru is a simple duplicate file remover which, unlike many other duplicate file removing tools, uses fuzzy matching algorithm to scan multiple locations for duplicate files. The algorithm is smart enough to find not only the files with same type and name but can identify duplicates with different file attributes. The file finding mechanism is totally customizable, you can change the way it searches for duplicate files.  Furthermore, the built-in reference directory and grouping system will prevent you from deleting those files which should not be deleted from the system.
The process of scanning and deleting duplicate files is easy. The main screen will first ask you to specify location which you wish to scan . You can add as many locations as you want. Once locations are defined, click Scan button.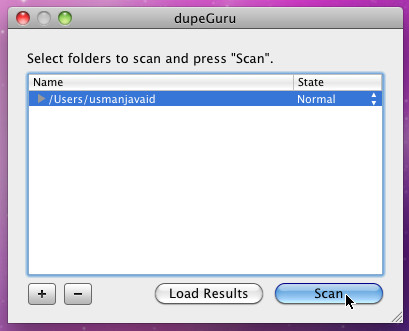 It will start listing down duplicate files with info like, name of file, folder path, size and matching percentage. Several groups of files are created to help you in sifting through duplicate files. In the status bar, you can view total disk space which is being consumed by duplicate file groups. The search result specific options can be accessed from right-click menu. You can remove selected items from list, add selected items to ignore list, open the file in Finder, and rename file.  The Filter bar at the top-right will assist you in narrowing down the search result.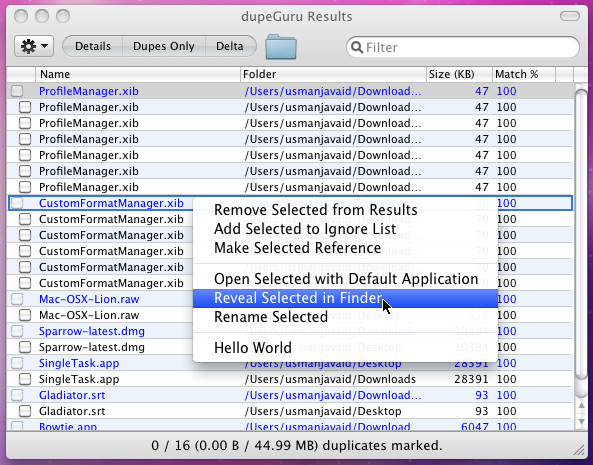 Once you've filtered the list, click Settings button to perform operations over marked items. Here, you will find options to move marked items to Trash, delete marked items and replace them with hard links, copy marked to specified location, etc.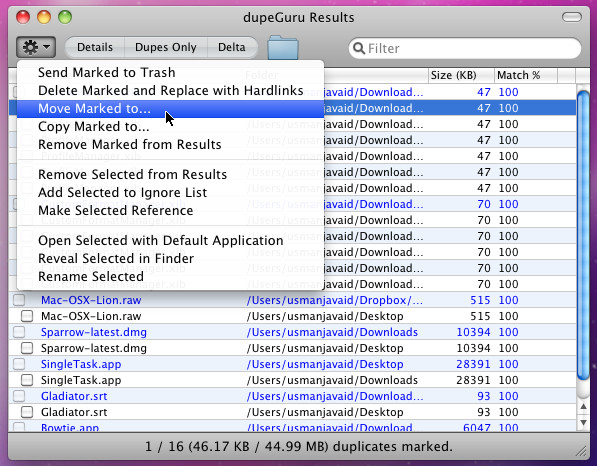 After you've performed operations over the marked items, re-scan the locations to verify the total space saved. Dupe Guru is also available for Linux and Windows OS platforms.