Easily Arrange Mac App & Finder Windows In Multiple Ways Via Hotkeys
Snapping windows to either side of your screen is one of my favorite features in Windows 7. The feature works equally well on Windows 8 for desktop apps, along with a variant for Modern UI (Metro) apps that uses a quarter of the screen in a narrow column. Sadly, OS X doesn't have anything like this and if you're using an iMac, you might find that a lot of your screen space is going to waste. There are quite a few Mac apps that allow you to snap windows to either side of your screen, but they are mostly paid or buggy. iSnap is one free exception that we reviewed last year that mimics Aero Snap quite well. Arranger is yet another Mac app that lets you arrange windows, but it offers more options than iSnap, along with fully customizable shortcuts that differentiate between app and Finder windows.
The app can snap windows to the top, bottom, left, right, or one of the four quadrants of the screen, and even center an app or maximize it. You can set exceptions i.e. apps that Arranger will ignore, and define margins that the app should leave on each side when windows are snapped to it. Lastly, the app has an 'Arrange Windows' option that will position all windows on your screen as best as it can, to make them all easier to work with. The feature isn't all that impressive though, and the productivity value of the arrangement can be considered inversely proportional to the number of windows you have open.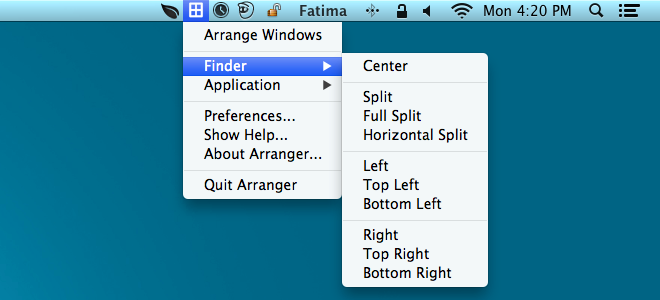 Arranger supports shortcuts for snapping and arranging windows, but none of them are configured by default. You can start using Arranger from its Menu Bar if you don't want to use or record keyboard shortcuts. From the Menu Bar icon, select what you want to arrange. You will see that Finder windows can be arranged in many more ways than app windows.
To enter margins, define exceptions, and record shortcuts, go to the app's preferences. The 'General' tab lets you define margins,  though they are relative to the scale and cannot be defined in units like pixels or inches. It additionally lets you define the width of a 'centered' window.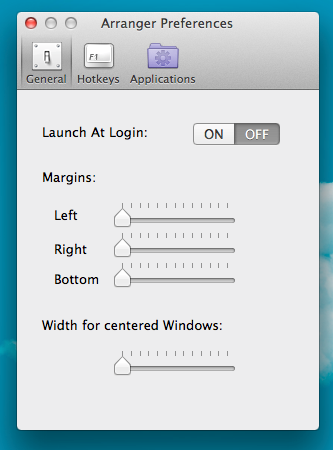 The 'Hotkeys' tab is wholly dedicated to shortcuts. There are quite a number of them that you can record, and it's likely going to be hard to remember them all. Just like the menu options, there are different sections here for Finder and app windows.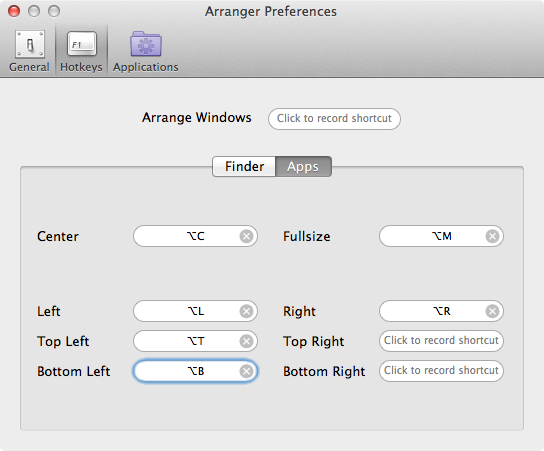 Lastly, the 'Applications' tab lets you add apps to Arranger that it should ignore when arranging apps. To add one, just click the plus sign and double-click the selected line that's added to enter the app's name.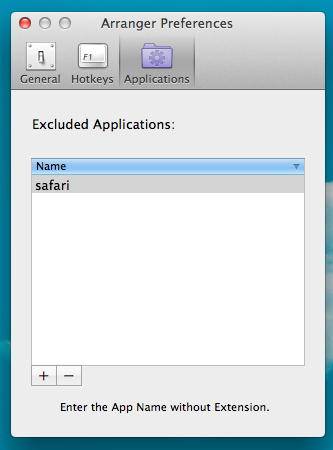 That's all there is to fully setting up Arranger. It requires Mountain Lion, works well and comes without a price tag, though the developer asks you make a donation if you like it. The shortcuts take a little time to respond to when you first record them but, work smoothly after awhile.