Email Filing Assistant Lite: Automate Email Filtering In Apple Mail [Mac]
Email is possibly one of the best things about the internet, until it starts to pile up and your inbox has more numbers on it than that miles on your car. While you might eventually get to reading all those messages that have piled up, it would be a lot easier if they were sorted, so you can decide which ones to tackle first. Email Filing Assistant Lite is a free Mac app that works in conjunction with Apple Mail and sorts emails based on past filtering patterns that you've used. The app creates an index of the email boxes you've added and the types of emails in them. When you get new messages, you can have the app filter them out as per the index it's created.
Email Filing Assistant runs separately and is not integrated in the Apple Mail interface. It does, however, require that Apple Mail be running, or it will launch the app itself. Before you can start using the app, you have to choose which accounts the app will index, and create the index as well. Go to the app's preferences and select which accounts are to be indexed from the Indexing tab. Select the accounts that you want to index, and also the indexing strategy.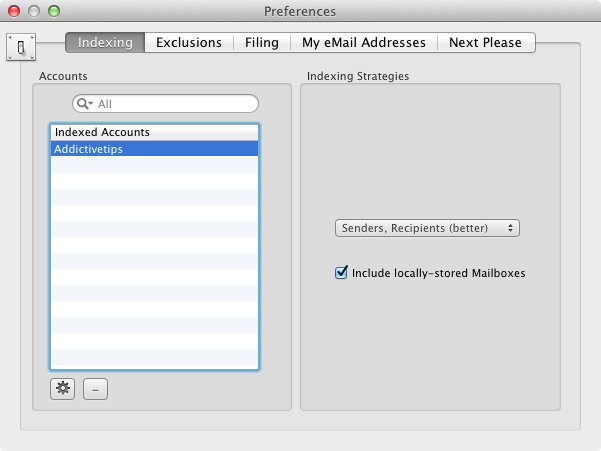 If you want to exclude an email account from being included in the index, go to the Exclusions tab and add it there. To set all unread messages to be indexed without having to select each one individually, go to the Next Please tab; select After from the dropdown, and select Up from the options listed.
To create an index based on how you've sorted emails in the past, return to the app's interface and go to the Indexing tab. Create a full index by clicking Start Indexing. Once the index has been created (time will depend on the number of messages and mailboxes), you can start filing your emails.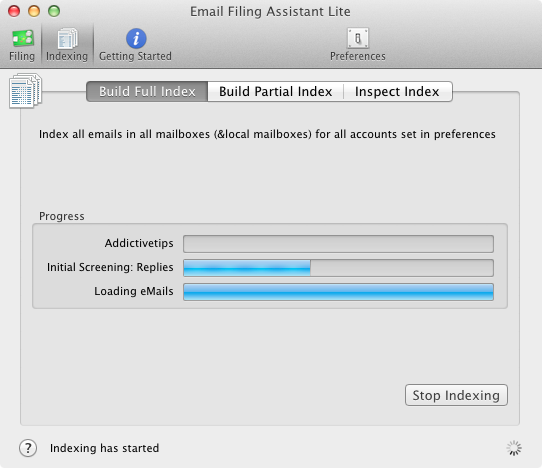 Go to Apple Mail and select a message, go to Email Filing Assistant Lite and click the refresh button. Use the slider to select a filter criteria. The app will sort them accordingly and list the proposed mailbox for each one. Click the drawer like icon that appears to complete the filing.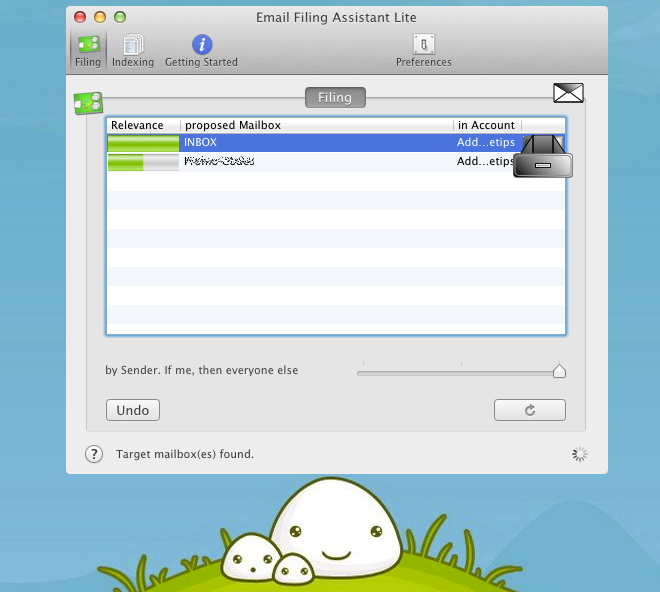 The app works perfectly, but being a lite version, has only three filters. There are two paid versions of this app available, Email Filing Assistant ($4.99) has nine filters and Email Filing Assistant Pro ($6.99) supports Microsoft Outlook as well.
Get Email Filing Assistant Lite From Mac App Store