Evernote 5 Beta Released; Interface Overhaul And Location Tracking
Evernote is a popular note syncing service and its presence on so many platforms is just one of the many things that makes it great. Oddly enough, as great a service as Evernote is, its Mac app is just as unflattering. This is about to change though and hopefully very soon. Evernote has released the Beta version of Evernote 5 for Mac and in addition to new features the interface has been overhauled completely. Not only are there significant cosmetic changes, but the flow of the app and how you view items has been changed for the better. The new version features several different ways for viewing the notes you've added in your notebooks. Navigation has been improved as has been the note editor and an Atlas has been introduced that lets you see the geographical distribution of where you added your notes. Additionally, keyboard shortcuts have been introduced.
Downloading the Beta is going to be slightly tricky; you can find it on several app repositories or, an Evernote client that hasn't been downloaded from the Mac App Store. Dig around for how you can update the app and you should be able to find an option for switching to the beta version. If it seems complicated, look for the Beta version itself on an app repository.
When you launch the app, the first thing you will notice is how it looks nothing like the old one. The transformation is nothing short of an ugly duckling turning into a swan. The controls are distributed differently now; a left side bar allows you to switch between notes and note books and a quick access area allows you to add your most important notes for quicker access. This area, called Shortcuts, will let you add notes, notebooks and even tags to the area. Creating a new note is a matter of a single click on the new "New Note" button at the top.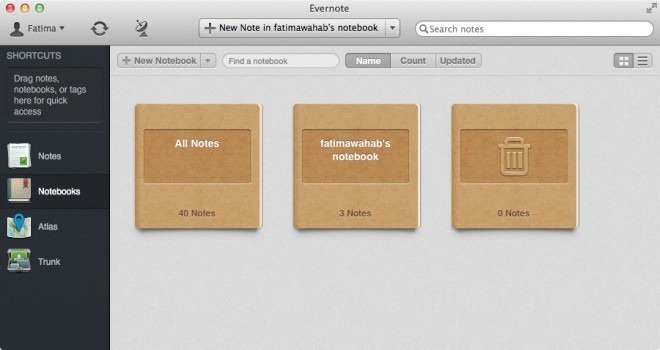 If you move to the Notes view, you will be greeted with a nice card like view for each note complete with a snippet from it. There are several different views to choose from and you can add tags to a note from the preview pane on the right.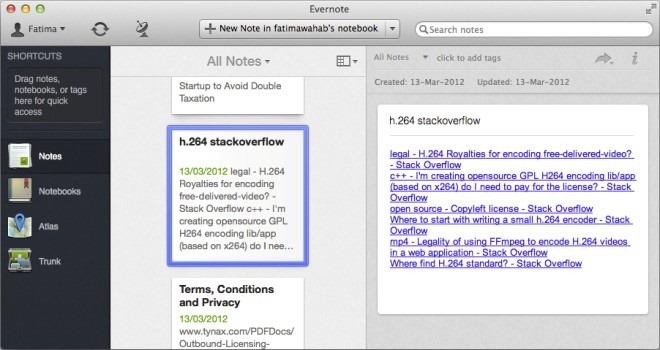 Lastly, visit the Atlas tab and turn on location service for the app. Once enabled, Evernote will track where you created a note and organize them by city with one world map to view them all. The feature is meant to help users find notes they have added in a particular location.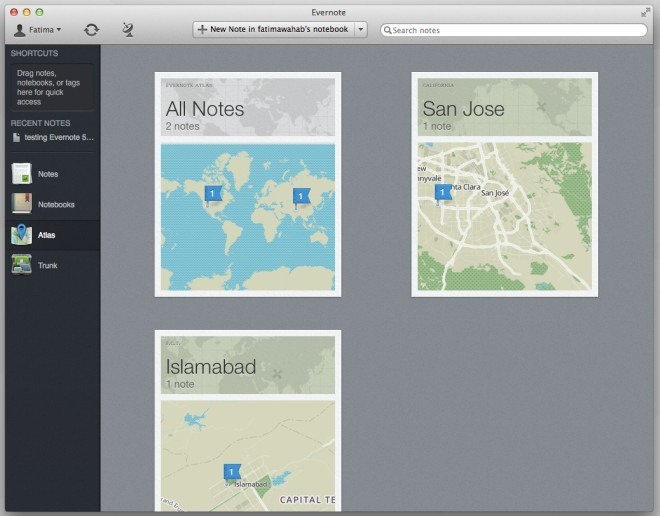 Other new additions to the app include an activity at the top that sows you any and all changes made in your shared notebooks. The search feature too is upgraded with live search and you can confine it to a particular notebook. Shortcuts that have been added allow you you to move to a notebook, move to All Notes, access one of the sections on the sidebar, edit the current note's title and text and add an indent when editing a note. All that can be said about this beta is that if the features don't tempt you, the interface will.
Download Evernote 5 Beta For Mac