[Giveaway] DaisyDisk: Visualize Disk Space Usage & Memory Hogging Folders [Mac]
On a Mac, you have one solitary disk, no matter what the size is, and you still get only one drive with no partitions whatsoever. This means, all your data will get organized in folders, and although this would hold true even if you had disk partitions, they would at least let you separate work and personal files/folders. With so many folders inside a folder inside another folder, you often save files that hog space, and forget them later on. If you ever get down to freeing up some space on your disk, you'd probably spend a lot of time trying to find what's eating it up before deleting it. DaisyDisk is a Mac app available for $9.99 in the Mac App Store, that lets you visualize how space is being consumed on your hard disk. All folders are shown in disc-like graphs, and each component can be clicked to view memory usage in a particular folder.
Note: As noted above, DaiskDisk is a paid Mac OS X app that will make your wallet lighter by $9.99. We are giving away 5 licenses for this app to our readers, details for which can be found at the end of this post.
Once installed, the app will scan your hard disk and all mounted drives, and display total used and free memory. Select a drive, and from the dropdown button next to it, select Scan as Administrator. Alternatively, you can click the Scan Folder button at the bottom left of app, and select a folder you want to scan.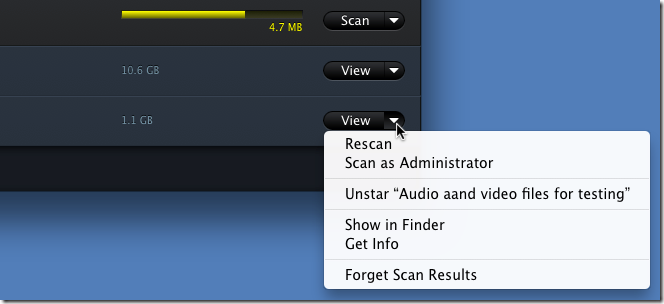 Depending on the size of the disk/folder, the app will take a while to scan and display the results. The larger the folder, the bigger its portion will be in the graph. If you choose to scan the entire hard disk, only the root folders will be represented, and not the sub-folders. To view space consumption within a folder, click it. Folder names are displayed in the right sidebar.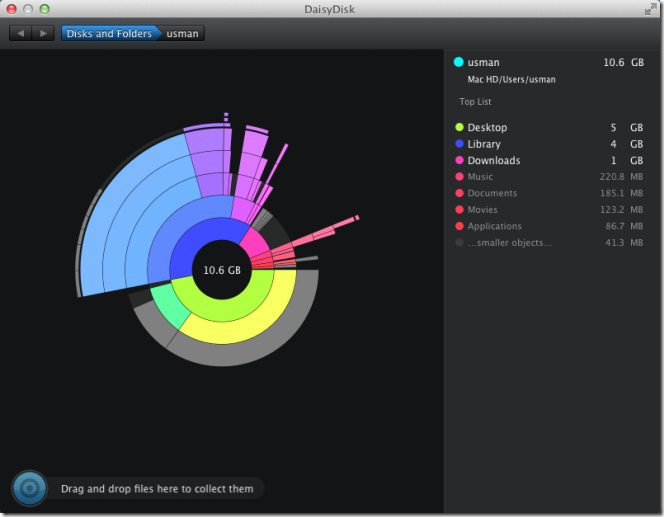 To return to the previous folder, click the small circle at the center of the graph and you will level up one folder. Alternatively, you can use the navigation at the top to return to a folder. Another way to scan a folder for memory consumption, is to drag & drop it onto the app window.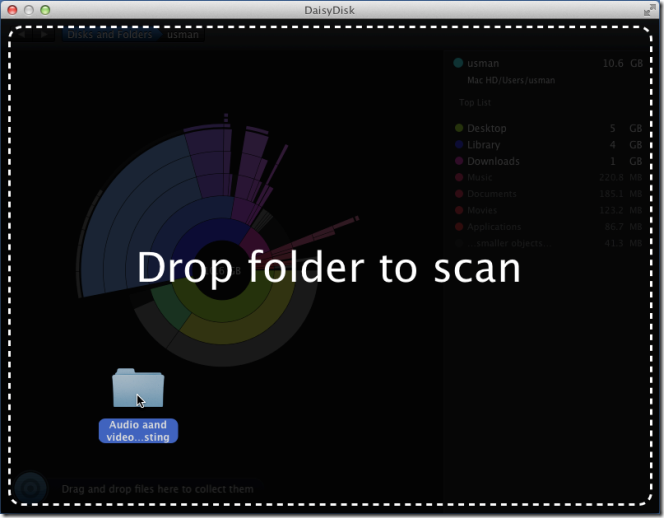 To open a folder from the search results, right-click it, and select Show in Finder from the context menu. The app isn't meant for deleting files, and only helps you see how disk space is being consumed, making it convenient to compare folder sizes.
Get DaisyDisk From Mac App Store
Giveaway
We are giving away 5 full licenses to our readers. The giveaway will only last for 24 hours. Participation in the giveaway is simple. You need to either follow us at @addtips, and tweet the giveway (leave the link of the tweet in the comments box below), or leave a comment on our Facebook page. We will pick out 5 winners randomly!
Update: The giveaway offer is now closed. Winners of this giveaway will be contacted soon.