How To Prevent Applications From Restoring In Mac OS X 10.7 Lion
Available only in Mac OS X 10.7 Lion, Restore feature resumes applications, after reboot or system shutdown, from where you left off. This may become annoying when it's required to stop launching applications after system reboot on which you were working previously. Although Mac OS X Lion lets you choose system-wide applications and windows which are not to be resumed every time you login to Mac, there are certain applications which skip through this restriction. Also the option to disable restoration feature on per-application basis is nowhere to be found, you either have to disable restore feature for all applications or keep it enabled.
RestoreMeNot, as its name hints, is an application for Mac OS X Lion which forcibly blocks windows and applications launch on startup. It lets you select the applications and windows which are not to be resumed at login. You can customize the list according to your requirements; application can be removed and added to the restoration disable list anytime.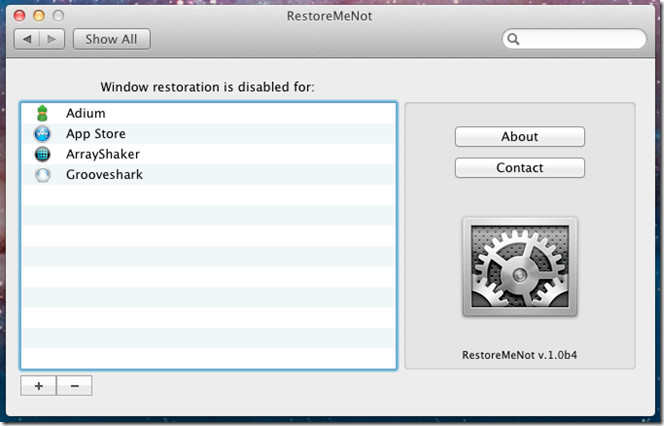 ResumeMeNot installs directly into System Preferences utility. Simply run the prefPane and then click Yes to integrate it into Other section of System Preferences. Once integrated, launch RestoreMeNot. All that is required to block auto-restore of applications is to add them to the list. Click the cross-imaged sign and choose the application or window for which you want to block auto-restore access.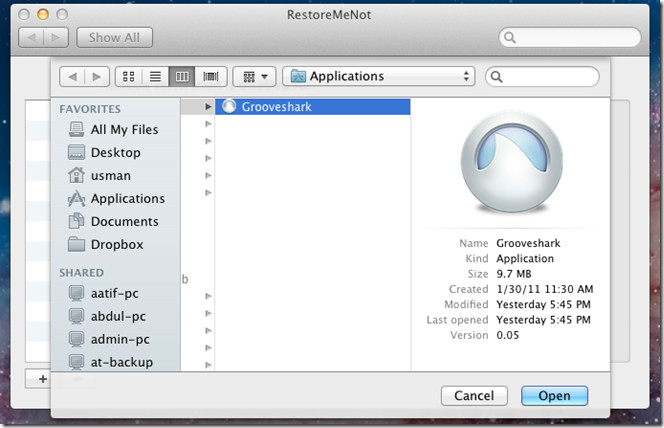 RestoreMeNot doesn't support all applications. It can only block those applications which save restore data to restore the state after system login. It works on Mac OS X 10.7 Lion.