Keeper: Random Password Generator, Vault & Login Organizer [Mac]
Security is nothing to take lightly, whether it is your online security or the security of your home. While regular burglaries have educated people into being more careful about how they protect their worldly possessions, there is still a large internet user base that have 123456 and password as their password. You'd think with so many security breaches and hacks, people would be careful as to what they use for login credentials, but it is quite the opposite, and you will now find that websites restrict users from keeping such passwords. Keeper is a Mac app that aims to simplify this; if not being able to remember multiple passwords is what forces you to keep kitten123 as your banking password, then this app is worth a try. It allows you to store your login credentials and sort them by which website they belong to. You can record a site, your login, password and a note, and save it to the cloud. Your credentials are not stored locally, and can be accessed only through this app via your master password. First and foremost, and I probably cannot stress this enough, there is a master password that will lock and unlock all passwords you save, so think of a good one. Take some time out to think of one solid password that you can remember and it shouldn't be 'princess', 'iloveyou' or 'abc123'. The app's developer has issued a disclaimer that if you forget your master password, it cannot be recovered, ever! Type in a good, strong password, and you're all set to go.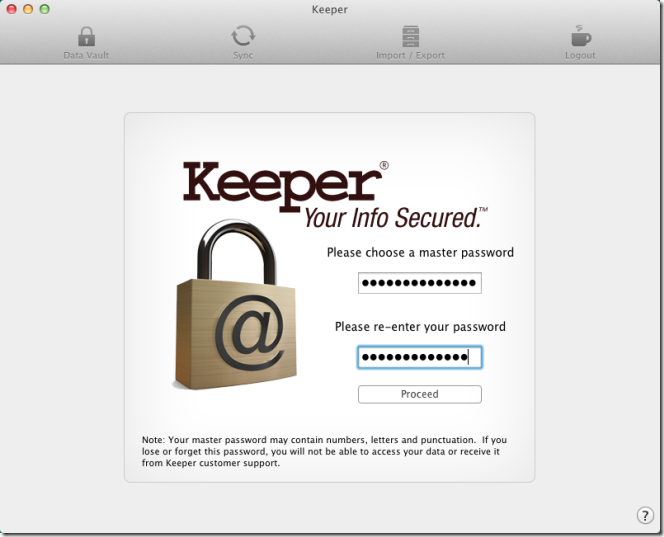 Once you've got a secure vault for your passwords all set up, think how you want your other passwords to be like. You can use the current ones and simply store them in this app, or you can change them to stronger ones that are slightly difficult to remember, but can always be accessed through Keeper. If you're stuck on ideas for passwords, use the app's password generator. To add an account, Click the New button. You may create folders to keep different accounts organized. Enter a title for the account, your login, password, the URL of the website where it is entered, and a note if you like. Click Save when you're all done.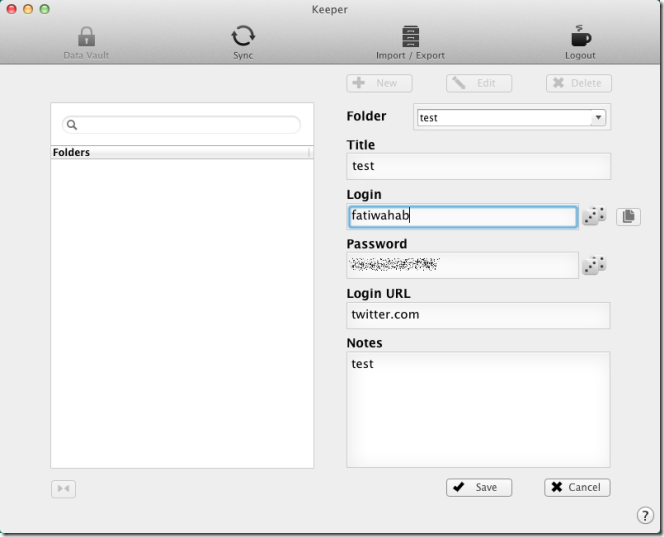 To generate a random password, click the double dice button next to an input field. To copy the text (password or login), click the clipboard button that appears and it will be copied to your clipboard. If you don't feel like adding login credentials for a lot of sites one by one, you can import them from a spreadsheet, provided they are in the specified format, which can be viewed by accessing the Import/Export tab. The paid version of the app allows you to sync your passwords across devices. Whether you choose to use this app or not, is up to you, but remember, online security isn't just about stolen credit cards or hijacked Facebook profiles. Online identity thefts can lead people to your home, and give them access to your family members, so make your passwords smarter (a public service message that is bound to infuriate cyber stalkers and perverts alike).