Nag Is A Reminder App That Persistently Nags You To Do Something [Mac]
Not many would admit it, but there are some things we only get done because we have someone to diligently nag us about doing them. It may be your mother, your spouse, or even your dog nagging you to feed it. The fact is, certain things require nagging to be accomplished. In the event that you come across a task that you know you'll never get around to completing unless someone berates you over it, but don't have anyone to remind you, Nag might be a good alternative. This Mac app is, technically, an alarm clock, but it is one that doesn't go away very easily. The app is much like an alarm clock with multiple snooze buttons, that you can hit each time it rings, and set the alarm to ring again after a while.
Once installed, set an alarm by first entering a brief description for the task you want to be nagged about by clicking above Nag Not Set. From the dial set below, click the clock button to put 1 hour on the alarm. Use the other buttons to add 2, 5, 10, 30 or 60 minute intervals. The plus and minus buttons on either side are used to increase or decrease time by one minute, respectively.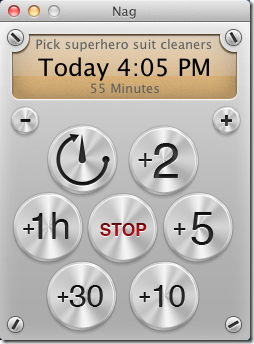 When the timer runs out, the app pops up and asks you to hit the Stop button. If you hit either one of the other time buttons, the alarm will be silenced for that amount of time. In addition to the app window popping up when it is time to remind you, it also sounds alerts that you can set from the app's preferences.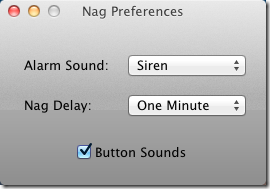 The one drawback of Nag is that you can't add more than one alert to it at a time, and should your busy schedule ever require you to be nagged about two or more things, you may need to find a better alternative. We'll still keep looking for one.