PowerRenamer – Rename Files In Mac By Searching And Replacing Strings
Bulk file renaming is not achievable in Mac unlike Windows, where you can select all files and rename them. Mac users will require a file renaming automator that can rename all the specified files in folder according to defined pre and post fixes. However, if you want to define rules to quickly streamline the file names in any way, PowerRenamer is the probably the best free tool you can pick up. It's a tiny application for Mac, offering a quick way to rename files according to specified conditions. It also lets you save conditions as presets, so you can use them later upon other file sets without having to specify the criteria of renaming files.
You can use sample presets to change the names of files in bulk or choose to create as many presets as you want. While it supports regular expressions to specify the file renaming method, it contains some simple conditions, such as, if contains, ends with, starts with, and numbering to fulfill basic file renaming needs. PowerRenamer provides a simple search – replace with like dialog box to perform the file renaming operations. You have option to preview the resultant file names before replacing them with original file names.
You can start off with either selecting a sample or choosing a condition. Once selected, enter those keywords in Search for input box that you want to change and specify the Replace with keywords.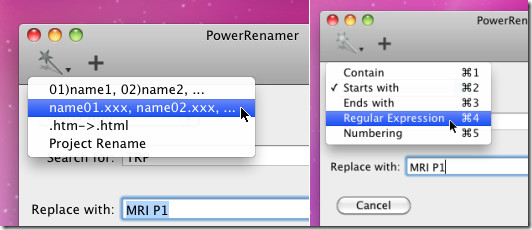 Before starting the file rename process, select files in Finder whose names are to be changed, click Preview to check which and how many files will be renamed. Now click OK to start renaming the files.
The cross button lets you save the current file renaming preset, allowing you to use the saved condition over another set of files. PowerRenamer works on Mac 10.6 – 10.7