QR Journal: Scan QR Codes Using Your Webcam [Mac]
QR code readers are more of an Android thing. Sure, you can scan them on an iPhone, but they made their mark on Android long before debuting on anything from Apple. Regardless of the 'whose idea was it first' debate, QR codes are now widely used. QR Journal is an app for Mac, allowing you to scan QR codes directly from a web page via your webcam, and store them. The app lets you export your library of codes and scan them by simply dragging & dropping them from a webpage or file onto the app's interface.
Once installed, you have the options to scan codes using your webcam, or by dragging & dropping them. To scan a code using your webcam, click the Scan button at the top left. The app will automatically detect your webcam and connect to it. Scan the desired code with your webcam, and a picture will be snapped, displaying the information contained within the code just below the captured image.
The app creates a library of all the scanned codes, which can be revisited or exported any time. Once a code has been captured, click the Save button and the code will be archived. You may also click Skip to scan a new code without saving the old one.
In the event that you find a QR code on a webpage or, perhaps, in a PDF, you can read the code using this app. Click the Import button and drag & drop the code on to the small window that slides open on the app's interface.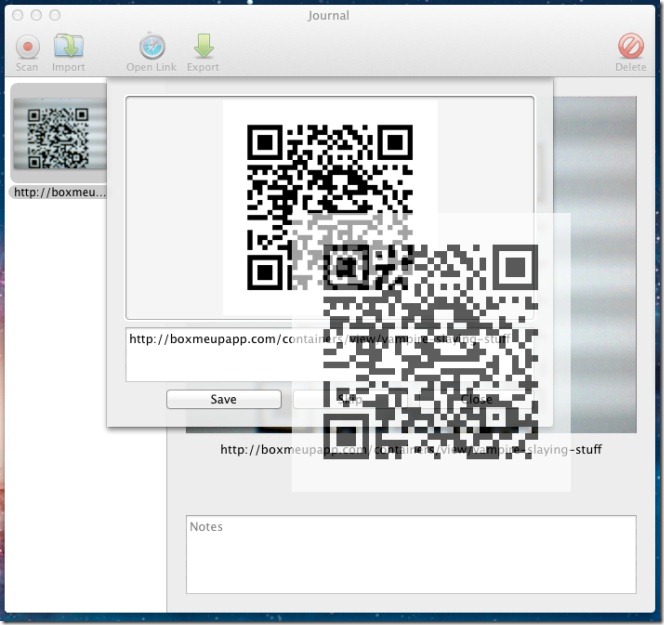 To export your scanned QR codes, click the Export button, and choose where you want to save the file. You can reopen any scanned image using the app.
No matter how you scan/read a QR code, in all cases, to open the URL saved in the code, click Open Link, and it will open the link in your default browser.