How to remove EXIF data from Photos on macOS
Removing EXIF data from a photo, en-masse, on Windows 10 is fairly easy and you'd expect something similar on macOS. You'd be wrong. The best, most frequently recommended tool for removing EXIF data from a photo on a Mac leaves you with an 'optimized' image. If you need to remove EXIF data from photos on macOS, and you've got a lot of photos, we recommend using EXIF Purge.
EXIF Purge is a free app, with ads, that's available on the Mac App Store. It does not compress images. It simply strips them of any and all EXIF data.
Remove EXIF Data from Photos
If you want to check if an image has any EXIF data, open it in Preview and go to Tools on the menu bar. Select Show Inspector. In the window that opens, select the tab with 'i' in the title, and check if it has an EXIF tab and a GPS tab. If it does then your image does indeed have EXIF data that needs to be purged.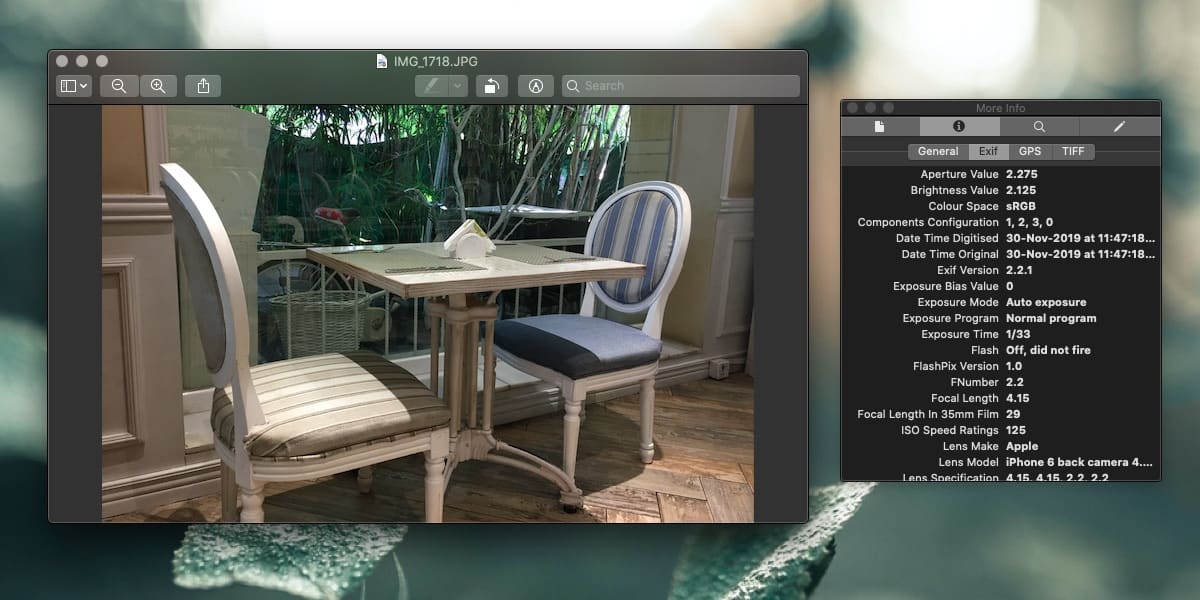 Open EXIF Purge and drag & drop the images that you want to remove EXIF data from. The app will create duplicates of the photos and you need to select an output location for where the photos will be saved. Click 'Purge EXIF Info'. You will see a pop-up with an ad and a timer. When the timer ends, you can close the pop-up and your images will be purged of their EXIF data.
Once the data has been removed, there's no easy way to add it back. If you think you will likely need the data at some point in the future, you should not delete the original photos.
It is very odd that macOS doesn't have a built-in tool for this when the OS has the best file viewer, and the best photo managing app of all the other popular desktop operating systems. The Photos app isn't just great for managing a large photo library, it's actually used by a lot of professional and hobbyist photographers to manage and edit photos yet it still doesn't let users remove or edit the EXIF data.
In Preview, you have the option to remove location data but nothing else. Location data is the more sensitive type of data that is stored in a photo and it is what can lead to one's privacy being compromised. It is possible that that is why Apple has an option to remove it and not other information e.g., when a photo was taken and what sort of device was used to take it.