Screenshot Plus Widget: Screen Capturing Dashboard Tool For Mac
Screenshot apps aren't hard to come by for any platform – desktop or mobile – and we've certainly covered a whole slew of them. Of the many Mac variants that we've covered, they all had one thing in common; they were apps. Screenshot Plus Widget is a widget for Mac that rests on your Dashboard, and is as feature rich, if not more, as SnapNDrag. The widget not only does the basic screen, window and area capturing, but also allows you to take a timed screenshot of any desktop space or the Dashboard. It lets you save images in JPG, PNG, TIFF, GIF and PDF formats, and lets you choose one of four actions to perform after capturing a screenshot and save it to any location on your hard drive.
Launch the widget and go to your Dashboard. The widget has four buttons, each representing a  screenshot mode. As you mouse over each button, its name will appear below it. From left to right, the buttons are for capturing the full screen, taking a timed full screenshot, capturing a window, capturing a widget and capturing any region.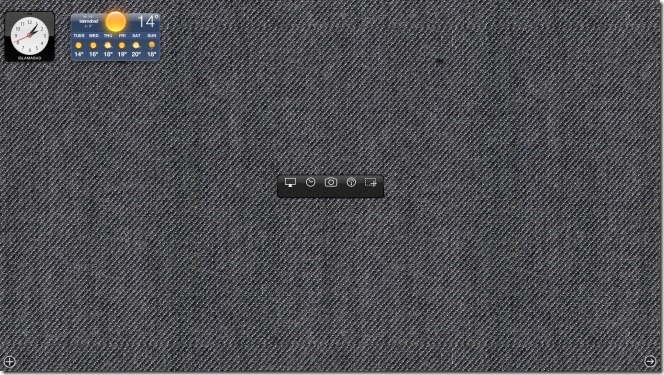 Once you've captured a screenshot, a miniscule preview of the image appears within the widget, which you can hover your mouse over to magnify. The buttons at the top change when in preview mode. From left to right, the buttons let you discard the current image, retake an image, save it to the desktop, copy it to the clipboard and export it to preview mode on a desktop space.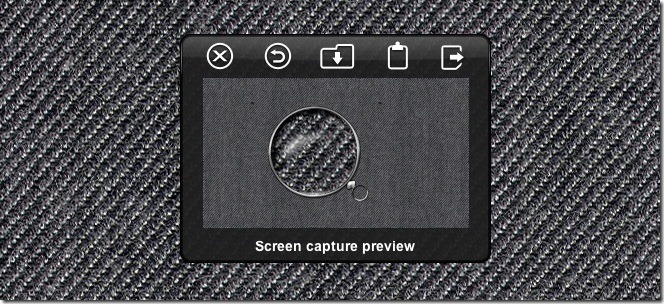 To change the widget's settings, go to the normal mode and click the small i in the lower right corner.  Here, you can change the path to where the screenshots are saved, choose which app the widget should export the screenshot to (by default, it is set to export to preview), set the app to preview the image, save it to desktop, export to preview or save and export it after capture. You can also set the default image format for saving images.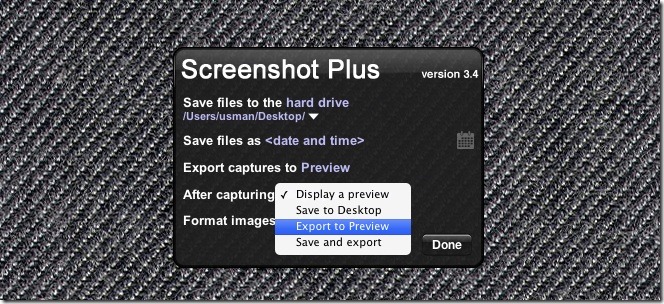 The widget is a reasonable alternative to SnapNDrag, as it does not have ads, and the timed screenshot for the dashboard will not be imprinted with a countdown as with the app. The app is also a great way of taking those hard to get screenshots for mission control and between desktop spaces.
Download Screenshot Plus Widget