Easily Set Any Image As A Folder's Icon Using Plaster For Mac
For those who love to customize their Mac, there are a large number of folder icons to replace the default ones. Though they are good for adding a personal touch to your Mac, these custom folders don't really offer much utility. Plaster is a free Mac app that takes the concept of having custom folder icons and puts it to good use. The app allows you to take any image of your choice and set it as any folder's icon. The result is a folder that, in addition to being identifiable from its name, can also be identified with the image on it (much like a book's illustrated cover).
Plaster will allow you to use the text and the visual aid to find folders faster. If you've got a clean desktop, perhaps you might not have trouble finding folders quickly, but if you dig deeper into your hard drive, Plaster might prove to be quite handy. The folder that you modify using Plaster shows up with the regular icon in Spotlight search results, but if you preview it in Spotlight, the image you set as its icon will be shown.
Launch the app and drag & drop the image you want to use as a folder's icon on to the app window followed by the folder itself. Remember the order of the process.
If you drag & drop a folder onto the app and the folder itself has an image in it, Plaster will pick that to add to the same folder you dropped on to the app. The image must be at the root of the folder and not in a sub-folder. If you have several images at the root of the folder, a 'Try Again' button will appear, allowing you to browse through them and add the one you like.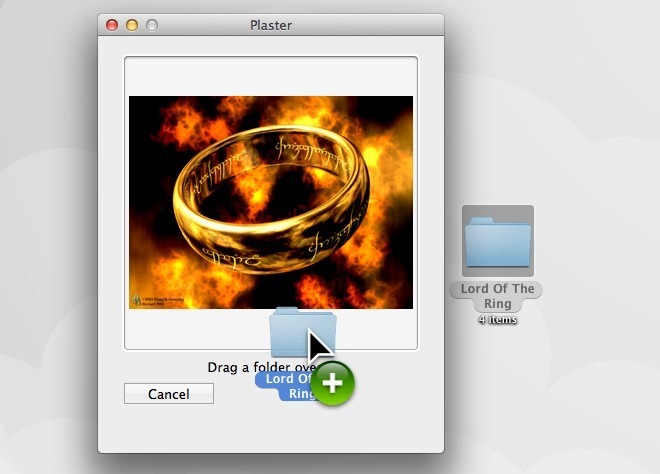 To remove the image from a folder, drag it onto the app again and click 'Remove' when prompted to. Note that the options you see in the app window will be different for when you choose to add an image from anywhere on your desktop and when you add it from inside a folder.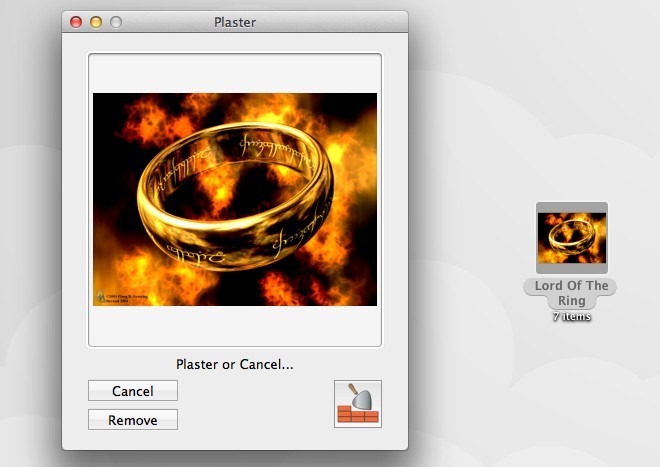 Though both the concept of the app and its execution are excellent, there is a small problem with the way the folder looks once a regular image has been 'plastered' onto it. By "regular image", I mean one that isn't meant to be an icon. In such cases, the folder no longer looks like a folder as much as it resembles an image. One could easily mistake it for an image and that would actually make it harder to find. The developer could add a default background graphic that the user could toggle on when using such images.