Shade: Hide Desktop Clutter For Better Screenshots & Cleaner Work Area
There are lots of ways to manage desktop clutter; besides actually cleaning things up, you can use apps like Folder Tidy and Desktop Tidy to sort and move files on your desktop by file type. You can also do something that's much much easier: sweep it under the rug, i.e., hide it all behind a nice wallpaper so you don't have to look at it while you work. Shade is a free Mac app available in the Mac App Store that adds a second wallpaper in front of all your desktop icons and hides them from view. App windows stay visible on top of this second wallpaper that is superficially imposed on top of the original one, and allows you to take a nice clean screenshot if you like or just work more easily without being distracted by the many items littering your desktop.
Shade adds a leaf icon to the Menu Bar. It has no preferences and will use one of the stock wallpapers to hide your desktop when you first click it.

To cover all icons on your desktop, click the leaf icon once. The wallpaper should slide down within seconds unless something is seriously eating up memory on your system. To change the wallpaper, select which one you want to use instead and drag & drop it on Shade's icon in the Menu Bar. Make sure the image is an appropriate size for your screen.

App windows will remain on top of the wallpaper that hides your icons, and you can continue to work like normal. To bring back the icons (and to remove the wallpaper superimposed on your desktop), click the leaf icon in the Menu Bar again.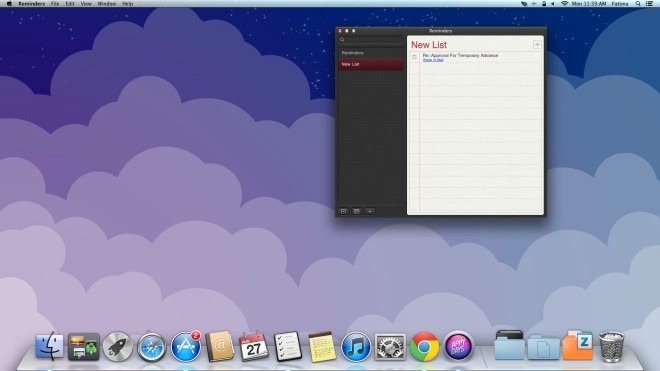 The usefulness of Shade is two fold; it's a good tool for taking nice clean screenshots without having to move your files and folders around. Often, the mess of icons on your desktop might be a source of distraction for you. An important file that you have to work on can be a constant distraction when it's just sitting on your desktop. Changing its location doesn't make sense, but you can remove it from sight temporarily while you work on other tasks.
A major plus point of the app is that it doesn't add an unnecessary icon to the Dock and keeps things as minimal as possible. The only draw back is that it appears to be enabled on a single desktop space at a time. If you move to a different desktop, you will see all your icons again. Shade can be improved further by adding a keyboard shortcut to toggle it On/Off.