'Should I Sleep' Keeps Mac Display Awake While You're In Front Of The Webcam
Dimming displays and password-protected screensavers are one of the many ways a Mac computer saves energy and keeps your desktop safe from prying eyes. Many users set a very short time interval for the screensaver, so that in case they forget to manually lock their Mac, the screensaver acts as a safety net. The dimming display, however, is harder to manage. You can't really fix a value for screen time-out. At times you're sitting in front of it looking at lines of code or a document and the screen and you don't want to be interrupted, while other times, you go for a cup of coffee and don't want the display to be awake the entire time you're away from it. Should I Sleep is a free Mac app that helps solve this problem by removing the element of time from the equation. The app works on a very simple principle; it uses your webcam to detect if you're really at your desk or not, and should it detect movement, it keeps your display from going to sleep.
Should I Sleep offers two ways to prevent the display from going to sleep; by detecting your face via the webcam or by the time set from the app's menu bar icon. Launch the app and from the menu bar icon, make sure Face Detection is selected under Prevent by Sensors. You can now set the system to sleep the display after a minute ensuring that if you're really away from your desk, your Mac will be locked but if you're still sitting in front of it, either reading an article or just twiddling your thumbs, the display will not dim.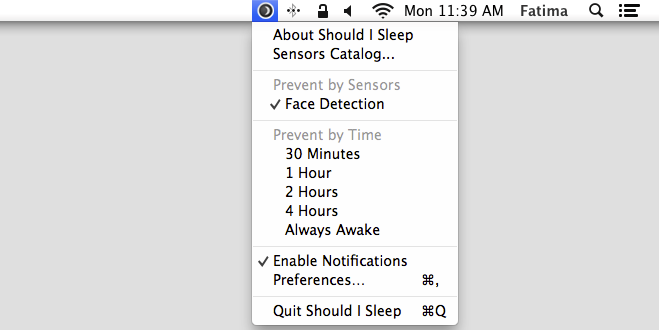 If you're using a MacBook, you will not be able to reposition the camera, but if you're using a separate webcam, make sure it's positioned to get as wide a view as possible. You can adjust the accuracy of the sensor by making it check more frequently to see if you're at your desk from the Customize tab in the app's preferences. From the Start Up tab, you can set the app to start at login and you can buy additional 'sensors'.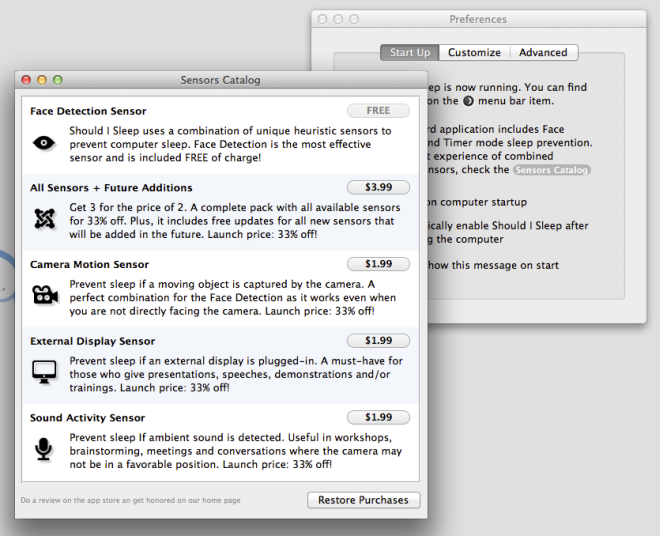 The Face detection sensor comes free, but additional sensors that collect audio and external display cues can also be bought. They may be needed if you're often in situations where the web came alone cannot detect if the display should be dimmed or not. If you're showing something on your screen to a group of people or are perhaps using your MacBook to give a presentation, you are likely to need one of the other sensors since face detection will fall short here. The additional sensors are a bit pricey, but might be worth it if you don't like to change the energy settings all the time.
Get Should I Sleep from Mac App Store
Giveaway
We're giving away 10 promo codes for the fully unlocked version of the app (Should I Sleep Pro). The giveaway will last for 48 hours. You may participate in one or more of the following ways:
Follow @addtips on Twitter, tweet the giveaway and in the comments below, provide a link to your tweet (click the timestamp below your tweet to get its link).
Good luck!
Update: The giveaway has been closed.