Simultaneously Convert Multiple Videos To Different Formats On Mac
Video converters are some of the most useful (and ridiculously common) type of apps you can find. Surprisingly, they don't stop coming, and Video Converter Master is yet another video converter for Mac that is free, supports conversion to multiple formats and can convert files in batches. The app lets you choose a format for each file you add before beginning conversion. By default, Video Converter Master opens the output file after the process is complete, but the app has the additional ability to put your system to sleep or shut it down once conversion is done. Since converting large videos can take a significant amount of time, it might be a task that you leave for the end of the day, and that's where it might be extremely convenient to have the app turn your system off when finished. Video Converter Master also comes with a player that will play any and all supported formats, but is ad supported. It also allows you to take snapshots of a video when it is playing. More after the break.
Video Converter Master's interface supports drag & drop, and you may add files to the left panel by dropping them there. The app will detect which format the video is in, and an icon will appear next to it, showing which device it is compatible for. Select a file and click the play button in the viewer on the right to initiate playback. In the same file player, there is a small camera button that takes snapshots of the video when you click it.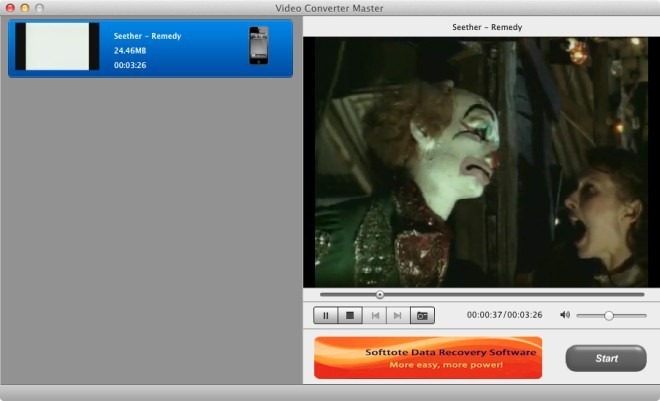 To chose a conversion format, click the device icon next to a video, and from the dialog box that opens, select which format you want to convert the video to. Add as many videos as you like and select a different format for each one. Click the Start button just below the volume control on the player, and conversion will begin.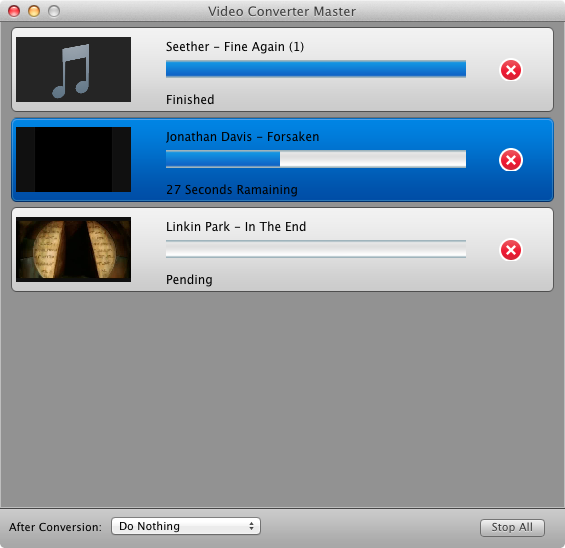 To trigger a system shutdown once the app has finished working, click the After Conversion dropdown that appears when you start converting a video, and select the Shut Down My Computer option. Alternatively, you can manage this option from the app's preferences. To change the output location for Video Converter Master, visit the Preferences and select a different folder under Output folder. To change the location for saving snapshots of the video, select another directory under Snapshot Folder.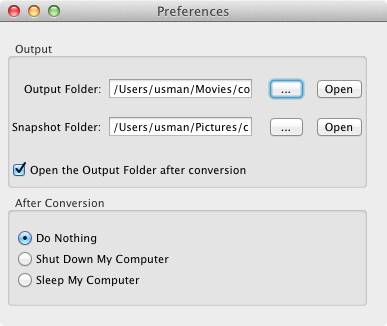 Other than the ads (which are pretty unobtrusive), the app is pretty good, and supports a significant number of platforms and devices. In our testing, conversion speed was pretty decent, but that might vary with file size, bit rate and resolution.
Get Video Converter Master From Mac App Store