Stellar Data Recovery for Mac (REVIEW) – Retrieve Lost Files
Everyone has experienced data loss at some point. Maybe you accidentally deleted a photo, or your external hard drive got corrupted. In any case, losing your files can seem quite hopeless. But for over 25 years, Stellar Data Recovery has helped millions of users recoup their losses and retrieve lost files.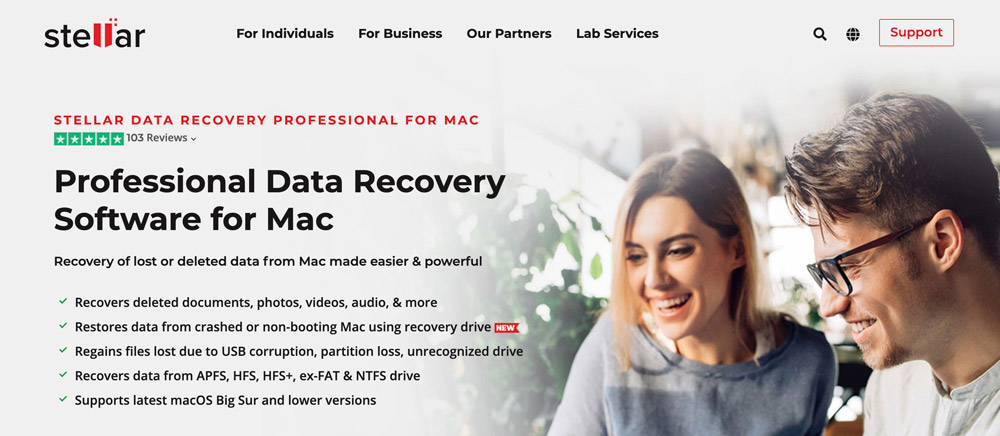 These days, Stellar is helping more people than ever. Thanks to a surprisingly robust Free version of their data software available for a variety of the most common platforms, absolutely anyone can remedy a fatal data mistake in short order. And the best part? It doesn't require advanced technical knowledge to make effective use of.
Today, we're taking a closer look at the Free version of Stellar Data Recovery for MacOS. You'll learn how easy it is to use, how effectively it delivers on its promises, and gain perspective on how it compares to the paid tiers.
About Stellar Data Recovery
While most SaaS offerings exist within the context of a broader market, Stellar has almost single-handedly defined commercial data recovery. Launched in April of 2000, Stellar has undergone numerous iterations, each improving upon previous features and adding new ones.
Today, their R&D team consists of well over 100 engineers to serve the needs of over 3 million clients. These range from individual consumers to fortune 500 companies including Google, Amazon, Coca Cola, and Microsoft, across over 190 countries.
To say that Stellar is ubiquitous is an understatement.
Stellar Free edition – Key features
While Stellar offers three paid tiers, the vast majority of people will find the Free Edition more than meets their needs. Here, we review the most important features of this essential data recovery solution.
Recover files from any disk
Most people store their files on some combination of their Mac's startup disk and one or more external drives. Of course, when space gets tight, it's standard practice to delete things to make more room. You can click and drag individual files, or send entire directories to Trash. It's then a simple matter to right-click to empty the Trash, though power users may opt to skip the pesky "Are you sure…?" dialogue with the use ⌥ + ⌘ + ⇧ + Delete hotkey.
But then disaster strikes as it dawns upon you that amongst the trash was a critical document, now seemingly lost forever. Don't panic just yet, Stellar Data Recovery is available for free, and installs in just a few minutes. It'll likely take you even less time to figure out how to use it.
Best of all, you can recover data from any type of disk. This includes:
Your Mac's startup disk
Solid state external drives
Hard disk drives
Jump drives
SD and Micro SD cards
Moreover, you won't be punished for using specific formats. Stellar can scan, read, and recover from APFS, HFS, HFS+, ex-FAT, and NTFS formats with equal efficacy.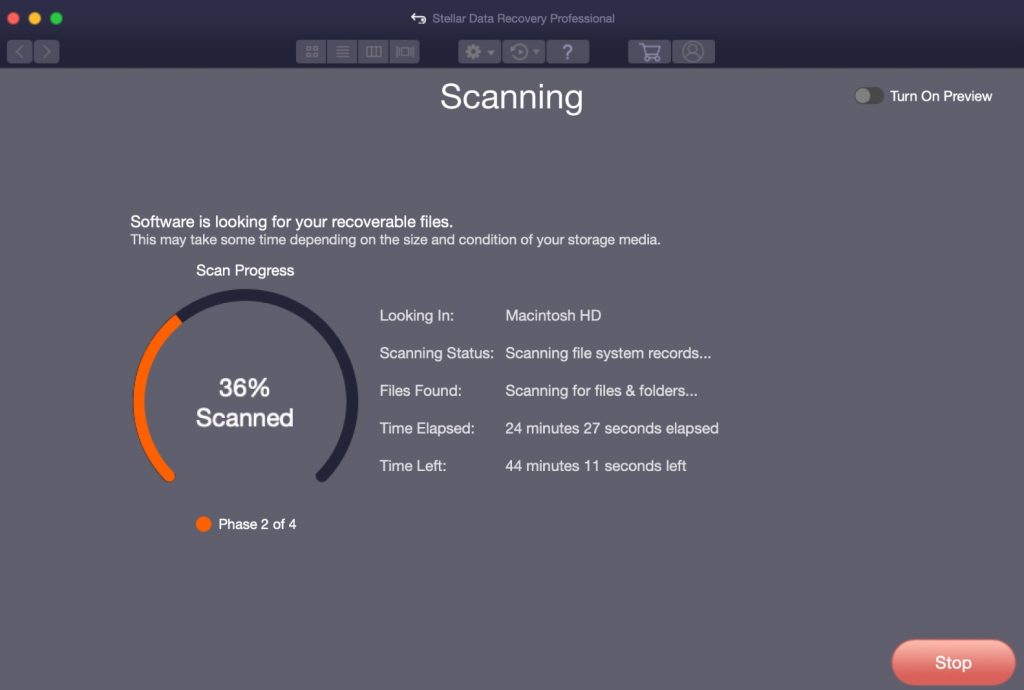 Whether your drive connects via USB-C, Thunderbolt, or legacy interfaces is immaterial to Stellar. What's more, it doesn't matter how big or small your drive is; Stellar can parse cavernous, multi-TB hard disks as easily as it can an 8GB flash drive.
But what if you didn't delete a file, but reformatted a disk partition entirely? Still not enough to stop Stellar from retrieving your lost file–it'll even show where the old file is hiding!
Even disks that won't mount are a cakewalk for Stellar–especially handy for worn-out or damaged external drives.
Thorough compatibility with Apple's ecosystem
Apple is famous for making their devices incredibly secure, even if this causes some issues with third-party data management apps. However, Stellar is fully compatible with MacOS, and capable of recovering data normally guarded within Apple's "walled garden".
No, Stellar doesn't brute force its way through your Mac's FileVault encryption method; Instead it requests permission to make changes, giving you total oversight to allow or revoke access to your precious data. After all, data and trust go hand-in-hand.
It even works if you've created or purchased a Fusion drive for your Mac. Stellar doesn't flinch at the added complexity, scanning and recovering data as easily as it were a standard HDD or SSD.
And perhaps most impressively, Stellar can even dig through your Time Machine disk to recover lost files. Once again, it is hardware and format-agnostic, allowing you to access data which may have been deleted manually by you, or automatically by Time Machine to clear up space.
Every MacOS version from El Capitan to Big Sur shares full compatibility with Stellar Data Recovery.
Wide range of recoverable file types
Even if your missing file is some sort of legacy format that hasn't been in wide usage for many years, Stellar has your back. Indeed, after two decades of operation, Stellar has amassed a list of hundreds of recoverable file types.
Of course, this includes all the usual suspects of today's most popular Mac apps, as well. That includes iMovie, GarageBand, Excel, PowerPoint, Word, Mail, and so many more. There are a few gaps here and there for proprietary or niche formats, like .stl files for 3D modeling, but those exceptions are few and far between.
As a rule of thumb, any traditional media formats–whether video, audio, or text–can be recovered by Stellar. This offers incredible peace of mind as you know very few files will be gone for good should you accidentally trash them.
If you're in a hurry, you can even narrow Stellar's scans down to discrete categories of file types (more on this later.)
Intuitive visual interface
Data recovery is an immensely technical process, and you might be forgiven for assuming it takes advanced knowledge of computer architecture to perform. And well, you'd be right, except for the fact that the folks at Stellar have distilled their expertise into an easy-to-use Mac app.
In fact, the most difficult part of using stellar is installation and managing permissions–but even that has been thoroughly streamlined for your convenience.
Stellar doesn't quite pass for a native Mac app, but it's darned close. In fact, it was clearly designed to mirror the functionality and UI logic of Finder. Scanned files appear in organized lists in the left sidebar, organized in directories just like you're used to.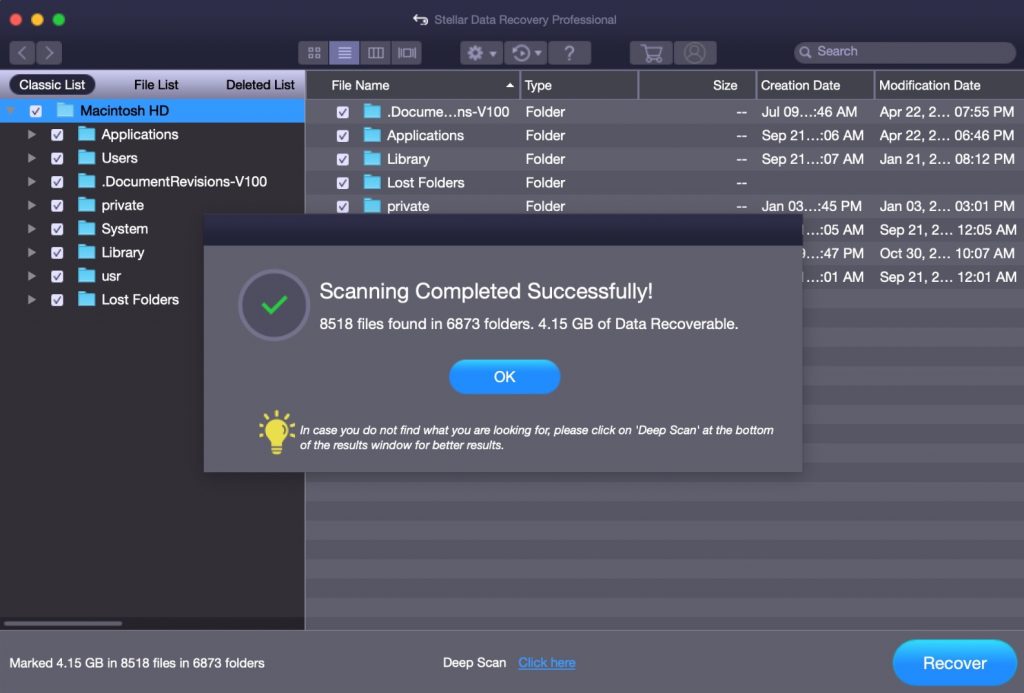 Just a heads up: Stellar promotes this as a file preview system, but it's rather different to what Mac users will likely have in mind. Hitting the space bar won't allow you to quickly view the contents of a file, but will quick select/de-select the file for recovery. It's a minor language difference, but it's worth mentioning.
Once you've located and selected your missing file(s), you need only click the bright blue "Recover" button at bottom-right, select a destination, and let Stellar do the rest. Seriously, it's that easy to do what data professionals train for years to accomplish manually–no coding or Terminal experience required.
Save your scans for later
While Stellar is no performance slouch, it can still take a long while before a Deep Scan of a large storage volume is completed. Moreover, combing through the data, while made as easy as possible by Stellar, can still take some work.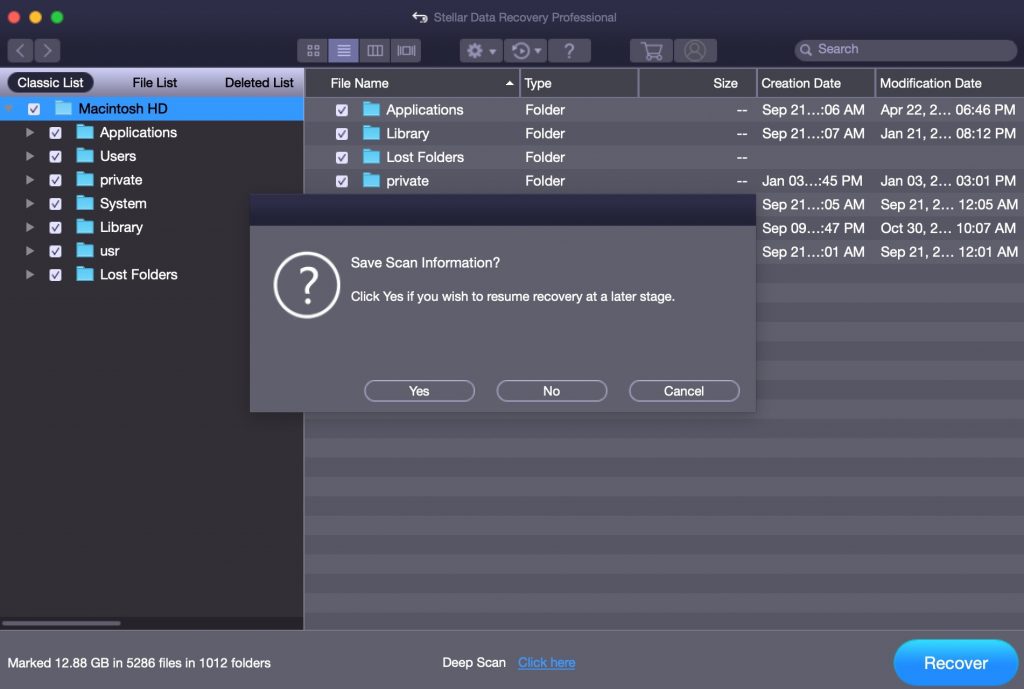 If you find you need to complete your data recovery at a later time, then fear not for wasted scan results! Stellar gives you the option to save your scan results to parse whenever it is most convenient for you. Once again though, you'll need a spare drive on hand; you can't save scans to the same disk you scanned, as doing so risks data loss.
How to recover your files with Stellar
We've told you how easy Stellar is to use, but now we'll show you just how simple it is. Because this is a review of the Free edition, we're going to assume you just had an "oopsie" moment where you deleted an important file, Googled around for a solution, and found this page.
Installation
As with any app, you'll need to first download and install Stellar. Click this link, which takes you to their site. Click the big green "Free Download" button, and it'll immediately begin to download. No, you don't need to sign up for anything first; it just gets straight to what you came for.
Once completed, locate the zip folder in your Downloads folder, unzip it, then mount the disk image. Drag the Stellar icon to your Applications folder, then navigate to it. Right click on the Stellar app, and click Open (otherwise, you'll get stonewalled due to this being third-party software).
Depending on your MacOS version, you may need to allow your system to load an extension which grants Stellar permission to manage files on your computer. It's a security thing, but Apple recognizes Stellar's developers as trustworthy, so go ahead and follow the on-screen instructions to "Allow" this permission.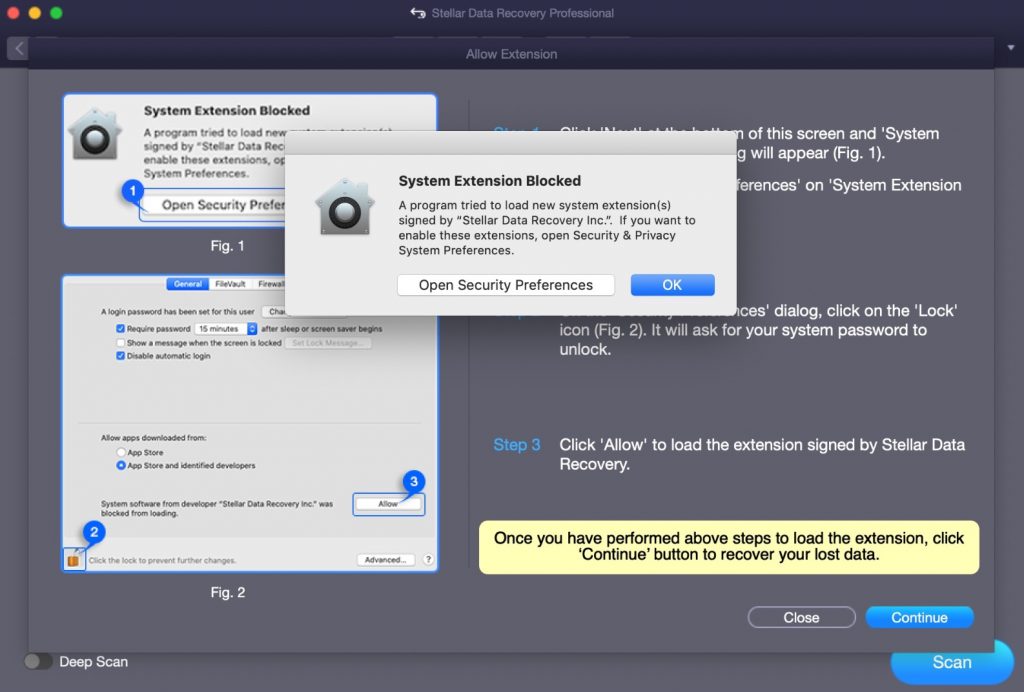 Now that that's out of the way, you're good to go! Let's get onto your data recovery now…
Scanning for deleted files
Before Stellar can retrieve a lost file, it needs to find it first. The first choice you'll need to make is an easy one; if you know what kind of file it is you're searching for, customize (aka, speed up) your scan by narrowing Stellar's search down to any combination of Documents, Emails, Videos, Audio, or Photos. Otherwise, just click "Recover Everything".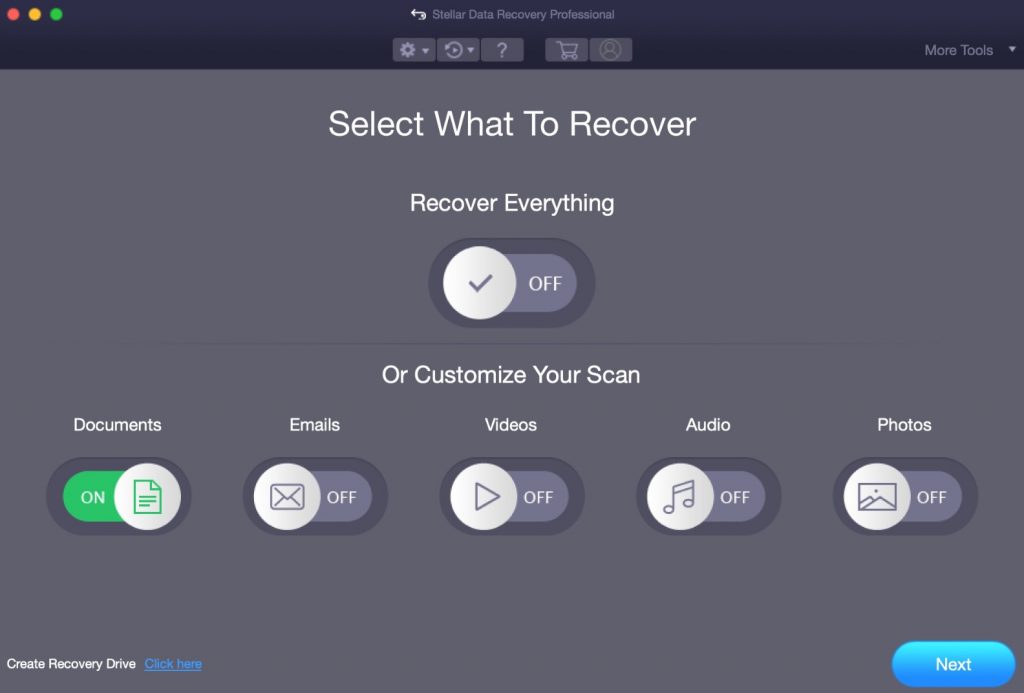 Then, click on the drive with the missing data. Since we're searching for a deleted file, make sure to toggle on "Deep Scan" in the bottom-left. Otherwise you'll simply view what is currently readable on the drive–which is still extremely handy for recovering data from an external drive that won't mount.
Depending on the size of your disk and how many files of the specified type are (or were) present, the scan itself can take a while. It could take well over a hour–don't worry, it's not broken if you see long wait times. Stellar doesn't bog down your system processor, so you can still use your Mac while this is going on in the background.
Recovering your files
Once completed, you'll get a pop-up dialogue displaying how many files have been found. The Stellar icon will jump up in the Dock to catch your attention, as well. To the left, you'll see a sidebar which has three tabs: Classic List, File List, and Deleted List. The first two options are different ways to view the same results, while the Deleted List is where your "dead" file will resolve–click that one.
From here, the easiest thing to do to narrow down the massive list of files is to use the search bar at the top-right (though it can also be handy to switch between Icon, List, Column, and Gallery views.
Now, the good part: Ensure your file or files are selected, then click "Recover" at the bottom-right. Select where you want the file to go once it's recovered, then sit back and pat yourself on the back for narrowly avoiding disaster!
One important note: You cannot restore a file to the same drive where it was lost. So, if you deleted a file off an external drive, you'll need to save it onto a separate drive or your Mac's startup disk and vice versa. The reason for this is to prevent further data loss.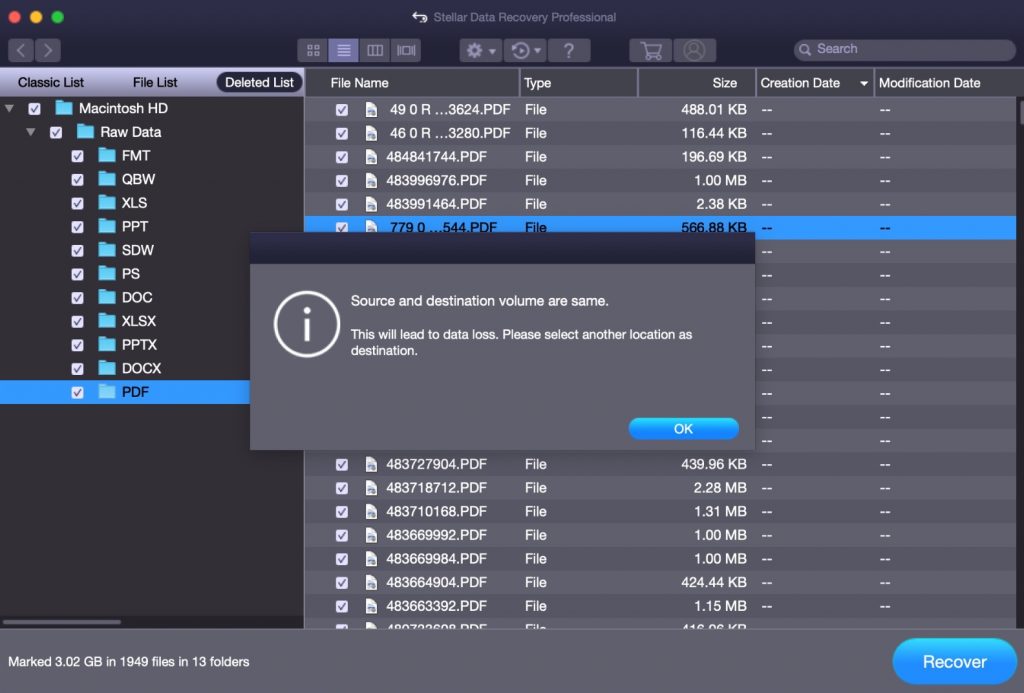 Limitations of Stellar Free Edition
The core functionality of Stellar is fully intact with the Free edition, but it's really only the tip of the iceberg. And moreover, keep in mind that once you've recovered 1GB worth of data, you'll need to upgrade in order to keep using Stellar.
Stellar Professional quick look
Upgrading to Stellar Professional doesn't just extend the length of service, it offers quite a bit more functionality over the Free tier as well. While the focus of this Stellar data recovery review is on the Free version, here's a sneak peek at what you can do with a modest investment of $79.99:
Recover data from a Mac that doesn't boot. It works by using Stellar to create a bootable disk image on a flash drive, then plugging it into your Mac. It'll then boot the Mac, allowing you to view the trapped files and recover them as normal.
Find lost partitions due to damage, corruption, or other errors.
Recover data from physical media, including DVDs, CDs, Blu-Ray, and some legacy formats.
Allows for easy and safe cloning of your disks.
Monitors the health of your drives so you can mitigate the risk of corruption before it's a problem.
Beyond Professional, Stellar offers further tiers with Enterprise-level solutions, as well as licenses for technicians who perform recovery in-house or on a contractual basis. And perhaps coolest of all, Stellar has an actual lab where you can send of your physical disks for advanced recovery.
Still, the vast majority of people will be perfectly happy with the functionality of the Free and Professional tiers. (Windows users, don't forget there's free and premium Stellar software for you, as well!)
Support when you need help with Stellar
As with any good SaaS product, Stellar offers multiple ways to help you out should you encounter a snag or have questions about your data recovery.
First and foremost is the extensive Stellar user manual, which walks you through each feature of every tier. The teaching philosophy here makes use of screenshots and sequential steps to hold your hand through any data recovery process.
But if you can't DIY a solution to your problem, don't worry about it. Stellar is available by phone, or you can submit a ticket for their support team to tackle. In order to access this feature, you'll need to sign up for an account with Stellar, which you can do on their website. (And no, account creation is NOT automatic when you first install and configure Stellar on your Mac.)
Submitting a ticket can be as simple or as involved as you want it to be, with multiple optional fields to fill out which can help support identify and solve your problem. You can even request a specific agent you've worked with before to expedite the process even further–nice touch, Stellar!
Stellar Data Recovery for Mac Review – Verdict
At AddictiveTips, we're pretty demanding of any app or service that promises to manage our precious personal data, and Stellar is no exception. We won't leave you in suspense, however, as it's pretty obvious that we wholeheartedly recommend Stellar for your Mac.
In fact, this was an easy review to write, as our team has been using Stellar for years to safeguard our data against loss. In the bulk of cases, the Free version was the perfect antidote to our problem, and will work for most common use cases. Just be aware that there's a hard data limit of 1GB, so anything more than that will require you to shell out some cash.
But doing so does bring along even more great features, so it's not just a basic extension of service. Stellar is the kind of company that seems to want to give their customers as much value as possible. And we're willing to bet the first time you rescue a file from oblivion, you'll consider it priceless no matter how much you've invested.
Moreover, the Free version doesn't fight you with a neutered UI, nor does it pester you with upsells while you're freaking out after having deleted tomorrow's report or your wedding pictures. It's all incredibly intuitive to any Mac user, and works as advertised so long as the file format is one Stellar supports.
Have you ever used Stellar to recover data from the trash or a broken hard drive? Care to share any horror stories of having lost an important file? Sound off in the comments below!