Stop Folders From Appearing In "All Files" & Spotlight In Mac [Tip]
We recently covered an app, Easy File Hider, worth $1.99, which allows you to change the visibility attribute of a file to Hidden. In the spirit of hiding things from the world and anyone who uses your Mac, here is a little tip to keep files from appearing in Spotlight search and in 'All Files' in the Mac Finder. The fact is, hidden files will be visible if you've enabled Mac to show them in Finder. They can be searched for from Spotlight, and if you were to view All Files in Finder, they will be listed with their respective file types. Hiding folders and their contents from Spotlight and All Files involves nothing more than a quick visit to the System Preferences.
You cannot hide individual files, you will have to put them in a folder and then remove that folder from the search index. Go to System Preferences > Spotlight and visit the Privacy tab. Use either the plus sign to add the folder you want to hide, or drag & drop it onto the window.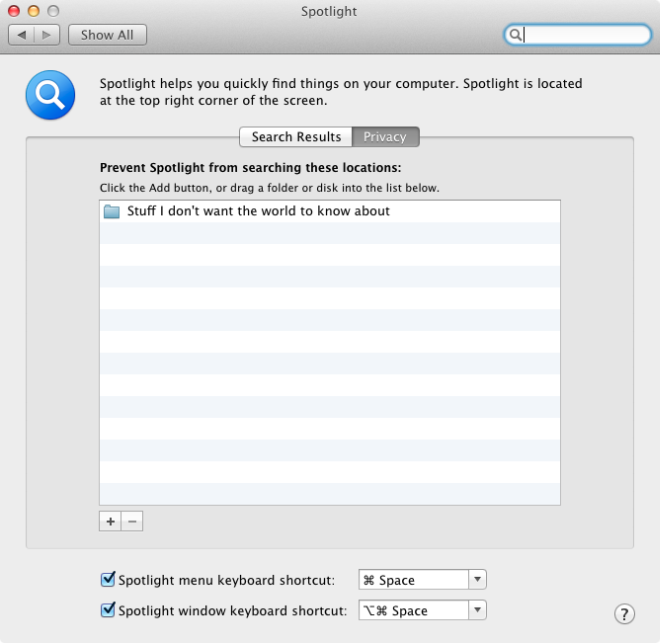 All files, and the folder itself, will cease to appear in the Finder, and will no longer be searchable. Both Hidden and Visible folders can be removed from the Spotlight index using this method. To add a folder back to the index, remove it from this list. Remember that, while this will hide the folder from search, just about anyone can visit this list and edit it. You are not asked for your password when you add or remove files, so this is best to keep you from opening any embarrassing files in front of people. Additionally, it will keep slightly nosy people away from things that you aren't ready to share with the world. Even if you aren't looking to hide folders because they are conspicuous, you can keep important files from being deleted.