TotalTerminal Replaces Visor In Mac; System-Wide Terminal With Hotkey
Many Mac proficient users like to use Terminal utilities like, Click2Shell, cdto, etc., to quickly launch Terminal for performing numerous system tasks. Both mentioned tools open current location in Mac Terminal from Finder toolbar, preventing users from manually navigating to current location in Terminal. If you're looking for a more convenient way to launch Mac Terminal window, try out TotalTerminal. It's an Terminal.app plugin which provides a persistent Terminal Visor window. Although it isn't meant to open current Finder folder in Terminal, you can quickly slide down Terminal from system menu bar by using default hotkey combination Ctrl + ~ to instantly start running required system commands. When this hotkey combination is re-triggered, it will hide the Terminal.
The animation is highly customizable; you can replace the default slide down behavior with Fade window or custom transparent background. Additionally, it lets you set Terminal opacity level if custom background is selected (default is 100%; you can lower its opacity value down a bit to make it transparent), change launch position, enable options to copy on select and paste on right-click, and change default launch combo-key.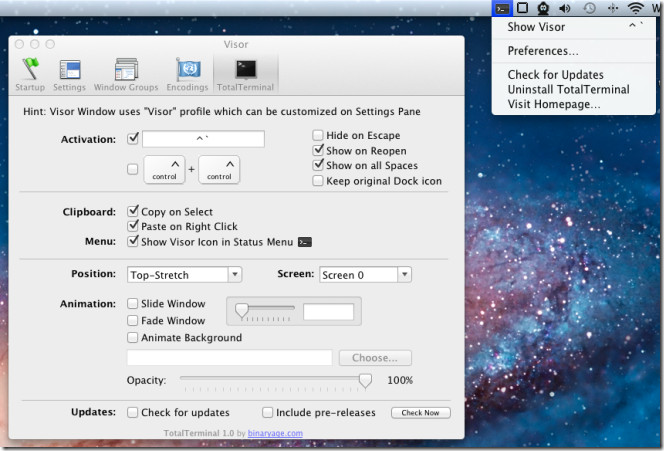 Once configured, close the TotalTerminal configuration panel. Now, when you want to show Terminal visor, simply use the hotkey combination. Terminal window will overlay all other windows letting you instantly run system commands.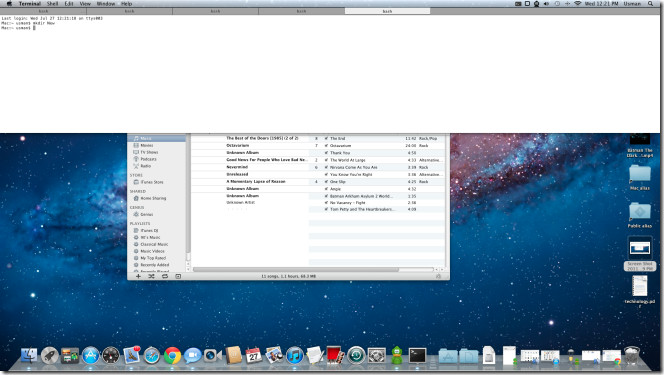 According to the developer, TotalTerminal supersedes Visor and is 100% compatible with Mac OS X 10.7 (Lion).