Wake Up Time: Use Your Mac As Alarm Clock With Customizable Snooze
If you're in the habit of leaving your Mac on all night, either because you don't see any point in turning it on/off again and again, or because you've started downloading a huge file that will probably take all night, you've basically got a highly sophisticated machine running all night but doing very little. Wake Up Time is a free Mac app that lends usability to an idle sitting Mac by allowing you to set an alarm on it. The app, although simple, has an excellent interface, lets you customize snooze interval, choose from one of three alarm sounds, and set to fade the alarm out.
When you first launch the app, you will see a simple digital clock, with the right panel sliding out when you click and drag it outward. Here, you can set the time. Time is set in AM/PM format, but displayed in 24hour format. Select the sound, volume and chose if you want the app to fade out the alarm sound.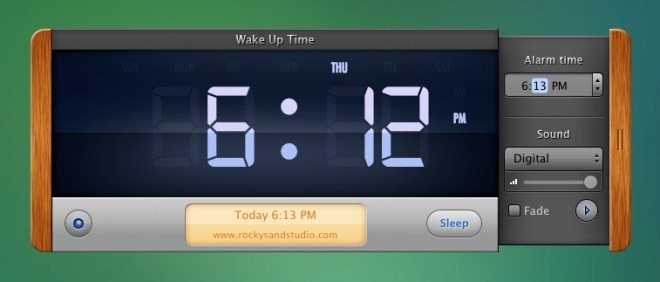 Click Sleep to turn off your screen until the alarm rings. The screen can be restored by clicking a mouse button or hitting any key. The single button on the far left allows you to quickly clear the alarm you've set.
To bring the system volume back to normal once the alarm has sounded, and to set the snooze interval, go to the app's preferences. You can also change the 24hour time display to the AM/PM format by unchecking the 24-hour display option.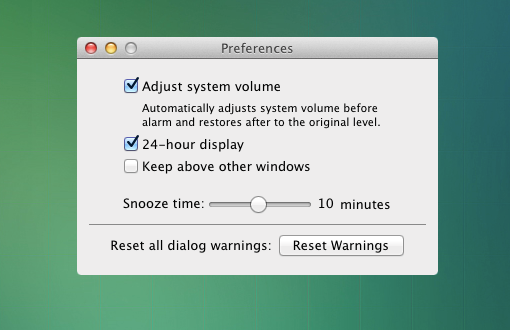 For a free alarm clock app, the interface is excellent, and upcoming features will allow you to select you own music files or iTunes to play instead of the pre-installed alarm sounds.
Get Wake Up Time From Mac App Store