Wrap Mouse Movement Around The Screen Sides With Wraparound [Mac]
Moving mouse pointer across the screen to access some items scattered all over the desktop becomes frustratingly tiring on large display monitors. To address this problem, you can either change your mouse tracking speed or keep items adjacent to each other to quickly access them. How about an application which saves you trouble of changing mouse speed or adjusting items on screen(s) manually while allowing you to effortlessly access items present at any side of the screen?
Wraparound is an application for Mac which offers a simple yet novel solution to big display owners. It wraps your mouse movements around the specified edges of the screen, means that you can set left, right, up and down sides of the screen for wrapping mouse movements. When you move your mouse to right-side of the screen, it will appear from left side of the screen, letting you quickly access items present at left side of screen without having to move your mouse pointer from right to left side.
Similarly, if Up and Down options are enabled, you will be able to access system dock when you move your pointer over the mac menu bar in vertical direction. By default, only horizontal, i.e Left and Right options are enabled. You can disable wrap around behavior for any edge of the screen. The application sits in mac menu bar, allowing you to quickly toggle mouse wrap around behavior on/off.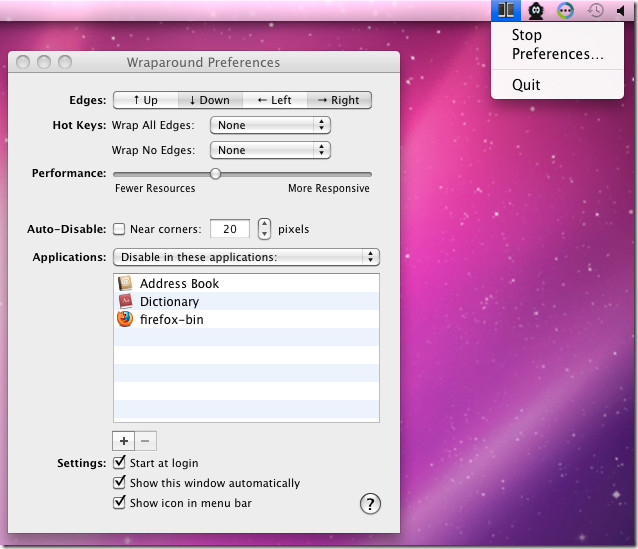 Moreover, you can disable it for specific applications where you want mouse to behave normally. For instance, while browsing you might not want to wrap mouse movements around the edges. You can add your favorite browser by hitting the cross-imaged button under Application section. It allows associating hotkey combinations to enable/disable Wrap All Edges and Wrap No Edges behavior. When you, let's say, want to enable wrap around mouse movement from right-side of the screen, simply click Right button from Edges section. You can enable/disable other sides in similar fashion.
The best part is that you can drag windows, objects, and files through screen edges. It works on Mac 10.5 or later.