XMenu Adds Mac Global Menu And Favorite Folders To Menu Bar
Sometimes it becomes quite difficult to find installed applications from heavily bloated Apps folder or to look through different Mac Home folders for one specific file. Many users like to keep shortcuts of most frequently used applications, documents, files, and folders on their desktop to quickly access them, but this approach may eventually clutter-up whole desktop area. If you're looking for a smart way to quickly access your favorite files, documents, apps, etc., without having to access them from desktop, give XMenu a shot.
XMenu is a small application to bring user-defined locations and global menus to Mac menu bar. The application is highly customizable in terms of changing the locations, menu layout, and size. It gives you direct access to your Apps, Documents, Text snippets, Home folders, including, Music, Pictures, Mail, Library, Downloads, Documents, Desktop, from different menus sitting in system menu bar. This makes it very easy for users to quickly launch any application, open documents, navigate through Mac system folders, check out previously saved text snippets and so on.
After launching the application, you will see Apps (A) icon in menu bar which when clicked reveals all the installed applications. To add more folders and global Mac menus, right-click Apps icon and select Preferences. Here, you can add or remove provided menus. Under Menus sections, select for instance Home, Documents, and Snippets options to bring them to menu bar. Underneath it, you can enable customized menu labels, follow links, sort lists by name, and show folders after/before files.
The Icons sections refers to changing lists icons size and to show Text, Icon or both Text and Icon with menu list items. All the changes are made in real time, so just close the window to see the applied changes.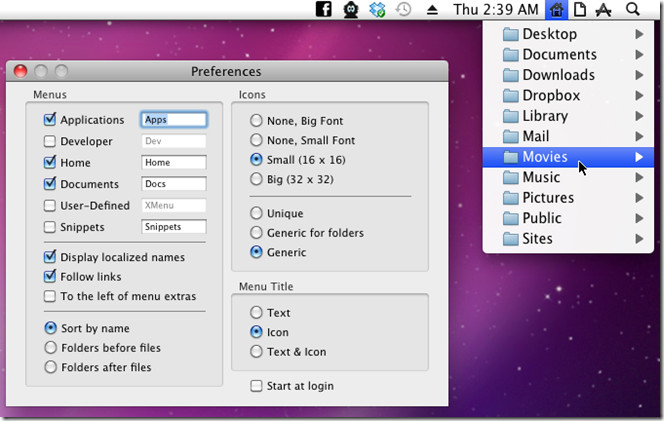 By default, it shows only the icons of menus, but if you've selected Text and Icon option from Preferences, it will show customized labels with icons as well.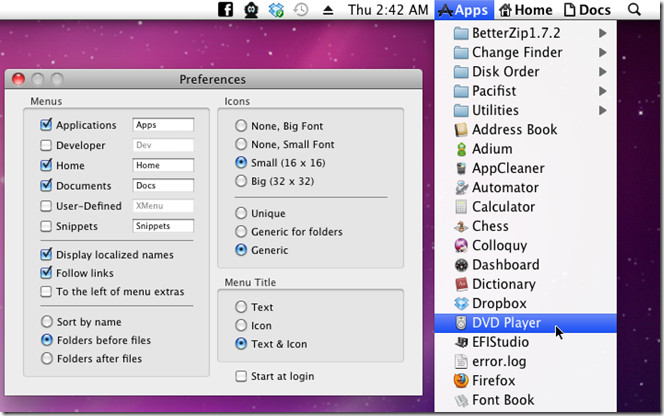 XMenu is a useful application to keep most frequently used items handy. It works on Mac 10.5 and higher.