MpTagThat – Rip Audio CDs, Tag, Burn, & Convert Music Files
MpTagThat is a massive open source application which encompasses all the essential music related tools and features. It is primarily written to seamlessly tag your huge music collection. Whilst it offers almost every feature which is necessary to quickly add, edit, change and fetch tag info from online resources, you can switch between ID3 V1 & V2 format, embed lyrics from locally saved text file or let it find it for you, create playlists, rip audio CD/DVD tracks, convert your music, create hierarchy of folders according to artist, genre, and do much more.
Compared with previously MusicBrainz Picard, it is not that much efficient in replacing invalid tag information with correct ones, but provides dozen of extra features to take complete control over you music collection meta information. You can for example choose to delete tags of your music archive in on go and replace them with online music sources, rename multiple selected files, organize them by different ID V1 & V2 format parameters, and identify correct track by getting info from different online music websites.
The ribbon based extensible interface lets you set track listings according to volume of your music collection. If you're dealing with a lot of files, you can hide ribbon and other info and media playback panes present at the bottom to get a wide preview.
To begin, select your music archive location (from left side bar) to list down all the tracks in main window. Before editing tags, select the item from the list and click Identify File on ribbon to let it match file names with online resources in order to provide you with file name options. This way you can quickly replace the tag info with suggested track tag info.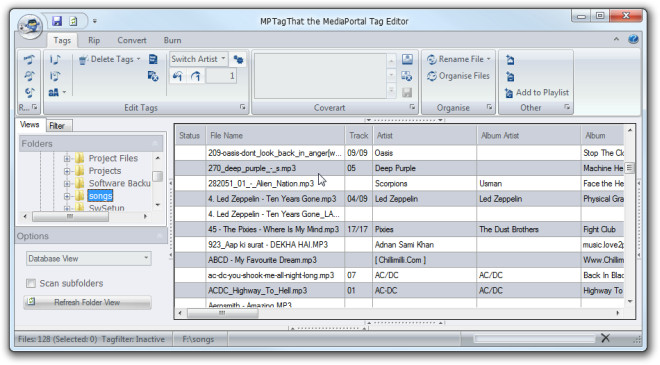 To populate the tag fields quickly, click Tag From Internet prior to selecting the file to fetch tag information according to artist and track name. If it finds multiple tag information, select the required info and click Continue to replace original tag info.

Furthermore, you can open any track information in a separate viewer to add cover art, get detailed information, fetch lyrics, check ratings, and view other information available on web. After you've changed the original information, click Apply to save the changes to selected track.
From right-click menu, you can send selected items to Burner and Converter to add them to burn and convert queue.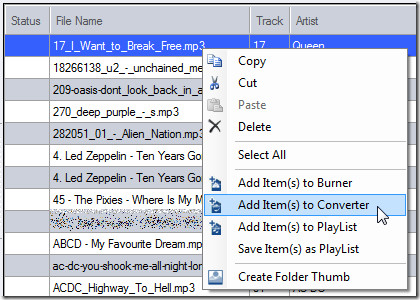 MpTagThat has the ability to convert all the queued tracks in one go. You just need to select encoder from the list followed by a click on Start Convert to begin conversion process.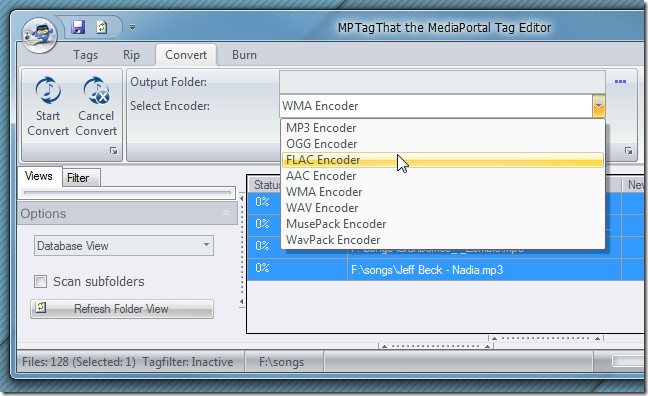 MpTagThat is a must have application for audiophiles. Aside from few interface related glitches, we didn't face any other issues. It works on Windows XP, Windows Vista, and Windows 7.