We are reader supported and may earn a commission when you buy through links on our site.
Learn more
How to Watch A Star Is Born on Netflix in the US and Elsewhere
A Star Is Born had us all believing there may be something going on between Lady Gaga and Bradley Cooper once their on-screen chemistry was out for everyone to see. If you haven't yet seen the movie, you can definitely head over to Netflix.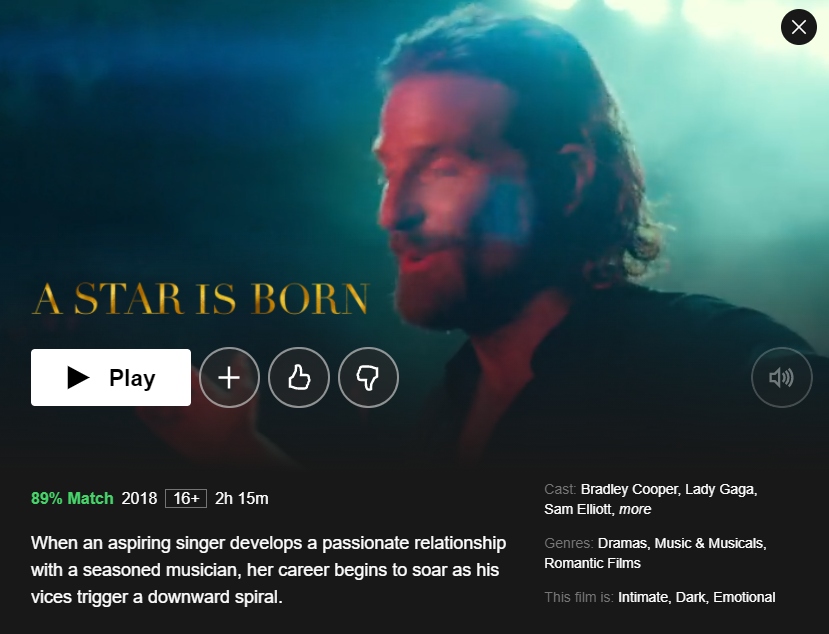 A Star Is Born was released in 2018. This romantic musical drama features Bradley Cooper, Lady Gaga, Dave Chappelle, Sam Elliott, and many others. Cooper actually makes his directorial debut with this movie.
This isn't the first time we're watching this particular story being told. The original movie that features an established musician discovering a young singer and helping her make a name for herself while the two of them fall in love was released back in 1937. Then, in 1954 and 1976 there were two musical remakes.
The latest remake was first discussed back in 2011 and Clint Eastwood was supposed to direct the film, while Beyonce was supposed to play the impressive young singer, but it never got to see the light of day in that format. Thankfully, this was for the best, as the Cooper – Gaga film earned eight nominations at the Oscars and five at the Golden Globes. It managed to win Best Original Song for "Shallow" in both award shows.
Is A Star Is Born on Netflix?
A Star Is Born is present on Netflix, but it all depends on where you live. For instance, we managed to find it in the United Kingdom and Canada, but it's sadly missing from the United States.
30-days money back guarantee
As you know, Netflix is present in over 190 countries and it needs to sign licensing deals for the content in streams for each individual area. This means that in some areas, some content may not be available. Whether it's due to other platforms having the streaming rights for a specific period, or the content not being destined for an area, or any other reason; it doesn't really matter in the end. What does matter is that you can't watch the film you're interested in.
When is A Star Is Born Coming to Netflix?
It is sadly unclear when A Star Is Born will be coming to Netflix US. According to the list of new movies coming to the platform in November 2020, the film isn't going to be here by the end of the month.
As mentioned, however, A Star Is Born is available on Netflix in other countries, including Canada and the United Kingdom.
Can I watch A Star Is Born on Netflix?
If you have a Netflix subscription you can definitely enjoy A Star Is Born. In fact, you can do that rather easily as long as you know the trick. As mentioned, Netflix has individual libraries in all countries it's available in and you can only access the local one. This can be extremely annoying, especially when you're missing out on titles you're really interested in.
If you have a VPN, however, you can appear to be anywhere you need to be. For instance, if you're in the US, you can appear to be in Canada or the UK and get all the Netflix goodies from that country instead.
How can I watch A Star Is Born with a VPN?
A Star Is Born can be enjoyed from any corner of the world on Netflix if you have a VPN. That's because VPNs have the power to route your Internet connection through a server of your choice and assign a new IP address to your device to match those in the area of the server. Once you visit Netflix again, you'll appear to be in London, for instance.
We use NordVPN and heartily recommend it to you as well as it's one of the best tools we tested here. It has thousands of servers in all corners of the world so you can travel virtually anywhere. NordVPN also works with some great encryption protocols so your data is as safe as it's going to get.
Here's what you need to do:
First, you'll have to subscribe to NordVPN. They're offering 3 months for free and a hefty discount for the 2-year plan, so you should hurry up and subscribe now!
Then, you have to get the apps and find a server in the UK or Canada.
Once you connect to the chosen server, load Netflix in your browser, or relaunch the app on your device.
That's It! It's really not that difficult.
Won't Netflix know I'm using a VPN?
Some years back, once Netflix realized people were using VPNs to "cross the border" and start watching content that wasn't technically supposed to reach them, they implemented technology to stop users. Of course, this doesn't always work, especially against premium VPNs like NordVPN.
Most often, Netflix will blacklist IP families that come from the many free VPNs available out there, as they are far easier to track since they serve numerous people.
We're not saying that Netflix can't block you off when using NordVPN, but it's less likely to happen. If it does, however, you can first switch servers and keep reloading Netflix. If that doesn't work or you want a sure-fire way to do it, you can contact the NordVPN Support Team. They're available 24/7 so it doesn't matter where you live, they'll be there to help you out.
Why can't I use a free VPN instead?
We get why you'd want to use a free VPN since we already use so many other free tools online. In the case of VPNs, however, we truly don't advise you to take this route due to quite a few reasons.
First of all, using free VPNs is dangerous. Over the years, security researchers have flagged numerous VPNs as infected with various malware. The apps got pulled from the app stores, but the damage was done. Malware can lead to hacked accounts, financial fraud, identity theft, blackmailing, and so on.
Editor's note: NordVPN is our #1 choice for unblocking Netflix. Sign up for the 2-year plan with NordVPN at $3.49 per month, as well as 3 months for FREE. A 30-day money-back guarantee is included on all plans, so you can cancel any time and get your money back.
Second of all, even if the free VPNs are legitimate, they are unlikely to get you to Netflix. As we mentioned, the first IPs to get blacklisted come from free VPNs. Then, even if you somehow managed to bypass the blockade, since the apps are free, there are loads of users. However, free VPNs have little resources which means they have few servers. Mix the two together and you get Internet speeds that will barely load you a text-based website, much less allow you to stream A Star Is Born on Netflix.
We also have to warn you against the VPNs that use your computer as a server for other users. In order to use this type of VPNs for free, you trade in some of your resources as others trade in their own computers. The result is a heavily slowed-down performance of your device.
Final thoughts
Watching A Star Is Born on Netflix is not going to be a difficult thing to do if you have all the information, and now you do. Just make sure you make the right choices when it comes to VPNs and you're good to go!