We are reader supported and may earn a commission when you buy through links on our site.
Learn more
How to Watch the John Wick Trilogy on Netflix
Keanu Reeves is easily one of the most beloved Hollywood actors, both for his acting chops and his kind-heartedness. John Wick is a character that he plays brilliantly, which is just one reason behind the success of the films. Thankfully, those who want to watch (and rewatch) the movies can find them on Netflix.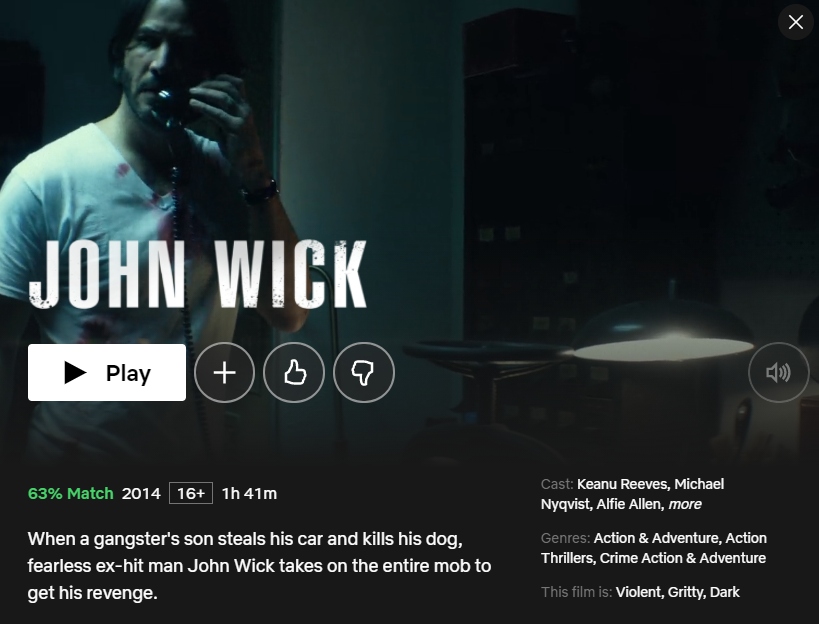 John Wick is an action-filled thriller that features Keanu Reeves in the main role – a man who gets pulled back into a life he tried to leave. Once a group of men break into his home, steal his car, and kill his puppy, he dives back into his old life to get revenge. The result is an impressive film series that's full of action, witty conversation, and Keanu's charisma.
How many John Wick films are there?
Up until now, three John Wick films have been released. The first one hit the world in 2014. John Wick: Chapter 2 was released in 2017, while John Wick: Chapter 3 – Parabellum was released in 2019.
A fourth movie is expected to hit theaters in spring 2022. A fifth, untitled, film is also set to follow.
Is John Wick on Netflix or Hulu?
In the United States, John Wick isn't available on either of these platforms. Well, it is present on Hulu if you get the Cinemax add-on, but not on the standalone service. It's not even all John Wick films that can be enjoyed there, but rather the latest one, Chapter 3 – Parabellum.
Does Netflix have John Wick?
The short answer to this question is "yes." The long answer is that it depends on where you live. We managed to discover all three John Wick movies on Netflix in the United Kingdom or Romania, for instance, but missing from the United States or Canada.
Is John Wick 2 on Netflix?
The second film from the John Wick franchise is available to watch on Netflix in several markets, like the United Kingdom, but it's missing from the United States.
Is John Wick 3 on Netflix?
The most recent John Wick film, from 2019, is available to watch on Netflix if you live in the United Kingdom or Romania, to name a few.
What if I can't watch John Wick on my local Netflix?
One of the annoying things about Netflix is that it has individual libraries in each country it's available in and not all content is available everywhere. A good example is John Wick, as the film is missing in the United States, but it's present in other countries. Other times, the situation is reversed and the films you're interested in are present in the United States, and missing in another country.
30-days money back guarantee
Even though we all pay similar subscription fees, Netflix has different libraries in order to better respond to local demands and interests. Also, the licensing deals they manage to get also depend on what other local streaming platforms are available and the deals they managed to get.
However, if you are interested in watching John Wick and you live in an area where Netflix does not have the films, you can still enjoy them as long as you have a VPN.
VPNs are complex tools, but they're usually easy to use. A VPN will route your Internet connection through a server of your choice and will assign a new IP to your device to match all the others in the area you selected. For instance, if you choose a server in London, you'll get an IP that will indicate this new location.
This is particularly useful when you're trying to watch John Wick on Netflix UK from the United States or Canada, for instance.
Since the market is flooded with VPNs, we can help you choose the best there is. According to our tests and review, that's NordVPN. The tool comes with servers in close to a hundred countries, even more locations, and has top-grade encryption at its disposal to secure your data.
Here's what you need to do to use NordVPN:
You'll need to start by setting up an account. You'll get 3 months for free and 68% OFF the 2-year plan.
Then you need to clear out the little details like installing apps and logging into your account on all necessary devices.
Now it's time to look for a server that's in the United Kingdom, for instance, and to connect to it.
Once that connection is established, you can load Netflix in your browser or relaunch the app on your device.
Netflix will now see you are in London and grant you access to all the local library has to offer, including John Wick.
Won't Netflix know I'm using a VPN?
A few years back, Netflix introduced technology to help it figure out when people were using VPNs to access its platform. Luckily for us, premium VPNs often fly under the radar.
Netflix blacklists IP groups their systems flag as coming from VPNs, but they can't get all of them. With NordVPN we've had a great experience so far and managed to bypass the limitations every time. Of course, it doesn't mean that it can't happen. In fact, if it does, you should start by switching servers a few times and reloading the page. If that doesn't work either, you should contact Customer Support and they'll be happy to guide you towards a server that works with the Netflix library you want to access.
Can't I use a free VPN instead?
We are all accustomed to using free tools online, but it's not something that we can apply in all things. When it comes to VPNs, it always best to go for premium tools.
First of all, using free tools can be dangerous. One of the app categories often used by cybercriminals to disguise their malware is VPNs. To make them more attractive, they offer the tools for free. Once a device is infected, the malware can collect financial data, personal information, sensitive photographs, and so on. Pretty much any information on your device is a fair game. Identity theft, financial fraud, and blackmailing are just some examples of possible outcomes.
Editor's note: NordVPN is our #1 choice for unblocking Netflix. Sign up for the 2-year plan with NordVPN at $3.49 per month, as well as 3 months for FREE. A 30-day money-back guarantee is included on all plans, so you can cancel any time and get your money back.
Another reason you should avoid using free VPNs is that they are not going to be efficient in bypassing the blockades Netflix implemented. Free VPNs are the first to get blacklisted so you won't even get to watch anything.
Furthermore, even if you did manage to make things work, you're unlikely to be able to actually watch anything as the Internet speeds are not the best. Free tools usually have few servers, but loads of users. Under these circumstances, Internet speeds drop considerably as the servers get overcrowded.
There are also some free VPNs that should be avoided as they use your own device as a server for other users. As you trade in access to your computer's resources in order to use the app for free, your device's performance will drop considerably and you may encounter many other issues.
Final thoughts
We know that paying for yet another subscription is not necessarily something you'd want to do, but in this case it seems like it's the best way if John Wick is not available on your local Netflix. We're powering up NordVPN and "traveling" to London to start watching Keanu in action.