We are reader supported and may earn a commission when you buy through links on our site.
Learn more
The 10 Best Alternatives To CinemaNow (Both Free And Paid)
Fortunately, there are quite a few free and paid alternatives to CinemaNow available today. None is a direct replacement but several offer a pretty good variety of content which is enough to keep you busy watching for a while.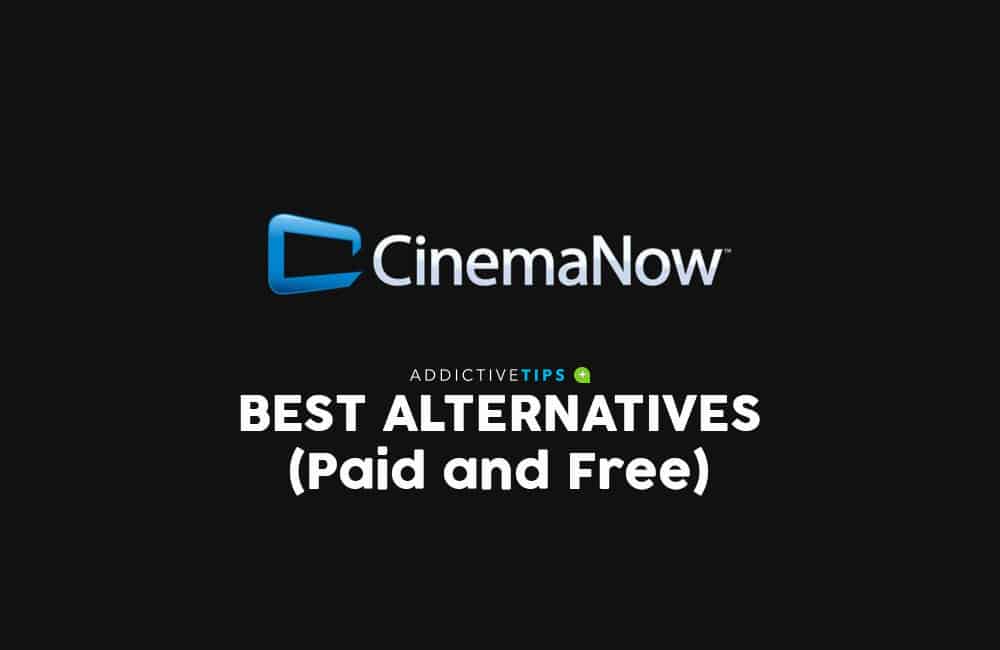 Do you recall CinemaNow? It used to be a rather popular streaming service in the US, in Canada, and in the UK. The service had tens of thousands of movies and TV shows in its library. Users picked and chose what they wanted to rent or buy in one-off purchases, providing an alternative to the monthly subscription services provided competitors such as Netflix and Hulu. Much to every customer's dismay, CinemaNow shut down about a year an a half ago, leaving subscribers unable to access their previously purchased titles and scrambling to find alternatives to CinemaNow.
Our road map for today will be rather simple. After briefly discussing Virtual Private Networks—which can really help you get the best of video streaming services—we'll review some of the very best paid alternatives. But since there are also quite a few free options for streaming content, that will be our next order of business as we review them.
30-days money back guarantee
Before We Begin, A Word About Virtual Private Networks (VPN)
Many streaming services listed herein will limit content availability to users in certain geographical areas. While this may be a major annoyance, they have a very good reason for doing this. It has to do with licensing. Some content is only licensed to streaming services for distribution in specific markets. It is due to copyright owners often having other broadcast arrangements in other markets.
This limitation is usually implemented using IP address filtering. An IP address, as you may already know, is a sequence of numbers that uniquely identify each computer connected to the Internet. Part of the IP address specifies the location of a computer. Since each request your computer sends to streaming services is tagged with your IP address—which is used to stream the content to you—it is easy for streaming providers to refuse to stream content to IP addresses located outside of the authorized zone.
Thankfully, a Virtual Private Network (VPN) can help you circumvent this limitation allowing you, for instance, to keep watching your favourite content even if you're travelling abroad, although their original use was to provide added security and privacy. A VPN builds a virtual tunnel—hence the name—between your device running a VPN client and a VPN server in a remote location. All data in and out of your computer is sent through the tunnel after being encrypted using strong algorithms that make it impossible to crack. When data from your computer arrives at the VPN server, it is decrypted before being sent out on the Internet.
This is where a VPN helps you access geo-blocked content. When the decrypted data leaves the VPN server, its source IP address is no longer that of your device but the VPN server's IP address. The streaming provider will thus "think" that you're located wherever the VPN server is. That sounds simple enough but it's actually not that easy. Streaming providers are exposed to huge fines from copyright owners if they don't actively work at preventing use from unauthorized markets. Some work very hard at stopping users from using VPN using various techniques. Only a handful of VPNs actually work with streaming providers.
The Best VPN For Content Streaming: ExpressVPN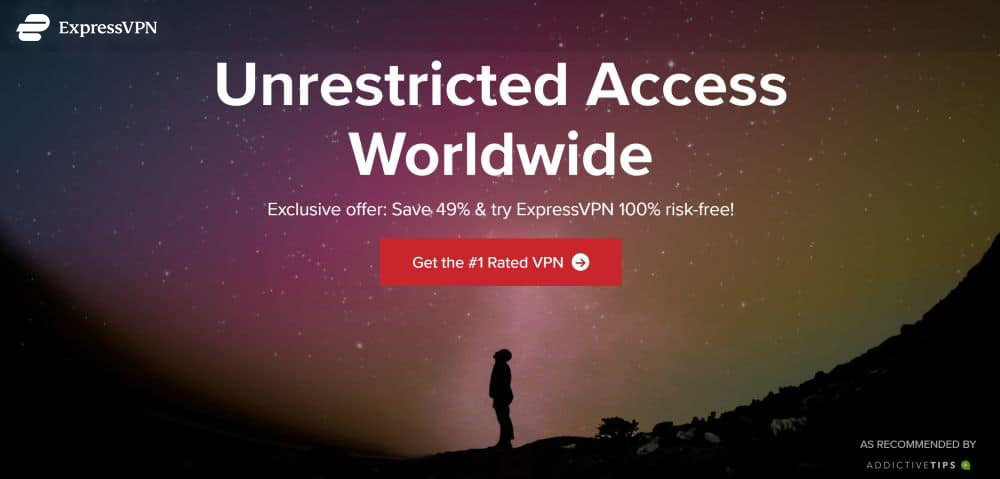 ExpressVPN is one of the fastest VPNs and considering the requirement of video streaming services, speed is important to avoid buffering. This provider also does an excellent job of staying under the radar when it comes to connecting to streaming services with geo-blocking.
ExpressVPN has many more important features such as no-logging policies to protect your privacy, and no usage restrictions to access any content at full speed. Furthermore, clients app are available for most platforms and are very beginner-friendly. And in the rare occurrence that you'd have an issue, the provider offers 24/7 customer support via live chat.
Get more info about ExpressVPN and its excellent software and features in our full ExpressVPN review.
Pros
Unblocks US Netflix, BBC iPlayer, Hulu and Amazon Prime
Fast serves with minimal speed loss
OpenVPN, IPSec & IKEv2 Encryption
Keeps no logs of personal data
24/7 Chat Support.
The Best Paid Alternatives to CinemaNow Available Today
Let's start with some paid alternatives to CinemaNow. While all our suggestions require payment, their business models vary greatly. Some are subscription-based while others make users pay for the content they watch or download. Let's see what each one has to offer.
When it comes to video streaming services, Netflix is inescapable. Contrary to CinemaNow, this is a subscription service with three plans available for $7.99, $10.99, and $13.99, with a 1-month free trial. A Netflix subscription lets you enjoy unlimited ad-free content as often as you want. Netflix can be watched on almost any device for the ultimate flexibility and it can be cancelled at any time with no questions asked. Netflix can be watched on almost any internet-connected device including streaming media players, smart TVs, games consoles and Android and iOS smartphones and tablets. While Netflix is available in many countries, the programming offer varies by location and, for example, the Canadian program lineup is different from the American.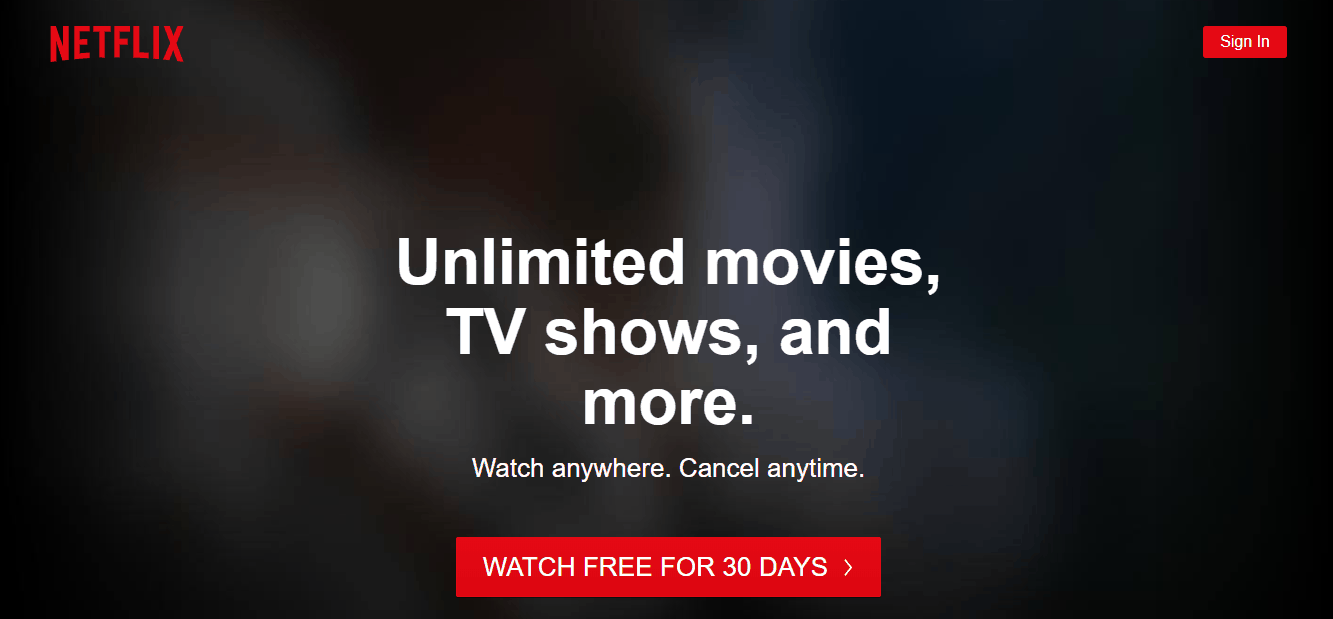 Netflix is very well made and issues when streaming videos are rare, even in Ultra HD resolution. Picture quality is generally excellent and buffering and lag are not an issue, provided you Internet access has sufficient bandwidth. The main drawback with the service—at least to me—is how it doesn't have much available in terms of current TV shows airing on cable and network channels. With over 125 million subscribers, this is not a showstopper for most users.
One particularly nice feature of Netflix is its content suggestions—for both TV shows and movies—which are based on what you've watched and how you've rated it. It uses a very effective algorithm and provides a highly personalized experience. And of course, Netflix has its own original content such as Stranger Things, Orange is the New Black, and BoJack Horseman, just to name a few.
Co-owned by The Walt Disney Company, 21st Century Fox, Comcast and AT&T, Hulu is another popular video streaming service. Although Hulu does offer movies, its main focus is on offering newer TV shows as well as its own original content. Hulu's subscription-based business model has plans starting at $7.99 for basic access to the streaming library (with ads) and other, more expensive, plans will let you add ad-free viewing, live TV, increased storage and recording options as well as access via an unlimited number of devices. Any subscription can be cancelled at any time.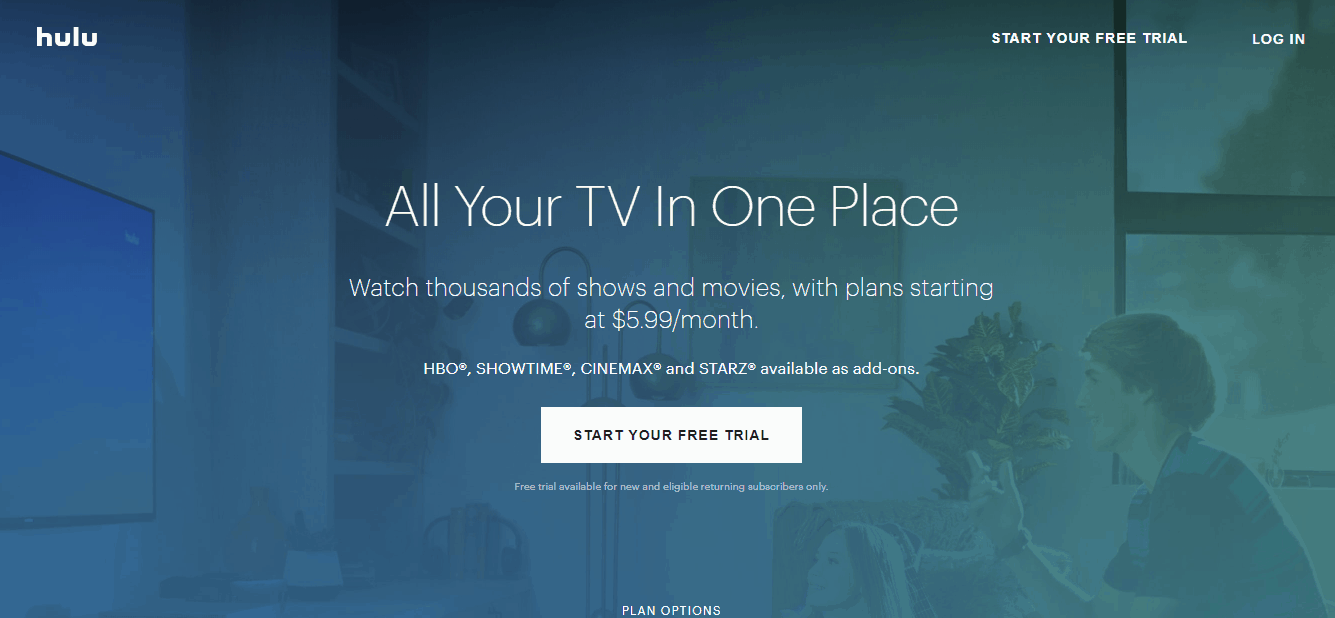 One of the main advantages of Hulu is that it offers earlier access to current TV series from other networks with episodes often available just days after being broadcast. The service also has complete seasons of many TV shows. Some of the popular titles include Family Guy, Blackish and Saturday Night Live. Hulu also produces its own original content such as The Handmaid's Tale and Castle Rock.
The service's recently updated user interface has made it easier to use than ever before. However, Hulu does not support 4K content as yet. Hulu is available on most devices including some smart TVs, Android and Apple mobile devices, streaming media players and games consoles. Unfortunately, Hulu is only available in the US and Japan. You'll need to use a VPN to access Hulu's content from anywhere else.
Like the previous entries, Amazon Prime Video is a monthly subscription service much like Netflix and Hulu. The Prime Video subscription on its own costs $8.99 per month but it can be combined with the Amazon Prime subscription for $12.99 and include all the advantages of Amazon Prime including free same-day delivery and unlimited music streaming. Like most of its competitors, Amazon does offer a free 30-day trial and the service is cancellable at any time.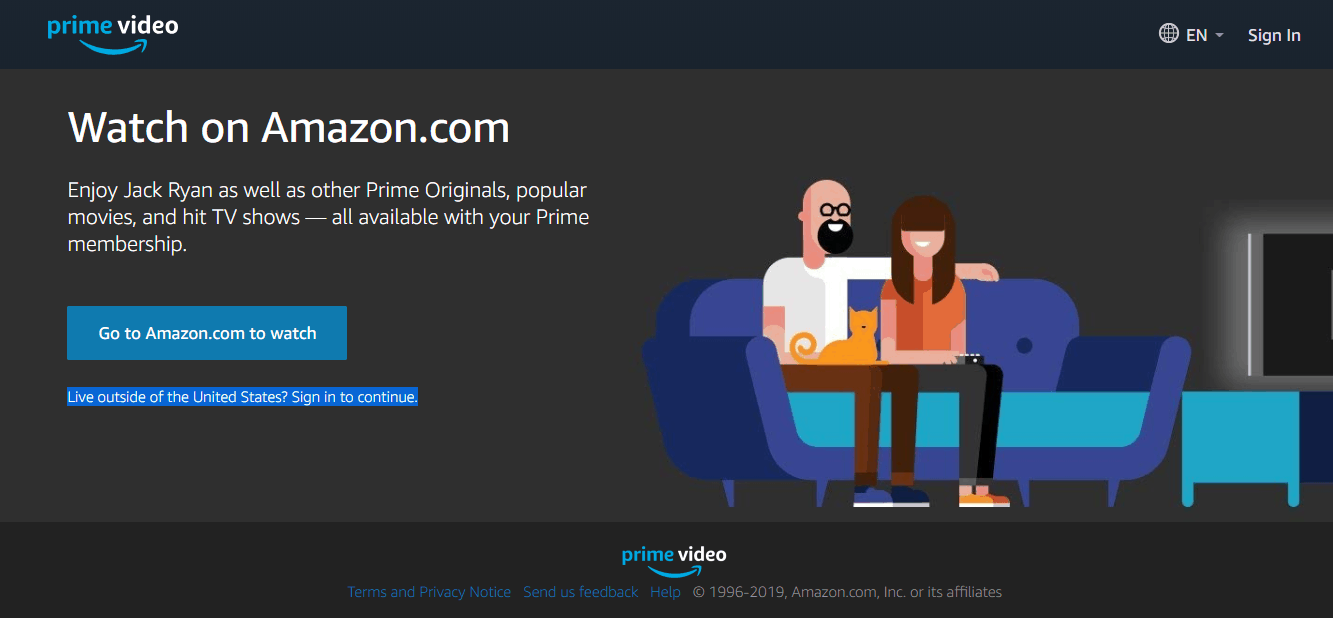 Like CinemaNow used to do, Amazon Prime Video allows you to purchase and rent individual titles without having a Prime subscription. This is a great option when you want to watch newer movies and TV series. Aside from various licensed content, Amazon Prime Video also offers original content from Amazon Studios including The Man In the High Castle, Bosch and Transparent. Some of the content is available in 4K if your hardware supports it. As for the client apps, they work well but they're not quite as intuitive as those of Netflix. The service can be accessed through a wide range of devices including smart TVs, set-top boxes, games consoles and Android and iOS phones and tablets. While the service itself is available in most countries, some content is geo-restricted. However, this is nothing a VPN won't let you get around.
HBO Now is a standalone subscription service. Contrary to HBO Go which complements your cable subscription, it lets you stream TV shows and movies online with no cable required. The streaming service has a wide selection of films including Dunkirk, Fargo and Murder on the Orient Express. But HBO's award-winning original content is what really makes this a great alternative to CinemaNow with highly-acclaimed shows such as Game of Thrones, The Wire and Boardwalk Empire.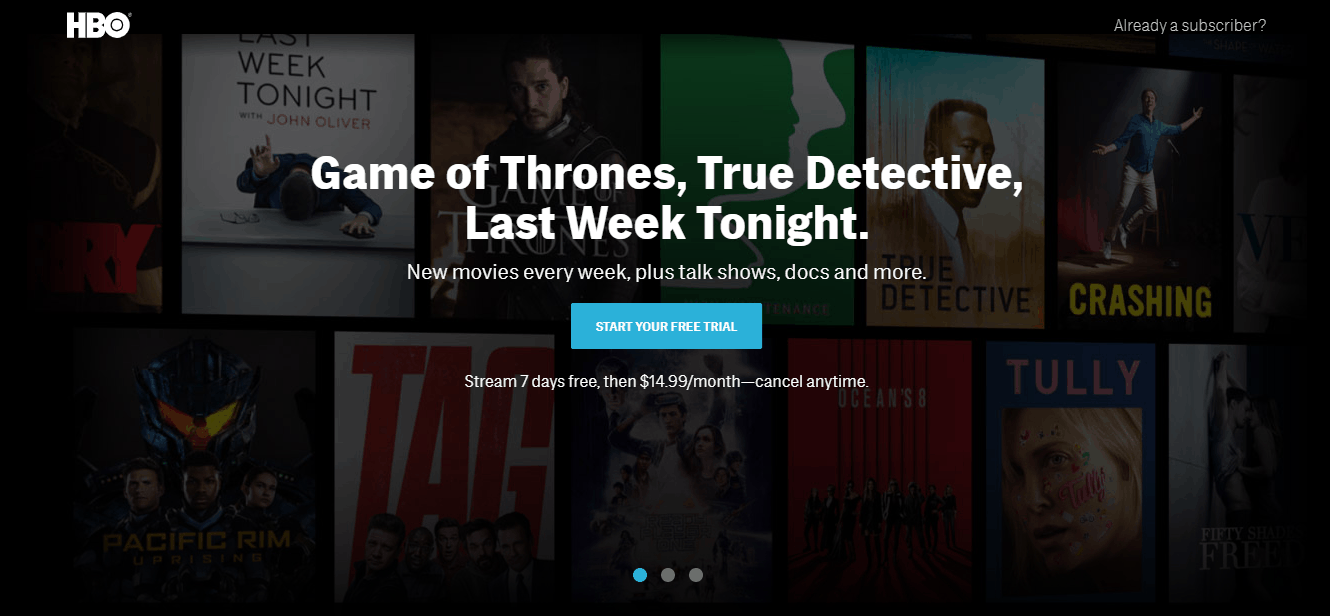 HBO Now is available on a wide range of devices including streaming players, select smart TVs, games consoles, and mobile devices. Like many competitors, HBO Now is only available in the US. You'll need a VPN in order to watch it from outside the US. As for the client app, it works very well and streaming quality is excellent with no buffering or lag. For now, no support for 4K content exists.
The HBO Now subscription costs $14.99 per month and a on-month free trial is available. Your subscription lets you stream on multiple devices simultaneously and it can be cancelled at any time.
Everyone knows YouTube and use it on a regular basis but most haven't considered YouTube as an alternative to CinemaNow. However, the service offers a wide selection of movies and TV shows which are available for purchase as well as rent, making it an excellent alternative. Many of the available content are new titles that are currently or have recently been on TV or in the cinema. They include Game of Thrones, Doctor Who, Incredibles 2 and Hacksaw Ridge. Rental and purchase prices vary from $2.99 to $19.99 with rentals available for 24 or 48 hours once you hit the play button, depending on the selected title.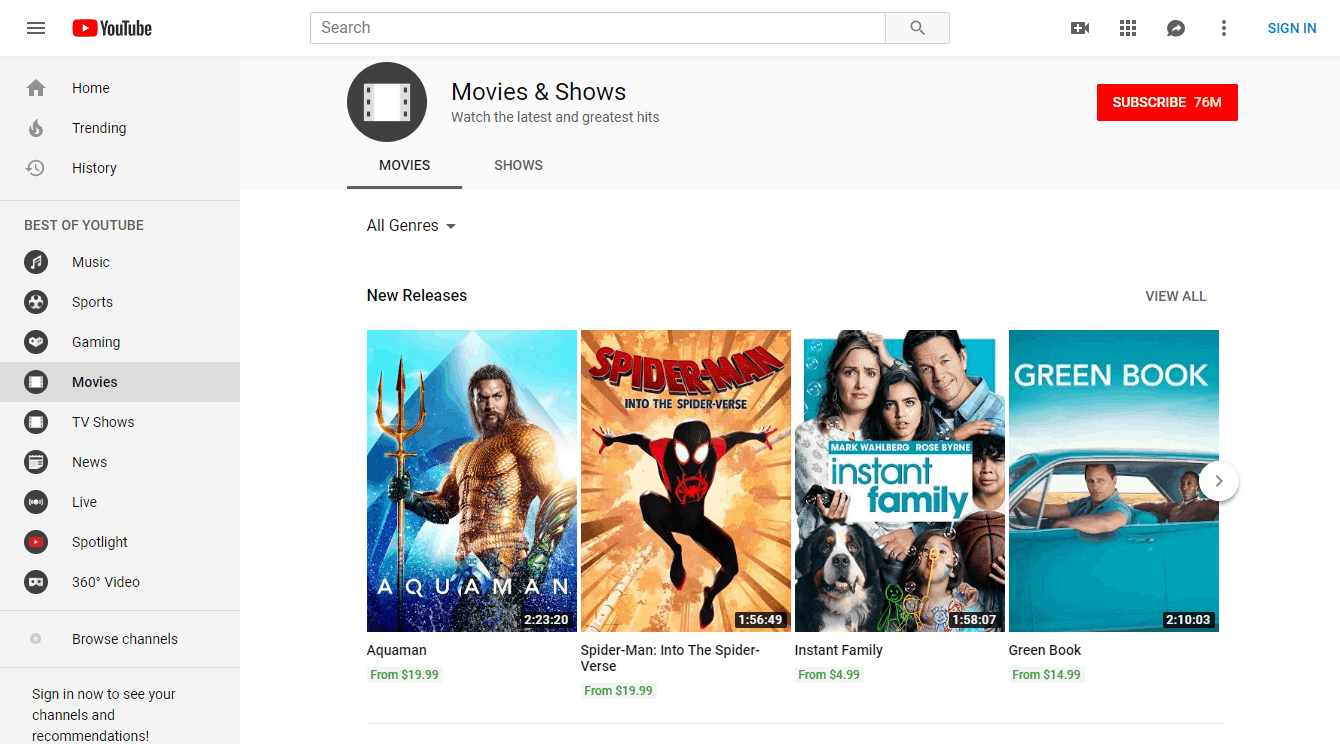 YouTube client applications are available for almost every internet-connected device including streaming media players, Android and iOS, consoles, Apple TV and more. Some YouTube videos are geo-restricted but this can be solved with the use of a VPN. If you're familiar with the YouTube platform you'll know you can watch videos in SD, HD and even 4K in some cases. This is much the same with YouTube's paid content. YouTube also offers unique benefits with some movie purchases such as cast interviews and other extras, much like what you'd typically find on DVDs.
How About Some Free CinemaNow Alternatives
Although CinemaNow was a paid service, you may be glad to learn that there are several free alternatives that can be used to watch movies and TV series online. While their selection might not be as broad as many paid services—especially when looking for current or very recent content—some of them offer an impressive selection of titles.
In a nutshell, Popcornflix is a free online streaming service with a selection of movies and TV shows. It is totally free and doesn't even require any kind of subscription. The service generates revenues from short ads which of no more than 30 seconds. Some of them can even be skipped after the first few seconds. As you'd expect, Popcornflix doesn't offer as much variety of content as some paid options. You'll also notice that generally speaking, many titles are older. This is not necessarily a showstopper, though as there is plenty of good older programming out there.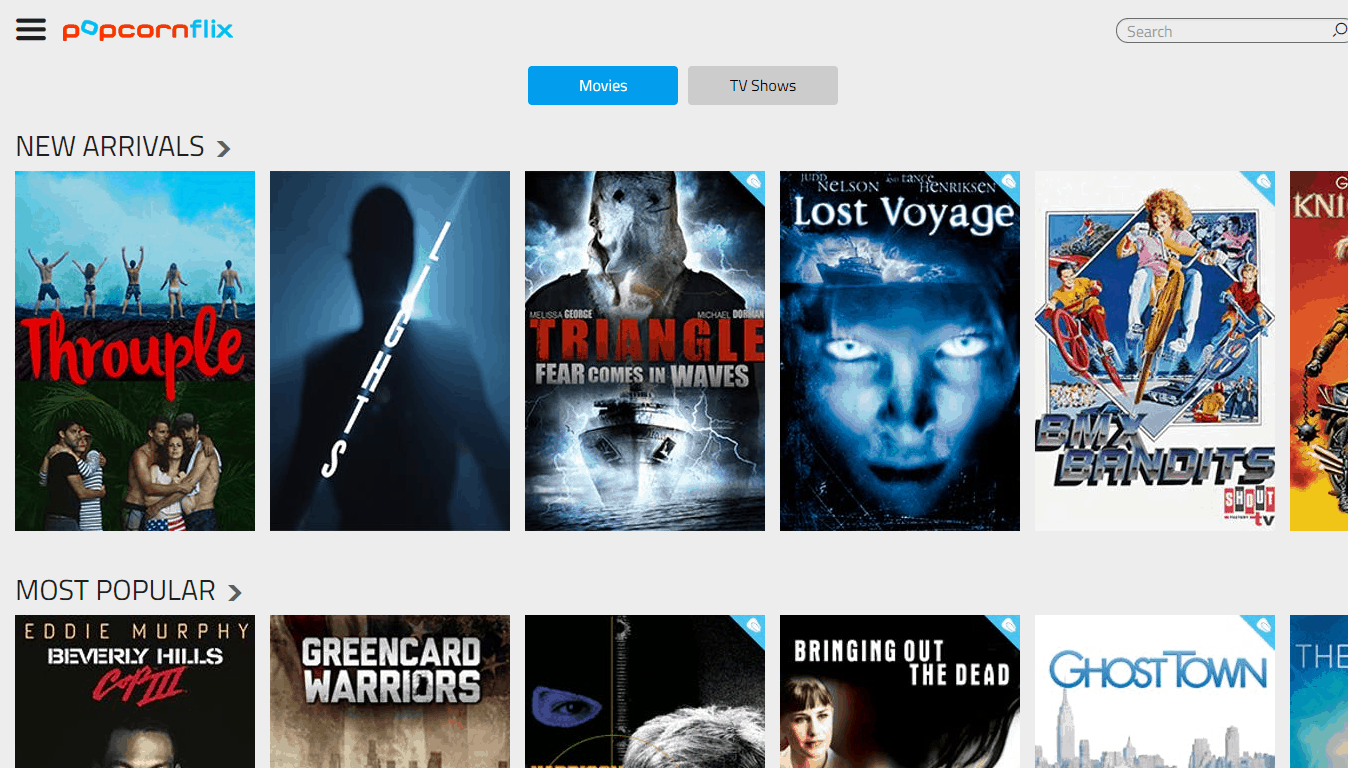 By older, we don't mean oldies. Some of the titles available on Popcornflix include things like Zodiac, The Adventures of Tintin, America's Dumbest Criminals and The Girl with the Dragon Tattoo. There is also a sister website called Popcornflix Kids. The Popcornflix website is easy to use and it has the option of exploring titles by genre. Considering that this is a free service, we were quite impresses by the HD quality of many videos and the fact that there were no issues with buffering.
Remember how we said that a subscription wasn't required? It is not but required but signing up lets you access some interesting features such as being able to comment on particular moments of videos as well as creating gifs of your favourite scenes.
You're not limited to watching content on the web. Popcornflix also offers apps for Android and iOS as well as Roku and you can access the service on PlayStation, Xbox and Apple TV. Popcornflix is only available in the US and Canada but a VPN will help you access it abroad.
Sony Crackle is, unsurprisingly, a subsidiary of Sony Pictures Entertainment and it offers free streaming of movies and TV shows. Like the Popcornflix, the service is ad-supported and ads run both before and during videos. There are currently over 200 movies available on Sony Crackle. This includes titles such as Babel, Friends With Benefits and Jerry Maguire. As you can see, there are not exactly current blockbusters. When it comes to TV shows, the choice is even more limited with around 85 titles and often not all of the seasons or episodes of a show are available.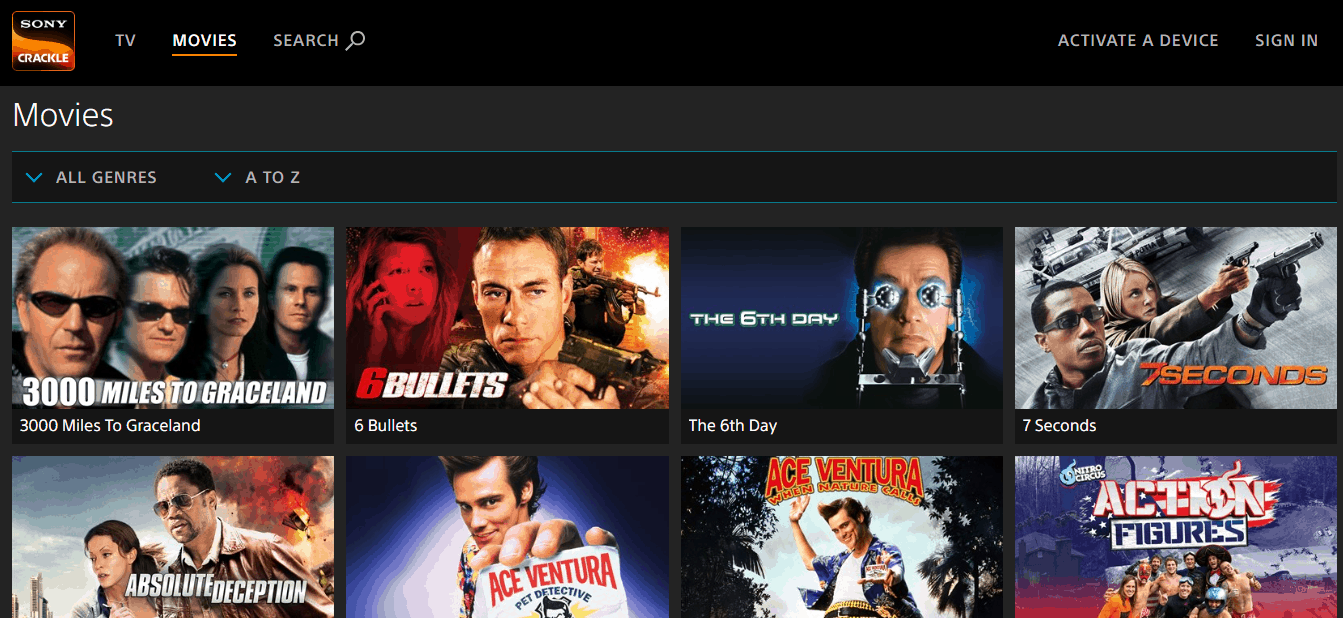 Sony Crackle is completely free and registration isn't even required. Although we didn't experience any issues loading videos and watching them, we have to admit that the video quality isn't the best and there's no HD content. On the plus side, the interface is very user-friendly and there's an option of activating subtitles on videos. Unusual for a free streaming service, Sony Crackle features some original shows. These include Chosen, StartUp and Comedians in Cars Getting Coffee.
Sony Crackle can be used on a wide range of devices including Android and iOS mobile devices, Smart TVs, streaming players and PlayStation and Xbox games consoles. The service is only available in the US so you will need a VPN to access it from abroad.
Tubi is another streaming service that you can use to stream movies and TV shows for free. This is one of the very best free streaming services in terms of the variety of content it offers. You'll find tens of thousands of movies and TV shows—with more being added on a weekly basis—all completely free with no signup necessary. Movie titles on Tubi include True Grit, School of Rock and The Adventures of Tintin. As for TV shows, you'll find titles such as South Park, Shameless and The Bridge. The quality of the videos is probably what's most impressive about Tubi, especially when you consider that this is a free service. Many titles are available in HD resolution and playback is always smooth with barely any buffering at all. The Tubi video player has many options such as rewind, fast-forward, skip and go back by 30 seconds, add subtitles and more.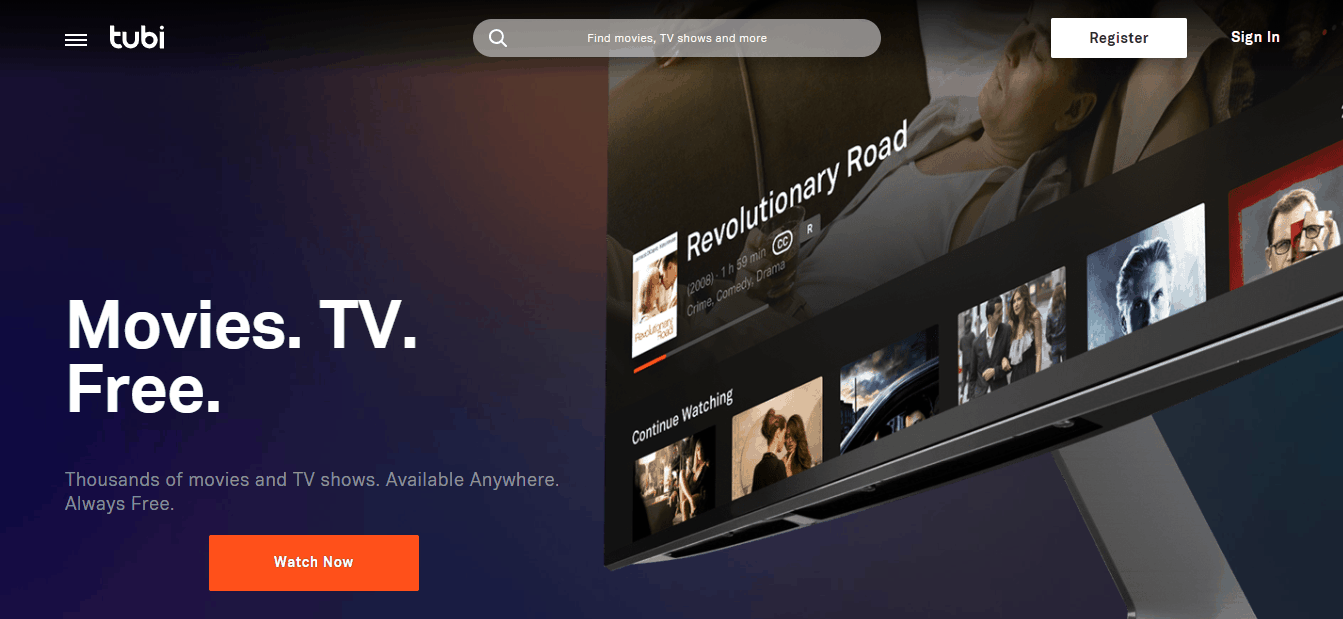 Tubi's user interface is another strong point. Content is divided into dozens of categories which makes finding anything particularly easy. Like most similar free services, Tubi is ad-supported yet our experience shows that they are typically short and they don't interrupt your viewing too often. The service can be accessed using many different devices including Android and iOS smartphones and tablets, streaming media players, select smart TVs and games consoles. Tubi is only available in the US but using a VPN will let you watch content when abroad.
Yahoo View is operated in partnership with Hulu. It is a free service offering streaming TV shows and movies. One of the service's main draws is its streaming of episodes of TV shows from ABC, NBC and Fox. Available titles include shows such as Brooklyn Nine-Nine, Empire, Gotham and Shark Tank. In most cases, only the last 4 episodes of TV shows are available, though. However, some international dramas and anime have full seasons available. But when it comes to movies, Yahoo View's selection is not quite at par with its TV offer.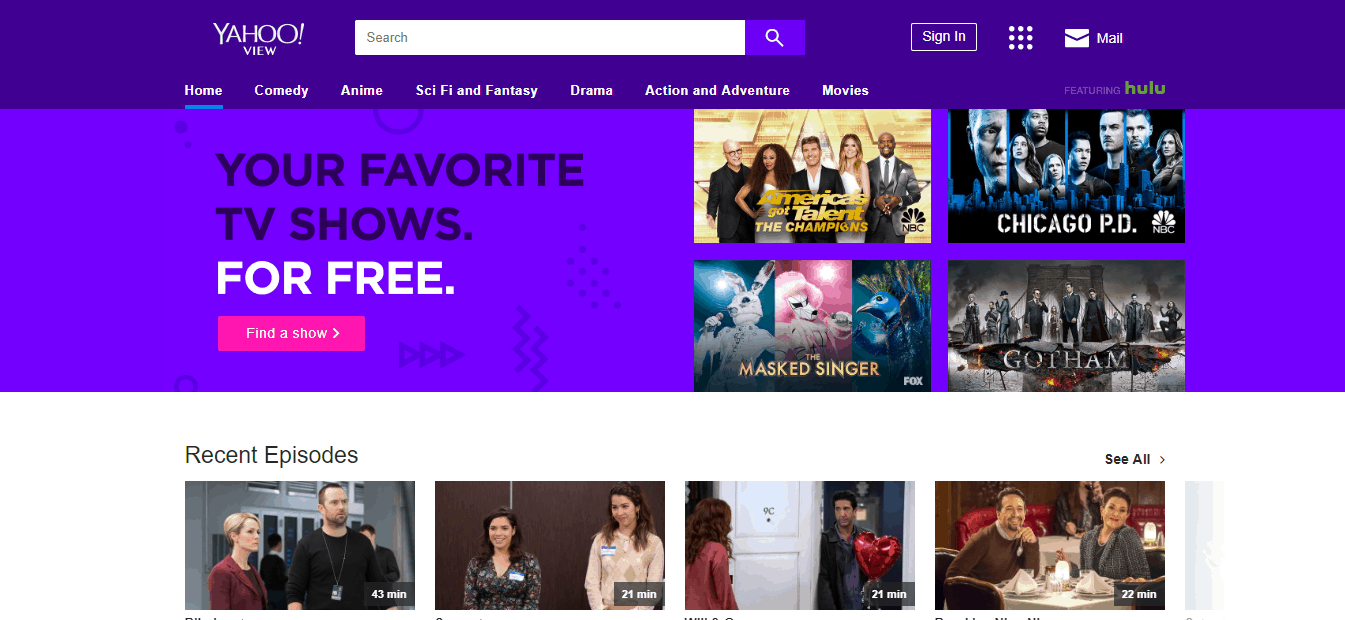 As it is the case with most free streaming services, Yahoo View is ad-supported and these ads can be annoyingly frequent. The quality of the video is generally good with quick playback and minimal buffering. Thanks to their partnership, the video player is the same as that of Hulu with its simple and intuitive interface. Each title lets you access a "fan zone" section which has information on cast members, relevant gifs from Tumblr and extra clips such as deleted scenes.
5.
Viewster
Last on our list is Viewster, another free no-registration, ad-supported streaming service. Although its library is extensive with over 12 000 titles (this is not a typo), few of them are mainstream movies or TV shows. The only place where the selection stands out is in the anime category, where the selection is excellent.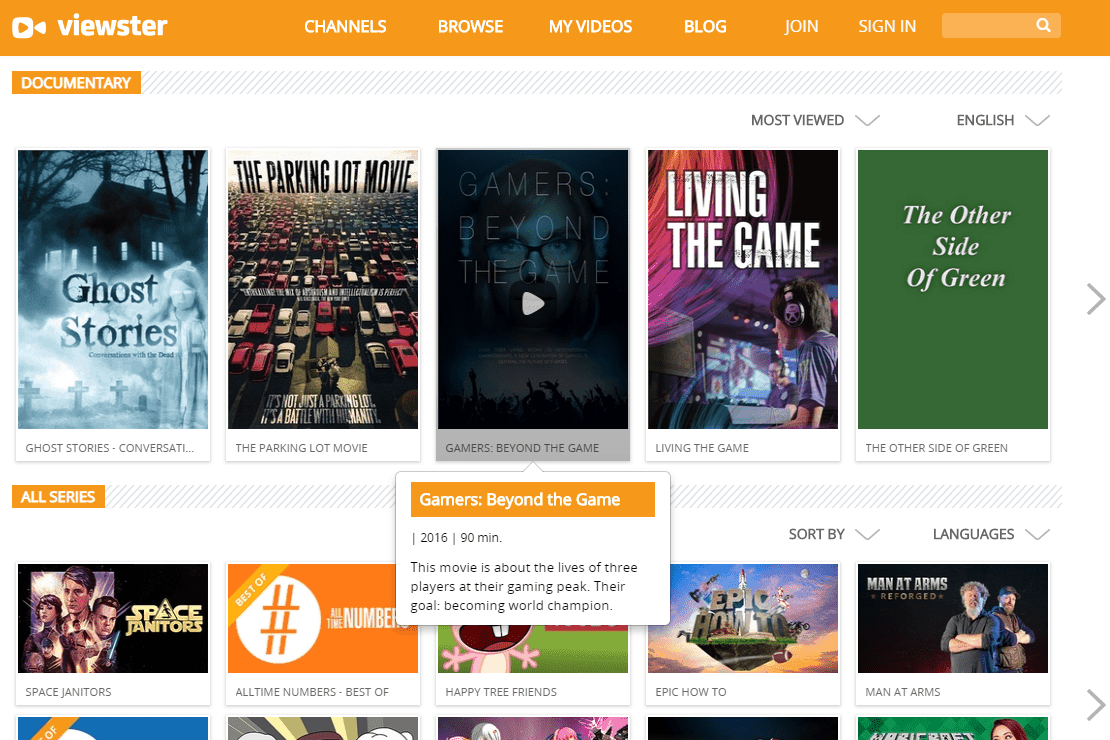 Video quality on Viewster is immensely variable. Some videos available in HD while others are in fairly low quality. The user-friendly interface lets you browse content by genre but also by date added and most viewed. As for the video player, it is basic and has few options. In addition to the web interface, Viewster client apps are available for Android and iOS as well as select smart TVs. Performance, while not stellar, is acceptable and videos load rather quickly. Ads tend to be somewhat longer than with other services with some of them as long as one minute.
*Important Note: Viewster has just been acquired by Cinedigm about a month ago and it looks like, as of this writing, the service is temporarily unavailable. Visitors to the site are greeted by a message announcing that a new Viewster is on its way.