We are reader supported and may earn a commission when you buy through links on our site.
Learn more
Amazon Fire TV vs Fire TV Stick — What's The Difference?
I say Firestick, you say Fire TV. What's the difference? Today, we clear up any misconceptions surrounding Amazon's popular streaming platform. We also share a few tips to help you maximize your streams, so stay tuned!
The market for home theater hardware is huge. Its no wonder, then, that everyone wants a piece of that lucrative pie. It seems like every major manufacturer has some sort of presence on the scene. For example, Apple has the Apple TV, there are media playing capabilities on many game consoles such as the PlayStation or the Xbox. There are also dedicated offerings such as the Roky. Amazon, famous for their business savvy was certainly not going to let the train go by without getting on board. This is where the Amazon Fire TV series of devices come in.
Unfortunately, there seems to be quite a bit of confusion between the different models and generations of Amazon Fire devices. Essentially, Amazon has two products, The Amazon Fire TV and the Amazon Fire TV Stick. In today's article, we'll compare both devices, explain their differences but also their similarities. We'll also discuss older generations of Amazon Fire TV devices that, although they're being phased out, can still be purchased. All these devices are very capable and our goal is to help you select the best device for you. Once we know all we need about the different devices, we'll have a look at what they can be used for.
30-days money back guarantee
For Your Protection When Streaming Content, Use a VPN
With so much illegal streaming going on on the Internet, it's not surprising that Internet Service Providers monitor their clients' activities for breach of terms and conditions. And they may wrongfully believe you're doing something illegal even though you're streaming totally legal content as is almost always the case when using an Amazon Fire TV device. When they do, they can react by sending you copyright infringement notices, throttling down your bandwidth or even interrupting your service, consequences we all want to avoid.
A VPN protects you by encoding all the data in and out of your computer using strong encryption schemes that make it almost impossible to decode. Nobody–not even your ISP–will be able to see where you're going and what you're doing online.
With so many VPN suppliers to choose from, choosing the right one can prove to be difficult. There are several important factors to consider when choosing your VPN supplier. A fast connection speed will reduce or eliminate buffering, a no-logging policy will further protect your privacy, no usage restrictions will let you access any content at full speed and software for multiple platforms will make sure your specific devices are protected.
NordVPN – Best VPN for Streaming on Amazon Firestick and Fire TV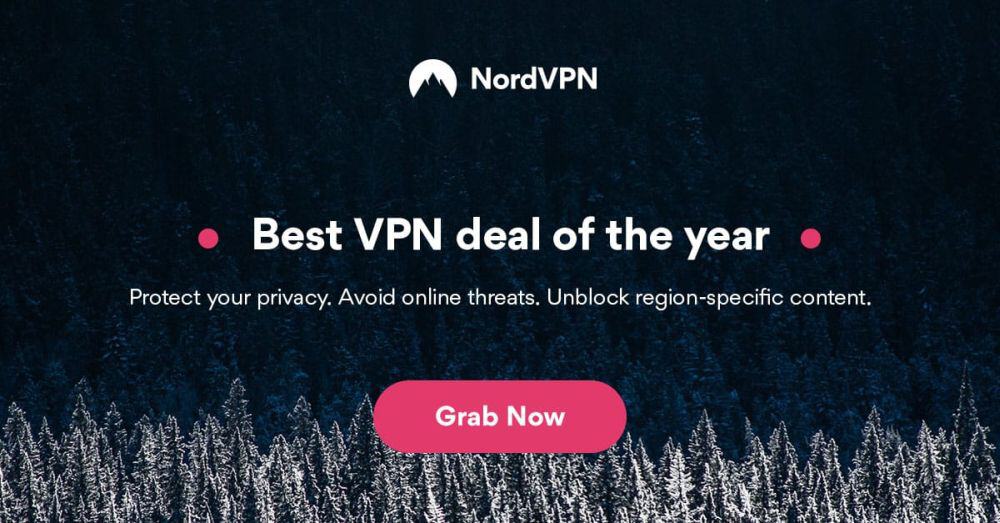 Believe it or not, there was once a time when the world's most trusted VPN wasn't natively available on Amazon's Appstore. But those days are gone, and NordVPN is easily installed on Fire TV devices via direct download–no sideloading, jailbreaking, or router installations required.
This is a huge benefit to Firestick users, as NordVPN brings with it ready access to one of the most robust encrypted networks on the market. There are tens of thousands of virtual IP addresses from all around the world, just waiting to help you spoof past geoblocks and hide your traffic. All total, there are over 5,800 servers in 59 countries, each protected with 256-bit AES encryption via NordLynx. Even services like Netflix are powerless to stop NordVPN, owing to SmartPlay–a built-in smart DNS service that auto-configures to let you past the infamous proxy error.
But it doesn't end there; NordVPN offers exceptional 24/7 customer support to help you out when something goes wrong. Additionally, you can install NordVPN on your other Internet-connected devices, with up to 6 simultaneous connections. In terms of uptime, there's little to criticize; NordVPN's network is incredibly stable and well-maintained, offering top speeds and buffer-free streaming from any corner of the globe. Whatever you do with your VPN, rest easy knowing NordVPN never keeps identifiable logs of your activity.
Read our full NordVPN review.
Pros
Works with Netflix, BBC iPlayer without breaking a sweat
Fast and stable connections
256-bit AES encryption with perfect forward secrecy
Extra-secure Double VPN for data encryption
24/7 Customer Service.
Cons
Some servers can be slow and unreliable
They can take 30 days to process refunds.
Physical appearance
The latest Amazon Fire TV-released in October 2017–is a very simple and unadorned square plastic box that looks very different from the previous model. It is a small square plastic box with a permanently-attached–and very short–HDMI cable and it's meant to be connected to an HDMI port and dangle off the back of your TV. If you're familiar with the Google Chromecast Ultra, you'll see an obvious resemblance between the two. Don't let the small size fool you, though. This is the best offering from Amazon and it is a highly capable little device.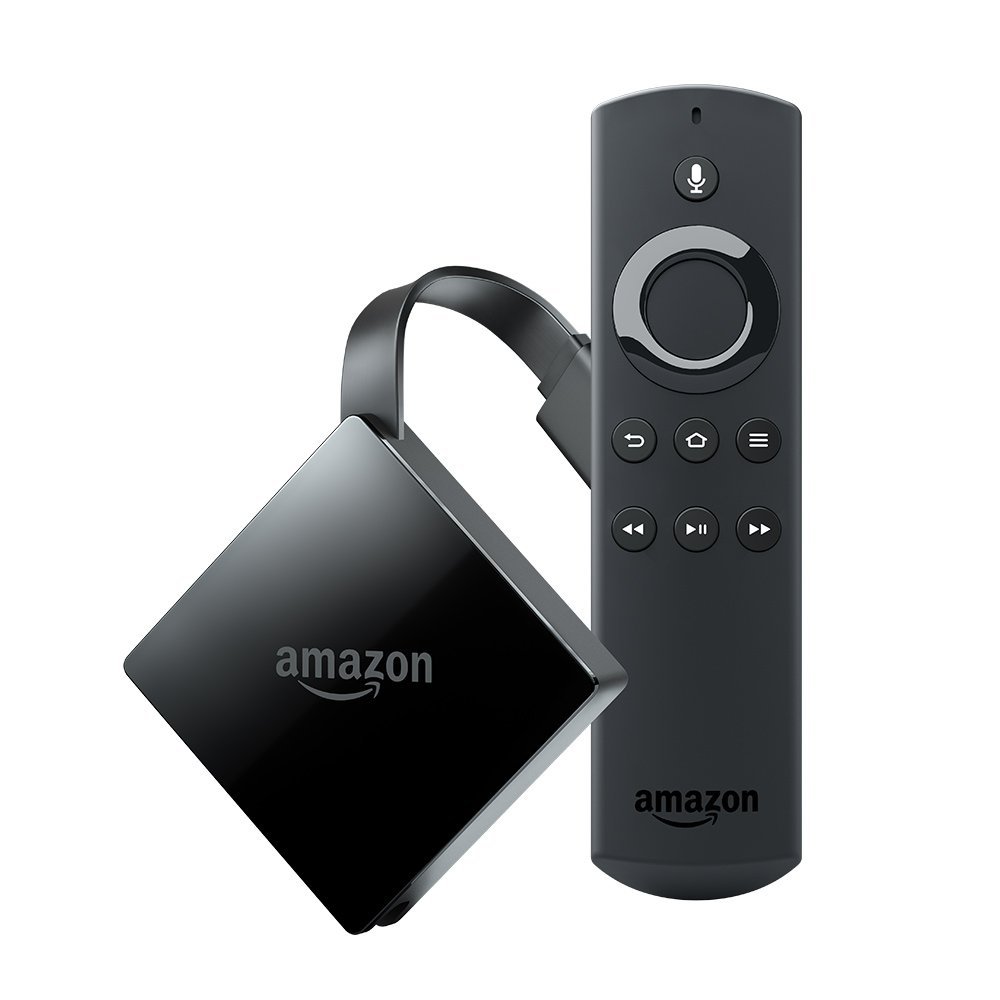 More impressive is the remote that comes with the device. It is about five and a half inch long and has a glossy circle towards the top. This serves as a navigation pad with an Enter button in the center. There's also a microphone icon on one of the buttons. This means that the remote comes with the Alexa voice search feature. You might think that this is just another gimmick but after trying to enter search terms–or any text–using the remote control, you'll realize how valuable this feature is. The simplistic button layout of the remote makes it very easy to use and learn.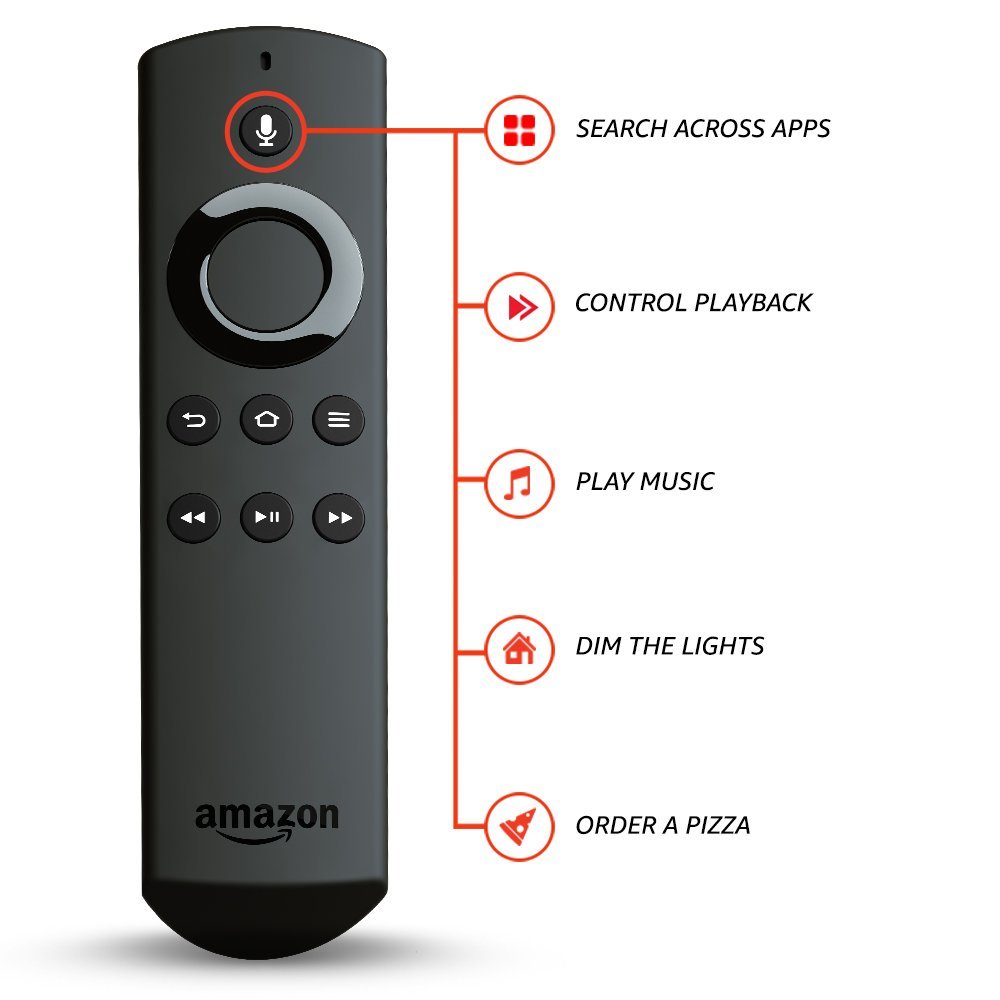 Features
Let's have a look at what's inside of the Amazon Fire TV. After all, this, more than anything else, is what differentiates the different devices. The third-generation Amazon Fire TV has a powerful ARM Cortex-A53 1.5GHz quad-core processor from Amlogic. It boasts 2GB of RAM and 8GB of storage. Finally, the device has a Mali 450 GPU. This is powerful enough to play 4K movies and videos at 60 frames per second as well as HDR video. And for connectivity, the device has WiFi to connect to your home network and Bluetooth, allowing you to use wireless headphones for private viewing.
Operating System
The Amazon Fire TV runs a modified version of Android called Fire OS 6. The modifications from Android are extensive. This means, for example, that you can't use the Google Play store with it. However, you can use the Amazon app store which will let you install just about every popular media streaming service. This includes big names such as HBO Now, Hulu, Netflix, Sling, YouTube or some of the latest additions like Spotify and Crunchyroll. And if games are your things, you have access to over 1700 games with the Amazon Fire TV
The Amazon Fire TV Stick
Officially named the Amazon Fire TV Stick, this device is often referring to as Firestick or Fire Stick. It is the Fire TV's little brother. It won't play UDH or HDR video, only 1080P and it currently sells on Amazon for $39.99.
Physical Appearance
Design-wise, this device won't knock your socks off. it is a rather plain stick, only slightly larger than a USB memory stick of 5 years ago. It has an HDMI port on one side and is meant to be connected to the back of your TV. At the other end, there's a micro USB port used to power the device. But since the device is intended to be hidden behind your TV do we–or should we–really care about its design?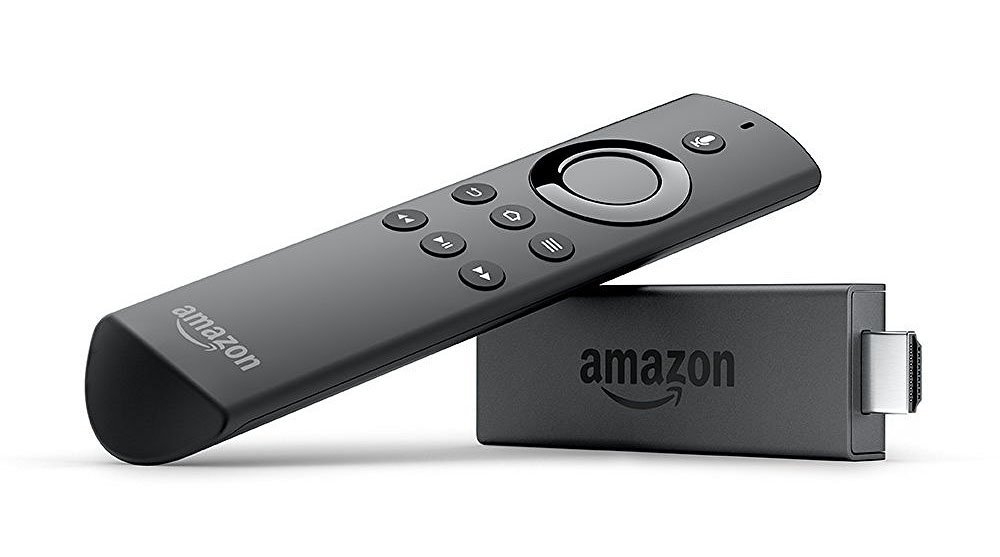 The remote control that comes with the device is the same as its big brother's It wasn't the case with earlier generations of the Amazon Fire TV Stick, though. Make sure you purchase the latest version.
Features
What's inside the Amazon Fire TV Stick is possibly more interesting than its outside. Compared to the Amazon Fire TV, the latest version of the Amazon Fire TV Stick has a slightly less powerful MediaTek ARM Cortex-A7 quad-core processor at 1.3GHz. It has half the RAM at 1GB and 8GB of storage, like the Fire TV. The device has a similar Mali 450 GPU. While the more limited hardware won't play 4K or HDR video, it's more than enough for 1080P HD resolutions. Connectivity wise, the device has WiFi for home networking and Bluetooth, just like the Fire TV.
Operating System
The Amazon Fire TV Stick runs an older version of Fire OS, version 5. It looks and feels very similar and offers the same basic functionality. Some apps from the Amazon store might not be compatible but overall, you still have access to all the interesting content. And for gamers, some 1300 games are available on the Amazon Fire TV Stick.
Older Devices Still Available
Amazon still sells some refurbished Fire TV units of last year's model, the second generation. They look radically different than the latest models and their form factor is that of most set-top boxes. These boxes will do 4K UHD video but not HDR. Then again, if your TV doesn't support HDR, do you really need it?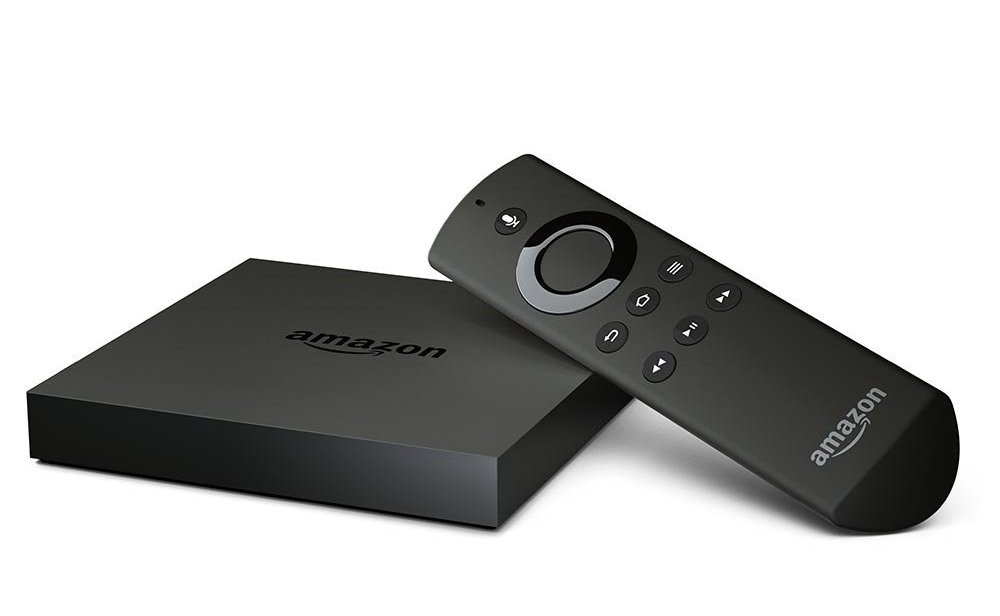 Features
The device is powered by a MediaTek processor with two ARM Cortex A72 and two ARM Cortex A53 cores running at 2GHz and 1.53GHz, respectively. As for its GPU, it's a PowerVR GX6250. Furthermore, the box has 2GB of system memory. Finally, the second generation Fire TV brings 8GB of internal memory that can be expanded by means of a microSD card.
Bottom Line
This can be a potentially interesting device, especially if your TV doesn't have HDR capabilities but at $84.99 on amazon.com, it is more expensive–and less powerful–than the last generation Fire TV. It can, however, be found online from other sources priced at around $50 or lower. At this price, it becomes a viable alternative to the newer Fire Stick.
Selecting The Right Device
All three devices will allow you to do basically the same things. The latest Fire TV is a bit more powerful and will possibly run faster and it will run more games but overall, they are all perfectly good options.
In the end, choosing one device over another boils down to what TV you're going to connect it to. If your TV will only do 1080P, then there's no use in getting on of the 4K options.
On the other hand, if you have the latest and greatest TV that can do 4K Ultra High Definition at 60 frames per second and HDR, then it might be worth investing thirty dollars more to get the latest Fire TV.
If if you have an older 4K UHD TV that won't support HDR, then the second generation Fire TV might be just what you need, provided you can find it at a reasonable price. Don't go paying 85 bucks for it, though.
Different Uses For The Amazon Fire TV Devices
Now that we know what differentiate the multiple models and that we're able to choose the model that will best fit our need but more importantly, our equipment, let's have a look at what these cool little boxes can be used for.
Watching Amazon content
The main use for an Amazon Fire TV device–at least, this is what Amazon wants–is to watch Amazon Prime video content. When you use your Amazon Prime video account with these devices, it brings numerous benefits. One of the most obvious is that you'll get to see a slightly overhauled interface. For example, you'll be able to access videos on Amazon directly or jump to anything you want to watch.
Content-wise, Amazon Prime video has a lot to offer. This includes The Grand Tour, award-winning Amazon Originals such as The Man in the High Castle and Mozart in the Jungle as well as popular movies and TV shows.
Third-Party Apps
Through the Amazon app store, you can install a ton of popular media streaming services on your Amazon Fire TV or Amazon Fire Tv Stick device. They This includes HBO Now, Hulu, Netflix, Sling, and YouTube. Some of the latest additions are Spotify and Crunchyroll.
And if you're a sports fan, you'll be delighted. You can install channels for NFL football, NBA basketball, NHL Hockey, UFC mixed martial arts. If that's not enough, you can also install the NBC sports and Fox sports apps. And you can also get golf, pool, bowling, football, the choice is endless
But there are not only apps for streaming content. You can install Firefox on your Fire TV device. You also have VPN client software from many providers available.
Playing Games
There are literally hundreds of games available for the Amazon Fite Tv and Fire TV Stick devices. You can get classics like Candy Crush Saga or Pac Man.
And if you add a game controller to your setup, the gameplay is just as good as it would be with many game consoles. Priced at $49.99, some may find it a bit expensive but for hard-core games, it's well worth it.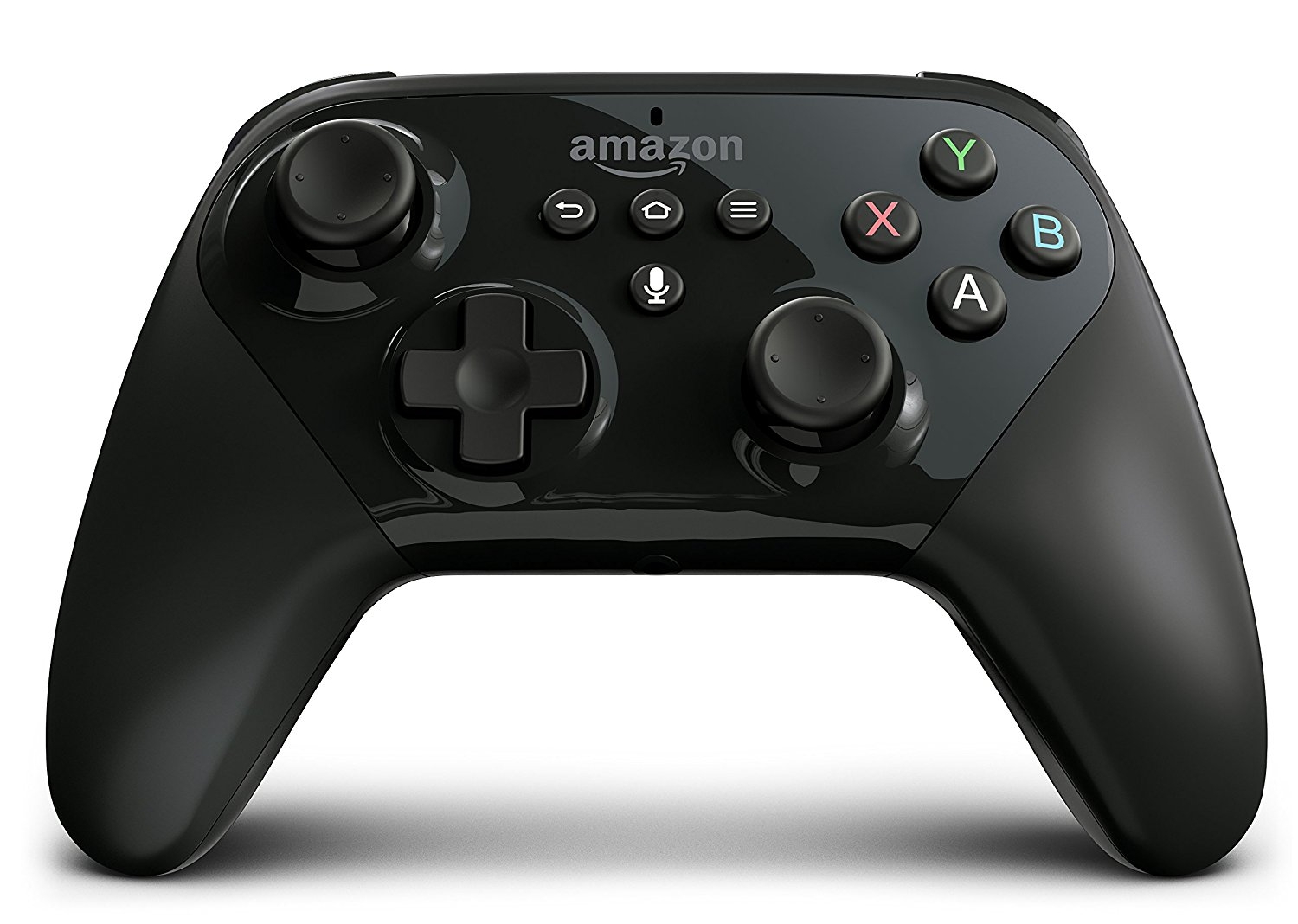 Kodi On The Amazon Fire TV Devices
Kodi is possibly the best media player or home theater software available on any platform. It can play content from local or network attached sources but it can also stream content from hundreds–if not thousands–of different sources, thanks to an impressive ecosystem of add-ons, extensions that add some functionality to the software.
Kodi is available for many different platforms including Android but, much to our disappointment, it is not available for the Amazon Fire TV and Fire TV Stick devices. It might have something to do with the fact that the legality of some of the available add-ons is questionable at best and Amazon wants to avoid conflicts with licensed content providers.
Fortunately, Fire OS that these devices run on is a derivative of Android. This means that the Android version of Kodi will run on them. It's not available from the Amazon store, though, and you'll have to throw in some virtual elbow grease to get it set up. It's done through a process called sideloading.
The good news is that sideloading Kodi on an Amazon Fire TV or Fire TV stick is a well-documented process. We published an article about just that less than a year ago. It is titled How to Install Kodi on Amazon Fire TV Stick. The article will show you step by step how to get Kodi up-and-running on an Amazon Fire Tv Stick but the procedure is exactly the same for the Amazon Fire TV.
We've also recently published articles on How to Fix Kodi Buffering on Amazon Fire Stick or Fire TV and How to Update to Kodi 17.5 on Firestick or Fire TV. Both are very informative and we strongly suggest reading them if you're interested in running Kodi on the Amazon Fire TV devices.
Wrapping It Up
Although the similarities between the different models and versions of Amazon Fire TV devices are numerous, each has its own level of specialization that makes it the perfect choice for a specific type of TV set. From the lower-end Fire TV Stick to the brand new third-generation Fire TV, there's a model that's just right for your TV.
Once you get one, you'll quickly discover that it can deliver all sorts of great content and hours of entertainment to your TV. And for the ultimate media playing experience, you can also install Kodi on the Amazon Fire TV devices and use all your favourite add-ons.
Are you a Fire TV or Fire Tv Stick user? What do you love most about it? On the contrary, is there anything you don't like about it? We love to hear from our readers. Use the comments below to share your experience with us.