We are reader supported and may earn a commission when you buy through links on our site.
Learn more
How to Watch American Netflix on Android TV Box (Even Outside US)
If you've ever tried to watch Netflix from another country, you've no doubt encountered the soul-crushing Netflix proxy error. Millions of people see the "whoops, something went wrong…" screen when trying to watch Netflix with a VPN. It's frustrating no matter which device you encounter it on, but if you're on Android TV, which is capable of streaming HD movies straight to your television, it can be especially annoying.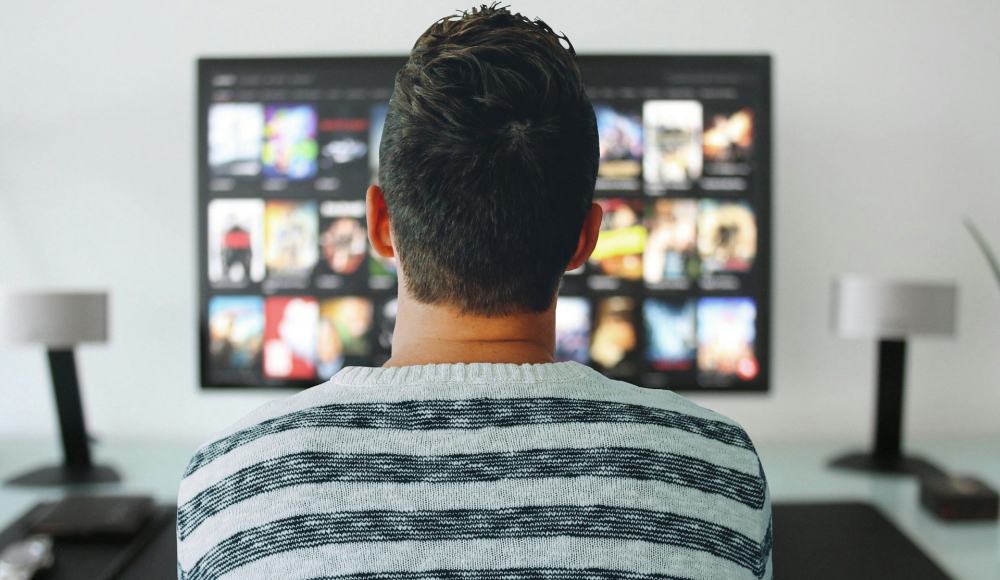 Android TVs give you fast and convenient access to things like Netflix, Hulu, YouTube, Google Play Movies, HBO, and hundreds of other services, all from a small, inexpensive device that sits next to your TV. Android TVs still have to deal with the limitations of content availability, however, as they can't break through region blocks on their own. By using a VPN on Android TV, you can easily bypass geo-restrictions to watch American Netflix from outside the U.S. Our guide below gives you all the information you need to watch the movies you want from anywhere in the world.
30-days money back guarantee
Evaluating the best VPNs for Android TV
The first step to watching American Netflix on Android TV box from outside the U.S. is to choose a reliable virtual private network service. VPNs, as they're usually called, offer tons of privacy and security features that help keep your device safe from hackers, data thieves, and mass surveillance programs. They also deliver unique location features no other tool can offer, including the ability to change your virtual IP address to make it appear as if you're from any country in the world!
The intense competition in the VPN market has made picking the best service a difficult matter. How do you tell which VPN really does offer the fastest speeds or the best security? We've done the hard work for you by evaluating some of the top VPN services on the market. We used the criteria below to make our selections, ensuring you get the best connection for watching American Netflix on Android TV from outside the U.S.
Android TV app compatibility – A VPN that doesn't support Android TV isn't very useful, is it? You'll have a smoother VPN experience if your service has an app specifically designed for Android TV.
Speed – Good services keep speed as a high priority and can deliver fast downloads without sacrificing privacy or security.
Server network – The larger a VPN's server network, the more options for fast connections and new locations are at your disposal.
Zero-logging policy – A VPN's security policy is only as strong as its outlook on storing logs of data access.
Top VPNs for American Netflix on Android TV
Ready to dive in and make a selection? Below are our recommended VPN services, each providing fast and easy access to a world of content, right from your Android TV!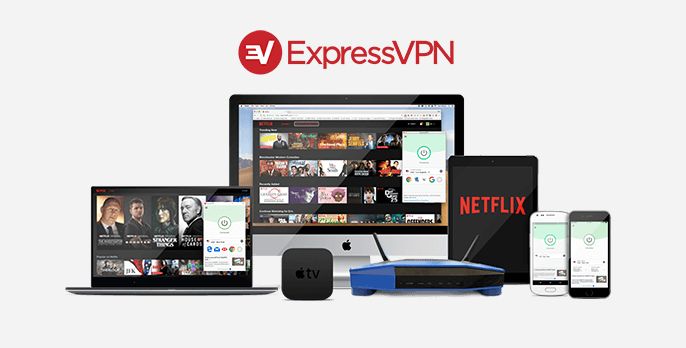 ExpressVPN has a well-deserved reputation for speed. The service delivers top results from a wide mix of servers around the world, covering 94 different countries with over 2,000 nodes in the network. Windows, Mac, and Android users also have access to a built-in speed test from within the app. Simply connect to a server, run the test, see if it's fast enough for your liking, then switch to a new server if necessary. This feature alone goes a long way to ensuring you always have a fast connection, and it works surprisingly well on Android TV.
Outside of its speed test results, ExpressVPN also offers incredible privacy. A strict zero-logging policy keeps your data invisible to snooping third parties. No speed caps, no bandwidth limits, and no file type restrictions let you download and stream whatever you want. There's also a custom app for Android that's available through Google Play, making it extremely easy to install on your TV box.
Check out our full ExpressVPN review for more information, or learn more about using ExpressVPN with Netflix.
Pros
Unblocks American Netflix, iPlayer, Hulu
94 countries, 3,000+ servers
Supports ALL devices
Strict no-logs policy
Great support (24/7 chat).
Cons
High cost for month-to-month users.
NordVPN does two things extremely well: strong encryption and fast speeds. The well-established company offers access to over 5,000 servers in 62 different countries, more than twice its biggest competitors, all available with unlimited access and no restrictions on traffic or bandwidth. There are also unique services only NordVPN can offer, including protection against DDoS attacks, double encryption, and onion over VPN routing, all of which are available by connecting to the right server. You'll be hard-pressed to find a more security conscious VPN provider than NordVPN.
NordVPN has a thorough zero-logging policy that covers everything from bandwidth to time stamps to traffic and IP addresses. Your activity is never recorded or shared with third parties, which helps keep your privacy intact. Backing these features is 256-bit AES encryption on all data, an automatic kill switch, DNS leak protection, and a host of customizable encryption features. NordVPN's custom Android app also runs natively on the Android operating system, ensuring it's lightweight and easy to use, even on TV box devices.
Learn more about the NordVPN experience in our full NordVPN review.
Pros
Unblocks American Netflix
No bandwidth caps
256-bit AES encryption with perfect forward secrecy
No logs and encrypted connections for total privacy
Great customer service via chat.
Cons
Automatic server selection can be unreliable
Refund processing can take up to 30 days.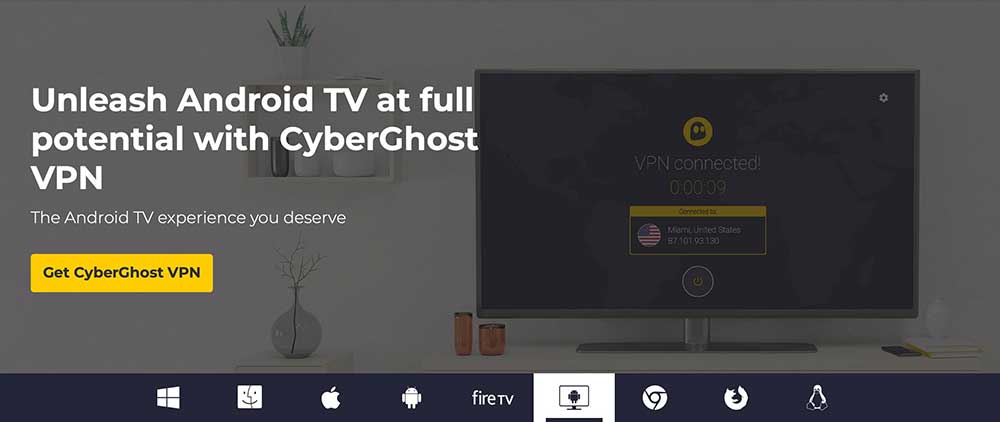 Not every Netflix user is going to be a tech wizard, and CyberGhost knows that. That's why they've streamlined their user interface to take as much guesswork out of configuring your VPN connection as possible. There's an option immediately available upon launch that allows you to sort through their massive network (over 3,500 nodes in 58 locations worldwide) to show all the servers preconfigured to unblock streaming sites. Needless to say, this encompasses Netflix.
Despite the ease of use, CyberGhost is hard on security, with unbreakable 256-bit AES encryption guarding every packet of data that leaves your device. An automatic kill switch ensures that nothing leaks out unencrypted in case of temporary disconnection from your VPN. What's more, an impressive no-logging policy completely covers your tracks, erasing any metadata that might ever be used to identify you.
Even better, CyberGhost has a dedicated app for Android TV, making it a truly turnkey solution when you just want to watch your favorite Netflix shows fast.
Learn more in our full CyberGhost review.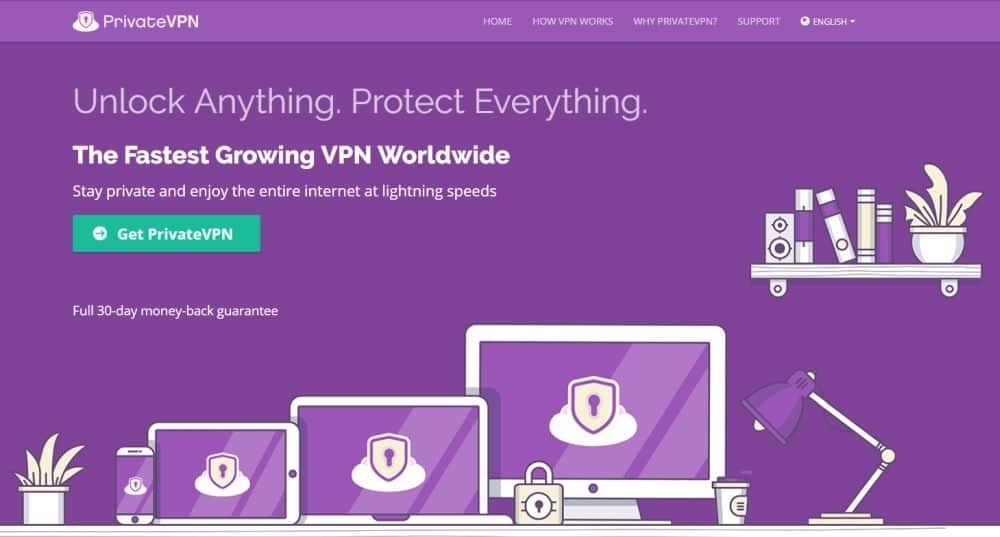 PrivateVPN is a fast, strong, and easy to use VPN that helps you stay secure anywhere in the world. With it you can surf, stream, and shop with complete privacy on just about any device you own, including PC, iOS, Android, and Android TV. PrivateVPN keeps things easy to use, too, with one-click software that automatically selects the fastest server for optimal performance. You can even tweak the settings to add more security, all from an easy to understand interface.
PrivateVPN operates a network of over 100 servers in 52 different countries to deliver all the speed and security you need to stay safe online. The service locks down data with 256-bit AES encryption, keeps your connection safe with an automatic kill switch and DNS leak protection, and features a zero logging policy on all traffic, as well. It's the perfect solution for watching American Netflix on Android TV, as you'll always be safe and secure each time you connect!
Read more about PrivateVPN's incredible features in our thorough PrivateVPN review.
How to install a VPN on an Android TV box
Watching American Netflix on Android TV box outside of the U.S. means running a reliable VPN on your hardware. This is a straightforward process for most users, but some may have to try sideloading the app. We've got all the information you need to install and set up your VPN in the sections below.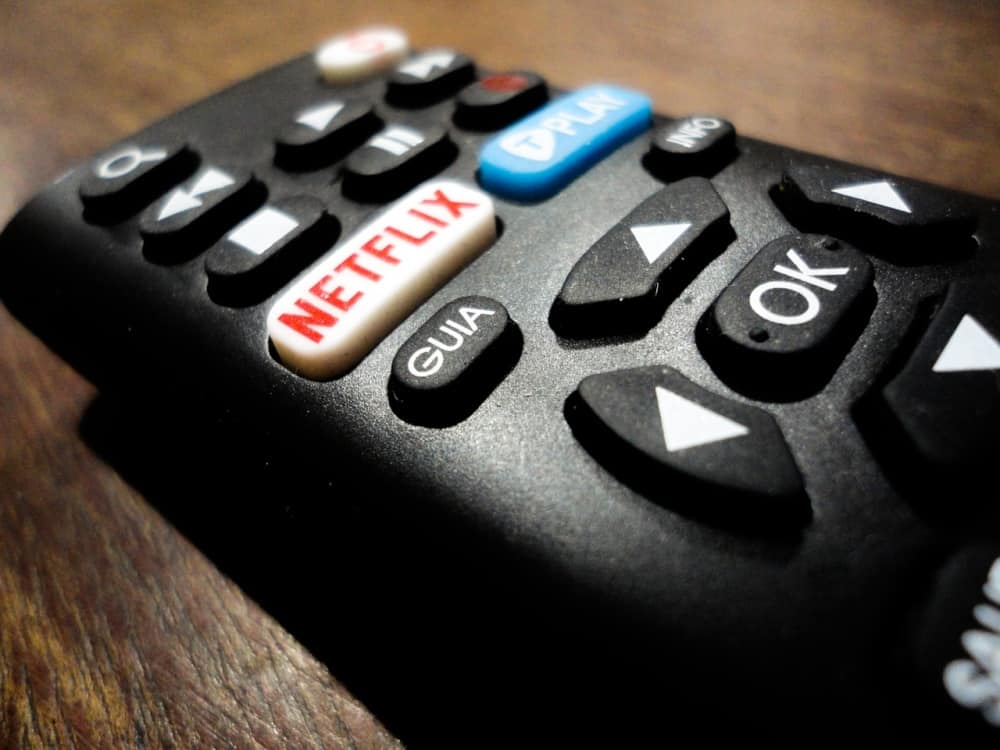 Android TVs run the Android operating system, just like Android phones and tablets. Because of their comparatively low power footprint and limited interface options (remote control instead of a touch screen), however, Google gives these devices limited access to the app store. You can't just hop on Android TV and download exactly the same apps as you have on your smartphone. Fortunately, there are some clever workarounds you can use to add just about any app to your Android TV with a minimal amount of fuss.
Does your VPN support Android TV?
If you chose one of the recommended VPNs in the section above, you might not have to go to any trouble to install your VPN to Android TV. Most high-powered VPNs have custom apps that work perfectly on Android TV box sets. All you have to do to install them is visit the VPN's download page and click a link, no sideloading or hacking required!
To see if your VPN natively supports Android TV, go to their website and look for a "VPN Apps" section, then scan for the Android TV logo. If you already have an account, sign in using your subscription details and look for a direct download link to the Android TV app. Some VPNs may list it under the Fire TV section, since both platforms often share software.
Installing a VPN from Google Play
The easiest way to get a VPN onto your Android TV is to install it directly from Google Play. You'll see dozens of VPNs on the marketplace, some of which are better than others. Try to stick with reliable services such as the recommendations above to maintain optimal privacy, security, and speed. Going with a no-name free VPN can actively destroy your privacy (see below).
If your VPN supports Android TV, you can often log into the VPN's website from your PC browser and send the app to your Android device remotely. This will vary depending on the service you're using, but it's worth checking to find out.
Follow these steps to see if your VPN supports Android TV:
Open a web browser on your PC and log into your VPN account.
Check the app downloads for an entry for Android TV.
If it exists, click the link to be taken to Google Play.
Click the green Install button and choose your Android TV device from the list.
Confirm the choice. When you turn on your Android TV, the app will be installed.
Sign in using your VPN account details to enjoy safe, private, region-free Netflix access.
If you don't have access to a PC, or you'd rather do everything from Android TV, here are instructions for installing a VPN directly from Google Play. Note that this will only work if your chosen VPN service offers an app designed for Android TV that's featured on the Google Play marketplace.
Locate the Google Play icon on your Android TV box's home menu.
Search for your VPN by name.
Install the official app to your home menu.
Run the app and enter your login details.
Enjoy private Netflix streaming on your Android TV box!
Sideloading a VPN to Android TV
Sometimes a VPN's app isn't offered on Google Play. In this case you'll need to do a little more work to get the VPN up and running. Don't worry, though, the process doesn't take long, and it doesn't require rooting or hacking of any kind. The process is called sideloading and it's perfectly safe for all Android-based devices, including Fire TV, Fire Stick, and Android TV box sets.
How to sideload a VPN to Android TV:
Go to your TV box's settings page.
Navigate to Settings > More Settings > Security
Turn on the option to allow installations from unknown sources.
Locate the Google Play icon on your Android TV box's home menu.
Search for ES File Explorer File Manager (free download)
Install the ES File Manager, then return to your home screen.
Visit your VPN provider's website on your Android box browser.
Go to the support section and find the Android version of their client.
Download the .apk file to your device.
When the download completes, open ES File Manager.
Navigate to the downloads directory. Most Android devices default to /storage/emulated/0/Download/
Locate the VPN software's .apk file and run it to install.
When the installation completes, return to the home menu.
Run the VPN, sign in, and you're done!
Watching American Netflix on Android TV with a VPN
Download, install, and sign into your VPN software using the instructions in the section above. With the app running in the background all data that leaves your device will be encrypted with VPN protection, making you invisible online. Now you can put the VPN to use by changing virtual locations so you can watch American Netflix from anywhere in the world.
Most VPN apps will automatically connect to a server as soon as it launches. This works well in most cases, but since we need a specific IP address to watch American Netflix, we'll need to make a few changes. Follow the steps below to change your server and start enjoying some movies.
Make sure your VPN is active and running in the background.
Install the Netflix app on your Android TV. Run it and sign in.
Open the VPN app and find the server locations browser.
Look for a server inside the United States.
Connect to the American server and wait for the VPN to establish internet access.
When the connection is complete, switch to the Netflix app.
Choose an American movie and enjoy!
Troubleshooting Netflix connection errors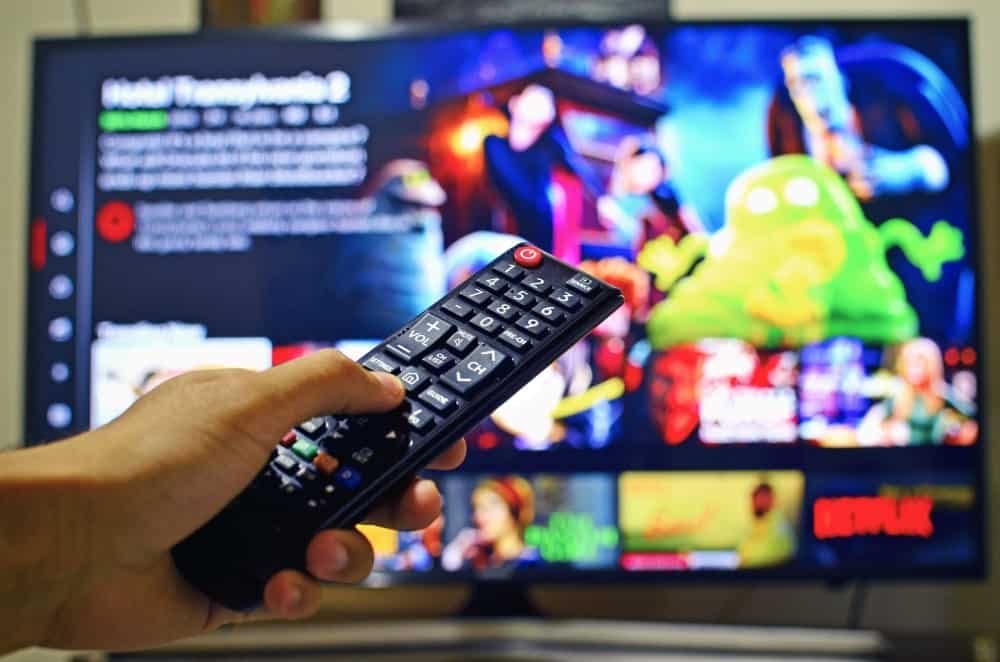 Unblocking American Netflix with a reliable VPN is usually a straightforward process. However, because the video streaming service is constantly trying to ban VPN access from its movie catalog, some users will find they can't always connect securely. Before you panic, know that there are some workaround for these persistent proxy errors.
Try again later
Most high-class VPNs work constantly to provide reliable access to Netflix. In turn, Netflix works to block those new access points, creating an endless loop of proxy firewalls. This means that the same server and the same connection may work one day but not the next. If you suddenly find you can't access Netflix, simply wait and try again later. A lot of times the problem will resolve itself overnight.
Switch servers
If your VPN suddenly loses access to Netflix, you may be able to restore it by switching servers. Most providers offer dozens of connection points in the United States, giving you plenty of options for trying new IP addresses. You can maintain access to American Netflix simply by changing to a different server located in the U.S. Keep trying until you find one that works!
Use a web browser
The Netflix app, which is what most Android TV users will be running, is better at detecting and blocking streaming access to VPNs than Netflix in a browser window. If you simply can't get through to Netflix, try switching to a browser that supports Netflix. You may need to test things out on your PC to see if it's the VPN that's blocked from access, or the Netflix app itself.
Use a different VPN provider
Some VPNs are better at accessing Netflix than others. A few don't bother trying to keep streams open to the movie giant, while others work tirelessly to provide reliable access. If you keep running into problems with American Netflix access from your VPN, it may be time to switch to another service. Our recommended VPNs above are some of the best resources for constant access to online streams from anywhere in the world.
A warning against free VPNs
When looking for a VPN to use with Netflix on Android TV, it's tempting to grab the first one that shows up in the Google Play search results. It says it's fast and easy to use, and it's free, so why not give it a shot, right?
As is usually the case with something that seems too good to be true, free VPNs often carry a number of hidden dangers. The number one issue is privacy. VPNs are supposed to keep user information private. Running that VPN service costs money, however, and since users on free VPNs aren't paying, that revenue has to be made up elsewhere. This usually comes in the form of selling the information the VPN is supposed to keep safe. You may gain access to Netflix videos from other countries, but your privacy is thrown out the window.
Free VPNs also tend to be much slower than paid services. They have sluggish servers, poor network speeds, and very few options when it comes to American IP addresses. You'll also encounter tons of VPNs that feature hard bandwidth caps and speed throttling, both of which can cut your movie streams off in an instant.
Conclusion
Getting access to American Netflix on Android TV from outside the U.S. isn't as complicated as it might first seem. All you need is a VPN and a few minutes to get things set up, the rest is just movie streams and TV show binge sessions. Installing a VPN to Android TV is fast, safe, and surprisingly easy, as well, so why not get started right away?!
Now that you've got a VPN on Android TV, what do you plan on watching on American Netflix? Share your thoughts in the comments below!