We are reader supported and may earn a commission when you buy through links on our site.
Learn more
How to Fix HBO's Not In Service Area Message
HBO has emerged as one of the most popular cable channels for hard-hitting movies and must-watch TV shows. With runaway hits like Game of Thrones, Westworld, The Wire, Band of Brothers, Curb Your Enthusiasm, and dozens more, people around the world scramble to maintain access to HBO service any way they can.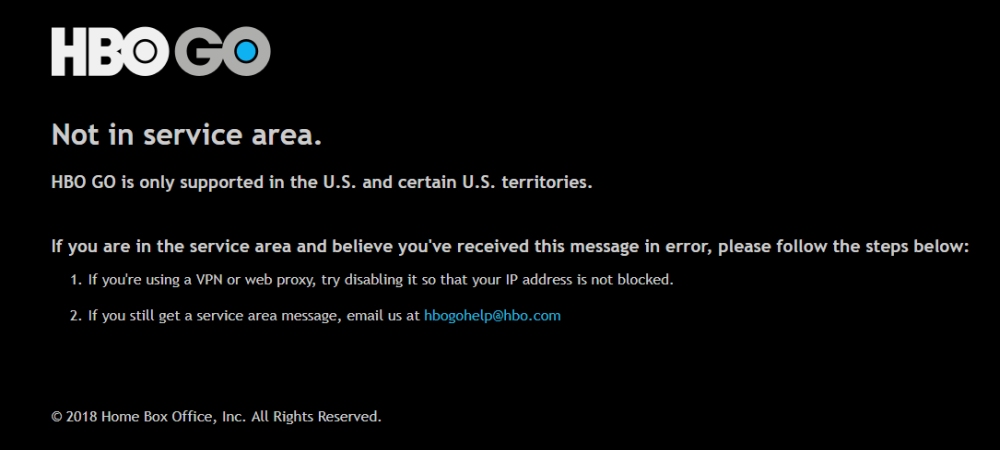 HBO launched two streaming services to pair with its cable channel offerings: HBO Go and HBO Now. The former is a companion offering for cable subscribers who want to stream Game of Thrones on demand. The latter is a standalone subscription anyone can enjoy, even cordcutters without a cable subscription.
The downside to both of HBO's online streaming products is they're under a geo-restriction lock. Users frequently encounter the dreaded "not in service area" error message while trying to watch their favorite shows. Fortunately there may be a way to fix this, all you need is the right VPN.
30-days money back guarantee
Best VPNs for Fixing HBO's Not in Service Area Message
What's the quickest way to fix HBO's "not in service area" error message? By using a good VPN! Virtual private networks encrypt data leaving your device to make it impossible for third parties to see what you're streaming or where you're located. This simple step often lets you bypass HBO's service area message to access all the movies and TV shows your heart desires.
Selecting the best VPN for any task is a difficult challenge. You don't have to feel trapped in the research step, however. Below we've provided several criteria that should be prioritized when searching for the top VPN for HBO, followed by the best VPN recommendations for the fastest streams and most private online experience!
Bandwidth restrictions – VPNs can put a limit on how much you can stream. Our VPN selections feature unlimited bandwidth with no throttling or other limitations.
Zero-logging policy – All of our recommended VPNs feature zero-logging policies to help keep you safe while you stream.
Server network – The more servers your VPN has, the better your chances of finding a good connection. Make sure you have good access to U.S. locations for unblocking HBO.
Speed – Buffering screens and choppy video will destroy your viewing experience. By sticking with reliable VPN providers you can get the best video quality possible.
1 – ExpressVPN – Fast and User-Friendly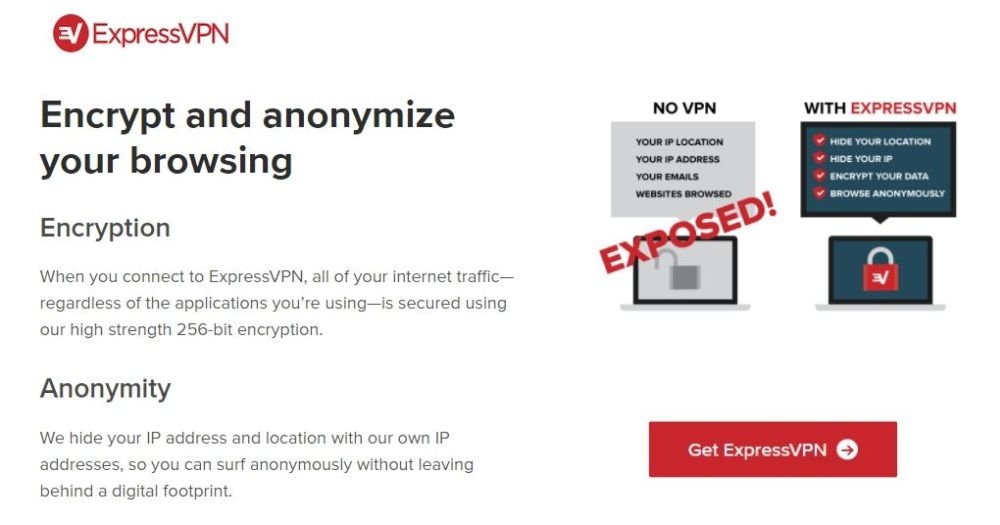 ExpressVPN has the network speeds and the software to make it one of the best VPNs on the market. The service operates over 2,000 servers in 94 different countries, each one returning strong speed test results and low latency scores around the globe. Speed is crucial for getting the best quality streams from HBO and HBO Go, otherwise you won't be able to access HD or 4K videos on your device. This makes ExpressVPN an excellent choice for movie fans!
ExpressVPN's excellent speeds do not come at the cost of privacy. Data sent to and from your device is secured with 256-bit AES encryption, backed by a strict zero-logging policy on all traffic, DNS requests, and IP addresses, and protected by an automatic kill switch and DNS leak protection. These features work together to ensure your identity remains private while you stream movies, download files, or just browse the web.
ExpressVPN offers servers around the globe, with a special focus on the U.S. with nearly 30 cities and hundreds of nodes across the continent.
Want to know more about ExpressVPN's features? Check out our full ExpressVPN review.
Pros
Unblocks American Netflix, iPlayer, Hulu
Super fast, reliable connection
Secure encryption & VPN protocols
Keeps no logs of personal data
Live chat support available.
Cons
Month-to-month plan has high cost.
2 – NordVPN – Fast and Powerful Protection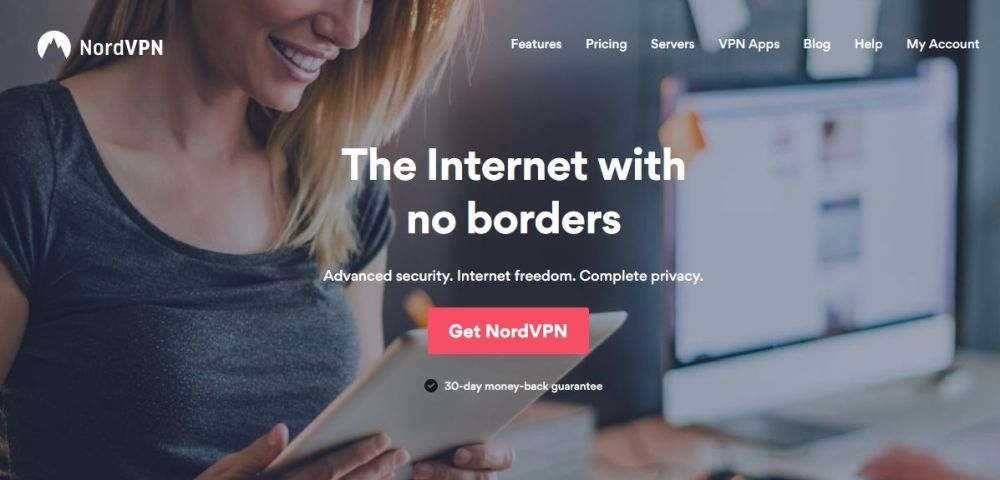 NordVPN has a lot going for it, but the stand-out feature is its massive network of servers. The number is constantly changing, but at the time of writing it sits at over 4,600 servers in 62 different countries, more than any other VPN! This gives NordVPN an incredible amount of flexibility when it comes to lightning fast speeds and special features. Want to grab files from a P2P network or lock down your connection with double encryption? NordVPN offers dedicated servers that encrypt data a second time or make P2P transfers amazingly fast.
NordVPN provides a wide selection of privacy features that keep you safe online. It starts with a zero-logging policy that covers everything from bandwidth to time stamps, traffic to IP addresses. Your activity is never recorded or shared while using NordVPN. Backing these is 256-bit AES encryption on all data, an automatic kill switch, DNS leak protection, and a host of customizable encryption features.
Nearly half of NordVPN's network is located in the Americas. Of those 2,000 servers, an astounding 1,726 are located in the United States, making this one of the best VPNs to use for an American IP address.
Learn more about the NordVPN experience in our full NordVPN review.
Pros
Works with Netflix, BBC iPlayer without breaking a sweat
Most VPN servers with different IP addresses
Torrenting is explicitly permitted
Retains no metadata of your browsing
Live Chat Support.
Cons
Some servers can have average d/l speeds
Sometimes slow in procesing refunds (but always do).
3 – PrivateVPN – Stable and Secure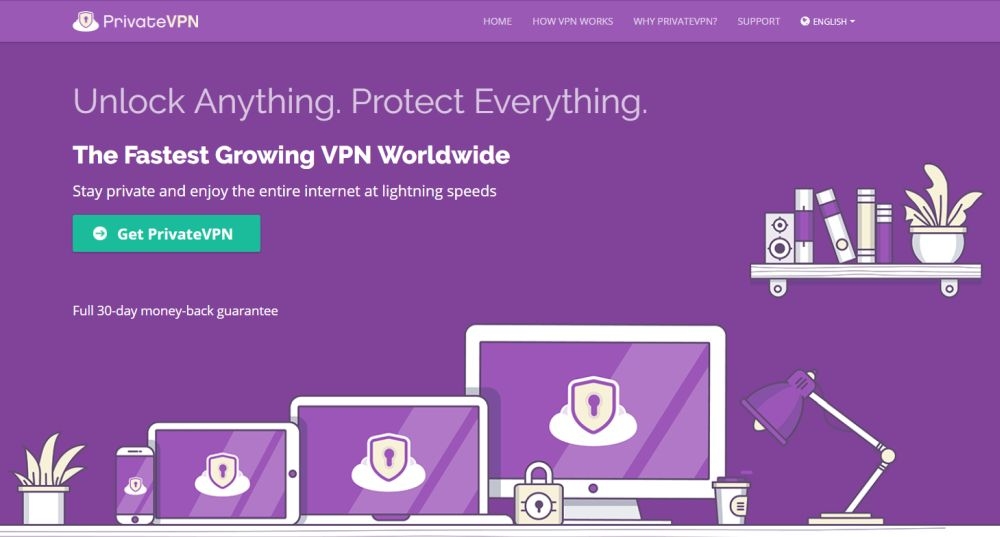 PrivateVPN focuses on a balanced offering of speed and security, creating a wonderful experience for anyone looking for a solid VPN. PrivateVPN works perfectly on smartphones, desktop PCs, and even Fire TV, all with a lightweight and easy to understand interface. You'll never have a difficult time connecting to PrivateVPN or configuring it to your liking. Just launch the app and you're safe and sound, every time.
PrivateVPN runs a strong network of around 80 servers in 56 different countries (enough to provide both high speed test scores and location variety), including in nine different locations across the U.S. for plenty of connection options with HBO and HBO Go. It locks down data with 256-bit AES encryption, keeps your connection safe with an automatic kill switch and DNS leak protection, and it features a zero logging policy on all traffic for the perfect privacy foundation.
Read more about PrivateVPN's features in our full PrivateVPN review.
How to Fix HBO's Not in Service Area Message – Step by Step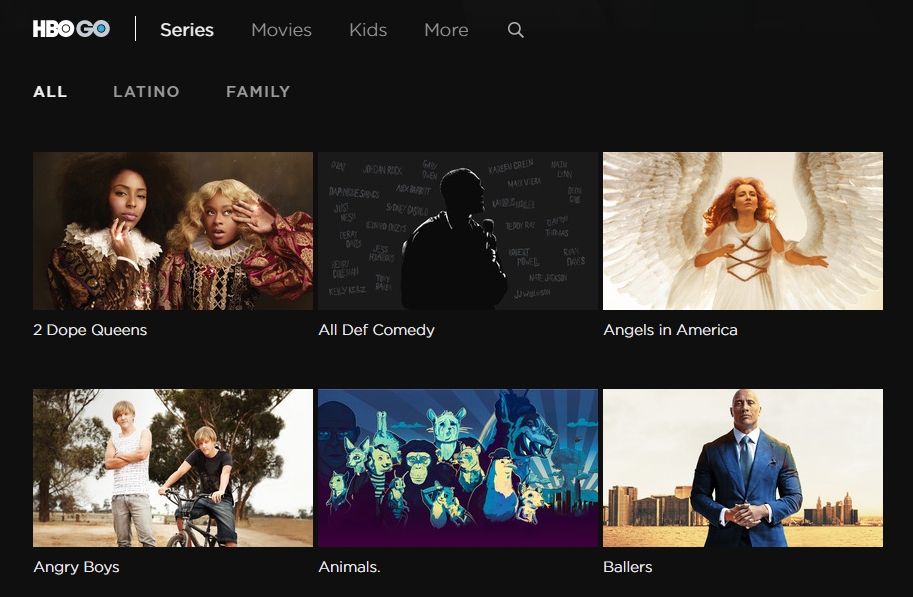 In order to fix this frustrating error message, you'll need to grab a VPN, then spend a little time setting things up correctly. It's easier than you might think, just follow the guide below!
What Causes the Service Area Message?
HBO, HBO Go, and HBO Now are only available in the U.S. and a few select territories. This means if you're located overseas, you won't be able to watch your favorite HBO shows, even if you have a valid subscription from the United States. The message persists across browsers and mobile apps, too, and there's no way around it using conventional means.
How Do VPNs Help?
A VPN transforms your activity into anonymous traffic and hided your local identity. By the time your requests reaches the internet, it has been stripped of all markers of your real location, allowing you to appear as if you're in any country in the world. It's a simple process that takes place in the background, allowing you to focus on watching your shows unimpeded.
Step 1 – Connect to a VPN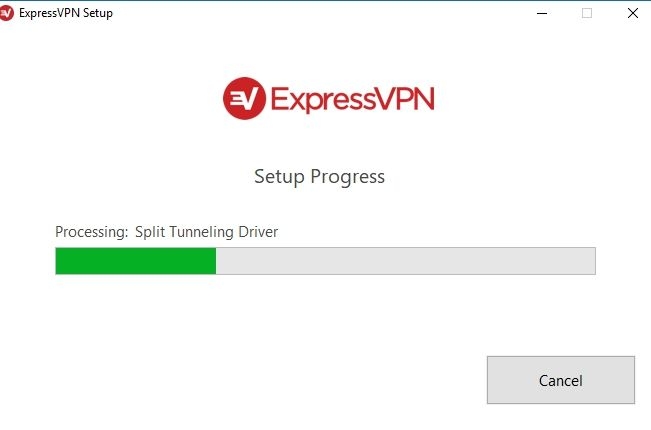 Once you've selected the right VPN service for you (see the recommendations above), it's time to fix that pesky error message. Go through each of the steps below to deploy the VPN on your device. The instructions will remain the same for most devices, but we recommend PCs and laptops for the best performance.
Sign into your VPN and download the app for your operating system.
Install the VPN app, launch it on your device, then enter your login credentials.
Open the server list and choose one located in the U.S.
Connect to the server and give the VPN a few moments to resolve the network.
Minimize the VPN or let it run in the background.
Open a web browser and go to ipleak.net.
Run an IP address lookup by clicking the button at the top.
If the "Your IP address" area shows your location as the U.S., you're good to go!
Step 2 – Create Your HBO Account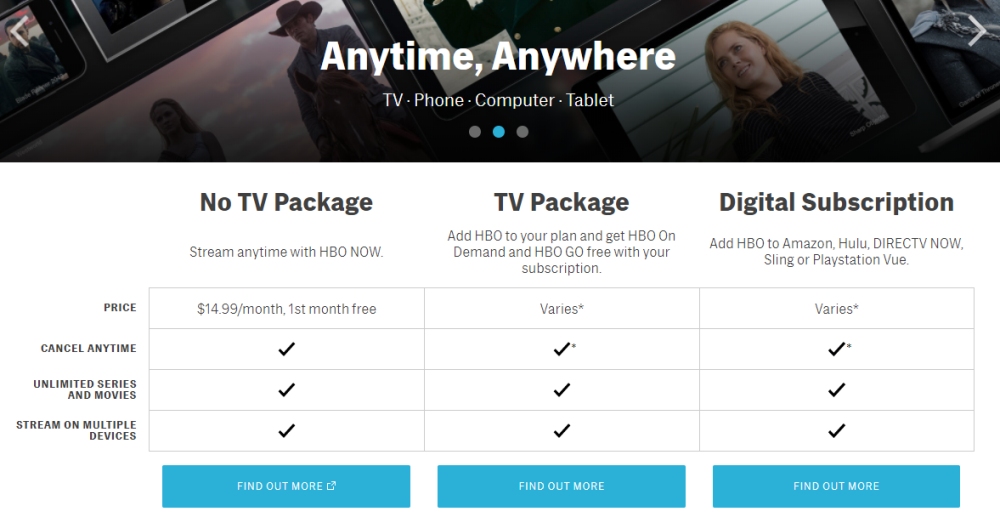 Even with a powerful VPN, there's no way to access HBO's content without an active subscription. Before you can fix the area, make sure your account with the streaming service is in good standing. If you don't have cable service with HBO, your best bet is to sign up for a digital subscription through HBO Go.
With your VPN turned on and connected to a U.S. server, visit HBO's account creation page at https://www.hbo.com/order
Choose a package from the grid. The leftmost option will be best for most people.
Click the Find Out More button to continue.
On the next screen, click the blue Start Your FREE Trial button.
Choose an app from the selection on the pop-up menu.
Download the appropriate app for your device and create an account.
Your free one month trial will begin immediately. You will later be charged $14.99 per month for continuing service.
Step 3 – Load HBO
With an active HBO account and a VPN in the background, you're ready to stream. Start by visiting the HBO Now site in your web browser. You can also use the apps, but bypassing the not in service area message is usually easier on a PC.
Click the Sign In link at the top right corner of the screen. Enter your details and log into your account. Browse through the site's offerings and choose a video to watch. You should be able to stream any piece of content you like, instantly!
Watch HBO without a Cable Subscription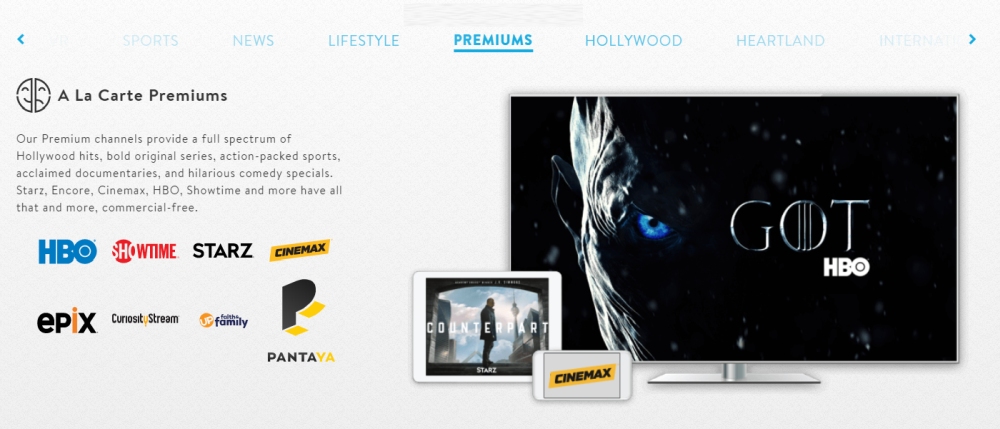 HBO Now is the most commonly accessed service cordcutters use for streaming HBO shows. There are several other digital subscription methods you can use for fast access to the site, however. If you encounter HBO's "not in service area" message with HBO Now's website, subscribing through one of the following services may help you bypass that screen.
Hulu with Live TV
The U.S.-based streaming service Hulu is one of the largest in the world, next to only Netflix in terms of size and content offerings. Joining Hulu means gaining instant access to a variety of TV shows and movies, with new episodes added every day. You can also join Hulu's Live TV service for full access to broadcast and cable channels in the U.S., all available through Hulu's streamlined, multi-device interface.
HBO is available as an add-on channel through Hulu with Live TV. It costs the same as a standalone HBO Now subscription ($14.99/month), but it comes with the added convenience of streaming from Hulu's website and app, not a separate piece of software.
PlayStation Vue
PlayStation Vue is an online movie, TV show, and sports streaming service that targets cordcutters in the U.S. Vue delivers hundreds of channels in different package sets, each one focusing on certain themes. It also offers standalone channel additions such as Showtime, Cinemax, and of course, HBO.
Adding HBO to an existing PlayStation Vue account is as simple as subscribing via your account management page. HBO costs $15.00 per month on Vue, about the same as on other live streaming services.
Sling TV
The "a la carte" TV streaming service Sling TV takes a unique approach to live channels. Instead of bundling things together in huge packages filled with content you'll never watch, you get to pick and choose the channels you're interested in and only pay for them. This is perfect for sports fans who just want live games or movie aficionados who don't care for kids' shows and the like.
Sling TV offers HBO as an add-on premium channel, just like competing services. The monthly subscription price is the same, and you can watch HBO content from any device that runs Sling, which includes things like smartphones, Roku, and Fire TV.
Amazon Prime Video Channels
Amazon's Prime Video service competes with the likes of Netflix and Hulu on many levels. More recently, it started offering live TV channels available on a per-network basis. This means you can subscribe to HBO, Starz, Showtime, and others directly from your Amazon Video app, no need to mess with separate software or subscriptions. Prices for HBO are the same as with other services, too, which makes it all the more convenient.
Conclusion
Watching HBO on any device is a pretty simple order. Being able to watch it from anywhere in the world, fixing the "not in service area" error message, requires a little more work. Fortunately this task isn't impossible thanks to the power of VPNs. Install the right service, reload HBO, and start enjoying your new shows!
What are your favorite HBO series? Did our tips help you catch up with them? Need any help with installation? Leave us a comment below!