We are reader supported and may earn a commission when you buy through links on our site.
Learn more
Best VPNs for HBO Go to Unblock Outside U.S.
Geoblocking is a drag, but it's perfectly possible to unblock HBO Go from anywhere in the world outside the U.S. In today's guide, we'll walk you through the process of choosing the best VPN for HBO Go, so you can get back to streaming your favorite content in just a few minutes.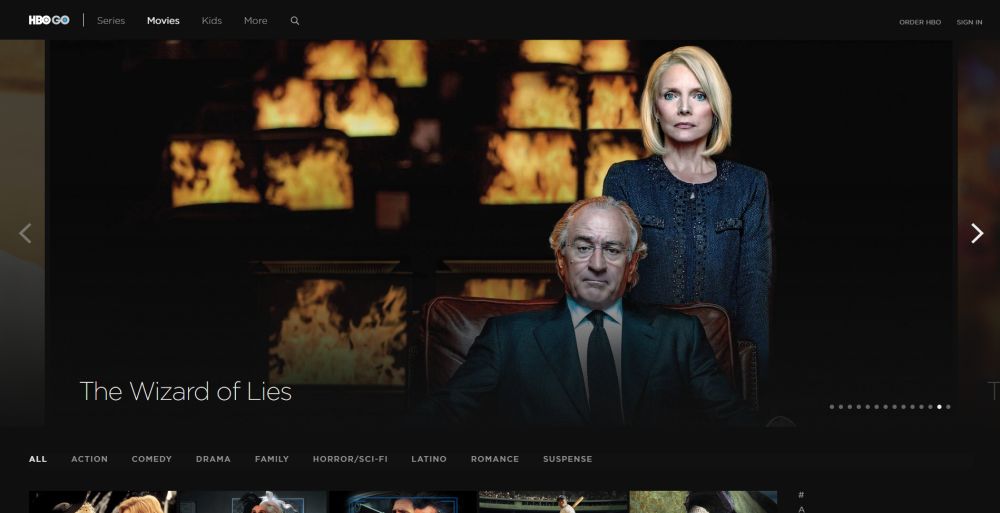 HBO is responsible for some of the biggest television hits of the past decade, including Game of Thrones, The Wire, Band of Brothers, Curb Your Enthusiasm, and dozens more. Getting access to these shows as they air has been something of a hassle, especially for cordcutters. HBO is a premium cable subscription channel that offers its content to existing customers at an additional monthly charge. It's only recently that the company branched out to offer desktop and mobile access to its content through HBO Go and HBO Now.
HBO Go stops most VPNs from gaining access, but these providers consistently enable you to get through the blocks outside the US:
NordVPN – Best HBO Unblocker – NordVPN operates more US servers than most providers have in total, spoiling you for choice in selecting the fastest, most stable node for buffer-free HBO Go streaming. Next-gen NordLynx encryption boosts security to the max while reducing slowdown.
Surfshark – Automatic obfuscation, built-in smart DNS, and tons of US servers make Surfshark incredibly consistent for unblocking American streaming sites.
ExpressVPN – Love to stream in 4K? Of course you do! Pick a VPN that allows for top connection speeds so you never have to see the buffer wheel again.
IPVanish – Long one of the most popular choices for streaming devices like Firestick, and still going strong.
VyprVPN – Trying to connect in censored countries like Egypt and China? Enjoy the free and open Internet with little slowdown with Chameleon encryption.
HBO Go is designed for cable subscribers who want to watch Game of Thrones and other shows at their leisure. HBO Now takes the same concept and breaks free from cable subscriptions, offering all of HBO's killer content at a standalone web-only price. Both services deliver HD-quality streams to users around the world. Both also benefit from the speed and privacy a virtual private network can provide. With a VPN in place you'll be able to break through ISP throttling efforts and stream videos with total anonymity. No more worrying about online surveillance or ISPs selling your data, all you have to do is grab some popcorn, log in, and start binge watching Game of Thrones.
30-days money back guarantee
See also: How to use Netflix with a VPN
Choosing the Best VPN for HBO
It's always a challenge to select the best subscription services to deliver your content, especially when privacy is a concern. With a VPN you also need to consider things like speed, server networks, logging policies, and a lot more. We've made the process easier for you by providing a list of recommendations below. We used the following criteria to select those VPNs, ensuring you'll have the fastest VPN available to watch HBO Go and HBO Now with total flexibility and privacy.
Speed – Nothing kills your HBO viewing experience like buffering screens or choppy video. By sticking with reliable VPN providers you can get the fastest speeds and the best video quality without sacrificing privacy or anonymity.
Server network – The more servers your VPN has, the better your chances of finding a good connection. Having more servers also allows you to select new virtual locations, just in case you need to access geo-restricted content from a different country.
Bandwidth restrictions – VPNs occasionally put a limit on how much you can stream or download during a month. This can put an abrupt end to your HBO viewing. The VPNs below all feature unlimited bandwidth with no throttling or other restrictions.
Logging policy – Your online privacy hinges upon a VPN's logging policy. Logs can be used to store everything from the sites you access to the content you download. That information can sometimes make its way into third party's hands, destroying your privacy in an instant. All of our selected VPNs feature zero-logging policies for traffic to help keep you safe while you stream.
Device compatibility – HBO's apps are available on iOS and Android. In order to use a VPN with them, you need to install software on the same device. Our recommendations below feature apps for all major desktop, mobile, and tablet platforms.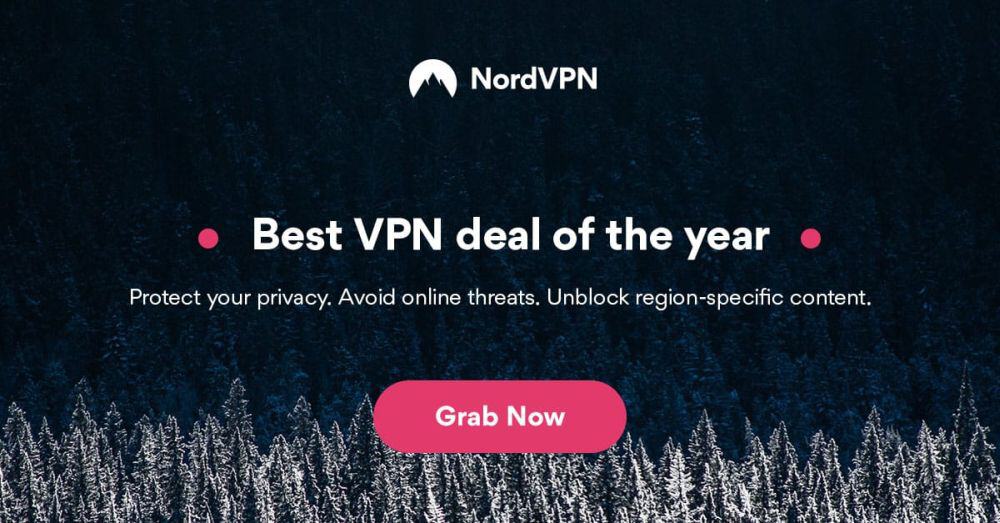 NordVPN's stand-out feature is its large network of servers. The number is constantly changing, but at the time of writing, it sits at just over 5000 servers in 61 different countries. That's more servers than any other VPN, and it's well over twice the size of some of the top competitors. This gives NordVPN an incredible amount of flexibility when it comes to blazing-fast speeds and special features. Want to grab files from a P2P network? NordVPN offers dedicated servers that make P2P transfers amazingly fast. Need extra encryption or increased anonymity? You'll find servers for that, too!
NordVPN secures all of your streaming and surfing activities with 256-bit AES encryption backed by an all-encompassing zero-logging policy that covers everything from traffic to time stamps, bandwidth logs, and even IP addresses. Custom software provides extra safety features such as DNS leak protection and an automatic kill switch, both of which help lock down your identity so you remain safe and anonymous online.
More of NordVPN's top features:
Single-task servers that offer unique features such as double encryption, onion routing, and DDoS protection.
Private access to the internet, even in countries like China and Turkey.
Reliable streaming access to Netflix, even when other VPNs are blocked.
Lightweight apps for Windows, Mac, Linux, Android, iOS, and more.
Read our full NordVPN review.
Pros
SPECIAL OFFER: 2-yr plan (68% off - link below)
Fast and stable connections
Strong security features
No logs and encrypted connections for total privacy
30-day money back guarantee.
Cons
Automatic server selection can be unreliable
Sometimes slow in procesing refunds (but always do).

Surfshark is a relatively new provider, but it's one of the most popular choices for unblocking streaming sites like Netflix and HBO Go because it "just works". There are no specialty servers, no tiered levels of service; just the same advanced functionality accessible and affordable to everyone.
With 256-AES-GCM encryption and over 3200 servers in 65 countries around the world, you'll be able to spoof anywhere. There are tons of nodes in the US, including static IP and multi-hop connections, giving you even greater flexibility for beating website blocks. And for persistent proxy bans like Netflix, Surfshark automatically employs obfuscation and smart DNS to hide your traffic and fool VPN blockers.
There are never any logs with Surfshark, nor limits to bandwidth or speed. And for the price, it's hard to do better for consistently unblocking HBO Go outside the US.
We also love these features from Surfshark:
CleanWeb blocks malware links, pop-ups and ad tracking software
Unlimited simultaneous connections let you protect all your devices
RAM-only server infrastructure wipes all metadata and prevents logs
Configure different VPN settings for individual Wi-Fi networks
Pros
Every server optimized for unblocking Netflix, BBC iPlayer, Hulu, and more
Multi-hop connections readily available
IP, DNS and WebRTC leak protection plus kill switch
Zero logging policy ensures your activity can't be used against you
24/7 live chat ensures maximum uptime.
Cons
Speeds occasionally suffer a noticeable drop
Young VPN still has plenty of room to grow in terms of advanced functionality.
Read our full Surfshark review.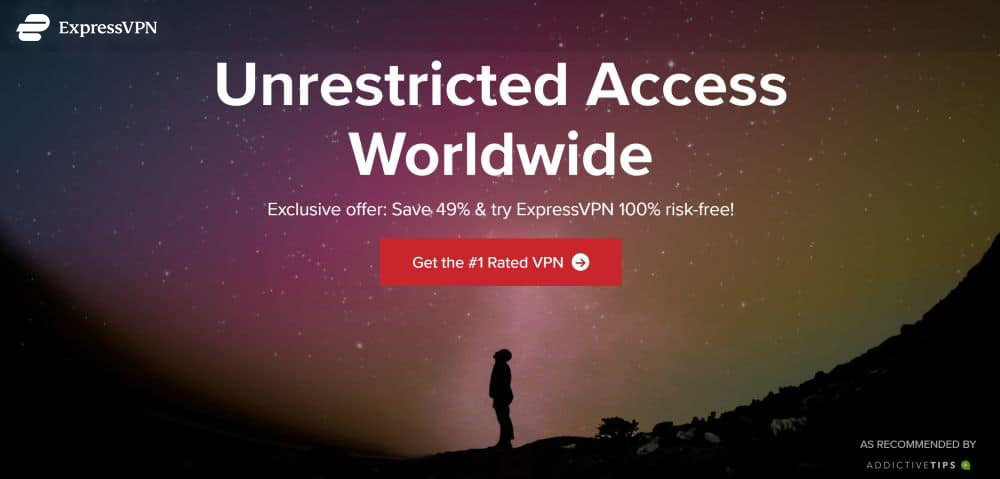 ExpressVPN has the infrastructure and the software to make it one of the fastest VPNs on the market. The service operates a network of 3300 servers in 94 different countries, each one returning consistently strong speed test results and low latency scores. If you live in a metropolitan area and connect to a large server, your speeds could max out on a daily basis. Speed is crucial for getting the best quality streams from HBO and HBO Go, making ExpressVPN an excellent choice for movie fans.
ExpressVPN's fast servers don't come at the cost of privacy, either. Data sent to and from your device is secured with 256-bit AES encryption, backed by a strict zero-logging policy on all traffic, DNS requests, and IP addresses, and protected locally by an automatic kill switch and DNS leak protection. All of these features work together to ensure your identity remains private while you stream movies, download files, or just browse the web.
More features from ExpressVPN:
Easy-to-use apps custom built for all major operating systems and hardware, including desktop PCs, tablets, laptops, and smartphones.
Excellent anonymity features to retain an open and private internet connection, even in censorship-heavy countries like China and Turkey.
No restrictions on bandwidth, P2P network downloads or torrent traffic.
Consistent and reliable access to Netflix streams.
Read our full ExpressVPN review.
Pros
Unblocks US Netflix
Super fast servers
Govt-level AES-256 encryption
No personal information logs kept
24/7 Live Chat.
Cons
Limited configuration options
High cost for month-to-month users.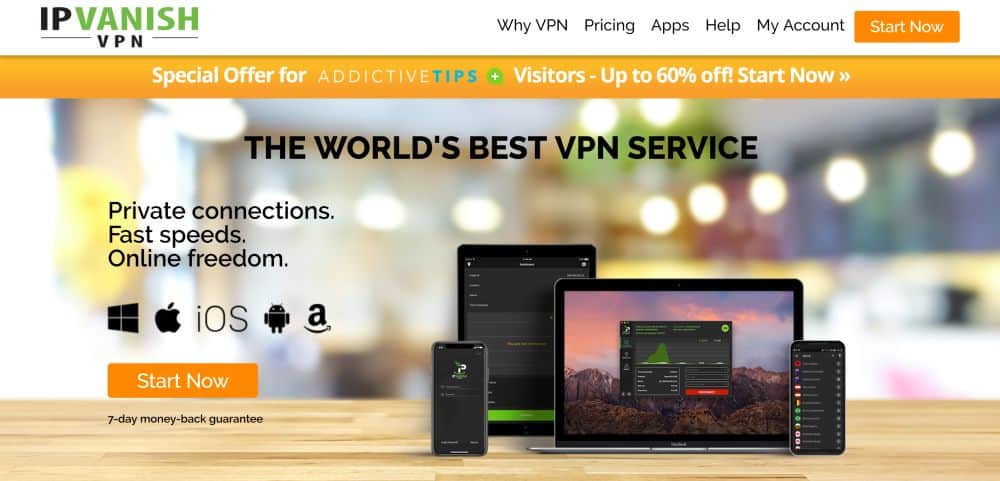 IPVanish zeroes in on the two features that matter most to internet users and movie streamers: speed and security. It's easy to stay hidden online with IPVanish's 256-bit AES encryption, zero-logging policy on all traffic, and both kill switch and DNS leak protection on its desktop software. You'll also get an extra measure of anonymity thanks to the IPVanish network of over 850 servers in 60 different countries and 40,000 shared IP addresses!
Along with its security features, IPVanish also delivers lightning-fast speeds for everything from online movies to large file downloads and web browsing. It's especially useful for P2P networks and BitTorrent, along with every kind of Kodi or HBO Go stream you can imagine. IPVanish doesn't have any restrictions on traffic types, offers unlimited bandwidth, and lets you switch servers as often as you like. No matter what you're using the internet for, IPVanish will keep your identity and activity safe.
IPVanish also includes the following features:
Fast and secure servers for smooth, uninterrupted HD videos and movie streams through Kodi.
Custom apps for all major operating systems, including laptops, smartphones, and tablets.
Download movies and TV shows through BitTorrent with full privacy and anonymity.
Read our full IPVanish review.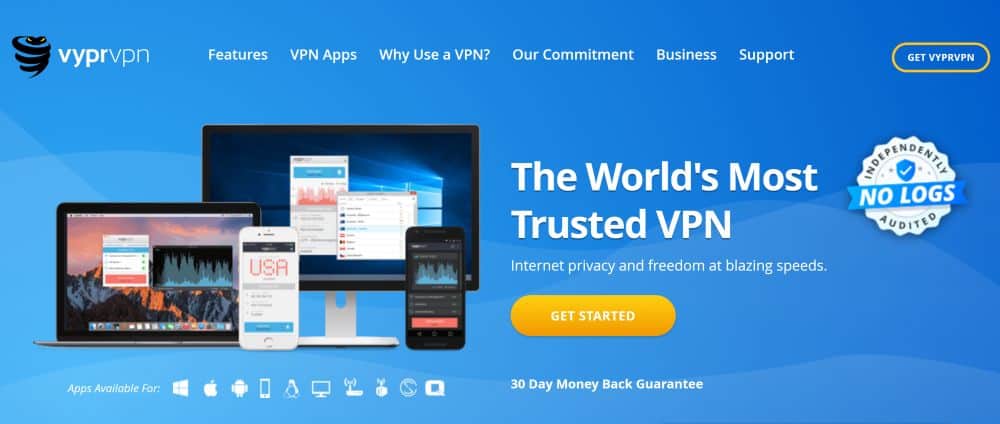 VyprVPN has several unique solutions to the problem of online privacy, the most notable of which is the Chameleon protocol. Chameleon takes pre-encrypted data leaving your device and wraps the identifying metadata with an extra layer of encryption, obscuring any traces of its contents. This is a handy way to defeat deep packet inspection, which is commonly deployed by ISPs to throttle connections as well as censorship-heavy governments in places like China, Turkey, and Russia.
Chameleon alone gives you an incredible amount of freedom and versatility, but VyprVPN doesn't stop there. The company owns and operates its entire network of servers, over 700 in 70 different countries. This may sound like a small feature, but it's surprisingly rare in the VPN marketplace. VyprVPN can keep third parties completely out of the picture by handling all hardware maintenance and software upgrades, ensuring no outside eyes can tamper with your data. This is strengthened by VyprVPN's excellent zero-logging policy against both DNS requests and traffic, creating the perfect environment for a secure and private online experience.
VyprVPN also includes the following features:
Custom software for a wide variety of devices, including Windows, Mac, Linux, Android, and iOS smartphones.
Powerful privacy features for the best VPN access in China and the Middle East.
Unlimited bandwidth and no restrictions on P2P traffic or torrent downloads.
Read our full VyprVPN review.
How to Unblock HBO Now from Outside the U.S.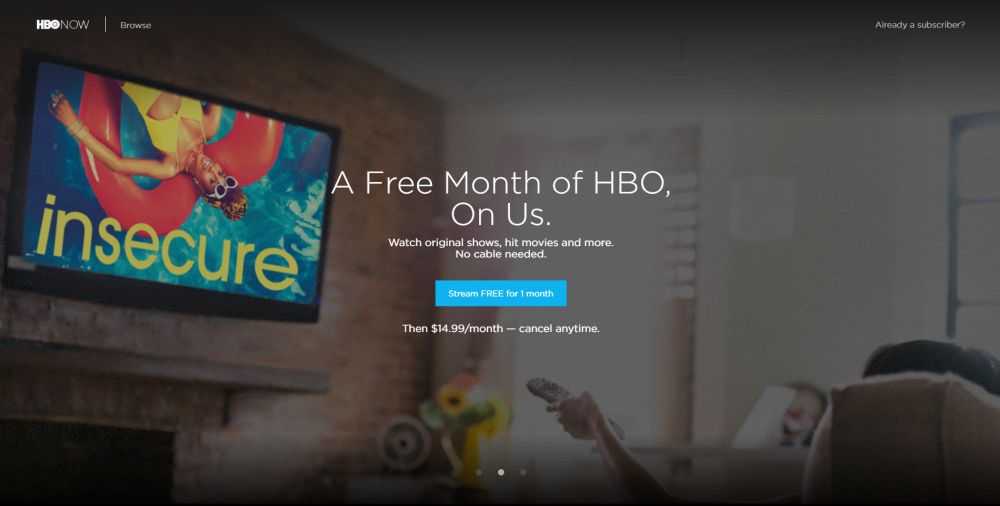 While HBO's mobile apps and internet-only subscription services are fantastic, there's one big limitation that keeps millions of customers away: regional availability. Currently HBO Now only offers content to subscribers in the U.S. and Canada. If you live anywhere else in the world you have to buy HBO through a cable company and use the HBO Go app instead. This can get expensive, and it's certainly not convenient. That's where VPNs come into play.
A VPN lets you change your virtual location with just a few clicks. To get access to HBO Now, simply choose a server in the U.S. or Canada, sign up for an account, download the app, and start streaming. You'll need the VPN software installed on the same device as HBO Now, and it has to be active in order to watch your favorite shows, but those are extremely small prices to pay for all that HBO Now has to offer.
It's worth noting that HBO has threatened to remove non-U.S./Canadian subscribers from its service in the past. Some users have had their accounts terminated, while others were left untouched. There's no guarantee you'll be able to keep consistent access to HBO Now from outside the U.S., but for now the VPN method works fine for most people.
Watch HBO without a Cable Subscription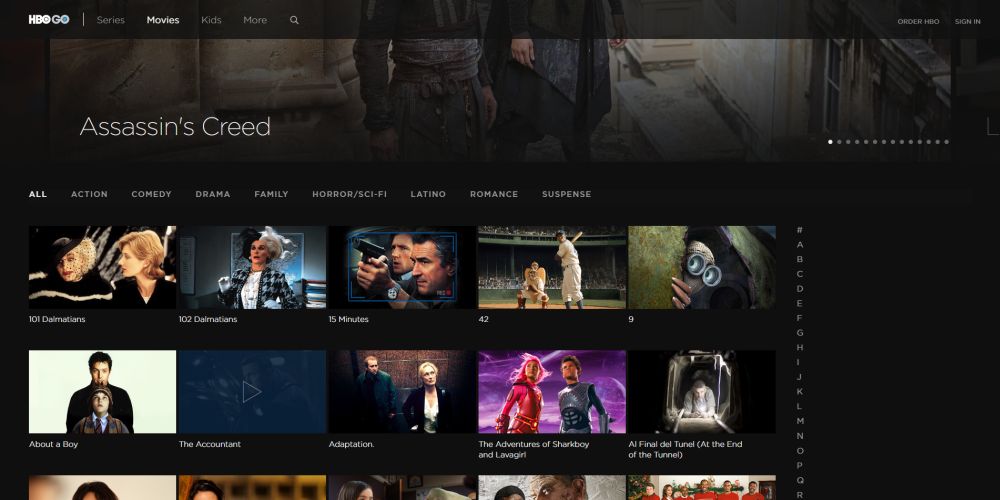 HBO Now isn't the only way to watch HBO without signing up for an expensive cable TV subscription. Cordcutters around the world enjoy all of HBO's hit shows through a variety of services, including pre-existing ones like Hulu, Roku, and Sling TV. As an added bonus, many of these methods are friendlier to VPN users from outside the U.S. and Canada, making it easier and safer to access HBO content without worrying about losing your subscription.
HBO on Sling TV – Sling TV is an online service that aims to replicate the TV channel experience without all the hassle. HBO recently began offering subscriptions through Sling at the same price as HBO Now. You can download Sling TV's app on a variety of devices, including Apple TV, Android TV box sets, and Roku, then subscribe from within Sling.
HBO on Hulu – Hulu's TV and movie options have grown dramatically over the years. They recently began offering premium channel subscriptions as add-ons to the main service, including HBO. All you have to do is sign up through Hulu and you're ready to stream.
HBO on Roku – Roku offers built-in subscriptions to HBO through the HBO Now app. Simply navigate through the Channel Store, install the app, then follow the on-screen instructions to begin your trial.
HBO with Chromecast – HBO Now updated its app to support content streaming through Chromecast, making it easy to display content from your smartphone or tablet on a TV. Download the HBO Now app to your Android or iOS device, make sure your Chromecast is ready to receive, then cast to your television.
HBO on DIRECTV NOW – If you use DIRECTV NOW, another TV-like subscription service, you can add HBO for as little as $5 a month.