We are reader supported and may earn a commission when you buy through links on our site.
Learn more
Watch Game of Thrones Online, How to Stream Legally
In recent years Game of Thrones has earned a reputation as the most heavily pirated TV show in the world. A lot of this has to do with the show's immense popularity, but availability plays an important role, too. In many countries HBO isn't easy to access without a pre-existing cable subscription, which can be expensive. HBO's streaming apps are also not available in most regions, cutting off even more legal sources for watching Game of Thrones. If you need to get your GoT fix without resorting to piracy, check out our resources below.
30-days money back guarantee
Before You Start Streaming, Get a Good VPN
Online privacy is a growing concern, even among casual internet users. Whether you're streaming movies or just surfing through social media sites, there's always a chance someone is snooping through your data or trying to find your location. It's always a good idea to have a reliable virtual private network (VPN) on hand. VPNs help protect your privacy by creating an anonymous encrypted tunnel between you and the internet. There are many services to choose from, but we used the following criteria to make our pick for the best no-log policy, strong privacy provisions,  wide server distribution and app availability across devices and platforms.
Our Top VPN Pick – IPVanish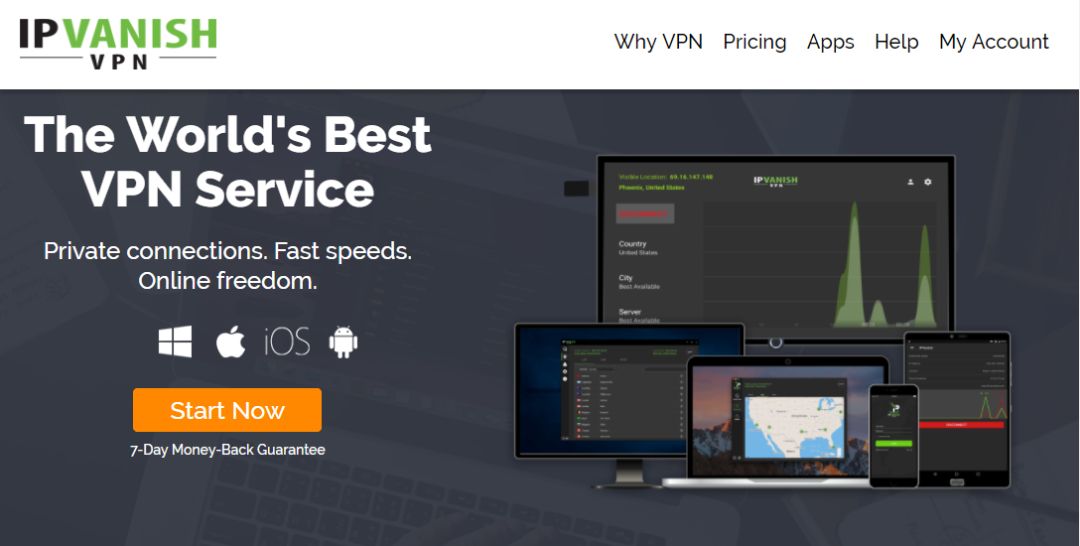 The entire IPVanish experience is centered around staying invisible online. The foundation of the service is built upon 256-bit AES encryption, cryptography strong enough to keep prying eyes away from your data, no matter how hard they try to crack it. Securing this tunnel are both DNS leak protection and an automatic kill switch built into custom software. Even if you lose your connection to the VPN, your data will remain safe. IPVanish backs up its commitment to privacy by featuring a zero-logging policy on all activity to ensure nothing can be traced back to you.
The IPVanish network is 850 servers strong spread across 60 different countries, plenty of options for finding a fast connection in any part of the world. It also gives you the ability to access region blocked videos and websites with ease. You can put your Game of Thrones streaming to the test with unlimited bandwidth, no speed throttling, and completely unmonitored access to P2P networks as well as torrent traffic. With IPVanish you can always be sure that your downloads will be lightning fast and completely private.
EXCLUSIVE for Addictive Tips readers: Get 60% off when you sign up for a full year of IPVanish, just $4.87 per month! Every plan is covered by an amazing seven-day money back guarantee so you can try everything out with no risks and no worries.
Can you watch on Kodi?
Kodi is a free and open-source media center app that provides a powerful interface for all your favorite TV shows and movies. The software itself is easy to use and perfectly legal to download, but some of the add-ons you can install bend the rules in a variety of ways, including accessing pirated content sources. Unfortunately, there aren't any Kodi add-ons that stream HBO content or offer access to the HBO ecosystem.
The legal way to watch Game of Thrones
HBO Go (Worldwide)
HBO Go is probably the most popular way to stream Game of Thrones legally. The companion website and mobile app are paired with your cable subscription and offer a convenient method for watching HBO movies and shows on any device, including PCs, smartphones, and tablets. You even get access to Game of Thrones episodes as they air, which is always a nice bonus!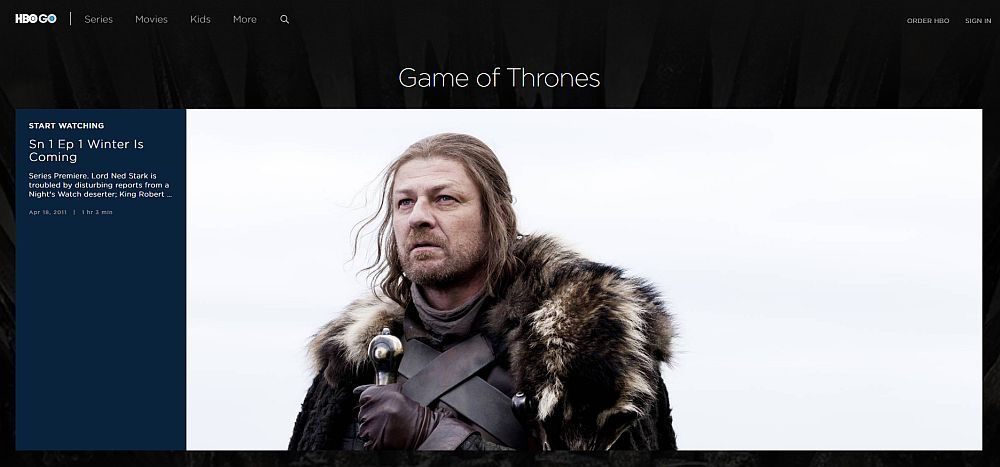 The only real catch with HBO Go is having to have a cable subscription alongside the app. This can get expensive, especially if you're only interested in watching Game of Thrones. The device support is fantastic, however. Depending on the cable service you use, you might be able to stream Game of Thrones on your Amazon Fire TV, Apple TV, Roku, or gaming consoles such as PS4 and Xbox One.
HBO Go is available in a variety of countries, including the U.S., Canada, UK, Italy, Germany, and Netherlands. To see if the service is available in your area, visit your cable provider's website and search for premium content add-ons.
HBO Now (U.S.)
HBO Now is one of the newer services in HBO's arsenal. It functions a lot like Netflix, allowing anyone to download the app and pay a monthly subscription fee for unlimited access to all of HBO's content, including movies, TV shows, and of course, Game of Thrones. HBO Now is functionally indistinguishable from HBO Go, and you don't even need a cable subscription to access it. Just sign up and start binging.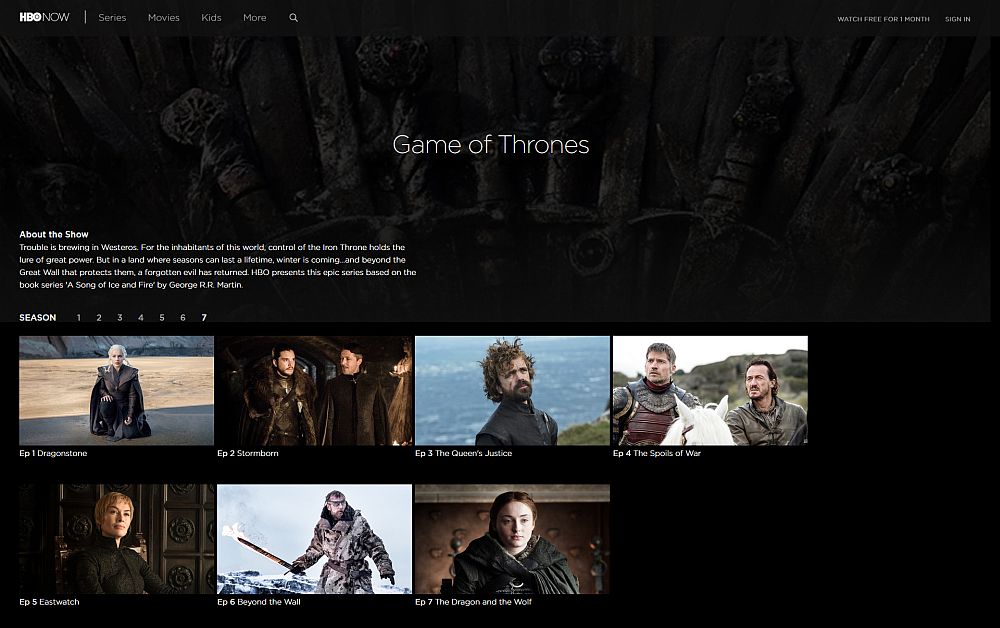 Here's the catch with HBO Now: it's only available in the U.S. and certain U.S. territories. Content rights agreements make it difficult, if not impossible, for HBO to launch the service worldwide, as cable companies in different countries own the broadcast rights to most of the network's shows.
HBO clearly states that using a VPN to watch HBO Now outside of the U.S. is a violation of its terms of use. In fact, the company has taken to terminating accounts that ignore this warning without issuing refunds. Plenty of users manage to get away with it, but strictly speaking it's not a legal way to watch Game of Thrones.
Foxtel (Australia)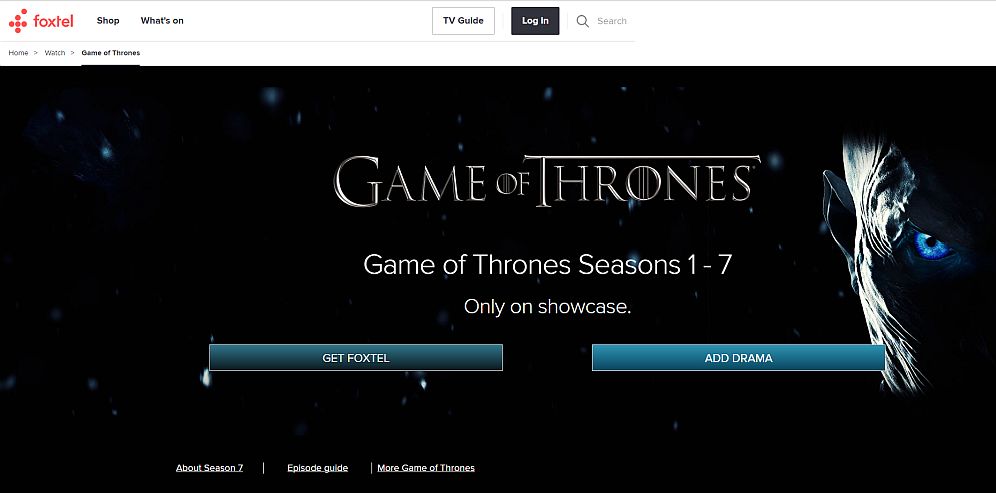 Australian Game of Thrones fans have extremely limited options when it comes to streaming the show legally. One of the most reliable ways is to subscribe to Foxtel Now's pop pack, a streaming service that offers new and on demand content for 15 AUD per month. The pop pack has tons of content from a variety of sources, most importantly the entire Game of Thrones catalog through season seven.
Hotstar (India)

Game of Thrones fans in India can watch every season of the show as well as access new episodes just after they air in the U.S. through Hotstar, an online subscription based streaming service. The premium plan will cost 199 INR per month after a month-long free trial, and you can even stream shows to your mobile device by downloading the Hotstar app.
Worldwide
Even without HBO Go, HBO Now, or a cable TV subscription, there are still a number of online streaming services that offer reliable access to HBO and Game of Thrones, both new episodes and earlier seasons. Availability can vary depending on your region, but the good news is many of the following options are more friendly to VPN usage than HBO's own services.
HBO on Amazon Video – Amazon's video streaming service has a ton of free content, movie rentals, TV series to purchase, and a lot more. A relatively new feature to the service is the ability to subscribe to premium channels for an additional fee. HBO is one of these channels, and for $15 you'll be able to access its entire library of content, including Game of Thrones. A free seven-day trial will help you get started, and if you're really good at binge watching you can probably burn through every season of GoT before it ends!
HBO on Sling TV – Sick of paying for cable packages for a bunch of channels you'll never watch? Sling TV is an "a la carte" TV service that lets you pick and choose which channels you want without having to pay for anything else. Their selection includes everything from broadcast networks to FX, Disney, and Comedy Central. HBO is a fairly recent addition to the Sling TV line-up. You can snag it for about the same price as other subscription services, and before you know it you'll be streaming Game of Thrones late into the night. Best of all, Sling TV works well with VPNs, which makes it a good choice for worldwide HBO access.
HBO on Hulu – Similar to the Amazon Video setup above, Hulu offers premium channel subscriptions as add-ons to the core service. You can sign up with HBO through Hulu and instantly gain access to all of HBO's content.
HBO on Roku – The Roku streaming stick and TV box set both offer channel subscriptions to providers like Starz and HBO. All you have to do is navigate the Roku Channel Store, install the HBO app, then follow the on-screen instructions to begin your HBO subscription.
HBO hasn't made it easy for fans around the world to watch Game of Thrones legally. How do you stay on top of the newest episodes? Let us know in the comments below!