We are reader supported and may earn a commission when you buy through links on our site.
Learn more
Best Usenet Clients: How to Choose a Newsreader for a Great Usenet Experience
Usenet has become more and more popular for downloading files from the Internet over the past several years. Today, it is about as common as torrents. Much of a user's Usenet experience has to do with the client he or she uses. Let's have a look at the best Usenet clients available today.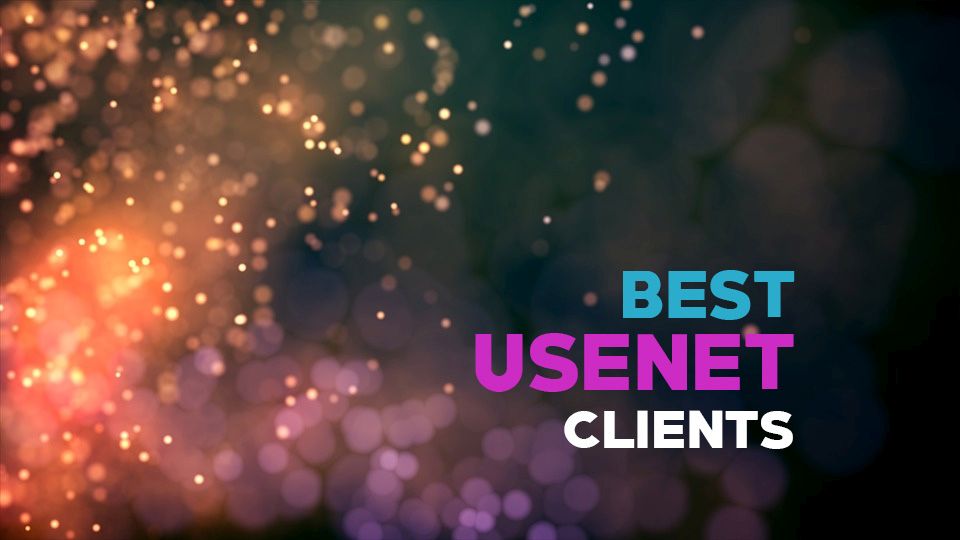 In this article, we'll first briefly introduce Usenet, what it is, how it works and what's needed to use it. Then, we'll jump right into the core of our subject, the best Usenet clients. After explaining the selection and evaluation criteria we've used, we'll introduce you to what we found to be the best 5 Usenet clients. This includes a mini-review of each of the 5 clients. Finally, we'll try to help you answer the question "Which one should I choose"
Usenet in a Nutshell
Usenet is one of the oldest Internet-based information exchange system, dating back to 1979. It is essentially a distributed messaging system. Messages are stored on Usenet servers—AKA news servers which are all interconnected and constantly synchronizing their contents. There are text messages but also binary ones which can contain any type of data, including video or audio files. Messages are stored in a hierarchical fashion in containers called newsgroups. With message size being often limited, most files are split into segments stored in consecutive messages on Usenet servers. A special kind of software called a Usenet client or a newsreader is used to access Usenet servers, read and post messages and handle the download of files.
RECOMMENDED READING: What is Usenet? Is it Legal? How to Get Started With
The Usenet itself provides no indexing of content or searching capabilities. This makes finding specific content a bit complicated. Fortunately, indexing systems have been put in place in recent years and several web-based indexes are now available. They generate special files—called NZB files—that instruct newsreaders to download all the segments of a given file.
For the Best Usenet Experience, We Recommend Newshosting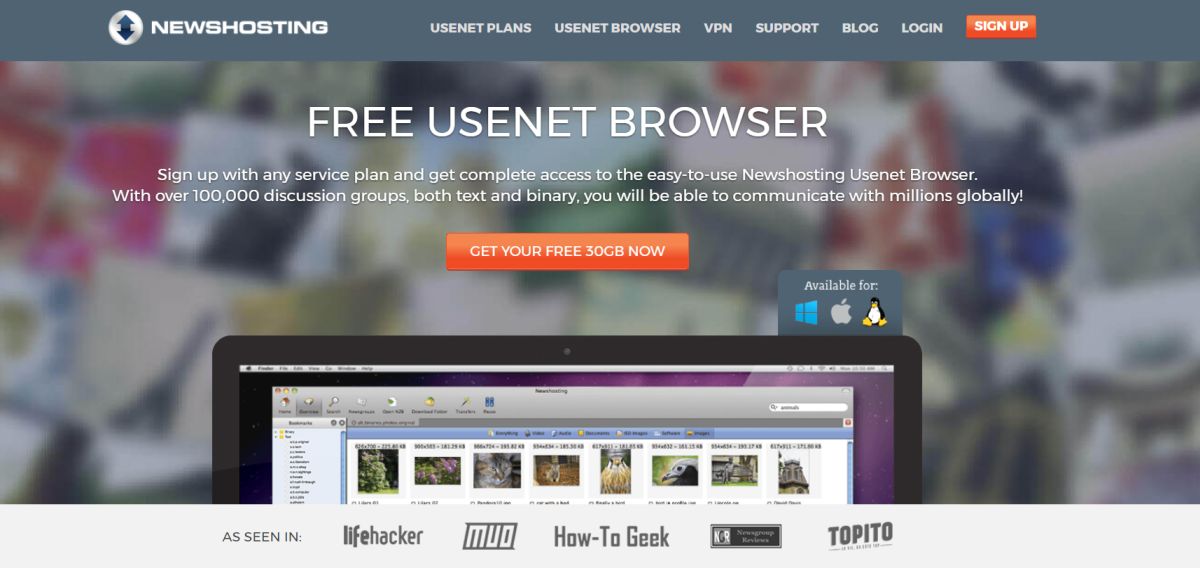 To get the best Usenet experience, the main thing you need is a good Usenet service provider. With so many suppliers available choosing, finding the right one can be a daunting task. We've reviewed many of them for you, trying to find the best one. We've evaluated them against several important criteria and the one we recommend is Newshosting.
Newshosting offers 256-bit SSL encryption for your security and privacy, a built-in, full-featured newsreader so you don't need any extra software and one of the longest file retention of any Usenet provider so you can find more content. Newshosting offers a very comprehensive, high-quality solution.
Take advantage of AddictiveTips special pricing offer and consider the yearly plan, so you can get both a good monthly rate and their VPN service include. Enjoy unlimited Usenet and VPN protection from just $8.33/month with our discount.
The Best Usenet Clients
With so many different Usenet client available on the Internet, choosing one is a complicated task. Our goal is to try to help you pick the best client for your needs–one that will have all the features you may need, while being easy to configure and use. We've searched the Internet for the best available software today. And with NZB search engines being so prevalent, we've only included software that supported NZB files.
Selection and Evaluation Criteria
Considering that most Usenet services are not free, we concentrated our efforts on finding free Usenet clients. There are also some great paid options, but we felt that most users would prefer to use a free solution. And there are some excellent free Usenet clients available, as you shall soon see.
To compare apples to apples, we wanted to first lay down some evaluation criteria. We've evaluated each proposed client according to these:
Platforms (operating systems) supported
Built-in search functionality
Auto extraction and repair of files
Support for multiple Usenet providers
Automatic joining of split files
Any other useful features
Based on these, we've found the five best newsreaders available today. Let's have a closer look at each one.
SABnzbd
SABnzbd is one of the best-known Usenet clients available. It is free and includes features that will allow you to get the most of Usenet. While it may be a bit complicated to configure and to get familiar with, it is well worth the effort. It is available for Windows, MacOS, and Linux.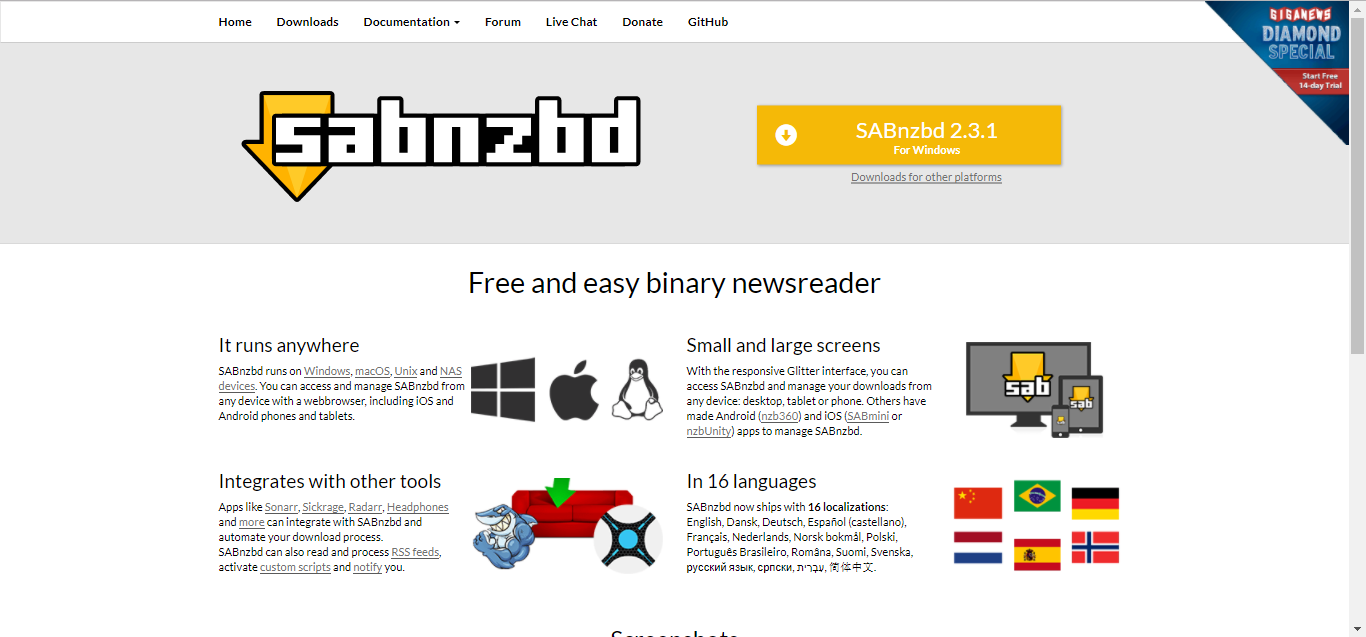 Installing SABnzbd is very easy, no matter what platform you use. You simply download it and run the installer. Upon first starting SABnzbd, you might be surprised to find that it opens as a web page in your browser. This first thing you must do after installation is to configure the software. When you first run it, you automatically enter a configuration wizard. It is a simple matter of selecting your language and entering your Usenet server parameters.
Once that is done, you'll be taken straight to its main screen. As you can see, it is a tad minimalist.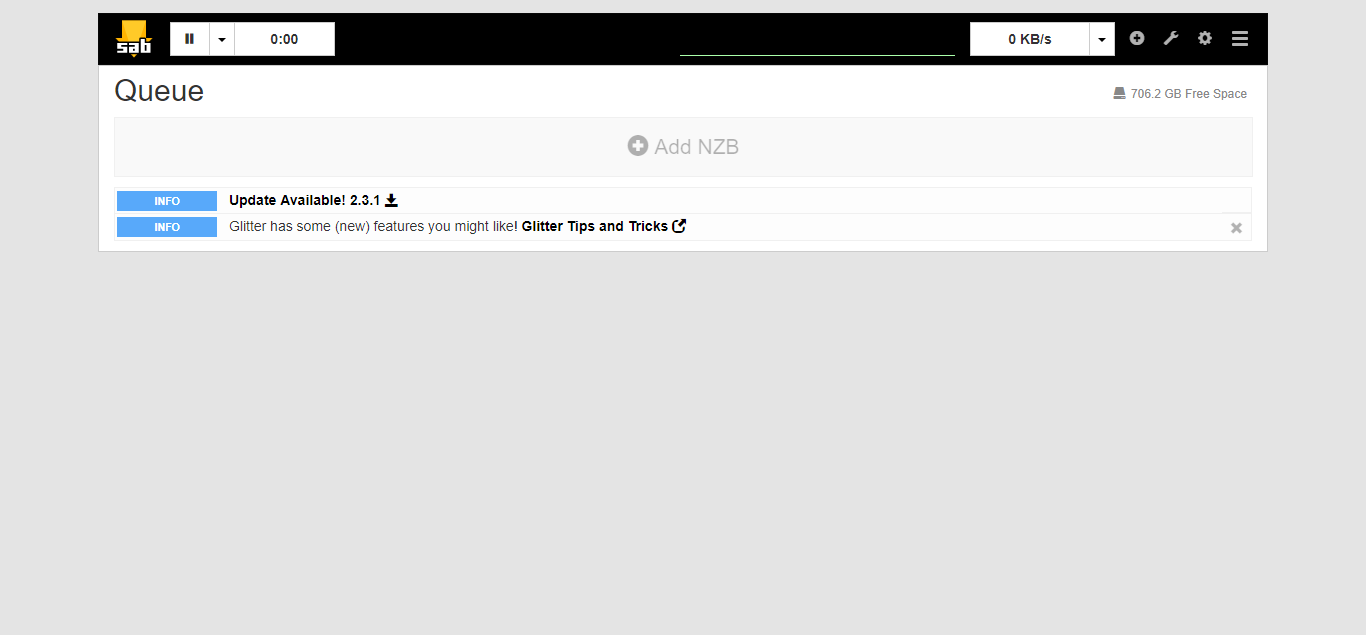 SABnzbd is not really a full-featured Usenet client but more of a Usenet downloader; all it does is handle the downloading from an NZB file. Why then, would we include it in our list of the best Usenet clients, you may ask? Well, the answer is simple, it is very popular and, combined with NZB search engines or other software such as Couchpotato or Sickbeard, it becomes a very powerful software.
RECOMMENDED READING: How to Use Couchpotato to Download Movies
For handling NZB files, SABnzbd is known to be one of the best options available. Unfortunately, you'll have to use other software to get the most of it. For this reason, it might not be the best choice for a new user who just wants to get started with Usenet quickly and easily.
GrabIt
Contrary to SABnzbd, GrabIt is a full-featured Usenet client. It will not only handle downloads from NZB files but also let you browse the contents of the different newsgroups. It is only available for Windows, though. If you're a MacOS or Linux user, you'll have to use something else.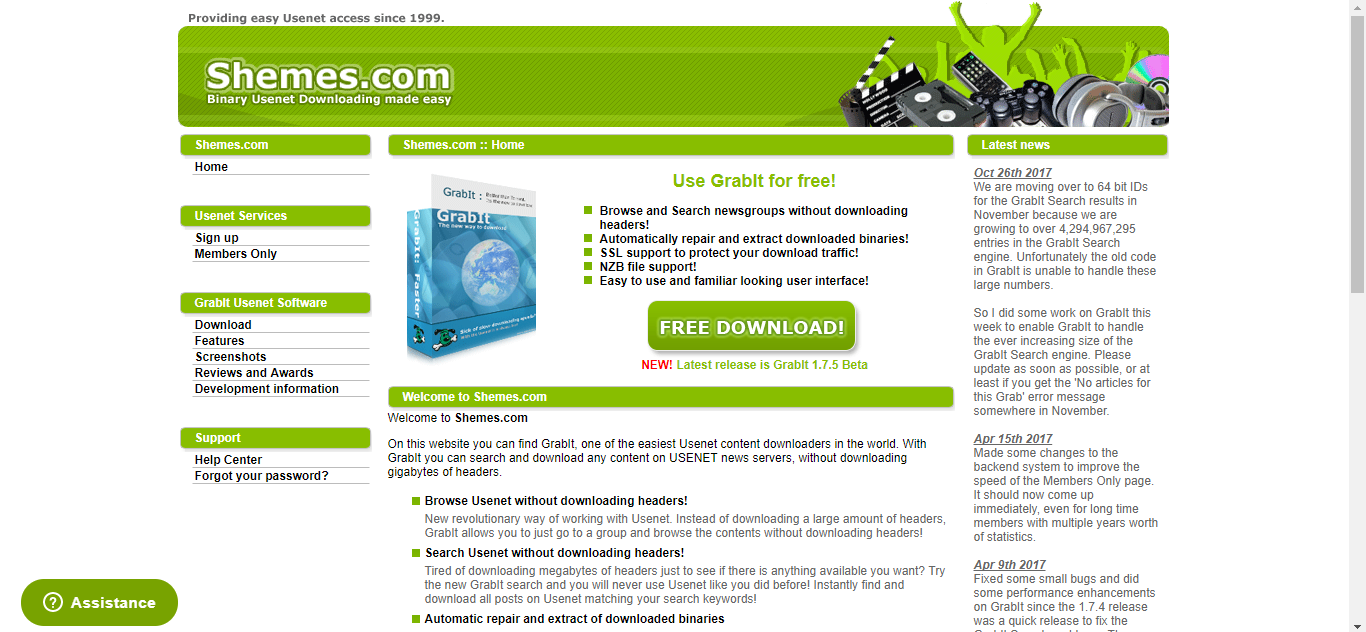 After downloading GrabIt from its website, installing it is as easy as can be. Like many others, you need to enter your Usenet server credentials the first time you start it. You're then taken to its main screen. The first thing you need to do is download the list of newsgroups from the server. Once this is done, you're ready to start browsing the groups. But are you really? In fact, to browse a group, you need to add it to your subscription list and download its contents.
This is more for advanced users, though. If you're a new user and you just want to find a specific file (the public-domain movie Reefer Madness, for example) you can use GrabIt search function.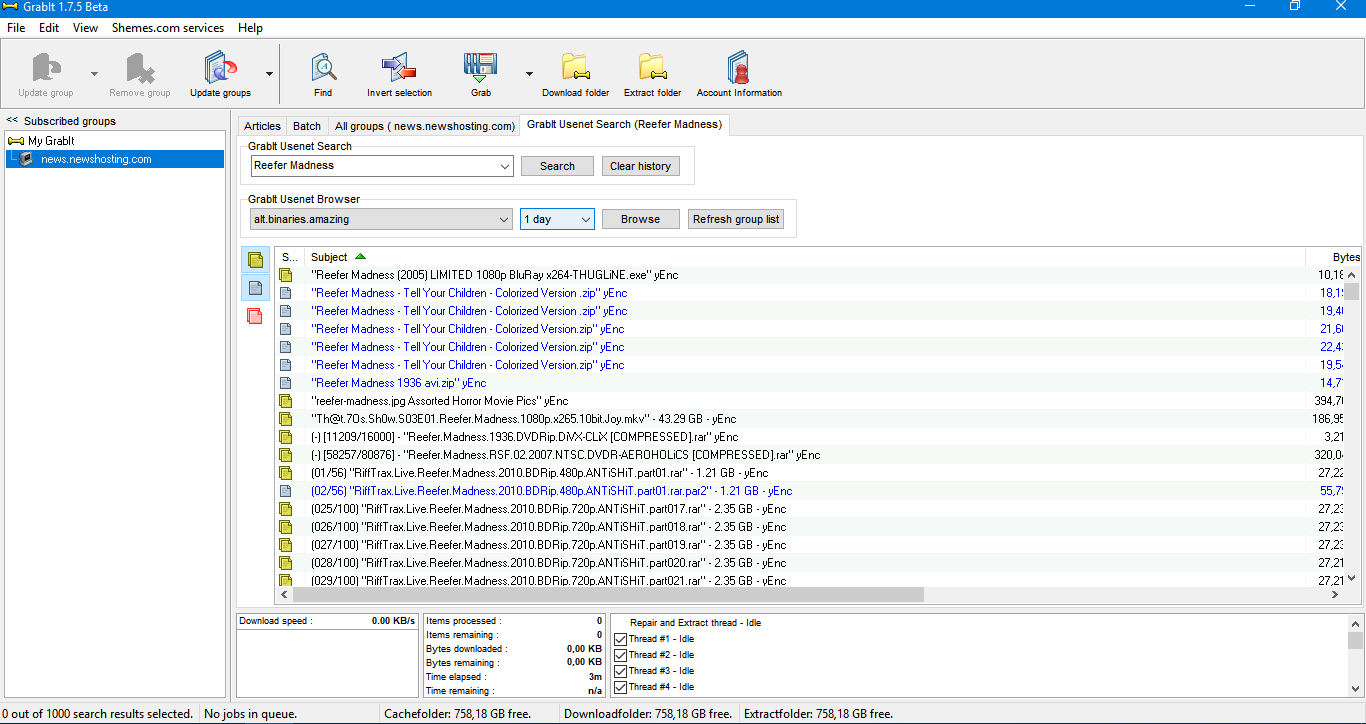 The search feature is limited to 5 searches per day. To use it without limits, you need to subscribe to their service. At only $2.49 a month or $24.99 for a whole year, it is quite affordable and might be worth it if you don't want to have to deal with using external NZB search engines and NZB files.
Here's a summary of some of GrabIt's features:
Supports SSL
Auto repair and extract
No need to download headers to search
Supports multiple servers
Handles multiple downloads
Highly configurable
Overall, GrabIt is a very good Usenet client that offers both a traditional newsgroups browsing experience combined with a powerful search engine, if you're willing to pay the price.
Newsflash Plus
Much like GrabIt, Newsflash Plus is another "traditional" Usenet client software. It allows you to connect to a Usenet server, download a list of the newsgroups it contains, browse the content of newsgroups and download and upload files and messages. It is available for Windows and Linux but not for MacOS.
Installing Newsflash Plus on Windows is a little more complicated than some other software. Newsflash Plus comes as a zip file with no installer. After you download it, you need to unzip the file to a directory from which you'll be able to start the application. Since there is no installer, no start menu or desktop shortcuts are created. You'll have to create them yourself if you want them.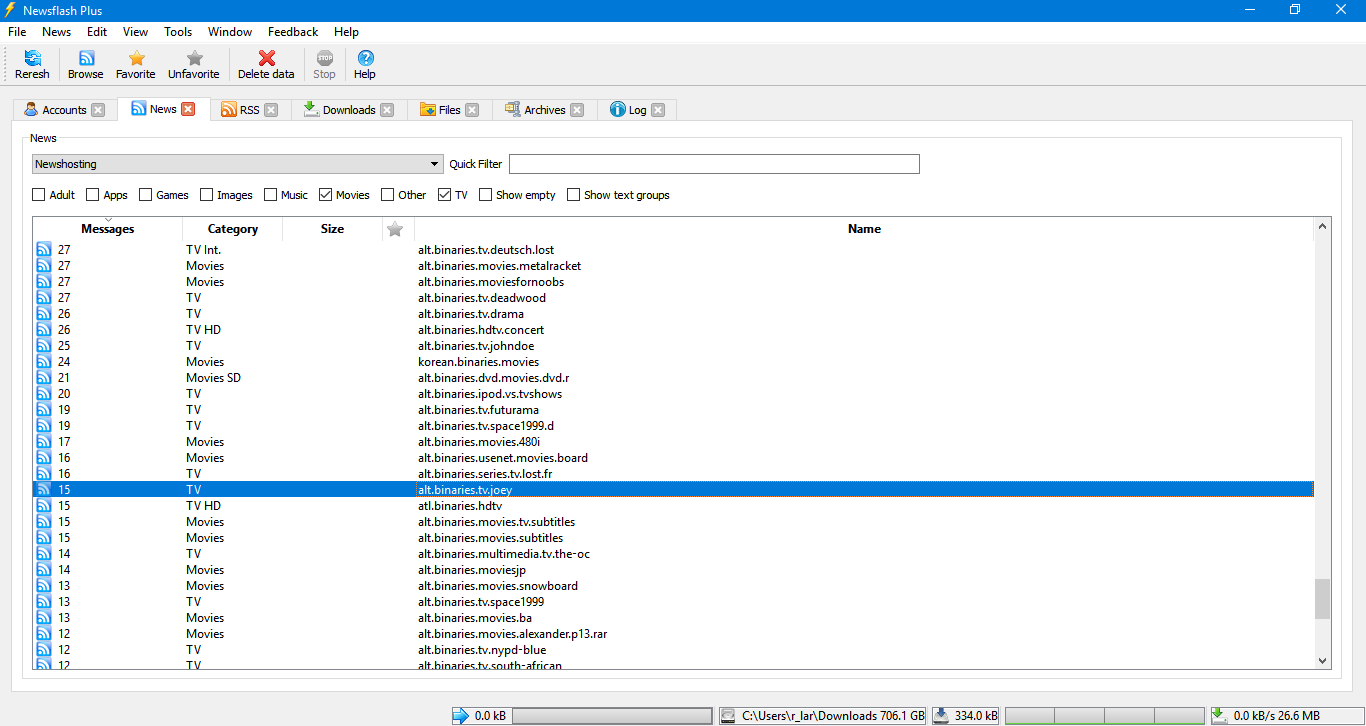 Once installed and started, using Newsflash Plus is not much different from using other newsreaders. If you've used other software of this kind, you'll feel right at home with Newsflash Plus. If you're new to Usenet, Newsflash will have a steep learning curve. However, you have the possibility to open NZB files generated by external search engines.
The Newsflash Plus has a search feature (accessed via the File menu). It is not a true search function, though, as it uses external search engines to perform its searches. Furthermore, the search engines are not preconfigured, and you'll have to do it before you can use the feature. And configuring search engines is not for new users. In short, you need to know what you're doing.
Certainly a good newsreader for more advanced users, Newsflash Plus is not the best for beginners.
NZBget
NZBGet is another simplistic Usenet downloader like SABnzbd. It won't allow you to browse newsgroups or to perform searches; you'll need to use it with an NZB search engine. It is available for Windows, MacOS, Linux, and a few others and is an open-source piece of software.
Installing NZBGet is a simple matter of downloading it from the website and executing its installer. No questions are asked during installation. You can't make that any easier. Once installed, you're taken straight to the application screen. By the way, just like SABnbzd, this one opens in a browser.
You might be disappointed to realize that there is no configuration wizard when you first use it. You'll have to do that by yourself. But first, you'll need to find where to do the configuration.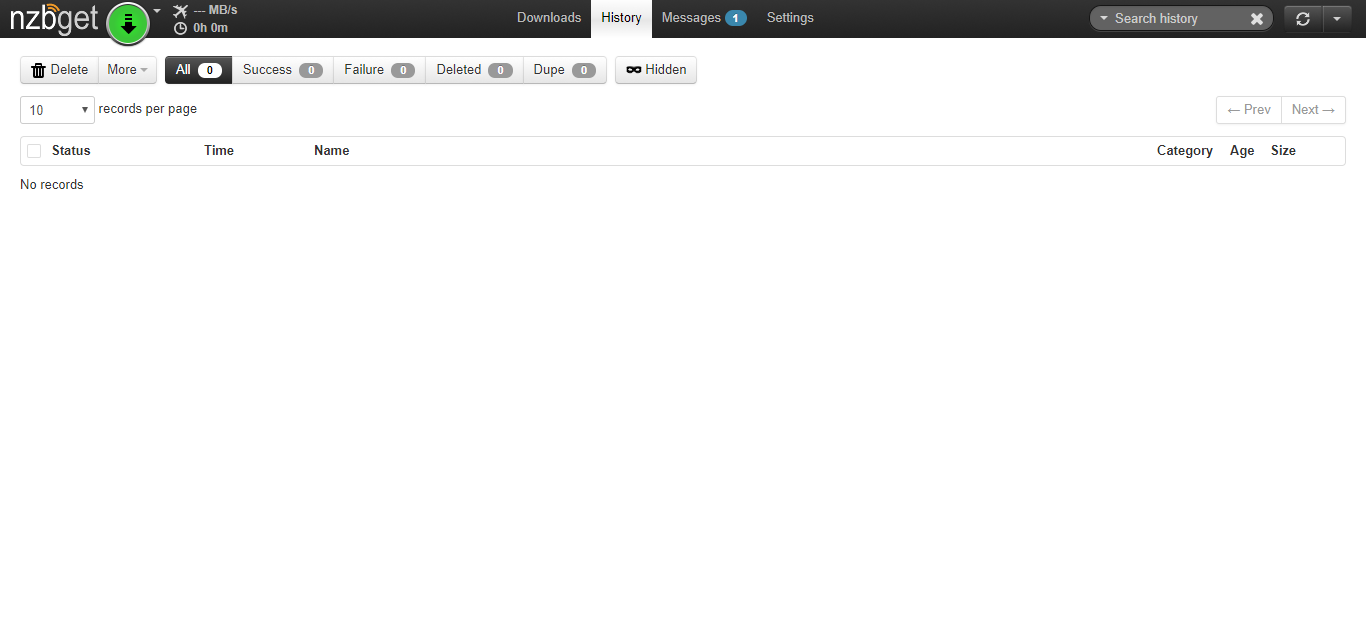 You'll find the news server configuration by first clicking Settings at the top center of the screen and then selecting News Servers in the left pane. The configuration form will let you enter the server's hostname, port, username, and password along with a handful of other cryptic parameters. Once you get it configured, all you need is to feed it an NZB file (acquired from an NZB search engine) and the download will start right away.
NZBGet is a great piece of software, but only once you've configured it. Its greatest strength is its ability to run using few system resources. It will, therefore, run well even on low-power devices such as a Raspberry Pi, for example. It is one of the most popular Usenet downloaders, right next to SABnzbd.
Newshosting Browser
Our last entry, the Newshosting Browser, is probably one of the very best Usenet clients around. However, although it's free, it's only available to subscribers of the Newshosting service. We've decided to include it on this list for two reasons: it is really one of the very best clients and Newshosting is probably the best Usenet provider.
We've recently published an article about Newshosting and their browser: Newshosting–The Best Usenet Provider.

The Newshosting Browser is great for new users and seasoned ones alike, and is  super easy to install and configure. After signing up for a Newshosting subscrition, you simply download the software and run the installer. The only configuration it will require is your username and password. Other than that, everything works right after install.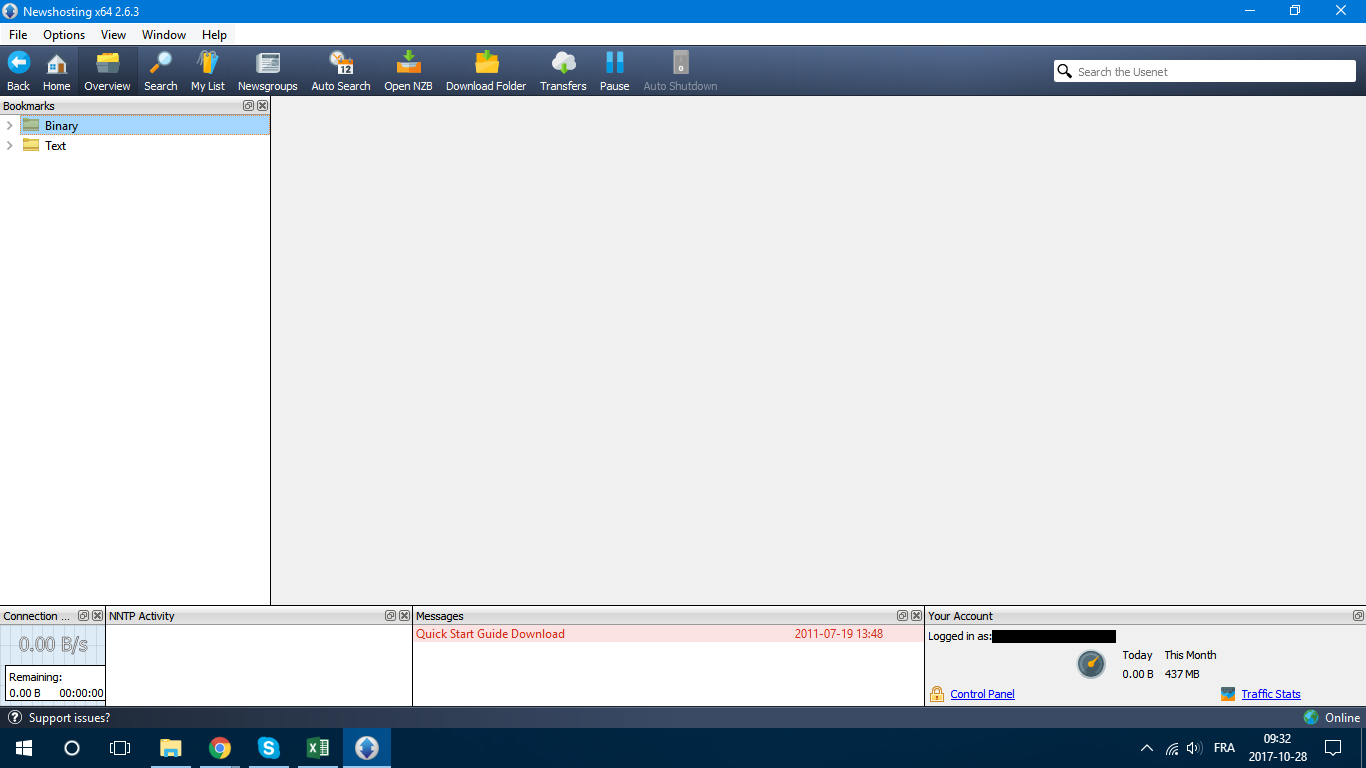 The Newshosting browser's user interface is one of the easiest to figure and the software has all the necessary functionality. With it, you can browse the content of individual newsgroups like you would with Newsflash Plus or GrabIt. You can also open NZB files and automatically start downloading.
But the most useful feature of the Newshosting Browser is its search engine. Using it is a simple matter of clicking the Search button at the top of the screen.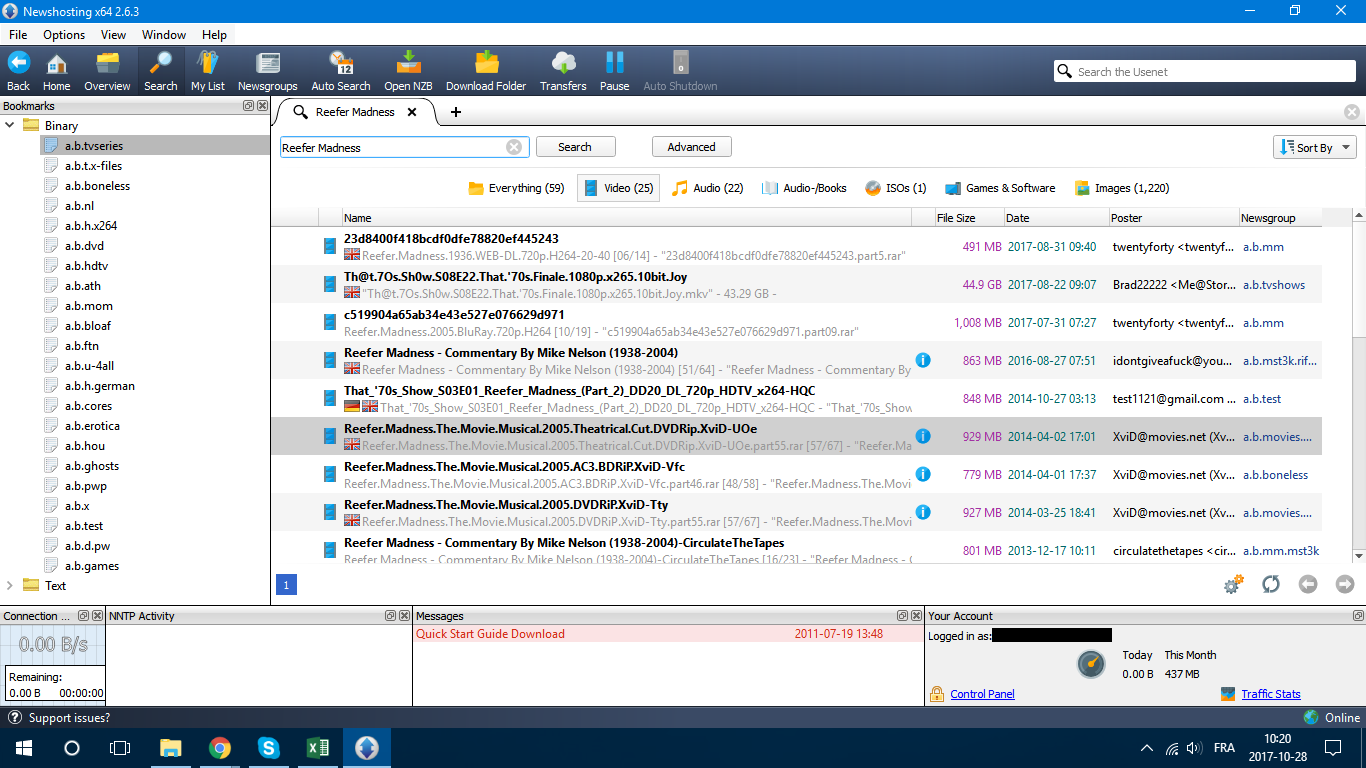 You simply enter your search terms in the search bar at the top right and matches from all newsgroups will appear in the main window. To download any found file, simply double-click it and confirm the download. The file download is extremely fast, as usual with Usenet.
Which One to Choose?
As is often the case, there is more than one answer to that question. We can split our list into three major categories. First, we have the NZB downloaders such as SABznbd and NZBGet. Both are ideal options for users who are using NZB search engines and only need an efficient way to download files. In this category, we prefer SABnzbd as we found it to be generally easier to install, configure, and use.
The second category is what we'd call the "old-fashioned" newsreaders like GrabIt or Newsflash Plus. They allow you to browse the contents of specific newsgroups and read individual messages. These clients are suitable for more experienced users. Both of our suggestions are great products but we tend to lean towards GrabIt due to its superior installer and optionally available search functionality.
Our last category–we'll call it Integrated Usenet Browsers–has only one entry: the Newshosting Browser. With its full set of features, easy installation, and configuration, it is an option we recommend to any users. New users won't be too intimidated by a complicated configuration process or user interface while experts will find anything they need. If you're a Newshosting user, you should definitely try it.
DISCLAIMER: AddictiveTips.com does not condone or recommend the use of any means to access copyrighted content to which you have no right. We're not responsible for what you decide to do with the contents of this article. Piracy is not something we support or approve, and we strongly advise users to only access content they are legally entitled to. You must always take steps to ensure you are not in breach of any copyright or other law.
RECOMMENDED READING: The Best Free NZB Search Engines – Finding Content on Usenet
Conclusion
The five products we've reviewed today are just a small sample of what's available. However, we feel we've taken the best of each category of Usenet clients and introduced them to you. All five products are great, they all work very well and each would be a good choice. In the end, it is up to you to give them a try and figure for yourself which one is right for you.
Have you tried any of our top 5 Usenet clients? Which one is your favorite? It doesn't have to be one from our list. What are the best features of your favorite client? And what are its biggest shortcomings? Please, share your comments below.