Watch the 50 Best Bollywood Movies on Netflix Now!
Netflix is known to offer content to suit everyone's viewing habits, so there are also loads of Bollywood movies on the platform, films that you can watch easily. Hindi cinema is often referred to as Bollywood as a play on the Hollywood word, mixed in with Bombay, a name formerly associated with the Indian cinema industry. Bollywood offers one of the largest collections of feature films in the world. Yearly, hundreds of movies are produced in India, but only some of them end up being successful.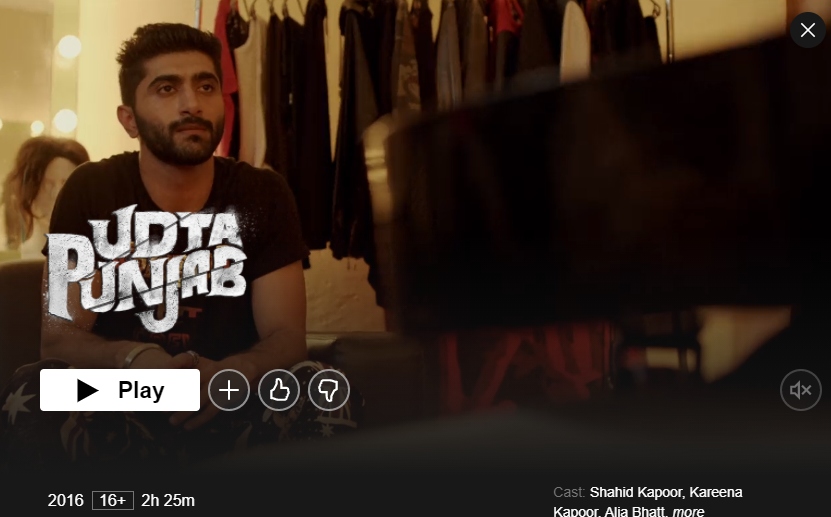 Netflix has an impressive collection of movies from the Bollywood collection and even more are added constantly. We've dived right in and ranked the movies by mixing in several scores we found – IMDb, Rotten Tomatoes, and Metacritic – and ran an average.
Here are the 50 best Bollywood movies to watch on Netflix:
1. Andhadhun – 9.16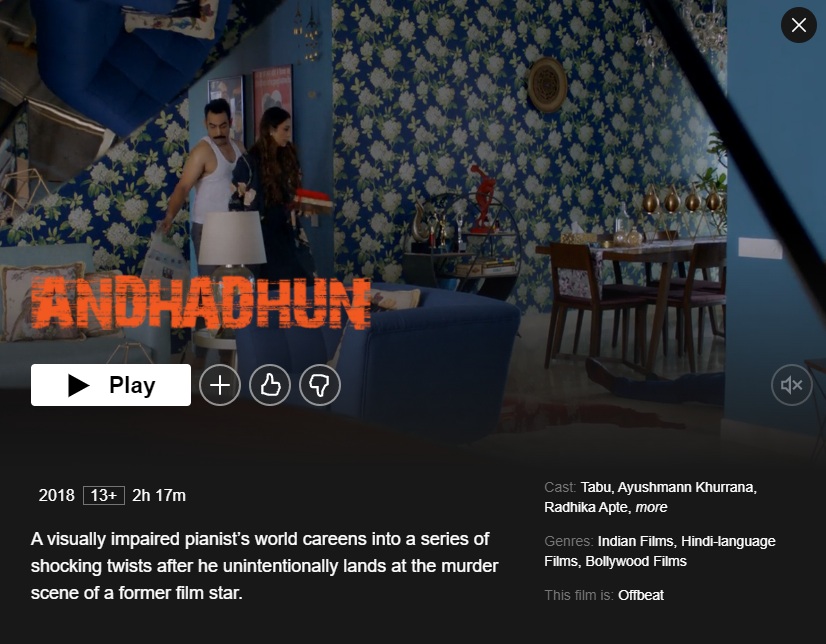 Topping our list is a movie that was released in 2018. With the name meaning 'Blindly,' the story follows Aakash, a great pianist who wants to improve his piano skills so he fakes being blind. He becomes romantically involved with a woman, and he continues the act even when he meets her father and his friends. Later on, he has to continue faking being blind when he witnesses multiple murders, and things take multiple turns that have him in danger. Andhadhun received numerous nominations and took home awards in categories like Best Director, Best Screenplay, or Best Actor. The movie stars Tabu, Ayushmann Khurrana, Radhika Apte, Anil Dhawan, Zakir Hussain, and plenty of others.
2. Kahaani – 8.96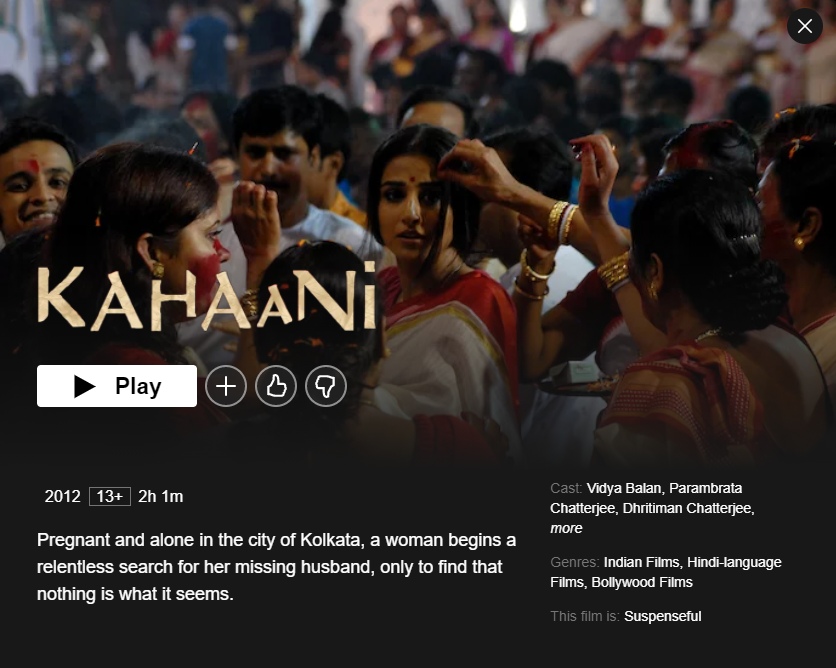 Released in 2012, Kahaani, which translates to 'Story,' is a mystery thriller flick that you'll want to watch. We follow a pregnant woman whose name is Vidya. She travels to Kolkata in an effort to find her missing husband, only to reveal a web of lies, undercover agents, and assassins. There are so many twists and turns, and so much manipulation that you won't know what to believe. The film features Vidya Balan, Parambrata Chatterjee, Nawazuddin Siddiqui, and Indraneil Sengupta.
3. Dil Chahta Hai – 8.8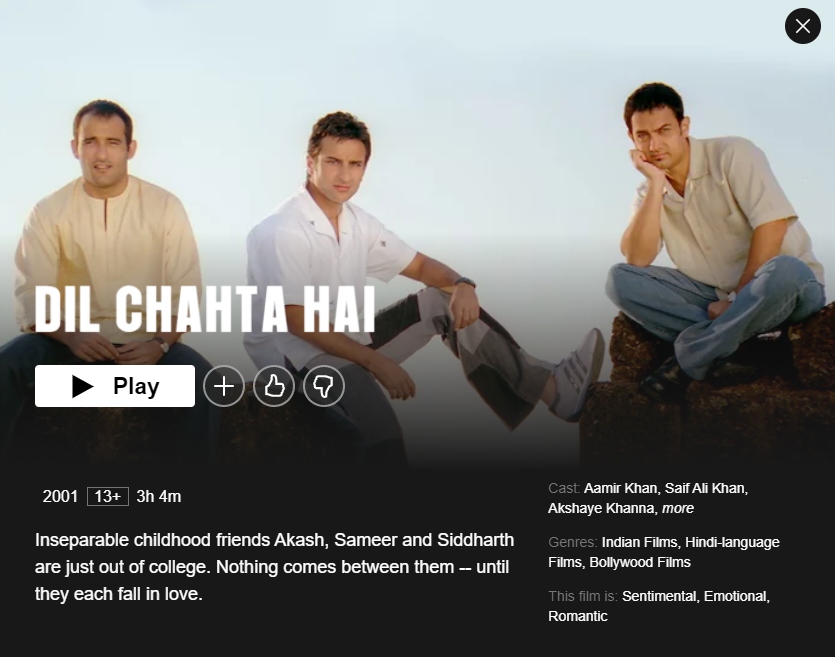 Next up, we have Dil Chahta Hai, which translates to 'The Heart Wants' and it's a romantic comedy. We get to follow three college-graduate friends who are trying to navigate life after leaving college, trying to figure out how grownup relationships work, how to relate to family members, and how to continue being friends. This 2001 film stars Aamir Khan, Saif Ali Khan, Akshaye Khanna, Preity Zinta, Sonali Kulkarni, and Ayub Khan.
4. Dangal – 8.72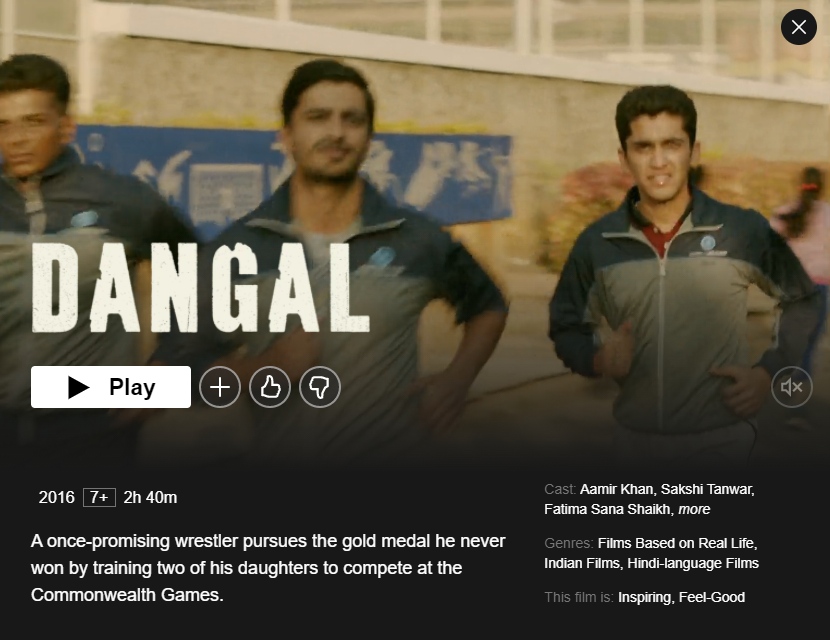 Dangal, which translates to 'wrestling competition,' was released in 2016 and is a biographical sports drama film. We follow the story of Mahavir Singh Phogat, an amateur wrestler who went on to train his daughters to become the first world-class female wrestlers in India. Geeta Phogat and Babita Kumari would go on to win gold medals at the Commonwealth Games and other medals at various other Wrestling Championships. At the time, Dangal was the highest-grossing Indian film ever to be made, the fifth highest-grossing non-English film ever, and the highest-grossing sports film. The film stars Aamir Kha, Sakshi Tanwar, Fatima Sana Shaikh, and Sany Malhotra.
5. Zindagi Na Milegi Dobara – 8.63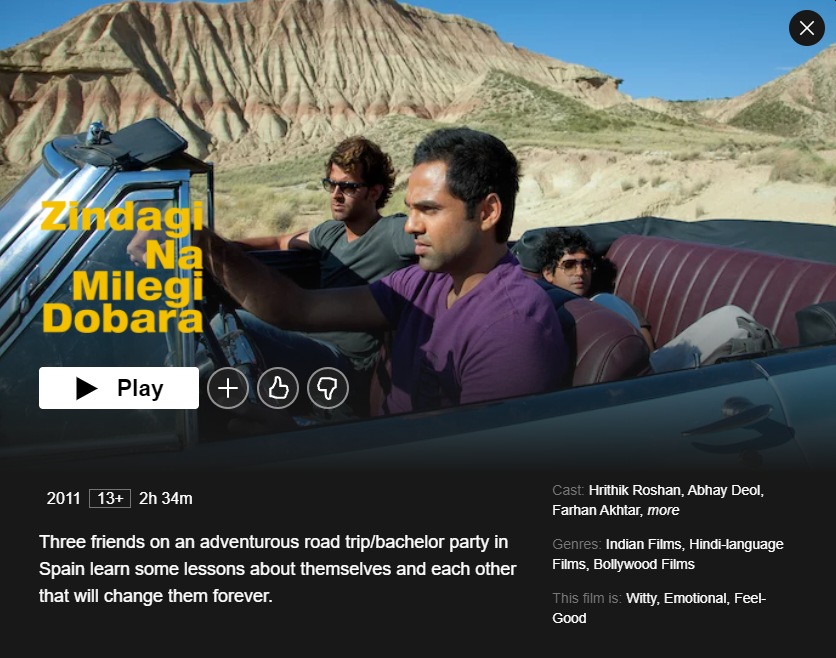 Zindagi Na Milegi Dobara translates to 'Life Doesn't Come Again,' and it was released in 2011. We get to watch three childhood friends reunite and go on a three-week road trip to Spain where they get to know each other once more, fall in love, and partake in some dangerous sports. It's a story that was praised for its portrayal of love, story, music, and humor. We get to enjoy Hrithik Roshan, Abhay Deol, Farhan Akhtar, Katrina Kaif, and Kalki Koechlin.
6. Queen – 8.56
The next entry is Queen, a comedy-drama that was released in 2014. The movie tells the story of Rani, a shy young woman whose wedding gets called off by her fiance a week before the event. She decides to go ahead and take the trip to Paris that was supposed to be her honeymoon. There, she meets Vijayalakshmi, a woman of mixed descent, who helps her around the city and becomes her friend. Not only that, but she helps her grow as a person. The movie stars Kangana Ranaut, Lisa Haydon, Rajkumar Rao, and others.
7. Haider – 8.55
Our next entry comes from 2014, and it's a movie that mixes in crime and drama with a pinch of tragedy. The film tells a story that takes place during the Kashmir conflicts from back in 1995 and it's a modernized version of Hamlet mixed in with Curfewed Night by Basharat Peer. We follow Haider, a young student who returns to Kashmir at a very bad time, looking for answers regarding his father's disappearance. The film features Shadid Kapoor, Tabu, Kay Kay Menon, Shraddha Kapoor, Irrfan Khan, and others.
8. 3 Idiots – 8.52
For our next movie, we go back to 2009 when 3 Idiots came out. This coming-of-age comedy has some drama sprinkled in, but it's an overall hilarious film to watch. We get to see three friends who are students at an engineering college, presenting the story as a satire about the social pressures that come with the Indian education system. The firm's success actually had a big impact on attitudes towards education in the country. The story is told through two timelines – one in the present when they are students, and one ten years in the past. 3 Idiots stars Aamir Khan, R. Madhavan, Sharman Joshi, Kareena Kapoor, and Borman Irani.
9. Kapoor & Sons – 8.47
Kapoor & Sons is a family drama film that was released in 2016. The movie has us following two estranged brothers returning to help out the family after their grandfather has a heart attack. The film stars Sidharth Malhotra, Fawad Khan, Alia Bhatt, Ratna Pathak Shah, Rajat Kapoor, and Rishi Kapoor. Kapoor & Sons won several awards at various ceremonies.
10. Barfi – 8.43
In 2012, Barfi was released, a movie about a boy who is both deaf and mute. He is a bit of a troublemaker and prankster, so he gets into trouble often. Barfi falls in love with an engaged woman and later on decides he should kidnap his old friend, Jhilmil, a young woman who is autistic in order to pay for his father's medical treatment. The film features Ranbir Kapoor, Priyanka Chopra, Ileana D'Cruz, Saurabh Shukla, Akash Khurana, and Ashish Vidyarthi.
11. Kuch Kuch Hota Hai – 8.4
Released in 1998, Kuch Kuch Hota Hai (translates to 'Something happens') has made an impact on viewers, remaining popular even over two decades later. The movie has us following two love triangles set in two different timelines. One of the timelines features friends in college, while the other gives us a glimpse into a young girl's efforts to reunite her widowed father with an old friend. The movie stars Shah Rukh Khan, Kajol, Rani Mukerji, Farida Jalal, Reema Lagoo, Archana Puran Singh, and others
12. Raat Akeli Hai – 8.36
Translating to "The night is lonely," Raat Akeli Hai is a movie that mixes in crime and thriller with the right amount of drama. We get to watch a cop from a small town investigating the death of a rich aristocrat. It's an impressive chase for a ruthless killer and you'll want to watch it. The film stars Nawazuddin Siddiqui, Radhika Apte, Shweta Tripathi, Tigmanshu Dhulia, and others.
13. Secret Superstar – 8.32
Secret Superstar is a musical drama that stars Zaira Wasim, Meher Vij, Raj Arjun, and Aamir Khan. We follow the story of a teenage girl who hopes to become a singer but faces her father's opposition. As she uploads videos to YouTube while hiding her identity behind a niqab, she becomes an overnight sensation. Alongside her mother, she manages to stand up against her abusive father. It's a story about feminism, gender equality, as well as domestic violence and has managed to win numerous awards.
14. Udta Punjab – 8.16
Up next we have Udta Punjab, a black comedy crime movie that handles a tricky topic – the drug abuse of the young citizens of Punjab. The movie focuses on Tommy, a successful musician who lives a life of luxury and indulgence as he often does cocaine. As his life spirals out of control, he manages to straighten out and put together a plan to save the woman he's fallen in love with and to put a stop to the drug problem once and for all. Udta Punjab stars Shahid Kapoor, Kareena Kapoor, Alia Bhatt, Diljit Dosanjh, Satish Nayyar, and others.
15. Pad Man – 8.15
We have a comedy as our next recommendation. This 2018 film follows Laxmi, a freshly married man who is oblivious to feminine issues and concerned for his new wife using dirty rags on her period. When he goes to buy pads for her, she turns him down as they are expensive, so he tries to make his own, cheaper version, to help her. Hilarity ensues as he tries to make his project better. Akshay Kumar, Sonam Kapoor, Radhika Apte, Jyoti Subhash, and Mrinmayee Godbole star in this film.
16. PK – 8.07
The next movie on our list PK tells the story of a humanoid alien. Left stranded on Earth, he experiences everything humanity has to offer, the good and the bad. The film stars Aamir Khan, Anushka Sharma, Sushant Singh Rajput, Boman Irani, Saurabh Shukla, and others.
17. Mumbai Meri Jaan – 7.75
Mumbai Meri Jaan roughly means 'Mumbai, my life' and it takes us on an emotional trip in the aftermath of the July 2006th Mumbai train bombings. over 200 people lost their lives on that day and some 700 were injured. The movie starts with several characters, all with their own backgrounds and histories, get on the train on that horrendous day. Mumbai Meri Jaan stars Madhavan, Irrfan Khan, Soha Ali Khan, Paresh Rawal, Kay Kay Menon, Anand Goradia, Vijay Maurya, and plenty more.
18. Dostana – 7.62
We're on to a romantic comedy that stars Priyanka Chopra, Abhishek Bachchan, John Abraham, Bobby Deol, Kirron Kher, and Sushmita Mukherjee. Dostana means 'friendship,' so the movie tells us the story of two men who pretend to be gay in order to share an apartment with a beautiful girl. However, they both fall in love with her, which complicates things quite a bit. Given the film's release in 2008, the topic of homosexuality hadn't really been explored in Bollywood at the time, so Dostana was considered a door opener for other directors.
19. Jodhaa Akbar – 7.6
Jodhaa Akbar is an epic romance story that was released in 2008. The film features Aishwarya Rai Bachchan and Hrithik Roshan in the main roles, as well as Sonu Sood, Kulbhushan Kharbanda, and Ila Arun. We travel back to the 1500s where the Mughal Emperor Jalal-ud-din Muhammad Akbar and Jodhaa Bai, the Rajput princess, marry for convenience. Slowly, after many hurdles, they learn to live with one another.
20. Main Hoon Na – 7.55
Main Hoon Na translates to 'I Am Here' and it gives us a glimpse into the life of a soldier working undercover in a university in order to protect the general's daughter. There are love stories and adventure, danger and drama, as well as some signature Bollywood action scenes. The movie stars Shah Rukh Khan, Sushmita Sen, Suniel Shetty, Amrita Rao, Zayed Khan, and Kirron Kher.
21. Bareilly Ki Barfi – 7.5
We have a romantic comedy on our hands next, Bareilly Ki Barfi, which roughly translates to Bareilly's Barfi. The movie had a huge success when released, and the story follows Bitti Mishra, a girl who runs away from home after her family once more tries to arrange her marriage. When she starts reading a book and realizes she's the main character, she tries her best to trace the author. The movie stars Kriti Sanon, Ayushmann Khurrana, Rajkummar Rao, Pankaj Tripathi, and others.
22. Kal Ho Naa Ho – 7.4
Kal Ho Naa Ho roughly translates to 'Tomorrow May Never Come,' which tells you a bit about the story in the film. The movie follows the life of Naina Catherine Kapur, a student living in New York City with her family, who suffers after the death of her father. When a new neighbor moves in and starts helping the family deal with the situation they're in, things start to get better but also more complicated as a love triangle emerges. The film stars Shah Rukh Khan, arguably one of the most famous Indian actors, Jaya Bachchan, Saif Ali Khan, Preity Zinta, Sushma Seth, and others.
23. Om Shanti Om – 7.33
Om Shanti Om follows next, a romantic fantasy film that has loads of funny scenes. The story starts in the late '70s when Om, a young artist, has a crush on his married superstar. When she is killed by her lover, Om dies too while trying to save her. In 2007, he is reincarnated as a superstar and seeks vengeance. The movie stars Shah Rukh Khan, Deepika Padukone, Arjun Rampal, and Shreyas Talpade, to name a few.
24. No One Killed Jessica – 7.3
This next film is a biographical thriller that is based on a real case, the murder of Jessica Lal, a celebrity barmaid that was shot in April 1999. The movie has us following the case, starting with the situation that led to Jessica's death – three men were refused to be served alcohol and one of them pulled out a gun to intimidate the bartenders, shooting Jessica in the process. The court case, the uproar caused by an initial court case, and the drama inside Jessica's family are all portrayed. The movie features Myra Karn, Rani Mukerji, Vidya Balan, Neil Bhoopalam, and more.
25. The Sky Is Pink – 7.22
Released in 2019, The Sky Is Pink is a biographical comedy-drama that tells the story of Aisha Chaudhary, a young woman who suffered from severe combined immunodeficiency and pulmonary fibrosis. The film follows the parents' story from Aisha's point of view and how their lives were affected by their child's illness. The movie stars Priyanka Chopra Jonas, Farhan Akhtar, Zaira Wasim, and Rohit Suresh Saraf, and got several nominations at film award shows.
26. Badla – 7.17
The list continues with Badla, which means 'revenge,' and tells a thrilling story of an interview between a lawyer and a businesswoman. While she insists she's innocent and being framed for murder, the lawyer insists she tells him the truth if she wants to be represented. The movie stars Amitabh Bachchan, Taapsee Pannu, Amrita Singh, Tony Luke, Manav Kaul, and others, and it was well-received by critics and audiences alike.
27. Hum Saath Saath Hain – 7.1
Translating to 'We are together,' this 1999 drama film follows events within a family formed by Ramkishan, his wife Mamta, and their four children, Vivek, Prem, Sangeeta, and Vinod. Vivek comes from a different marriage after his mother died when he was very young. As the children grow older, there's a rift between them and things start to get complicated. The movie features Salman Khan, Sonali Bendre, Mohnish Behl, Tabu, Saif Ali Khan, Neelam Kothari, and others.
28. Tamasha – 7.17
Released in 2015, Tamasha translates to 'Spectacle' and it's a romantic comedy film with a bit of drama sprinkled in. Inspired to some extent by The Little Prince, the film takes us through multiple timelines following Ved and Tara. As they try their best to not disclose each other's real identities as part of an amusing pact, they keep posing as various movie characters. Even though they try their best to not fall in love, things start to become a little bit more complicated. The movie stars Ranbir Kapoor, Deepika Padukone, Piyush Mishra, and Javed Sheikh. Tamasha has been greatly appreciated by critics and audiences alike and has gained a cult following in the years that have passed.
29. Dear Zindagi – 7.02
Our next entry is a 2016 film that's a coming-of-age drama. The title means 'dear life' and we see the plot following a young cinematographer who meets up with a psychologist to help her gain a new perspective on life and what she should do to achieve happiness. Dear Zindagi stars Alia Bhatt, Shah Rukh Khan, Ali Zafar, Ira Dubey, Yashaswini Damaya, and Rohit Suresh Saraf.
30. Fashion – 6.95
This is a movie from back in 2008 and, as the title indicates, it's all about fashion. We follow Meghna Mathur, a young lady who wants to become a fashion model. We get to see her go from her small-town girl look to that of a supermodel, handling topics like feminism and female power. The movie features Priyanka Chopra in the main role, Kangana Ranaut, Mugdha Godse, Arjan Bajwa, Samir Soni, and Aswin Mushran, to name a few.
31. Mom – 6.93
This next movie is a crime thriller and we get to go on an action-filled path alongside a woman who seeks to avenge her stepdaughter. Aarya is the victim of a brutal attack, but her attackers get to walk free after it is revealed that she had been drinking, so her testimony is found unreliable. So, Devki, her stepmother, decides to team up with a detective to get revenge. The movie stars Sridevi, Nawazuddin Siddiqui, Skhaye Khanna, Adnan Siddiqui, and Salaj Ali.
32. Chup Chup Ke – 6.9
We follow up with a 2006 comedy-drama film. We follow the story of Prasad and Jeetu, his son, who always gets into trouble due to his bad money managing skills. Deeply indebted, Jeetu decides to commit suicide so his life insurance could help his family cover those loans. When he's unsuccessful, his rescuers mistakenly believe that the debts laid out on a piece of paper are actually sums of money he lent to others. As they try to get some of that money, things start to get comical. Chup Chup Ke stars Shahid Kapoor, Kareena Kapoor, Neha Dhupia, Suniel Shetty, Rajpal Yadav, and others.
33. Umrika – 6.76
Translating to 'America,' Umrika was released in 2015. The film tells the story of a family where one of the sons, Udai, leaves for their village for the United States. When their father dies, Ramakant, the younger son, realizes that all of Udai's letters had been forged by his father and Udai had actually vanished when he reached Mumbai. So, Ramakant leaves on a journey to locate his lost brother. The movie stars Prateik Babbar, Suraj Sharma, Tony Revolori, Adil Hussain, Sauraseni Maitra, and others.
34. Dil Dhadakne Do – 6.7
Dil Dhadakne Do means 'let the heart beat' and it was released in 2015. It's a comedy-drama film that tells the story of the Mehra family, a dysfunctional family where the parents decide to celebrate 30 years of marriage by inviting people over for a cruise. There's intrigue, there's manipulation, misunderstandings, and lots of hilarious moments. The film stars Anil Kapoor, Shefali Shah, Priyanka Chopra, Ranveer Singh, Anushka Sharma, Farhan Akhtar, and Aamir Khan.
35. Sanju – 6.7
We move on to Sanju, a 2018 biographical film that seeks to tell the story of Sanjay Dutt, a well-known Bollywood actor. His life has been quite dramatic and he's suffered from a drug addiction and his name was further muddied when he was arrested for alleged association with the Bombay bombings of 1993. The film features Ranbir Kapoor, Paresh Rawal, Vicky Kaushal, Sonam K Ahuja, and Dia Mirza.
36. Malang Unleash the Madness – 6.67
Released in 2020, Malang (which translates to 'vagrant') is a romantic action thriller. When his girlfriend is murdered, Advait goes to prison. Five years later, he sets out to take revenge against those who are responsible, including cops. The film stars Aditya Roy Kapur, Anil Kapoor, Disha Patani, Kunal Khemu, Elli AvrRam, and Amruta Khanvilkar.
37. Raees – 6.65
Raees translates to 'Rich' and it's a period action thriller film released in 2017. The film was, for a short period of time, the highest-grossing film of the year and its soundtrack received hundreds of millions of streams on YouTube. Also, the film was given five nominations at the Filmfare Awards. We follow the story of a bootlegger who tries to improve the life of his community. When he gets involved in political plots, things start to get more complicated. We get to watch Shah Rukh Khan, Nawazuddin Siddiqui, Mahira Khan, Mohammed Zeeshan Ayyub, and Sheeba Chaddha, to name a few.
38. Happy New Year – 6.65
Happy New Year had a huge success upon its release in 2014 and it's one of the most expensive films to ever be created in Bollywood, but also one of the highest-grossing films of all time. The movie mixes action with comedy and drama and it features a group of amateur dancers who participates in a competition to settle a personal vendetta. The film stars Shah Rukh Khan, Deepika Padukone, Abhishek Bachchan, Sonu Sood, Boman Irani, and numerous others.
39. Kabhi Alvida Naa Kehna – 6.37
Translating to 'Never say goodbye,' Kabhi Alvida Naa Kehna is a musical romantic drama film released back in 2006. At the time of its release, the movie set a record and became the highest grossing Indian film of all time. Of course, since then the chart has changed some. We follow several couples' lives intersecting and trying to deal with the problems within their marriages. When the connections they build start crossing lines, things get more complicated. Kabhi Alvida Naa Kehna stars Amitabh Bachchan, Shah Rukh Khan, Abhishek Bachchan, Rani Mukerji, Preity Zinta, and Kirron Kher.
40. Paheli – 6.26
Paheli, which translates to 'riddle,' is a 2005 that is actually a remake of a successful movie from the early '70s. The movie follows a wife whose husband leaves for a business trip. She is visited by a ghost who is disguised as her husband and it takes over his place. It's a fantasy film that stars Shah Rukh Khan, Rani Mukerji, Anupam Kher, Aditi Govitrikar, and others.
41. Fiza – 6.05
Released in 2000, Fiza is a crime thriller that follows Fiza, a girl whose brother disappears during the Bombay riots of 1993. Years later, Fiza decides to go search for him and discovers he has joined a terrorist group. Even though he returns home with her, his allegiances pull him back to the group. It's a dramatic film that will leave a lasting impact on viewers. The film stars Karishma Kapoor, Hrithik Roshan, Jaya Bachchan, eha Bajpai, Asha Sachdev, and Isha Koppikar.
42. Kabir Singh – 5.97
Kabir Singh was released in 2019 and it's a romantic drama. We follow a surgeon whose private life goes into a tailspin when the woman he loves marries another man. His anger management problems accentuate, abusing drugs and alcohol. Whether their relationship is fixable or not, remains to be seen. The movie stars Shahid Kapoor, Kiara Advani, Soham Majumdar, Arjan Bajwa, and Nikita Dutta.
43. Gunjan Saxena: The Kargil Girl – 5.8
This brand new film is a biographical drama that follows the life of Gunjan Saxena, one of the first Indian female air-force pilots in combat. The story begins with a young Gunjan Saxena when she is taken to the cockpit so she can look out the window, sparking a desire to become a pilot herself. Years later, while her brother protests that women should not pilot planes, their father allows her to start on the path to become a pilot. The movie stars Janhvi Kapoor, Pankaj Tripathi, Angad Bedi, Ayesha Raza Mishra, Manaj Vij, Vineet Kumar Singh, and others.
44. Rustom – 5.73
We follow up with Rustom, a 2016 crime thriller that tells the story of a naval officer whose wife has an affair with a businessman. When Rustom shoots the man, things get even more complicated, but the affair is only the tip of the iceberg. Rustom stars Akshay Kumar, Ileana D'Cruz, Arjan Bajwa, Esha Gupta, Paval Malhotra, and others.
45. Baaghi – 5.7
Baaghi means 'rebel' and that's exactly what we'll see in this movie. The film is an action thriller and it features a martial arts champion who kidnaps a young actress from the set. When her family sets out to get her back, they get no support from the authorities, resulting in a lot of action scenes. Baaghi stars Tiger Shroff, Shraddha Kapoor, Sudheer Babu, Sunil Grover, and Sumit Gulati.
46. Toilet Ek Prem Katha – 5.46
This 2017 movie's name translates to 'Toilet: A Love Story.' As strange as the name sounds, it's a comedy drama film that offers a satirical view in support of the numerous governmental campaigns that seek to improve sanitation conditions in India, especially in rural areas. We follow a young couple where the wife insists that her husband build a toilet in their home instead of sending her to the bushes to do her business. After avoiding her requests and finding alternatives for a while, she returns to her parents' home. The movie stars Akshay Kumar, Bhumi Pednekar, Divyendu Sharma, Anupam Kher, Sudhir Pandey, and more.
47. Panipat – 5.4
With Panipat, we have an epic war drama that depicts the events from the Third Battle of Panipat. Released in 2019, the movie was not very successful at the box office, reportedly making about half of the budget put into it. Panipat stars Arjun Kapoor, Sanjay Dutt, Kriti Sanon, Mantra, Mohnish Bahl, Padmini Kolhapure, Sahil Salathia, and others.
48. Romeo Akbar Walter – 5.33
Also released in 2019, Romeo Akbar Walter follows a banker who starts working as a spy for an undercover operation in Pakistan. With no proper prior training, the banker manages to foil a robbery, which puts him on the radar of the foreign intelligence agency of India, RAW. Following intensive training in combat and covert communications, he sets out to Pakistan where his mission goes wrong and he ends up being tortured by the enemy. The movie stars John Abraham, Mouni Roy, Jackie Shroff, Sikandar Kher, Suchitra Krishnamoorthi, and Rahubir Yadav.
49. We Are Family – 5.3
This next film is a comedy-drama that was released in 2010. We follow the efforts of a divorced mother of three that manages to maintain a good relationship with her ex-husband in order to keep her family harmonious. When his new girlfriend enters the picture things start to change for everyone involved. The film stars Kajol, Kareena Kapoor, Arjun Rampal, Aanchal Munjal, Nominath Ginsberg, and Diya Sonecha.
50. Force 2 – 5.26
Finally, we have a 2016 action-thriller film that's actually a sequel to a 2011 movie. The story follows RAW agents dropping dead in China. Before one of the agents is killed, he sends a book with a coded message to his friend Yash. When the agency learns how bad things are, Yash is set in charge to get to the bottom of things. Force 2 stars John Abraham, Sonakshi Sinha, Tahir Raj Bhasin, Narendra Jha, Adil Hussain, and more.