The 50 Best Comedy Series to Watch on Netflix
We all have moments when we simply want to have a laugh, and Netflix sure has enough cool series to keep us occupied and laughing the whole way through. We're diving into the best 50 comedy series on Netflix!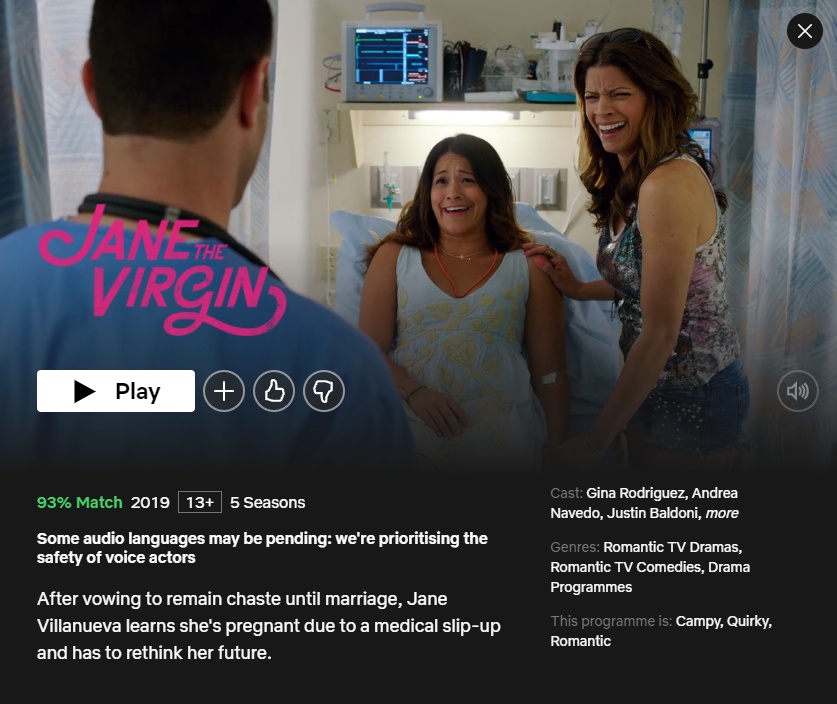 We have sitcoms, we have comedy-dramas, we have adult animations, we have musicals and mockumentaries. It's all going to bring a smile to your face and set you in a better mood.
We've gone ahead and searched through the Netflix library and checked out a ton of shows. Then, we went to IMDb, Rotten Tomatoes, and Metacritic and checked the scores these shows have both from audiences and critics and ran an average. Ultimately, however, it's all about your preferences, and the scores mean little.
Here are the best 50 comedy series on Netflix:
1. Rick and Morty – 9.06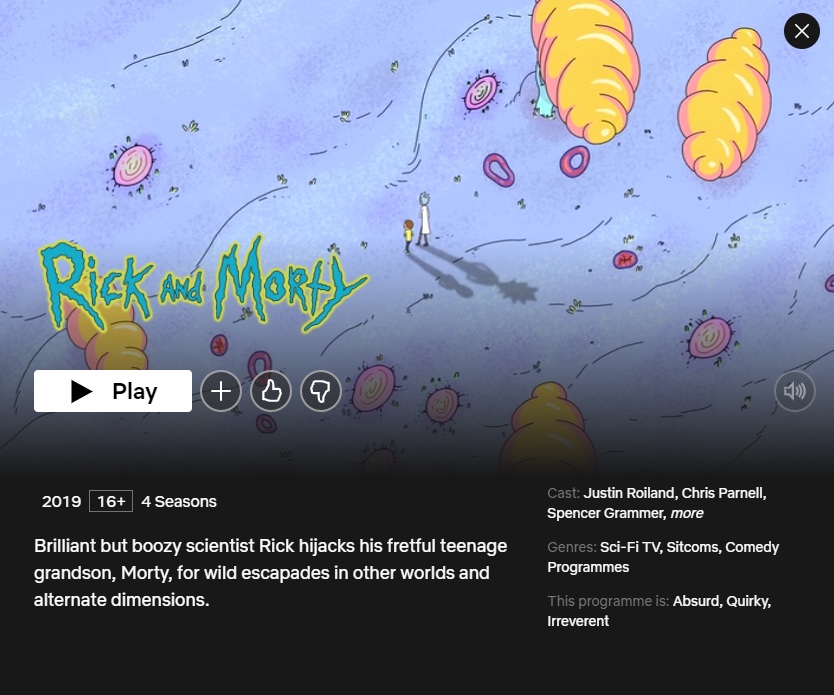 At the top of the list, we have Rick and Morty, an adult animated sitcom that follows the adventures of the two title characters – Rick and Morty. Rick is a mad scientist, and Morty is his grandson, and they go on interdimensional adventures while also leading a somewhat normal domestic life. The show has four seasons thus far, and more are is incoming, as 70 episodes were ordered a while back. Since each season has 10 episodes, and only 20 of those 70 were delivered, we're going to be enjoying Rick and Morty for a long time. The show's characters are voiced by Justin Roiland, Chris Parnell, Spencer Grammer, and Sarah Chalke.
The show is not available to watch on Netflix US, but you can find it on Netflix UK. Read through to the end, and we'll direct you on how you can do this.
2. BoJack Horseman – 8.96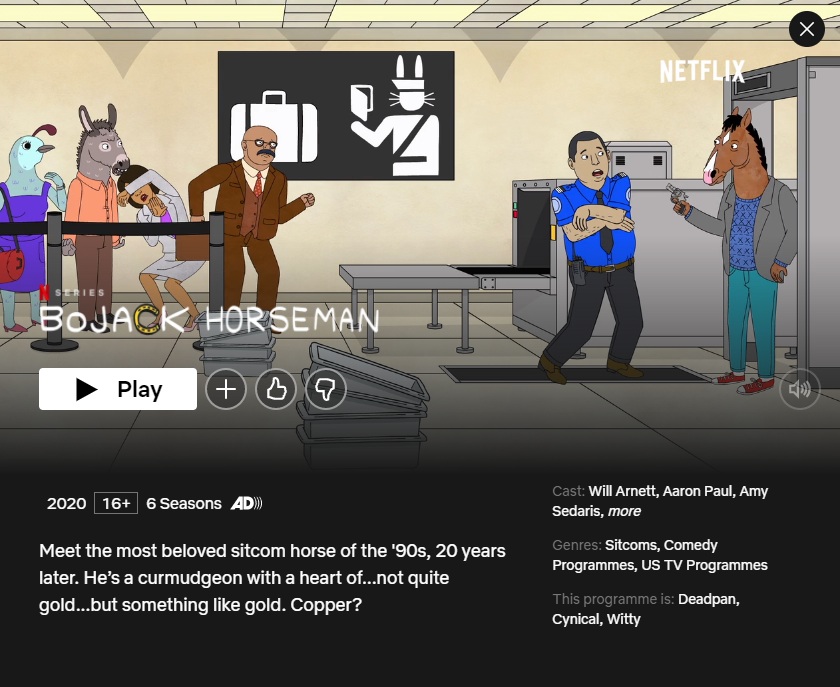 Next, we have another adult animated sitcom, which is proof that grownups will still watch animations if they're catered to them. The show follows the life of BoJack Horseman, a former '90s sitcom star who plans to get back into the limelight with the help of an autobiography. The story touches on depression and addiction, on fame and the effects it has, and lots more. The voice actors are Will Arnett, Amy Sedaris, Alison Brie, Paul Tompkins, and Aaron Paul. BoJack has 6 seasons and 77 episodes, and it is now complete.
3. Master of None – 8.9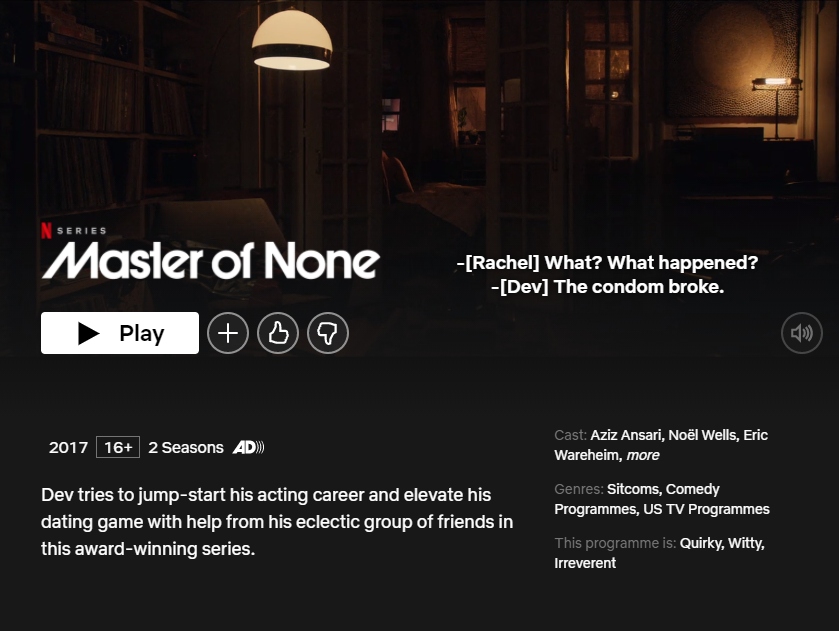 This show is a comedy with a tad bit of drama filtering through. The series follows an actor who tries to make things work in a competitive field. Not only that, but we also get a glimpse into his romantic life and other personal experiences. The show features Aziz Ansari, Noel Wells, Eric Wareheim, and others. There are two seasons, totaling 20 episodes, and it is complete.
4. Flowers – 8.85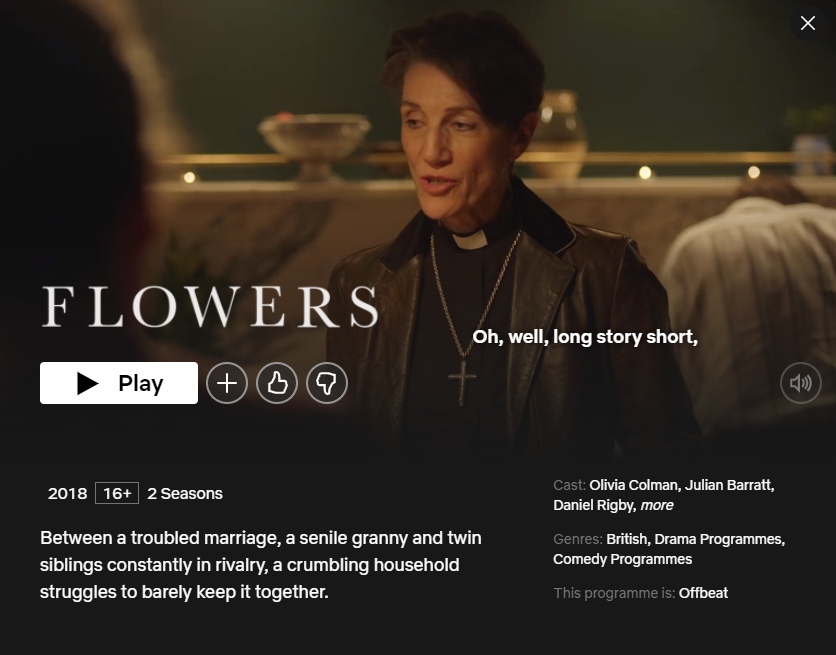 The Brits have a certain sense of humor, and that's obvious in a sitcom like Flowers. The show follows the Flowers family, where the father, a children's author, suffers from depression, and the mother, Deborah, is a music teacher. They also have 25-year-old twins. The two parents aren't happy together, but they're not divorcing either. It's a true adventure to watch this dark comedy. The show features Julian Barratt, Olivia Colman, Sophia Di Martino, and Daniel Rigby. Flowers has two seasons, which aired in 2016 and 2018, both with 6 episodes, and it is complete.
5. The Good Place – 8.72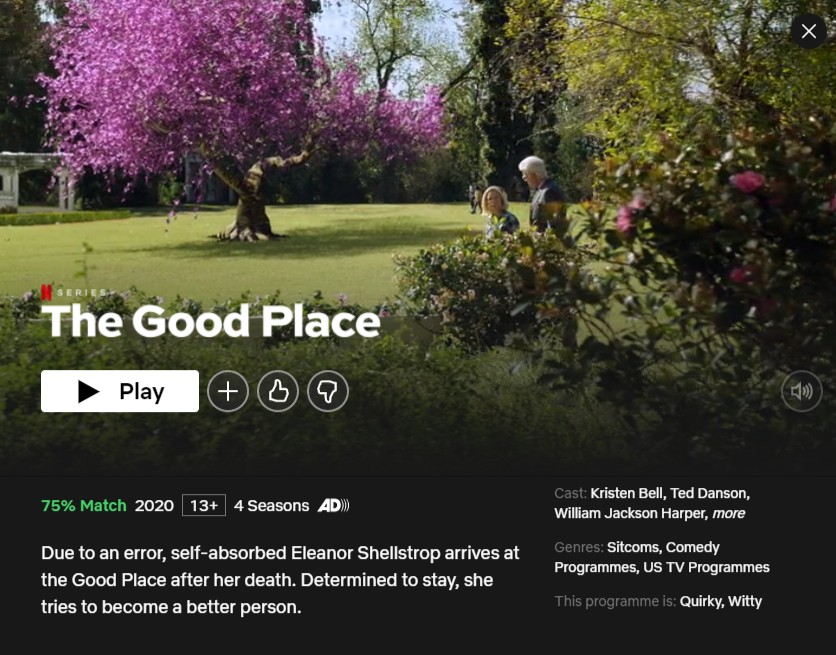 If you want to have a good laugh, then The Good Place is an awesome show to watch. The series follows Eleanor Shellstrop, who enters The Good Place after her death, which is a Heaven-like place. When she figures out she really shouldn't be there and that her life wasn't as morally-perfect as it was necessary to get into this place, she tries to become a better person. The show features Kristen Bell, William Jackson Harper, Ted Danson, Jameela Jamil, D'Arcy Carden, and others. The Good Place has four seasons, and it has wrapped up already.
6. One Day At a Time – 8.7
One Day At a Time gives us a way into the life of a Cuban-American family living in LA. We get to enjoy three generations of the same family, all living in the same house, which is the perfect scenario for hilarious conflicts. The show touches on a bunch of sensitive topics, including mental illness, sexism, homophobia, gender identity, as well as racism against Latin people in the US. We get to enjoy Justina Machado, Todd Grinnell, Isabella Gomez, Marcel Ruiz, Stephen Tobolowsky, and Rita Moreno in the main roles. There are four seasons of this show, and they've had their series finale in July 2020, so it's done, and you can binge on it.
7. Sex Education – 8.64
This is a show that's full of hilarious moments. We follow a teenage boy whose mother is a sex therapist. When he starts offering advice to his colleagues on their sex lives, thanks to the things he knows from his own mother, his relationships start changing with his high school peers. The show features Asa Butterfield, Gillian Anderson, Ncuti Gatwa, Emma Mackey, and others. The show has had two seasons thus far, and a third is on the way.
8. American Vandal – 8.6
This time around, we have a hilarious mockumentary. The series is a parody of regular true-crime series where we investigate who drew.. ehm, phallic images, on faculty cars. Not only do we get to see interviews with students, but they end up analyzing the drawings and comparing them with various other similar markings. The second season has a similarly hilarious storyline where we try to figure out who contaminated the lemonade with laxatives. The show features Tyler Alvarez, Griffin Gluck, Jimmy Tatro, and Travis Tope. There are two seasons of American Vandal, and the show has been canceled, but rumor has it, they're trying to find another company to produce a third season.
9. Jane the Virgin – 8.6
This one is a romantic comedy with plenty of drama to go around. Since it is inspired by a Venezuelan telenovela, it has plenty of that vibe too. The show follows Jane, a young lady who promised to save her virginity for marriage, but becomes pregnant when a doctor artificially inseminates her during a checkup. The show has five seasons, so we get to see the child grow, as well as our main character and her family, developing meaningful relationships. Jane the Virgin has already concluded, so you get to binge the show easily. The cast includes Gina Rodriguez, Andrea Navedo, Justin Baldoni, Yael Grobglas, Ivonne Coll, Brett Dier, and others.
10. Schitt's Creek – 8.6
This next Canadian sitcom is hilarious, and it follows the Rose family as they get used to living with a lot less than they used to once their wealth runs out. The show was created by Dan Levy and his father Eugene, whom you'll know well from the likes of American Pie, and they also star in the show. Alongside them, we have Catherine O'Hara and Annie Murphy. The show has a total of six seasons and ended in April 2020 with a sweep at the Emmys, setting the record for the most Emmy wins for a comedy series in a single season, with nine awards.
11. The Office – 8.6
The Office is easily one of the most famous sitcoms ever and has become part of pop culture, being referenced all the time online. The show follows the work lives of employees of the Dunder Mifflin Paper Company. We get to enjoy Steve Carell, Rainn Wilson, John Krasinski, Jenna Fischer, B. J. Novak, Leslie David Baker, Mindy Kaling, Ed Helms, Craig Robinson, and many others have made this series wonderful to watch. The Office has nine seasons and 201 episodes you'll want to binge on.
12. Community – 8.54
This particular show may have wrapped up in 2015, but it's still one of the funniest out there, and it has a cult following nowadays. The sitcom focuses on a disbarred lawyer that lied about having a bachelor's degree, so he decides to enroll in Community College to earn a real diploma. The show stars Joel McHale in the main role, alongside Gillian Jacobs, Danny Pudi, Yvette Nicole Brown, Alison Brie, Donald Glover, Ken Jeong, Chevy Chase, Jim Rash, and others. There are 110 episodes to binge on, spread over 6 seasons.
13. Extras – 8.52
Once more, we have a British sitcom on our hands, a show that follows an aspiring actor who keeps trying to make it on his own after his agent fails to find work for him. The show is made hilarious by Ricky Gervais, Ashley Jensen, Stephen Merchant, Shaun Williamson, and Shaun Pye. The series also featured a ton of cool celebrity guest stars like Ben Stiller, Ross Kemp, Kate Winslet, Samuel L. Jackson, Patrick Stewart, Orlando Bloom, David Bowie, Daniel Radcliffe, Chris Martin, Stephen Fry, Ian McKellen, Clive Owen, George Michael, Gordon Ramsay, and David Tennant, to name a very few. There are 12 episodes to enjoy here, as well as a Christmas special.
14. F Is for Family – 8.52
We've got another adult animated series on our hands, and this one is pretty funny too. We follow a pretty dysfunctional family back in the '70s, when times were pretty different when parenting included letting your kids roam free, and bringing guns at the airport was the norm. The show features voices from Bill Burr, Laura Dern, Justin Long, Haley Reinhart, Debi Derryberry, and Sam Rockwell. There are four seasons out thus far, and more are scheduled to come soon.
15. Russian Doll – 8.52
This time around, we're mixing in the comedy with a little bit of drama. The show follows Nadia, a woman who attends a birthday party that ends with her death. Time resets, and she goes back to the same moment at the party, over and over again. The series stars Natasha Lyonne, Greta Lee, Yul Vazquez, Charlie Barnett, and Elizabeth Ashley. The show features 8 episodes so far, and a second season will come sometime in the future.
16. A Series of Unfortunate Events – 4.48
Inspired by the same Lemony Snicket novel series, this series tells the story of the Baudelaire children who have to go live with their uncle after their parents die. With Count Olaf trying to kill them off to get their inheritance, things get interesting quite fast. This black comedy series features Neil Patrick Harris, Patrick Warburton, Malina Weissman, Louis Hynes, and Presley Smith. There are 25 episodes to enjoy, spread over 3 seasons.
17. Never Have I Ever – 8.46
Coming up next, we have this coming of age comedy that was created by Mindy Kaling and Lang Fisher. We follow the story of a young Indian American lady who deals with the aftermath of her father's death. As she tries to change her high school life, things don't always go as she hoped they would. We can enjoy watching Maitreyi Ramakrishnan in the main role, alongside Poorna Jagannathan, Darren Barnet, Richa Moorjani, John McEnroe, and Jaren Lewison. The show premiered in April 2020, and we have 10 episodes to watch, but more are to come in the future.
18. Crazy Ex-Girlfriend – 8.44
Crazy Ex-Girlfriend is a romantic comedy that ran on The CW not long ago. It follows Rebecca Bunch, a real-estate lawyer in New York. When she is offered a big promotion at her law firm, she panics and decides to move to the home town of one of her old boyfriends from camp. It's a series about finding yourself, figuring out your relationships, and more. The show stars Rachel Bloom, Vincent Rodriguez III, Santino Fontana, Donna Lynne Champlin, Pete Gardner, and others. There are four seasons to binge on or a total of 62 episodes. Crazy Ex-Girlfriend had its finale in 2019.
19.Glow – 8.44
Glow is an original Netflix show that tells the story of the Gorgeous Ladies of Wrestling, a syndicated women's professional wrestling circuit, with the story being placed in the '80s. The show stars Alison Brie, Betty Gilpin, Sydelle Noel, Britney Young, Marc Maron, and others. There are three seasons to watch right now, and there was supposed to be a fourth one, but Covid-19 ruined those plans, and the show got canceled when production stopped. Nonetheless, you can still binge on 30 episodes.
20. The End of the Fucking World – 8.42
We're diving into another dark comedy with The End of the Fucking World. The show tells the story of James, a teenager who believes he's a psychopath since he has no remorse for killing animals. When he decides he wants to kill a human and sets his eyes on a classmate, she proposes they run away instead. The show stars Alex Lawther, Jessica Barden, Gemma Whelan, Wunmi Mosaku, and others. There are two seasons of this show, a total of 16 episodes.
21. Lady Dynamite – 8.35
This next comedy series features Maria Bamford, a stand-up comedian who moves to Los Angeles after spending months in recovery for bipolar disorder. As she seeks to rebuild her life, we keep getting flashbacks into her life and her relationships. We follow Maria Bamford, Fred Melamed, Mary Kay Place, and others. There are two seasons of this show, totaling 20 episodes.
22. Documentary Now – 8.32
Documentary Now is actually a mockumentary, and it spoofs documentary films by parodying the style of each of them with fictive topics. The show was created by Fred Armisen, Bill Hader, Seth Meyers, and Rhys Thomas, and it has three seasons, each of them with 7 episodes. A fourth season has been ordered, but it's unclear when we'll get to enjoy it with all the filming restrictions due to the pandemic.
23. Arrested Development – 8.3
Arrested Development follows the Bluth family, a family that was once wealthy, and that continues to lead an extravagant lifestyle despite the loss of money. The show features Jason Bateman, Michael Cera, Jeffrey Tambor, Jessica Walker, Tony Hale, Portia de Rossi, Tobias Funke, and others. There are 84 episodes to watch over 5 seasons, so get ready to binge on them all.
24. On My Block – 8.3
We have a teen comedy up next, called On My Block. This series follows a group of teenagers who begin high school and find out that maintaining their friendship isn't that easy. The series stars Sierra Capri, Jason Genao, Brett Gray, Jessica Marie Garcia, and Diego Tinoco. There have been three seasons thus far, the latest one premiering in March 2020. The show has been renewed for a fourth season, but it's unclear when the premiere date will be.
25. Gilmore Girls – 8.28
Between 2000 and 2007, the world had a lot of fun alongside the Gilmore Girls. The series tells the story of a single mother and her daughter, who live in Stars Hollow, a cute little town full of great characters. Both of them go through relationships, experience loss, friendship, and love. Their relationship also has its ups and downs but remains strong. We enjoy Lauren Graham and Alexis Bledel as Lorelai and Rory Gilmore, Melissa McCarthy, Yanic, Truesdale, Keiko Agena, Scott Patterson, Kelly Bishop, Edward Herrmann, Milo Ventimiglia, Jared Padalecki, Matt Czuchry, Liza Weil. The show has seven seasons and 153 episodes, and you can also add the four-part miniseries Netflix released in 2016 to the list.
26. Orange Is the New Black – 8.26
Orange Is the New Black is a massively successful show on Netflix, ranking as one of the most-watched original series on the service. The show follows the events from a minimum-security federal prison where the inmates run the show. There's intrigue, there's romance, there's violence, but also a lot of hilarious situations. The show has a lot of main characters, with the cast including Taylor Schilling, Laura Prepon, Michael Harney, Kate Mulgrew, Uzo Aduba, Danielle Brooks, Natasha Lyonne, Taryn Manning, Selenis Leyva, Yael Stone, Samira Wiley, Lea DeLaria, Adrienne C. Moore, and many others. There are 91 episodes to binge over seven seasons.
27. New Girl – 8.24
This next show ran between 2011 and 2018, and it's a sitcom that follows the life of a quirky teacher that discovers her boyfriend is cheating on her. In order to escape the situation, she moves away and into a loft with three men. Over the seasons, we see them all go through romantic relationships, professional hurdles, and so on. It's overall hilarious, and we may jump in and watch it again. The show stars Zooey Deschanel, Jake Johnson, Max Greenfield, Lamorne Morris, Hannah Simone, and Damon Wayans Jr.
28. Friends – 8.22
Friends is clearly one of the best known American TV sitcoms to be created. The show aired between 1994 and 2004 and has built a cult following over the decades. We follow six friends in their 20s and 30s living in Manhattan, their relationships, their struggles with work, their successes, and failures. The stars of the show are Jennifer Aniston, Courtney Cox, Lisa Kudrow, Matt LeBlanc, Matthew Perry, and David Schwimmer. You can go ahead and binge the show again, as all 236 episodes over ten seasons are up on Netflix.
Friends is no longer available on Netflix US, but we did manage to find it on Netflix Romania. Keep reading to find out how you can enjoy it there.
29. Portlandia – 8.2
This next show is a sketch comedy series that's set in Portland, Oregon. The sketches take a hit at the eccentric hipsters, the characters solve mysteries, get involves in music and film, and lots more. The show stars Fred Armisen and Carrie Brownstein, as well as Kyle MacLachlan, Sam Adams, Kumail Nanjiani, Jeff Goldblum, Steve Buscemi, and plenty others. Portlandia has 77 episodes over 8 seasons, and it's been complete since 2018.
30. I Think You Should Leave with Tim Robinson – 8.17
Once more, we have a sketch comedy show that stars Tim Robinson. He's also the co-creator, writer, and producer of the show. While Robinson is the only steady character we see, we've also had the pleasure to watch some cool guest stars, including Andy Samberg, Sam Richardson, Vanessa Bayer, Will Forte, Steven Yeun, and many others. There are only six episodes available right now, and a second season was supposed to be released in 2020 but got postponed due to the pandemic.
31. Crashing – 8.17
Next, we have a comedy-drama TV series that follows a man who seeks to build a career in stand-up comedy after he finds himself homeless. The main character is a fictionalized version of Pete Holmes, which gives this series even more credibility. We have a ton of recurring characters, including comedians Artie Lange and T. J. Miller. There are 24 episodes to watch over three seasons. Sadly, the series was not picked up for a fourth season, but rumor has it that there may be a film adaptation in the future.
32. Big Mouth – 8.14
If you want to enjoy another adult animated sitcom, then Big Mouth is the one to go for. The show explores puberty and has a straightforward approach to notions about the human body and sex. Big Mouth features voices from Nick Kroll, John Mulaney, Jessi Klein, Jason Mantzoukas, Jenny Slate, Fred Armisen, Maya Rudolph, Jordan Peele, and many others. There are 41 episodes over four seasons, and more are to come.
33. Dead to Me – 8.12
Up next, we have a dark comedy that stars Christina Applegate and Linda Cardellini. The characters of the wonderful two ladies meet at a grief support group, and they instantly develop a bond. Secrets, mysteries, and friendship tie this show together. James Marsden, Max Jenkins, Sam McCarthy, and Luke Roessler are also part of the main cast for the show. There have been 20 episodes over two seasons thus far, and more are to come.
34. The IT Crowd – 8.1
This British sitcom follows three members of the IT support team at a fictional corporation. They work in an unkempt basement and have various run-ins with the company they work for, trying to solve the various issues employees have. We can enjoy Chris O'Dowd, Richard Ayoade, Katherine Parkinson, Chris Morris, Matt Berry, and Noel Fielding. There are 24 episodes and a special available to watch, and the show ran between 2006 and 2013, so you can definitely binge on it all.
35. Santa Clarita Diet – 8.08
This time around, Santa Clarita Diet is supposed to have a somewhat horror touch to it since our main character is a zombie, but it's really just hilarious from start to finish. Drew Barrymore, Timothy Olyphant, Liv Hewson, and Skylar Gisondo are the main characters, although there are plenty of guest stars to enjoy, too, like Portia de Rossi or Patton Oswalt. There are 30 episodes over three seasons to binge, and since the show was canceled back in 2019, there won't be any new ones to wait for.
36. Grace and Frankie – 7.9
This time we have a show with two major stars – Jane Fonda and Lily Tomlin. The two play a retired cosmetics mogul and a hippie art teacher, Grace and Frankie. They are both married to lawyers, and their lives change completely when the two men admit to being in love with one another. We have six hilarious seasons of adventures to watch, so go ahead and start binging. A seventh and final season is on the way too. Sam Waterston, Martin Sheen, Brooklyn Decker, and Ethan Embry are also part of the cast.
37. After Life – 7.8
If you're a Ricky Gervais fan, then you really need to watch this show. Not only does Gervais play in the series, but he's also the creator, writer, and director for the show. We follow Tony, whose life takes a turn after his wife dies of cancer. With revenge against the world on his mind, his plans take a turn when people around him start trying to make him a better individual. The show also features Tom Basden, Tony Way, Diane Morgan, Mandeep Dhillon, and others. There are two seasons to enjoy right now, and a third is in the works.
38. Comedians in Cars Getting Coffee – 7.77
This particular series is hilarious. Hosted by none other than Jerry Seinfeld, the show was originally available on digital network Crackle, before moving on to Netflix. You can watch Seinfeld take out one of his vintage cars and drive around with his famous friends. Larry David, Ricky Gervais, Alec Baldwin, Sarah Silverman, David Letterman, Chris Rock, Seth Meyers, Louis C.K., Patton Oswalt, Jay Leno, Tina Fey, Aziz Ansari, Sarah Jessica Parker, Jon Stewart, Kevin Hart, Amy Schumer, Bill Burr, Jimmy Fallon, Jim Carrey, Steve Harvey, Trevor Noah, Stephen Colbert, Steve Martin, Will Ferrell, are just some of the names of those who have joined him. We should also probably mention the interview with Barack Obama at the White House. There are some 84 episodes to enjoy over 11 seasons, and more are to come.
39. Good Girls – 7.7
Another cool show you can watch is Good Girls, a series that
follows three mothers having issues making ends meet. Tired of all the struggle, they plan to rob a supermarket. New adventures kick off from here. We get to enjoy watching Christina Hendricks, Retta, Me Whitman, Reno Wilson, Manny Montana, Matthew Lillard, and others. There are 34 episodes over three seasons to watch right now, with the most recent one getting cut short due to the pandemic. Good Girls is coming back for a fourth season, however, so be on the lookout for that too.
40. Trailer Park Boys – 7.45
We have another mockumentary series on our hands. The show follows the lives of several folks living in a trailer park, some of them being ex-convicts. As they try to make some money, they don't really manage to stay away from jail. The show stars Mike Smith, John Paul Tremblay, Robb Wells, and John Dunsworth, to name a few. There are 12 seasons to enjoy, so go ahead and have some fun.
41. Glee – 7.28
Is there anyone who hasn't heard of Glee? We don't think so. Either way, this comedy-drama series was a massive success when it aired between 2009 and 2015, and it has gained a cult following. The show follows a glee club at a high school that competes with its show choir at various events. We also dive into the lives of the members, touching on big topics like sexuality, race, and relationships. The show stars Dianna Agron, Chris Colfer, Jane Lynch, Jessalyn Gilsig, Kevin McHale, Lea Michele, Cory Menteith, Naya Rivera, and many others. There are 121 episodes to watch over 6 seasons.
42. Derek – 7.27
Once more, we have a Ricky Gervais winner on our hands. This British comedy-drama follows a man who works at a home for the elderly. He has plenty of interests and hobbies and is a nice man, but he is painfully naive at points, which leads to others ridiculing him. The show stars Ricky Gervais, Kerry Godliman, David Earl, Karl Pilkington, and others. There are 14 episodes over two seasons to watch, so it's going to be a fairly quick binge.
43. Great News – 7.27
This American sitcom follows the events in the life of a news producer who is quickly growing professionally. However, she ends up with a new intern on her hands – her own mother. Briga Heelan, Andrea Martin, Adam Campbell, Nicole Richie, and John Michael Higgins are a few of those that make this series extremely funny. There are 23 episodes over two seasons available, and the show had its finale in 2018, so there won't be any new content.
44. Unbreakable Kimmy Schmidt – 7.02
Created by Tina Fey and Robert Carlock, Unbreakable Kimmy Schmidt is an extremely funny sitcom. We follow a young woman who was rescued from a doomsday cult where she was held alongside three other women for 15 years. Kimmy decides to start a new life and moves to New York City, where she gets a job as a nanny. She show stars Ellie Kemper, Tituss Burgess, Carol Cake, and Jane Krakowski in the main roles, but we also get to enjoy other actors like Jon Hamm, Amy Sedaris, Anna Camp, Lisa Kudrow, and Tina Fey herself. There are over 50 episodes to watch throughout the four seasons the show ran.
45. The Ranch – 6.95
This comedy-drama series stars Ashton Kutcher and Danny Masterson, Debra Winger, Sam Elliot, Elisha Cuthbert, Dax Shepard, Wendie Malick, and others. We get to follow two brothers who are helping their father run their cattle ranch. The dysfunctionalities in the family make the story hilarious to watch. There are four seasons to watch here, a total of 80 episodes. The finale took place in late January 2020, so there's no new content to wait for here.
46. Disenchantment – 6.92
Next, we have a fantasy animated sitcom that was created for Netflix. The show follows a princess who isn't very princess-like but rather free-spirited. She'd rather spend time with her friends – demons and elves – than play pretty princess at court. The voices for the show are offered by Abbi Jacobson, Eric Andre, Nat Faxon, John DiMaggio, and Tress MacNeille, to name a few. There is currently a single season available, but the first half of the second season will come in January 2021.
47. I'm Sorry – 6.9
I'm Sorry is a sitcom that puts the spotlight on Andrea Warren, a woman who tries to find balance in her life, splitting herself between being a mother, a wife, a working woman, and a friend. The show stars Andrea Savage, Tom Everett Scott, and Olive Petrucci, as well as Kathy Baker, and Judy Greer. There are 20 episodes in this show, spread over two seasons, so you can enjoy it easily.
48. Dear White People – 6.8
We have another comedy-drama on our hands. The show tells the story of several black college students who are accepted at an Ivy League institution. They have to learn how to navigate this new place where racial discrimination is, sadly, at home. Dear White People stars Logan Browning, Brandon P. Bell, Antoinette Robertson, DeRon Horton, Ashley Blaine Featherson, John Patrick Amedori, Marque Richardson, and Giancarlo Esposito. We have 30 episodes to watch, over three seasons, so let's go binge them all. A fourth and final season is expected in 2021.
49. Girlboss – 5.92
This comedy follows the story of Sophia, a young student who sets up an online business without knowing much about what she was getting into. However, slowly, she learns how to be her own boss and grows into herself. Since the show is inspired by a real story, it's that much more interesting. We get to watch Britt Robertson, Ellie Reed, Johnny Simmons, and Alphonso McAuley in the main roles. We also get to enjoy RuPaul, Dean Norris, and Jim Rash. There's a single season of the show, and it features 13 episodes.
50. Flaked – 5.9
Chip may be a great guy to go to when you need advice, but he's not that great at putting order in his own life or making any good decisions. Flaked is a comedy that features Will Arnett, David Sullivan, Ruth Kearney, George Basil, Christopher Mintz-Plasse, Kristie Alley, Heather Graham, Mark Boone Junior, and others. There are only a couple of seasons available, but you'll have a lot of fun watching them.
How to Watch Series on Netflix in Other Countries?
So, Netflix is available in about 190 countries and it has a customized library for each nation. Furthermore, the libraries are geoblocked, so you can only watch what was meant for the country you're in. Obviously, if you want to watch Friends from the US with the same Netflix subscription you have, you'll need to get creative. Regardless of which show you want and which country it's available in, you can use a VPN to enjoy them.
VPNs are tools that will route your Internet connection through a server of your choice and assign a new IP address to that device you're using. We recommend NordVPN, which is a cool tool that's super easy to use, has thousands of servers all over the world, and makes sure your data remains safe.
Here's what you need to do:
You need to subscribe to NordVPN. Our readers get 70% OFF for the 2-year plan at $3.49 per month!
Then, you need to get the apps and set up your account on them.
Look for a server that's in the UK or Romania, depending on where the show is, and connect to it.
Once the connection is established, you can load Netflix in your browser or launch the app on your device.
Look for the show you want to watch and go ahead and have a laugh!