The 50 Best Netflix Original Shows and Movies to Watch in 2021
The holidays are approaching, and we're going to have a bit more free time on our hands, so what better way to spend our time than to watch some really cool Netflix originals?
We couldn't decide if we wanted to binge on some shows or maybe just go for movies, so we thought we'd look into both the best Netflix movies and series.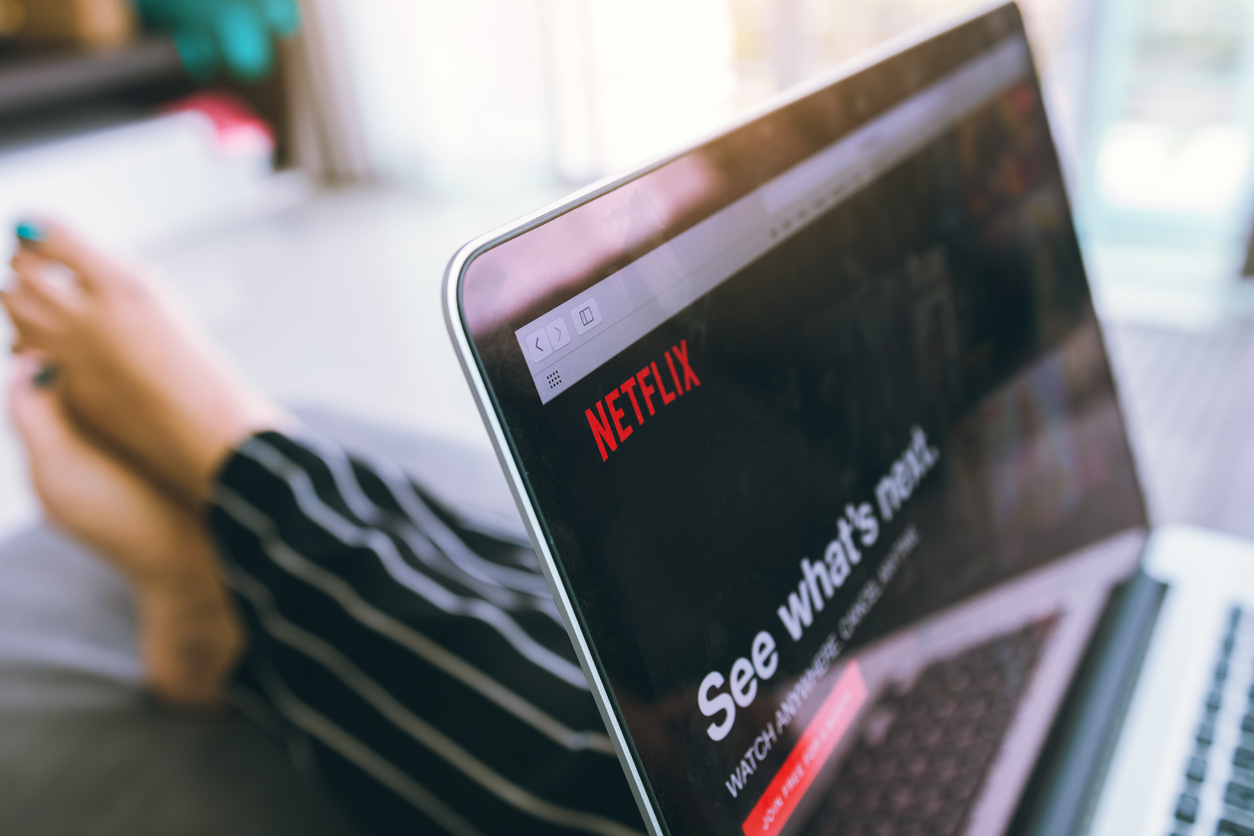 Since we didn't want to be completely subjective and slam our favorite shows at the top of the list, we went to several famous platforms and put together their scores – IMDb, Rotten Tomatoes, and Metacritic. We took into consideration all scores, both from critics and regular viewers alike, and averaged them out. This is as objective as we could go, so let's go dive into things and see how well they all fare.
Best Netflix Original Shows
1. Lenox Hill – 9.44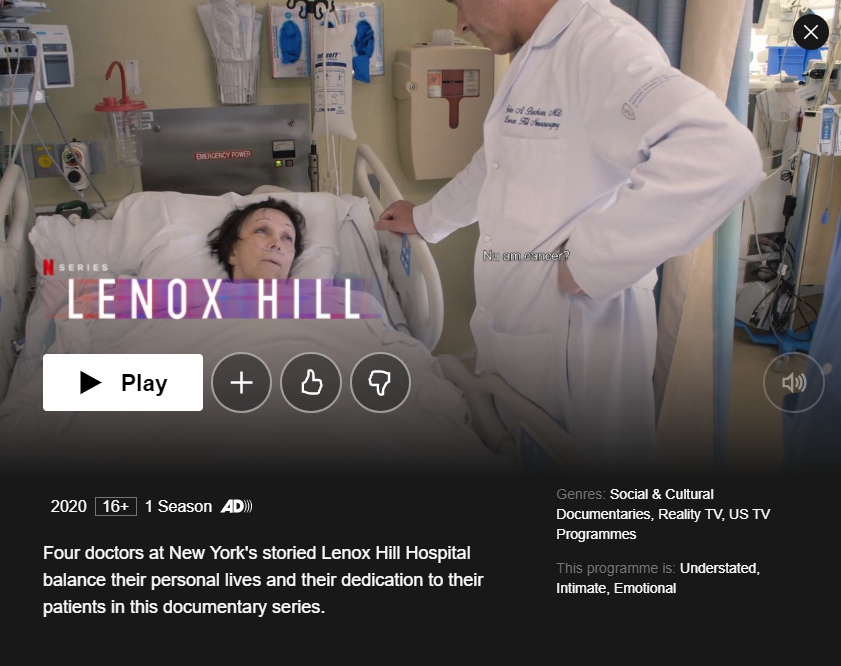 Premiered earlier this year, in June, Lenox Hill is actually a documentary TV series that follows the lives of four medical professionals in several fields – neurosurgery, emergency medicine, and obstetrics and gynecology at the Lenox Hill Hospital, one of the best research and academic medical centers in Manhattan, New York City. The show features nine episodes directed by Adi Barash and Ruthie Shatz, and they all portray the medical professionals well, exploring both their highs and lows. Not only do we get to take a look at how things really go for these doctors, but we also get a more realistic understanding of what goes into their jobs than we get from, let's say, Grey's Anatomy.
2. Peaky Blinders – 9.07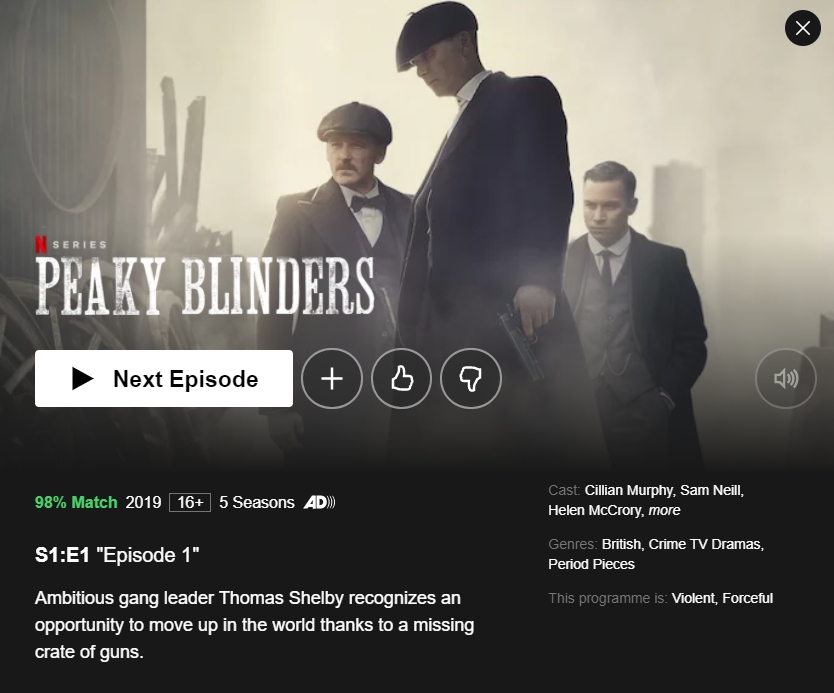 When it comes to Peaky Blinders, things are a bit more complicated as this is a British show from the BBC. However, since Netflix acquired the show's rights, it is considered to be a "Netflix Original." With that out of the way, we can honestly say this is easily one of the best shows around. With 5 seasons already out, starting with 2013, and a couple of more planned out, Peaky Blinders features Cillian Murphy as Thomas Shelby, Helen McCrory, Tom Hardy, and plenty more. The show follows the Shelbys, a gangster family of Irish and Roma origin and their life in Birmingham, their feuds with rival gangs, their encounters with law enforcement, and Thomas' path into politics after the first World War. It is a riveting story that will have you rooting for the bad guys.
3. Middleditch and Schwartz – 9.06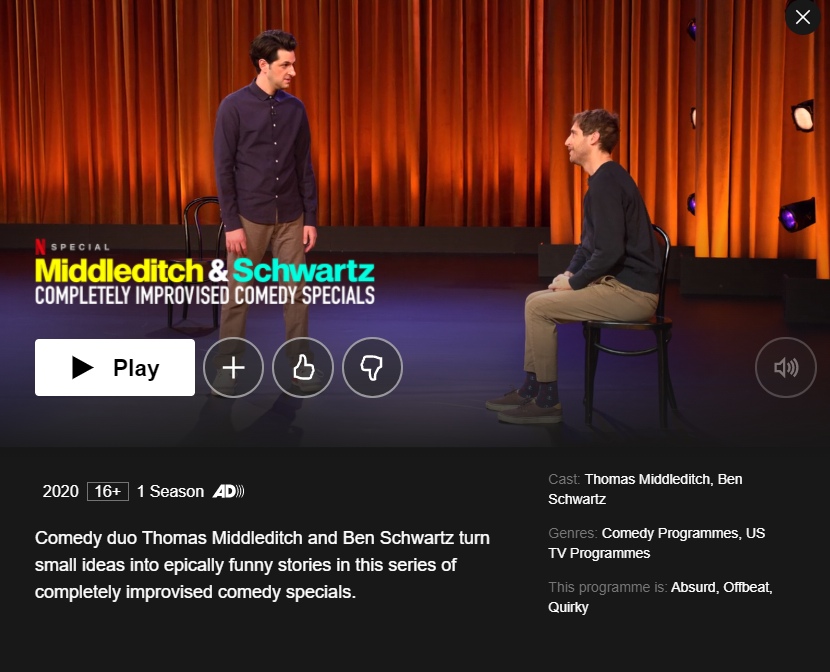 Earlier this year, as we all started feeling cabin fever due to the COVID-19 restrictions, Netflix thought it best to have us laughing a bit with Middleditch and Schwartz. This is an improv comedy TV series featuring Thomas Middleditch and Ben Schwartz. The series has three hour-long episodes, with each episode based on a random audience suggestion and improvised by the two comedians. The critics believe this is a brilliant series and a masterclass in improv comedy, and viewers agree.
4. The Queen's Gambit – 9.02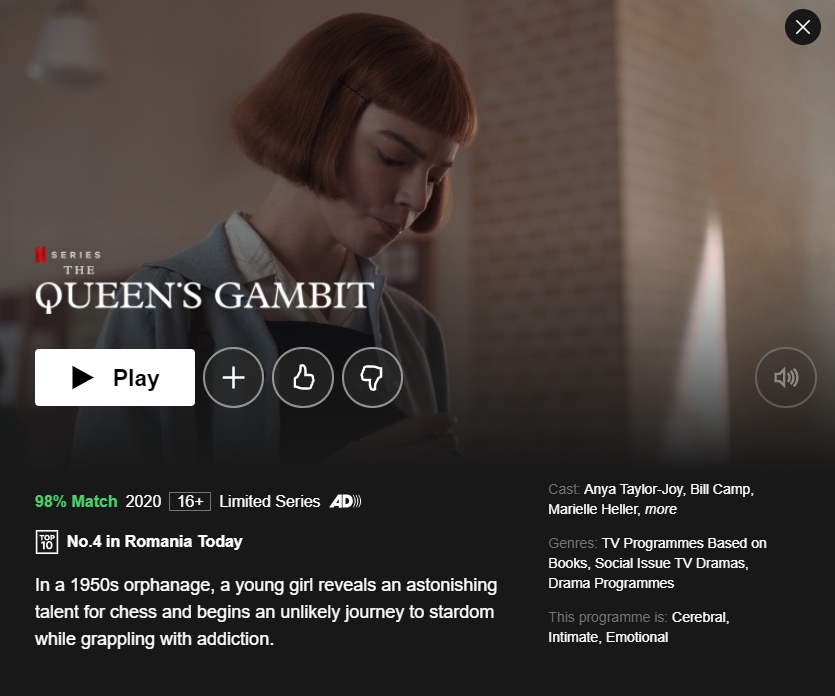 With The Queen's Gambit, Netflix has really hit the jackpot, as this show is absolutely amazing. This period drama is based on the same-named novel of Walter Tevis. The story starts in the 1950s and proceeds throughout the decades, following the life of an orphaned chess prodigy on her rise to become the best chess player in the world. She may have a problem with alcohol and sometimes drug consumption, but she manages to build an impressive name for herself, defeating grandmaster after grandmaster. The show features Anya Taylor-Joy, Harry Melling, Thomas Sangster, and more.
5. BoJack Horsemen – 8.96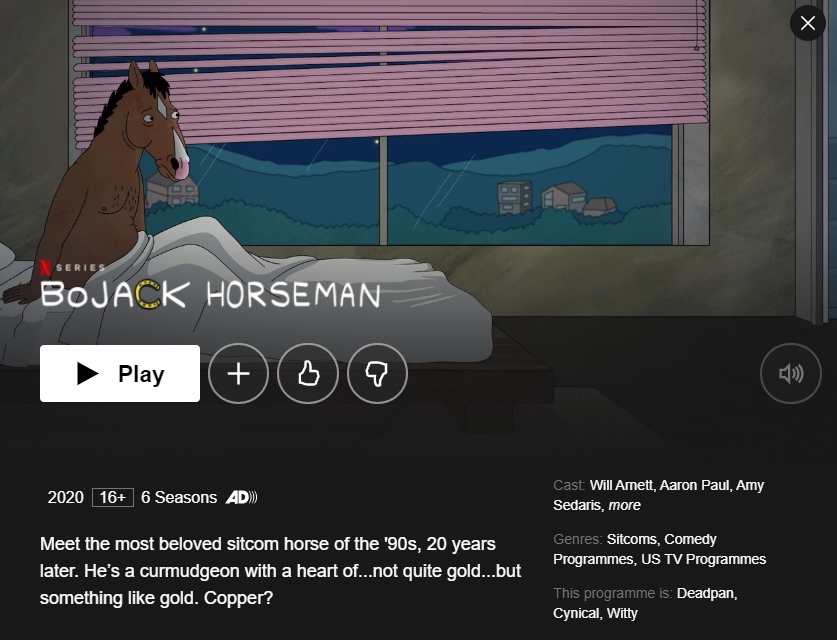 Although this show is animated, it really isn't meant for kids. This sitcom features voices from Will Arnett, Amy Sedaris, Aaron Paul, Alison Brie, Paul Tompkins, and plenty more. The show follows an anthropomorphic horse named BoJack Horseman, a former star of a 1990s sitcom who keeps trying to return to the limelight. The story takes on depression, addiction, racism, sexism, the human condition, and more, all in a realistic way. The best thing about BoJack is that the final season, the sixth one, has already been released at the beginning of 2020, so you can binge on it fully, enjoying the full story.
6. Dirty Money – 8.92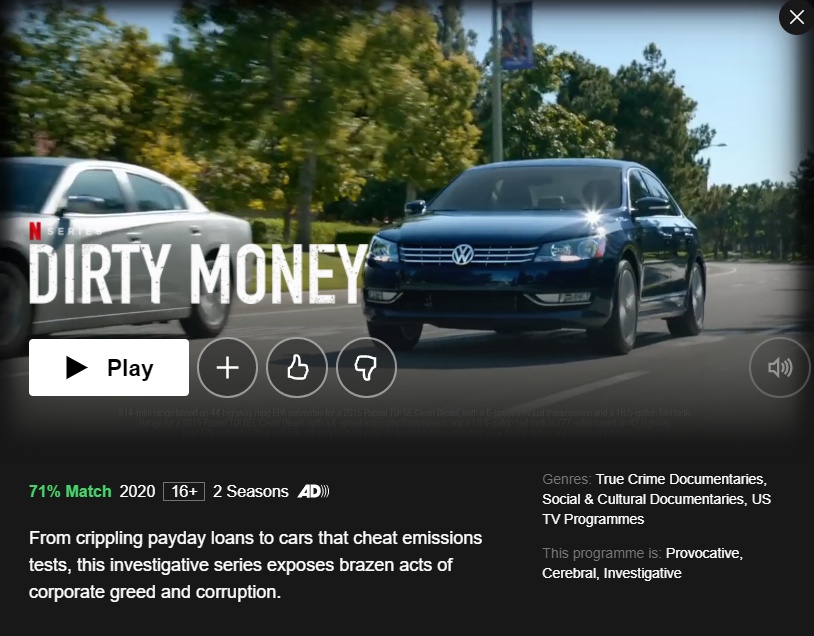 Coming from Oscar-winning documentary filmmaker Alex Gibney, Dirty Money is an impressive TV series that tells stories of corruption within corporations, securities fraud, and companies taking creative freedoms to fix the accounting to suit their needs. With two seasons already out – one released in 2018 and one in 2020, there are 12 episodes out in total, each of them taking on a new case. You can learn more about Wells Fargo, HSBC, and even Jared Kushner and Donald Trump.
7. Mindhunter – 8.92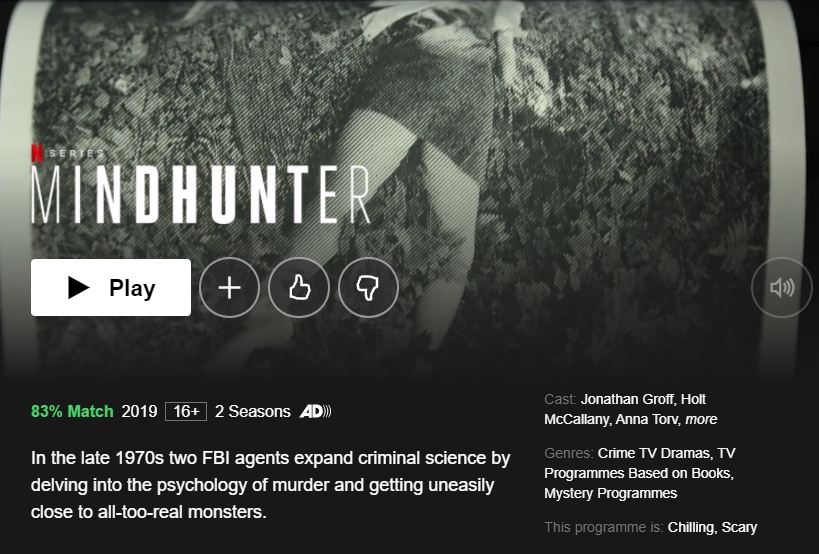 When it comes to psychological crime thrillers, Mindhunter is really a show you need to watch. With two seasons out already, the first one in 2017 and the second in 2019, Mindhunter tells a thrilling story of two FBI agents who operate the very first Behavioral Science Unit. They interview serial killers to try to understand what makes them tick while also solving some gory cases. For now, the show is on hold due to the pandemic, but we're all hoping for at least a third season.
8. Master on None – 8.9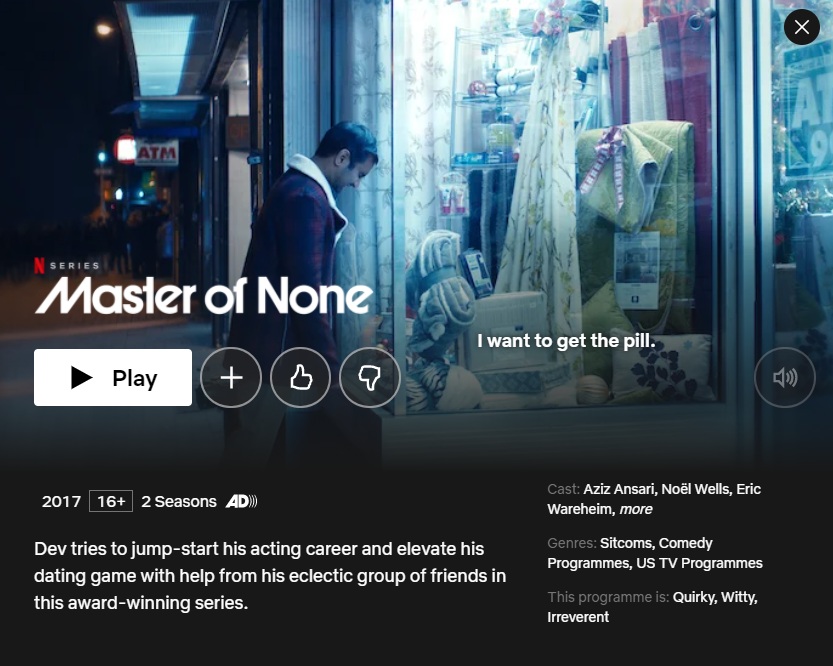 Aziz Asari is certainly one of the funniest actors and comedians nowadays. Master of None is a creation of his, alongside Alan Yang. Ansari himself stars in the lead role of a young actor, exposing his professional and personal experience while also diving into the romantic side of his life. There are two seasons of this show, one released in 2015 and another in 2017, so you can definitely enjoy it all in just a few hours. Besides Ansari, you get to watch Noël Wells, Eric Wareheim, Kelvin Yu, and others. Furthermore, the show has a ton of guest appearances by the likes of Claire Danes, John Legend, and Angela Bassett.
9. When They See Us – 8.86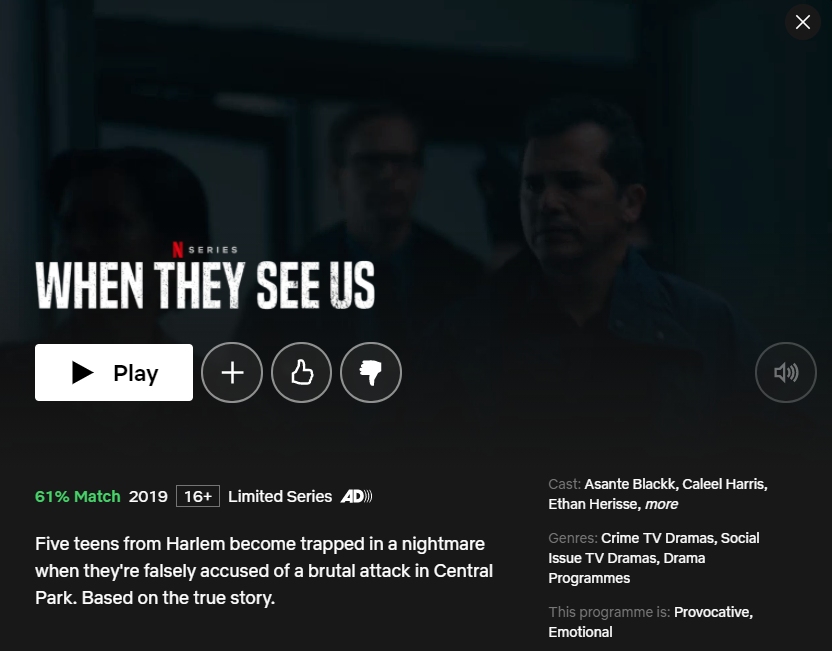 Shows that take inspiration from real life have a high impact on the viewers, that much is clear, and that's exactly what happens with When They See Us. This 2019 crime drama miniseries follows the events of 1989 when a jogger was sexually assaulted in Central Park. This lead to five juvenile black males to be wrongly accused and convicted to prison. After spending a good chunk of their lives in prison and getting released, it came to light that they were innocent, and their charges were vacated. Later on, they received millions of dollars in settlements. The problematics of the case and how the young men were wrongfully accused due to police bias are perfectly exposed in this series.
10. Five Came Back – 8.8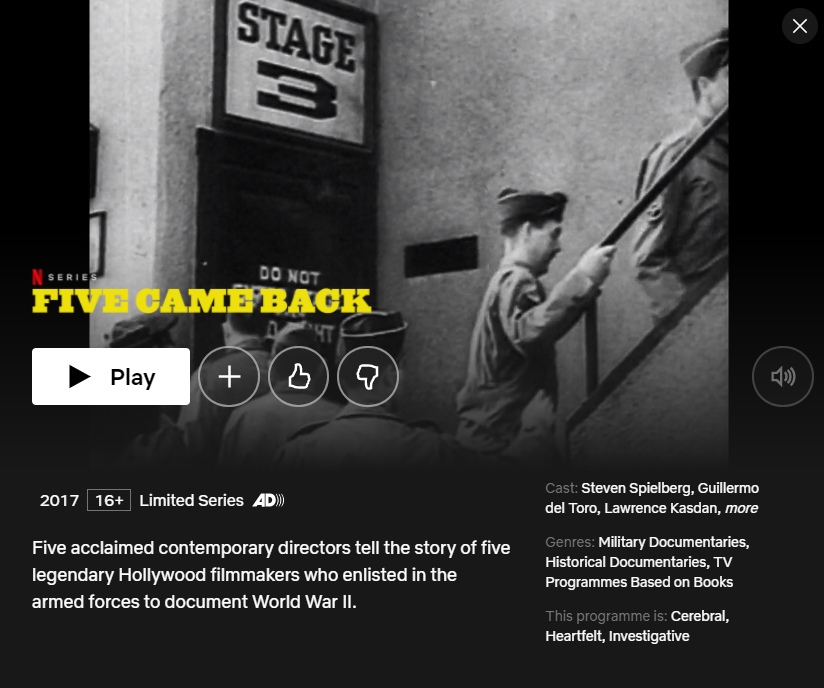 Based on the same-named book by Mark Harris, Five Came Back is a great Netflix documentary released in 2017. The show tells the story of five American film directors – John Ford, William Wyler, John Huston, Frank Capra, and George Stevens – and their work on the frontline during the Second World War. Narrated by Meryl Streep, the documentary makes use of footage from the vast collection of these directors, as they discuss their experience with fellow directors Steven Spielberg, Francis Ford Coppola, Guillermo del Toro, Paul Greengrass, and Lawrence Kasdan.
11. Dark – 8.78
Up next, we have a show that's in German, so you're going to have to watch with subtitles. But, trust us, it's going to be worth it! The show ran for three seasons, between 2017 and 2020, and it follows characters from a fictional town in Germany as they try to find out the truth. They follow the connections between four families as they discover a strange time travel conspiracy spanning multiple generations. It is twisted, strange, and you cannot stop watching. Mind you; you'll need to pay very close attention to the show if you want to understand any of it.
12. Making a Murderer – 8.78
Another cool show on Netflix is Making a Murderer, which is actually a true-crime documentary. It tells the story of Steven Avery, a man who served 18 years in prison for sexual assault and attempted murder, but he did his time as an innocent man. However, after his release, he was charged and convicted of murder. It also follows the story of Brendan Dassey, Avery's nephew, accused and convicted as an accessory in the murder. The two seasons follow their entire story, including the aftermath of their convictions, trying to figure out whether Avery was framed or not. The first season was released in 2015, and it was filmed over ten years, while the second one was released in 2018.
13. Unbelievable – 8.76
Unbelievable is another miniseries that stars Toni Collete, Merritt Wever, and Kaitlyn Dever. This one also handles a sensitive topic – a series of rapes in Washington State and Colorado. The story follows Marie, a teenager who was charged with lying about her rape, as well as two detectives who actually unveiled the truth, exonerating Marie. The show puts the spotlight on the frustration that comes with victims not being believed by the police, and even worse, charged with lying. Nonetheless, it's a story that needs telling, and Netflix is doing just that in 8 episodes.
14. Feel Good – 8.76
Similar to Peaky Blinders, Feel Good is a British show, this time from Channel 4, but Netflix got the rights for international distribution. Released in March 2020, this 6-part program follows the development of the romance between George and Mae. Mar is a Canadian comedian, while George is a repressed English woman. As they fall in love, and their relationship progresses, there are hurdles to be crossed. The show features Mae Martin, Charlotte Ritchie, Lisa Kudrow, Phil Burgers, and Sophie Thompson.
15. The Keepers – 8.75
This is another cool documentary, and this time it's about the unsolved murder of Catherine Cesnik, a nun. This all happened back in 1969 when Cesnik was teaching English and drama at the Archbishop Keough High School. While the murder remains open, former students believe it was all covered up as they suspected the murderer was one of the high school's priests, especially as the man had been guilty of sexually abusing students. Released in 2017, the documentary features 7 episodes.
16. Narcos – 8.74
Narcos is easily one of the best shows Netflix has ever made. Telling the story of Pablo Escobar, the show follows the wars the drug kingpin was involved in to control his territories and how he fought to continue producing and distributing cocaine while he also tried to protect his family. There are three seasons of Narcos, released in 2015, 2016, and 2017, following the rise and fall of Escobar, and featuring Wagner Moura, Pedro Pascal, Boyd Holbrook, Christina Umana, and many others.
17. The Dark Crystal: Age of Resistance – 8.74
Although this show was canceled after only one season, The Dark Crystal: Age of Resistance is an impressive fantasy series. Prequel to the 1982 The Dark Crystal, the show explores the wonderful world of Thra, which was created for the film. We get to follow Rian, Deet, and Brea – three Gelflings -, as they try to save their world from the destructive Darkening. The show features the voices of Taron Egerton, Anya Taylor-Joy, Nathalie Emmanuel, Helena Bonham Carter, Jason Isaacs, Simon Begg, Benedict Wong, Mark Hamill, Keegan-Michael Key, Awkwafina, Eddie Izzard, Lena Headey, Alicia Vikander, Natalie Dormer, Theo James, and many others.
18. The Crown – 8.74
The Crown has been a lot in the news lately, especially as the British Royal family keeps protesting against their portrayal of various situations between Prince Charles, Princess Diana, and Camilla Parker Bowles. Nonetheless, the show started back in 2016, and it's still going strong with its 4th season. Featuring Claire Foy and Olivia Colman, Matt Smith and Tobias Menzies, Vanessa Kirby and Helena Bonham Carter, John Lithgow, Emma Corrin, Emerald Fennell, Josh O'Connor, Gillian Anderson, and many others. Given the situation with the pandemic, a fifth season is expected in 2022, so you have plenty of time to binge-watch the first four seasons.
19. The Staircase – 8.72
Originally created by French network Canal+ back in 2004, Netflix bought the rights for the miniseries a couple of years back. The series documents the trial of Michael Peterson, who was convicted of murdering his wife, who had fallen down the stairs. In 2013, another two episodes were added to the miniseries, and Netflix has bought all of them up, offering them as a single season. The controversial trial has lots of twists, so let's see where it leads.
20. One Day at a Time – 8.7
In 2017, Netflix was releasing One Day at a Time, a sitcom that features Justina Machado, Todd Grinnell, Isabella Gomez, Marcel Ruiz, Stephen Robolowsky, and Rita Moreno. It tells the story of a Cuban-American family in LA, tackling lots of important issues like mental illness, racism, gender identity, homophobia, sexism, immigration, and plenty others. There are only three seasons on Netflix, as the network canceled it out. The fourth season was broadcast by Pop and CBS networks in 2020, so that one's missing. The show was, once more, canceled.
21. The Haunting of Hill House – 8.68
This particular show mixes in the supernatural with the horror and the drama, and it's actually part of The Haunting anthology series. The show alternates between two timelines – five siblings who go through a series of paranormal experiences at Hill House are still haunted by them in the present day. The Haunting of Hill House is followed by The Haunting of Bly Manor, another well-received series. The show was released in 2018 and featured 10 episodes you can binge on.
22. Stranger Things – 8.64
Perhaps one of the most famous names on the list today, Stranger Things has attracted record viewership and has a huge fan base across the world. So far, it features three seasons, but a couple more are expected to be released before the story is complete. Stranger Things is set in a fictional town where strange things start to happen as a portal to an alternate dimension, "the Upside Down," is created. When creatures start crossing over, it's time to fight. The show features Winona Ryder, David Harbour, Finn Wolfhard, Millie Bobby Brown, Gaten Matarazzo, Caleb McLaughlin, Natalia Dyer, Sadie Sink, Charlie Heaton, Sean Astin, Maya Hawke, and many others.
23. Sex Education – 8.64
This show perfectly mixes in the comedy with the drama, making it a massive success for Netflix. There are two seasons out already, and a third one is going to be released when possible. The show tells the story of a teenager who lives with this mother, a sex therapist that is extremely open on the subject. After helping out the school bully, he decides to open up a sex advice business with a friend. There are now two seasons of the show, and more are to come. Sex Education features Asa Butterfield, Gillian Anderson, Emma Mackey, Patricia Allison, and many others.
24. Rhythm + Flow – 8.64
Unlike the other shows we've had thus far, this one is a reality TV series. In fact, this is the first original music competition program on Netflix, featuring Cardi B, Chance the Rapper, and T.I. offering critique and judging unsigned rappers. The $250,000 prize is what the contestants are battling it out for. The list of judges extends to include some guests, including Snoop Dogg, Fat Joe, Jadakiss, DJ Khaled, Miguel, Lupe Fiasco, and many others.
25. Flint Town – 8.62
The story of Flint, Michigan, has reached all corners of the world due to the water crisis that's ongoing since 2014. After switching the water supply to the Flint River, and without proper anticorrosive measures implemented, the water in the area is poisoned with lead. Flint Town explores what the police officers in the area are living through as they try to protect areas that are struggling with poverty and crime on top of the water crisis. Filmed between 2015 and 2017, Flint Town features 8 episodes. It's a documentary that you must watch.
Best Netflix Original Movies
1. Athlete A – 9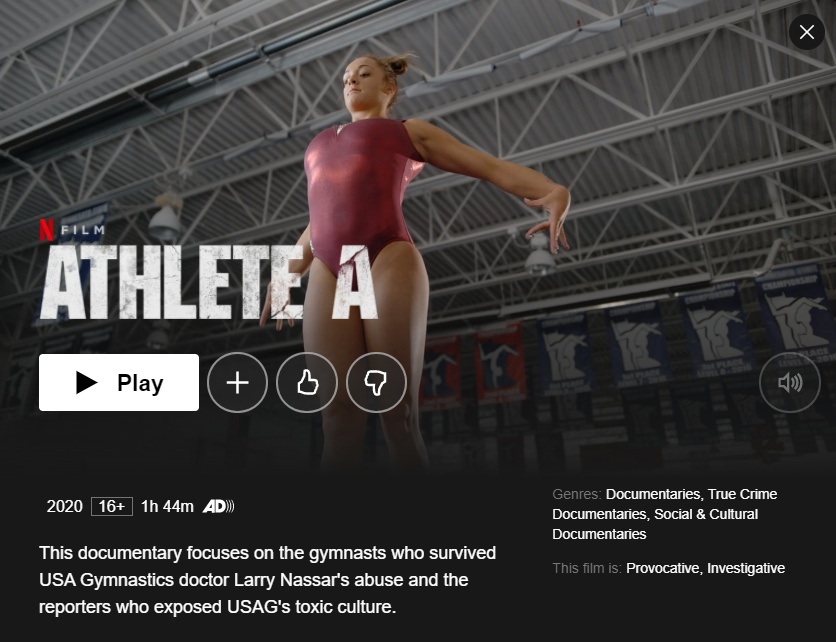 Leading the list, we have a documentary film that follows a team of investigative journalists from The Indianapolis Star as they tell the story of Larry Nassar, the doctor who made a habit of assaulting young female gymnasts. The movie was scheduled to premiere at the Tribeca Film Festival, but since that one was canceled due to the pandemic, the film was released on Netflix. Critics believe this is a great film that shines a light on the horrific abuses these athletes went through.
2. The Irishman – 8.72
One of the biggest films Netflix has ever made was directed by Martin Scorsese and featured Robert De Niro, Al Pacino, Joe Pesci, Ray Romano, Bobby Cannavale, Harvey Keitel, and Anna Paquin. The movie tells the story of Frank Sheeran, an elderly war vet who recounts his life as a hitman for a crime syndicate in the 50s. As he worked for Russell Bufalino and Jimmy Hoffa, Sheeran builds a strong reputation as he keeps doing jobs for the two. What happened to Jimmy Hoffa, what happened to Frank and the rest of the gang – you'll have to watch to find out. The film features an impressive set of visual effects as the actors are de-aged, with all legendary actors looking decades younger. The Irishman received ten nominations at the Oscars, although it didn't win any.
3. Marriage Story – 8.7
This 2019 drama film follows the relationship between Charlie Barber and his wife, Nicole. He's a successful theater director, and she's a former teen film actress. As they encounter troubles in their marriage, they seek a mediator who encourages them to write down a list of things they like about each other. The two eventually start a nasty divorce battle, going back and forth over their demands, especially as they share a son. The film features Scarlett Johansson, Adam Driver, Laura Dern, Alan Alda, Ray Liotta, and many others. Marriage Story was nominated to six Oscars, winning Laura Dern a trophy for Best Supporting Actress.
4. A Secret Love – 8.64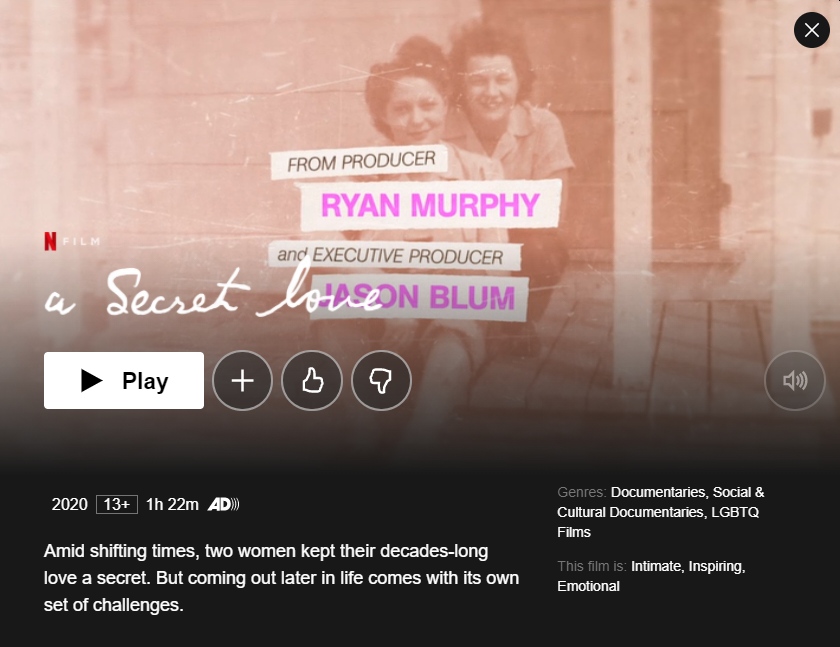 A Secret Love is a 2020 documentary film starring Terry Donahue and Pat Henschel. Donahue is a former All-American Girls pro baseball player, and she decides, alongside her partner, Pat, to run an interior decorating business. As their families spend decades believing they're only business partners, they're actually hiding their lesbian relationship. While many praised the documentary for the way it tells the story, other critics believe it doesn't properly deal with many of the sensitive topics.
5. My Happy Family – 8.6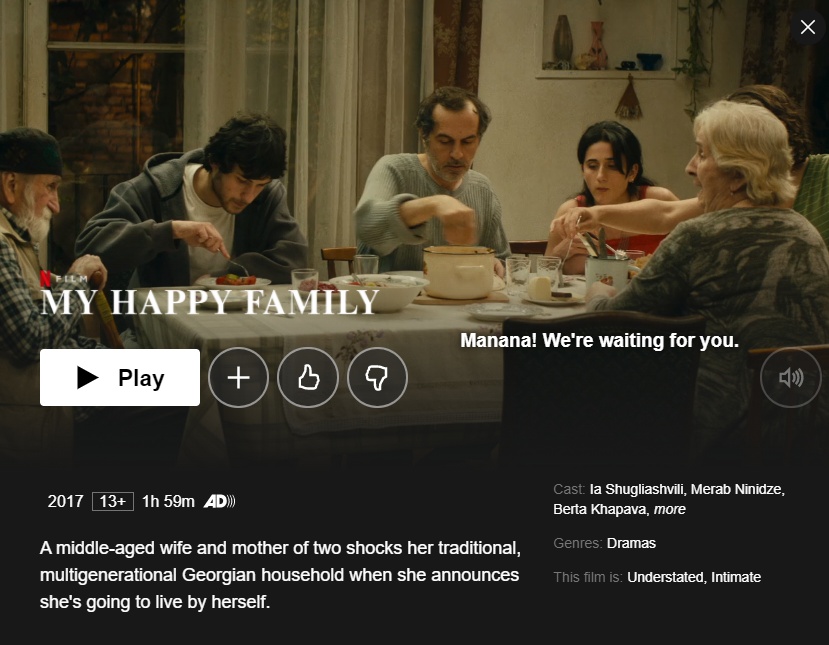 This film comes from Georgia and will require you to use subtitles. Thankfully, it's absolutely worth it! Directed by Nana Ekvtimishvili and Simon Groß, the two received Best Director at the Sofia International Film Festival, while the film itself premiered at the Sundance Film Festival. The film tells the story of a 50-year-old woman who decides to leave her life behind – family, husband, children, parents. While no one really understands her decision, in the beginning, the viewers slowly start to understand what's going on and what led to such a decision and notice how her family really wasn't all that happy.
6. Crip Camp – 8.48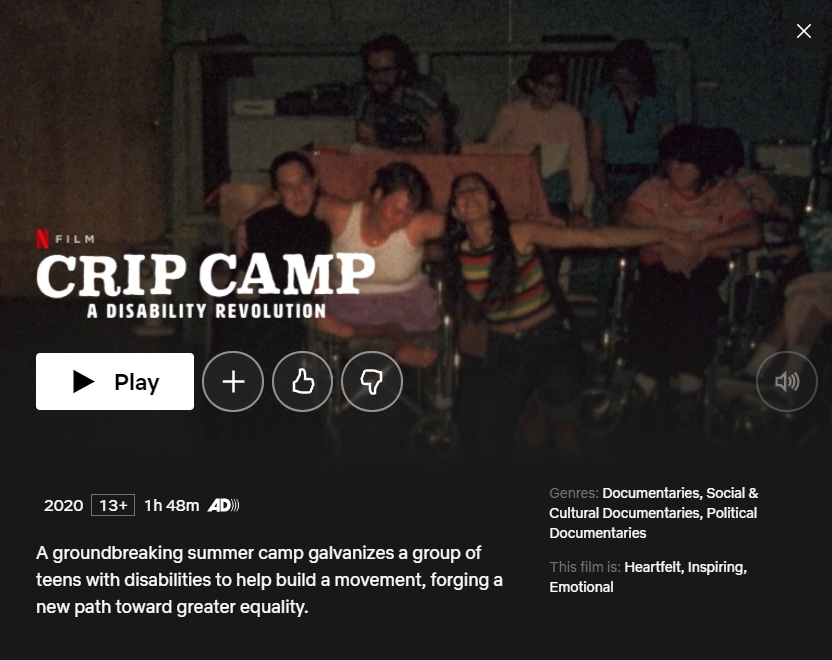 Crip Camp is a 2020 documentary film that premiered at the Sundance Film Festival in January, winning the Audience Award. The story takes place in 1971 at Camp Jened in New York, a place that was designed for teens with disabilities. The film features Larry Allison, Judith Heumann, James LeBrecht, Stephen Hofmann, and others. We get to learn more about the campers who became activists for the disability rights movement and accessibility legislation.
7. Beasts of No Nation – 8.44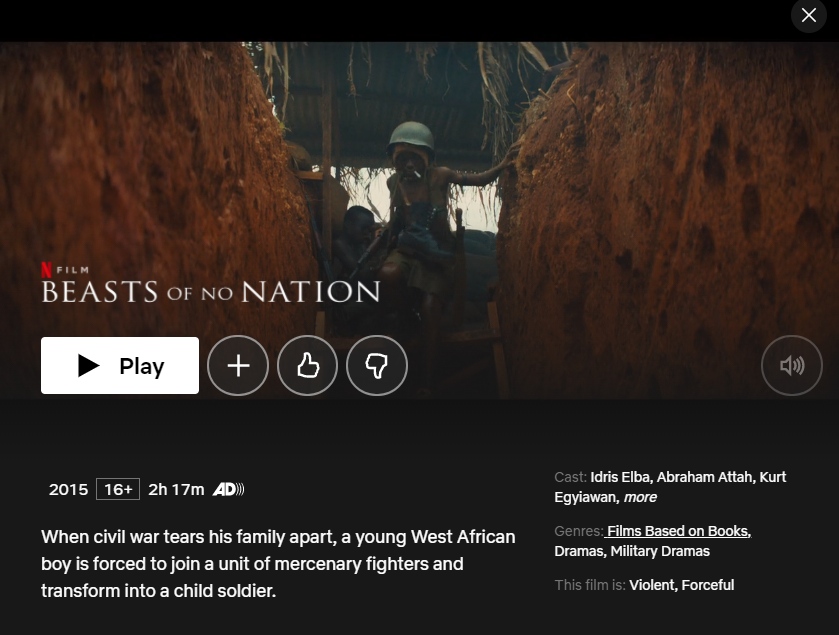 Based on the same-named novel, Beasts of No Nation is a film that tells the drama of war. More specifically, the movie follows a young boy who becomes a child soldier as his country goes through a war. The film features Idris Elba, Abraham Attah, Ama Abebrese, and others. Critics and viewers believe the movie tells a compelling war story, focusing on the human cost.
8. Roma – 8.38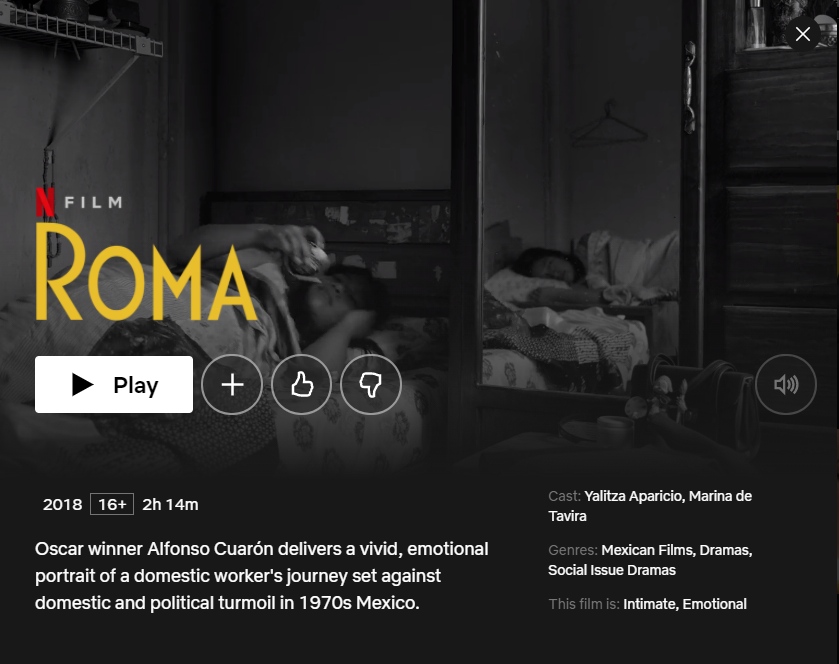 Directed by Alfonso Cuarón, Roma is set in the early 1970s, and it tells the story of a live-in housekeeper of a middle-class family in the Colonia Roma neighborhood in Mexico City. Cleo and Adela work for a wealthy family – Sofia, Antonio, her mother Teresa, and four young children. It's a story of heartbreak, family love, compassion, and hardship, but also of hope and devotion. Roma won the Golden Lion for Best Film at the Venice International Film Festival, got second place at the Toronto International Film Festival, and even received ten nominations for the Academy Awards, winning three of them (Best Director, Best Foreign Language Film, and Best Cinematography).
9. Taylor Swift: Miss Americana – 8.32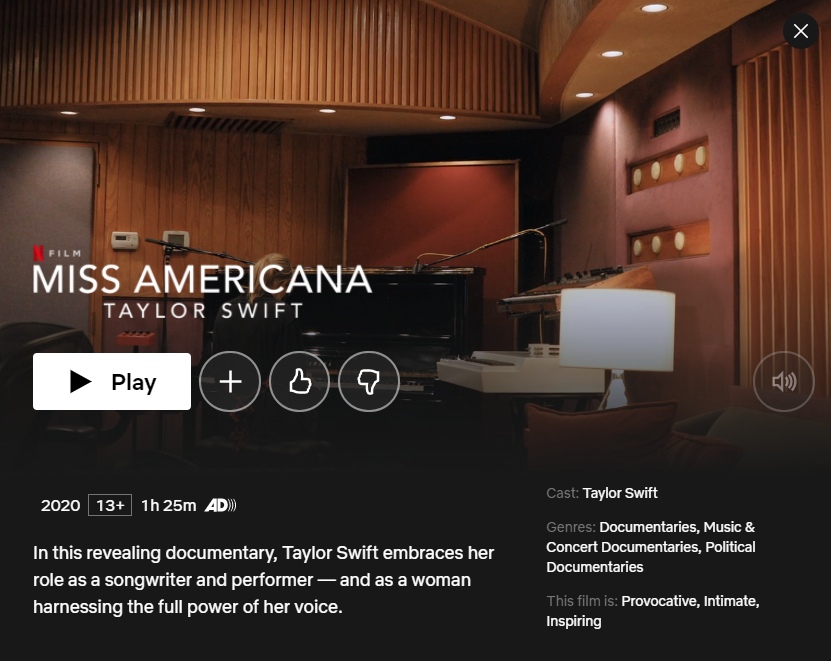 This 2020 documentary by Lana Wilson follows Taylor Swift, the well-known singer, and her life over several years. The movie tells Swift's story during a changing phase in her life as she starts using the power of her voice beyond the stage she sings on. Miss Americana was praised for the intimacy throughout the documentary, as well as the vulnerability showed by the singer. The documentary is also accompanied by the release of a new song by Swift in the end credits.
10. I Lost My Body – 8.32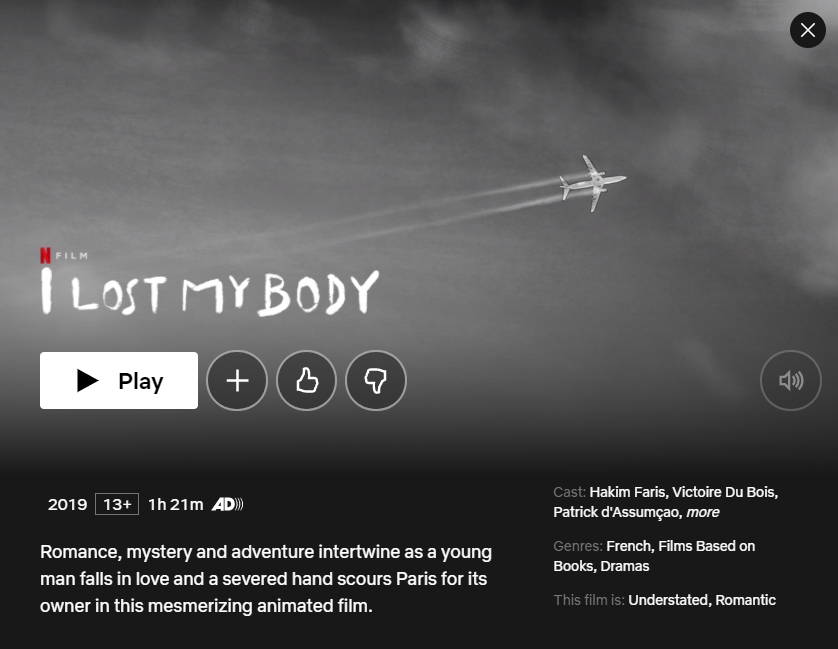 This movie is actually an animation for adults coming from France. Directed by Jérémy Clapin, the film won the grand prize at the 2019 Cannes Film Festival, and it was also nominated for Best Animated Feature at the Oscars. They lost to Toy Story 4, however. I Lost My Body follows a severed hand that escapes a laboratory and begins a journey across Paris to find the rest of the body. The entire story of the boy is told through flashbacks. The movie comes with an English dub, so you may want to go that route instead of using the subtitles.
11.Dolemite Is My Name – 8.24
Featuring EddieMurphy, this 2019 film had a warm welcome, being loved by both audiences and critics alike. The movie was nominated at the Golden Globes for Best Motion Picture – Musical or comedy, as well as Best Actor for Murphy. Dolemite Is My Name focuses on Rudy Ray Moore, an artist working in a record store, trying to get his music played. Eventually, he creates a stage persona – Dolemite -and starts telling various stories on stage. It's a biographical comedy and drama film that will have you laughing.
12. The Trial of the Chicago 7 – 8.2
This 2020 historical legal drama film was written and directed by Aaron Sorkin, whose name you'll know for shows like The Newsroom, or movies like Molly's Game or Steve Jobs, although for the latter, he was a writer, not a director. The Trial of the Chicago 7 follows a group of anti-Vietnam War protesters charged with conspiracy and crossing state lines in order to incite riots back in 1968. The film features Sacha Baron Cohen, Joseph Gordon-Levitt, Michael Keaton, Eddie Redmayne, and it was originally meant to get a theatrical release, but those plans changed once the pandemic spread.
13. Mudbound – 8.14
Released in 2017, Mudbound is a historical drama film based on the same-named novel by Hillary Jordan. The film follows two World War II veterans who return to rural Mississippi and start learning how to deal with PTSD. However, since one's while and one's black, they also have to deal, in different ways, with racism. The movie features Carey Mulligan, Garrett Hedlund, Jason Mitchell, Jonathan Banks, Mary J. Blige, and Jason Clarke. The movie earned four nominations at the Oscars.
14. Private Life – 8.1
Another cool Netflix film you need to watch is Private Life, which was released in 2018. It features Paul Giamatti and Kathryn Hahn, as well as Kayli Carter, Molly Shannon, and Denis O'Hare. The film follows a middle-aged married couple who are trying to have a child, by all means possible, undergoing various fertility procedures, including in-vitro. We take a look at how taxing these procedures are, both financially and emotionally. Finally, adoption may be in the cards for them.
15. The Two Popes – 8.08
This 2019 film is set in VaticanCity after the big Vatican leaks scandal, exposing corruption within the Church. The story follows Pope Benedict XVI and Cardinal Jorge Mario Bergoglio as they both express their desires to leave their roles, one as pope, the other as Cardinal. Bergoglio had received the second-highest number of votes following the death of Pope John Paul II and would, eventually, become Pope Francis. We get to enjoy Anthony Hopkins as Pope Benedict XVI and Jonathan Pryce as the future Pope Francis.
16. The Half of It – 8.02
Another Netflix movie you should watch is The Half of It, a coming-of-age comedy-drama. Starring Leah Lewis, Daniel Diemer, Alexxis Lemire, and Collin Chou, The Half of It features a young girl who takes on various jobs to make extra money, including writing homework papers for her colleagues. When Ellie is given the opportunity to write a love letter to his crush, Aster, she initially refuses, especially as she's also in love with her. Eventually, she relents, leading to a series of complicated situations.
17. The Ballad of Buster Scruggs – 7.88
The Ballad of Buster Scruggs is a film like we rarely see nowadays – a western anthology. The film was directed by the Coen brothers and featured an impressive cast that includes James Franco, Brendan Gleeson, Liam Neeson, Zoe Kazan, Harry Melling, Tim Blake Nelson, Tom Waits, Tyne Daly, and many others. It was named one of the best ten films of 2018 and was nominated three times at the Oscars. We get to watch multiple tales of life and violence in the Old West as we follow several characters that will stick with you – a singing gunslinger, a traveling impresario, a prospector, a couple of bounty hunters, a bank robber, and a wagon train.
18. To All the Boys I've Loved Before – 7.88
Based on a book, this teen romantic comedy features Lana Condor, Noah Centineo, Janel Parrish, and several others. It is only the first book of a series, as a sequel has already been released, and a third movie in the plans. We follow Lara Jean Covey, a high school student who writes letters to the boys she falls for, before hiding the letters in her closet. Once the letters end up with the boys she'd had crushes on, her whole world changes.
19. Okja – 7.87
This is a 2017 movie that is a co-production between South Korea and the United States. The film features Ahn Seo-hyun, Byun Hee-bong, Yoon Je-moon, Choi Woo-shik, Tilda Swinton, Paul Dano, Lily Collins, Giancarlo Esposito, Jake Gyllenhaal, and plenty others. The film follows the story of a company that creates a special kind of super pigs, sending out over two dozen of them in different locations of the world. A young girl becomes attached to her pig, Okja, so when the scientists come to get it back, she's unwilling to let it go. She starts on an adventure to get it back and unmask the corporation for mistreating animals.
20. El Camino: A Breaking Bad Movie – 7.84
Years after Breaking Bad ended, leaving us all with a ton of questions, El Camino was released by Netflix, giving us a glimpse into everything that happened. The movie serves both as a sequel and epilogue to the series, and it features Aaron Paul, Jesse Plemons, Matt Jones, Jonathan Banks, and others. We get to find out how Jesse Pinkman manages to run from his captors, as well as the law, and, ultimately, his past. Critics believe the film gives Breaking Bad fans everything they wanted to know and then som, praising Aaron Paul's performance as Pinkman.
21. Circus of Books – 7.82
This 2019 documentary is said to be a must-see, especially after winning the Audience Award for Best Documentary Feature at the Sidewalk Film Festival in 2019. The documentary follows Circus of Books, a bookstore and gay porn shop in West Hollywood, California, diving into how it managed to survive over the decades, especially with the rise of the Internet.
22. I Don't Feel At Home in This World – 7.72
If you feel like watching a movie that will keep you on your toes while also making you laugh, I Don't Feel At Home in This World is a good start. The movie was released in 2017, and it stars Melanie Lynskey, Elijah Wood, David Yow, Jane Levy, and Devon Graye. After a woman finds some things had been stolen from her apartment and figuring out the police won't do much to retrieve them, she goes on an adventure with her to recover the stolen goods. Somehow, she ends up getting kidnapped and involved in a robbery without her will.
23. The Meyerowitz Stories – 7.68
Also released in 2017, The Meyerowitz Stories (New and Selected) features Adam Sandler, Ben Stiller, Dustin Hoffman, Emma Thompson, Elizabeth Marvel, Adam Driver, Sigourney Weaver, and others. It follows a family who tries to deal with their moody artist father after he falls ill, especially as he learns that his legacy is fading as the art world starts forgetting him.
24. His House – 7.68
Released earlier this year, His House is a horror movie that will keep you on your toes. The film follows a refugee couple from South Sudan who is struggling to adjust after moving to the outskirts of London, especially after losing their daughter at sea. Soon, however, they find they had not managed to leave their past behind and that a spirit is haunting them, demanding the return of something they've stolen. It's a story that will keep you on your toes, with a ton of twists and turns.
25. Gerald's Game – 7.62
Gerald's Game is based on the same-named novel by Stephen King. The film was released in 2017, and it's a psychological horror-thriller like King has accustomed us thus far. The movie tells the story of a married couple who decides to spend the holiday in an isolated house, hoping to spruce up their relationship. As she's handcuffed to the bed, her husband dies of a heart attack. The movie features, among others, Carla Gugino, Bruce Greenwood, Henry Thomas, and Carel Struycken.