We are reader supported and may earn a commission when you buy through links on our site.
Learn more
How to Watch the Divergent Series on Netflix from Anywhere?
When it comes to dystopian shows and series, we really enjoy the Divergent series because it's one of the best. We plan on watching the Divergent movies on Netflix, so let's head over and see what we need to do to make it work.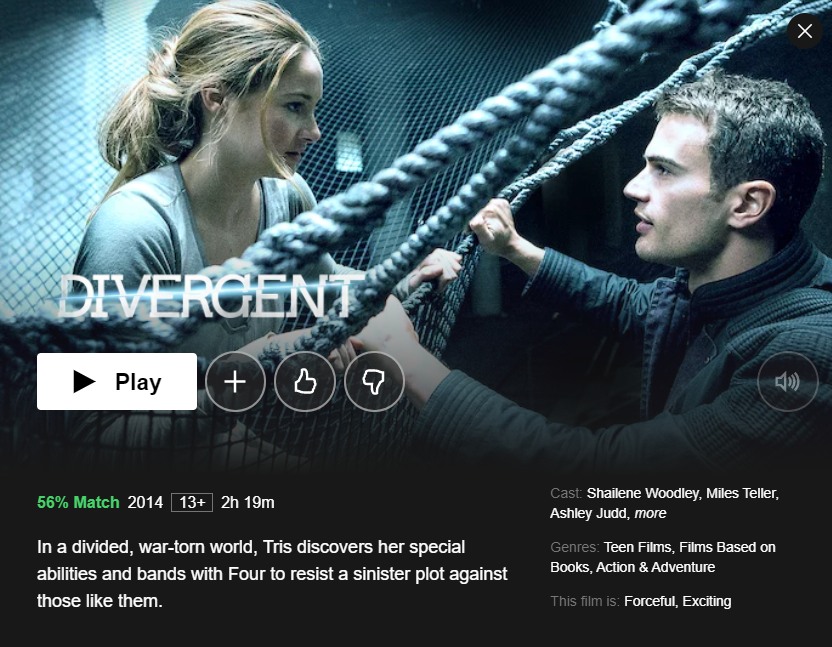 The Divergent series is a film trilogy that is based on the same-name novels by Veronica Roth. The movies are called Divergent, Insurgent, and Allegiant. They feature a really great cast that includes Shailene Woodley and Theo James as the lead characters and Ansel Elgort, Zoe Kravitz, Miles Teller, and Kate Winslet.
The series had a good run at the box office, although it could obviously have gone better, as they brought in over $760 million at the box office with a budget of about $300 million in total.
30-days money back guarantee
Can I watch Divergent movies on Netflix?
The Divergent movies are available to stream on Netflix in several countries. We managed to find them in the libraries in the United States, the United Kingdom, and even Australia, but we found they were missing over in Canada.
Netflix is available in 190 countries across the world, and it has individual libraries in each of these Nations. Each of the libraries is geo-blocked, so you can't watch content from another country unless you have the right tools at your disposal.
Editor's note: NordVPN is our #1 choice for unblocking Netflix. Sign up for the 2-year plan with NordVPN at $3.49 per month, as well as 3 months for FREE. A 30-day money-back guarantee is included on all plans, so you can cancel any time and get your money back.
How can I watch the Divergent movies on Netflix from anywhere?
All of Netflix's libraries are geo-blocked, so you're going to need to have a little bit of extra help in order to watch the movies you are set on. A VPN will route your internet connection through a foreign server of your choice and assign a new IP address to your device so that you appear to be in that location.
We recommend using NordVPN, a really cool tool with thousands of servers worldwide and some really great privacy features, thanks to the encryption protocols they have at their disposal.
Here's what you need to do to be able to watch the live Divergent series on Netflix from anywhere:
First, you're going to need to subscribe to NordVPN, which is something that only takes a few minutes of your time. They're offering 3 months for free and 68% OFF the 2-year plan!
Once the app is installed, you need to launch the tool and log in to your account before looking for a server that is located in the United States, the United Kingdom, or Australia.
When the connection is established, you can load Netflix in your browser or relaunch the app on your device.
There you go! It is very easy to watch Divergent on Netflix if you have the right tools, and NordVPN is certainly the one you should be looking into.
Won't Netflix know I'm using a VPN?
Some years back, Netflix decided that it was time to implement some technology that would have them detect when people were using VPNs and block them off. However, the technology doesn't always work, especially against premium tools like NordVPN, but it is quite proficient against free tools that have a ton of users.
If you do happen to have any problems watching Netflix with NordVPN, however, you can contact the customer support team, and they will be happy to guide you towards a server that actually works with Netflix. They are available 24/7, so getting someone to chat with will not be too difficult.
Why not use a free VPN?
It is true that it will cost you a monthly subscription to use NordVPN, but it is the best right you can take when it comes to using a VPN. using the wrong app can put all your data and devices at risk, which is why we advise you to get one of these tools instead of picking a random app online.
First of all, free VPNs are the first to get blacklisted by Netflix, as they are super-easy to track. Even if you did manage to find a VPN that somehow worked with Netflix, you would have a tough time enjoying the Divergent movies because you will have really low internet speed. It is known that VPNs already throttle your internet speeds, as they have to route your internet connection through one of their servers, which could be quite occupied by lots of users. This is particularly true for free VPNs because they have just a few servers at their disposal but lots and lots of users.
Another aspect that you need to take into consideration is the fact that free VPNs are also another risk for your online security. Security researchers have discovered quite a few times over the years that cybercriminals would upload tools to the internet, present them as VPNs, and offer them for free. The apps would eventually be found carrying malware on the stores, but not before lots of people installed them on their devices first. Once infected, a device would start funneling all the personal information to these people, resulting in your email and social media accounts getting hacked into, your banking account getting broken into and cleaned out, and even identity fraud. This is a lot of mess that you do not want to experience.
There are also other free VPNs that you could use, which use peer-to-peer routing. This means that you give other people access to your device, and they use it as they would a server, basically to have their IP address changed. The problem is that your device's performance will be impacted quite heavily, and your privacy would also be at risk. These tools do not use any type of encryption, and they also keep logs of what people are doing online – which goes against the very fiber of what VPNs stand for, namely privacy.
Subscribing to a VPN may not be what you were hoping to do with some of your money this year, but ultimately, it's not such a large sum that you can't pay every month, especially since there's so much at stake.
Final thoughts
The Divergent movies are absolutely great, and we did enjoy the story quite a bit, so we think that you should definitely find a way to enjoy them as well, especially now that we've shown you how to watch it on Netflix no matter where you are.