We are reader supported and may earn a commission when you buy through links on our site.
Learn more
How to Watch The Grinch on Netflix from Anywhere?
A couple of decades ago, Jim Carrey took on the role of Dr. Seuss's The Grinch, but now in the most recent 2018 film, the character was brought back to life in a 3D computer-animated movie. We particularly enjoyed The Grinch, and since Christmas is coming, we want to watch it again. But is the film over on Netflix?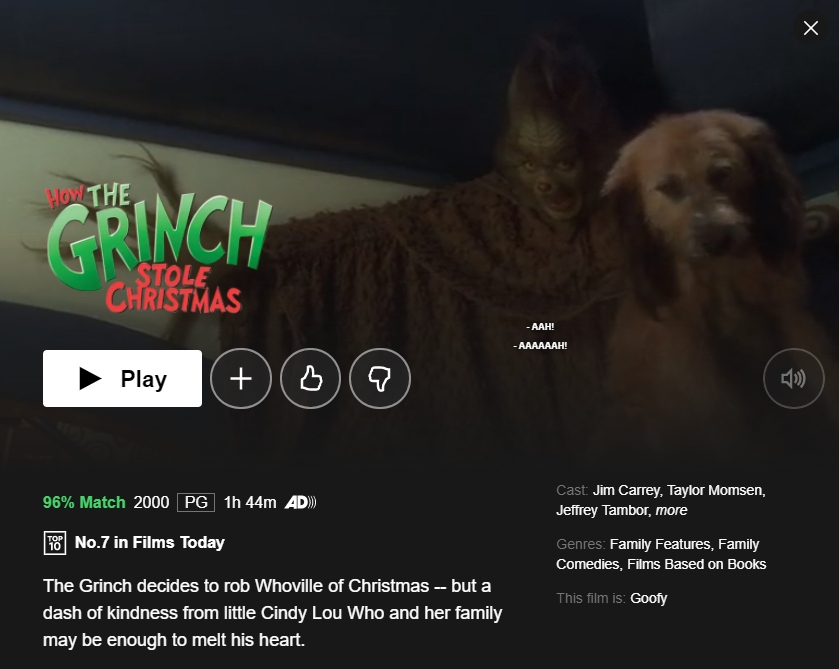 The Grinch 2018 is based on the same book, How The Grinch Stole Christmas, by Dr. Seuss, and it is actually the first screen adaptation of the story. The film stars Benedict Cumberbatch, Rashida Jones, Kenan Thompson, Angela Lansbury, and Pharrell Williams as the narrator.
The film was a complete success, and it had a budget of about $75 million and managed to bring in over $500 million at the box office. The film received good reviews, both from critics and fans, and The Grinch is a good movie for younger children and parents alike.
Is The Grinch on Netflix?
We did manage to find a Grinch on Netflix, but over in Australia only. The film is missing from the United States, United Kingdom, or Canada, as well as many other countries. However, just because The Grinch is available on Netflix Australia does not mean that you cannot enjoy it no matter your location.
How do you watch The Grinch on Netflix?
If you are hoping to watch The Grinch on Netflix, you should know that it is perfectly possible to do so only if you have a VPN. A VPN will help reroute your internet connection through a server of your choice, so you appear to be in a new location.
This is necessary because Netflix is available in about 190 countries. Each of the libraries is geo-blocked, which means that they cannot be accessed from another country. As frustrating as the situation can be, it has an easy fix in using a VPN.
VPNs are really great tools, and if you are looking for a recommendation, our favorite is NordVPN. This is a tool that has thousands of servers all over the world, including Australia. It also makes use of some great privacy features thanks to the encryption protocols they deploy.
Here's what you need to do to watch The Grinch on Netflix:
First off, you're going to have to sign up for NordVPN. They offer our readers 70% OFF for the 2-year plan at $3,49/month.
Then, you need to set up your account and get the apps for your devices. Once installed, you need to sign in to your account and then look for an Australian server.
As soon as the connection is established, you can load Netflix in your browser or relaunch the app on your device. Search for The Grinch and start enjoying this movie.
There you go! It really wasn't that too difficult, and we do hope you found a cool way to watch The Grinch.
Won't Netflix know I'm using a VPN?
One of the main concerns people have when using VPNs is that Netflix is notoriously against these tools and has managed to block quite a few of them, although most of those blacklisted tools are free ones.
We haven't had issues when using NordVPN, but that does not mean that they cannot blacklist various IPs overnight. So if you encounter any problems, you simply have to try to find a solution. The first step we advise you to take is to change the server you are connected to and to clear out your cookies. If that does not work, you should contact the NordVPN customer support team since they are available 24/7, and they will be more than happy to help you out.
Can't I use a free VPN instead?
If you want to use a free VPN, we are sadly not going to encourage you. We understand the attraction to free online tools, but things can get tricky when it comes to VPNs.
First of all, free VPNs are unlikely to bypass the Netflix blockade, and you won't even be able to access The Grinch – so you won't be able to watch the film. Even if you somehow found a free VPN that managed to fly under the Netflix radar, you would still be unable to properly stream The Grinch because they have few servers but a lot of users. Overcrowded servers mean you will have a really low internet speed that will be incompatible with properly streaming any Netflix content.
However, the bigger problem is that by installing all sorts of free VPN apps on your devices, you are putting yourself at risk. Security researchers have discovered many times over the years that cybercriminals were hiding malware in so-called VPN apps. Therefore, once installed, the app would start collecting information on the victims, including credentials for social media sites and email accounts, as well as for banking accounts. You could end up with your bank account wiped clean and your identity stolen. If you use the same device for work, you could also end up being at the root of a data breach against your employer, affecting even more people.
There is another sort of VPN that's been recently growing in popularity that uses peer-to-peer routing. Basically, you would be allowing the app to use your computer's resources and let other people connect to it as a sort of server. This is not something you want to do because it will heavily impact the performance of your computer. Even worse, the app does not stop working when you stop the VPN and will continue running in the background, exploiting your device. While VPNs are commonly associated with privacy, that's not going to happen with one of these tools because they collect information on what people are doing online when using these apps. They also do not use encryption, so your information is open for all.
Final thoughts
We do hope that you will manage to watch The Grinch with NordVPN on Netflix Australia and that you will have a great time this year. Make sure to stay away from those risky free VPNs and simply gift yourself an extra layer of privacy and security by getting a premium VPN.