Watch the 50 Best Drama Shows on Netflix now!
We may all have our favorites – sci-fi, comedy, supernatural, and so on, but drama is always the thing that will attract us all; it's what we're all looking for. So, let's see which are the 50 best drama shows on Netflix and how to watch them.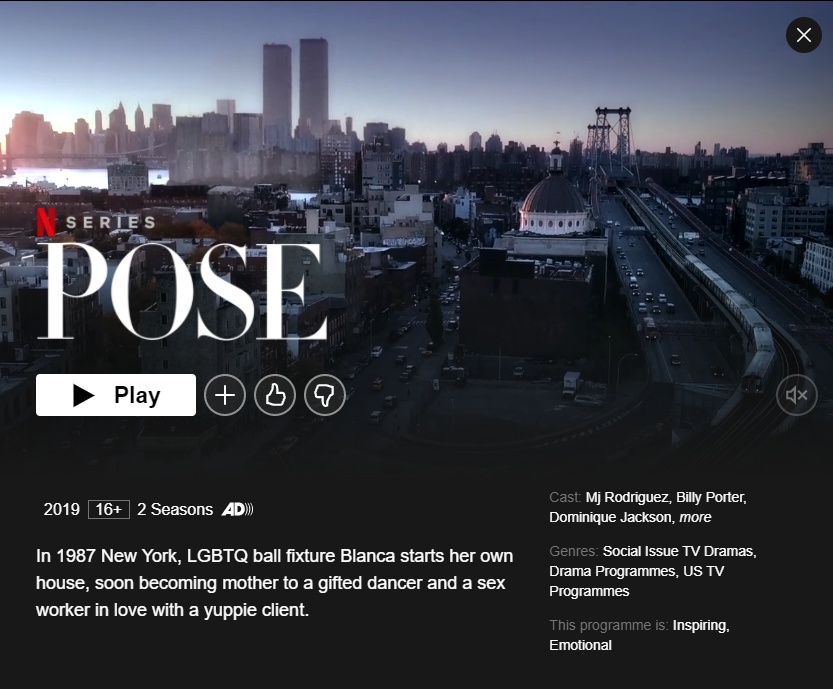 Netflix has an extensive collection of shows and movies, and documentaries, and if you dig through them, you'll find some real gems. In order to put together our list today, we checked IMDb, Rotten Tomatoes, and Metacritic to find the scores these titles have from critics and audiences. Then, we averaged those out and created our own ranking – the one you'll see below.
Best 50 drama shows to watch Netflix
We know we have a lot of favorites on this list, and we've added another few titles to the watchlist, so go see which ones you've missed out on.
1. Breaking Bad – 9.38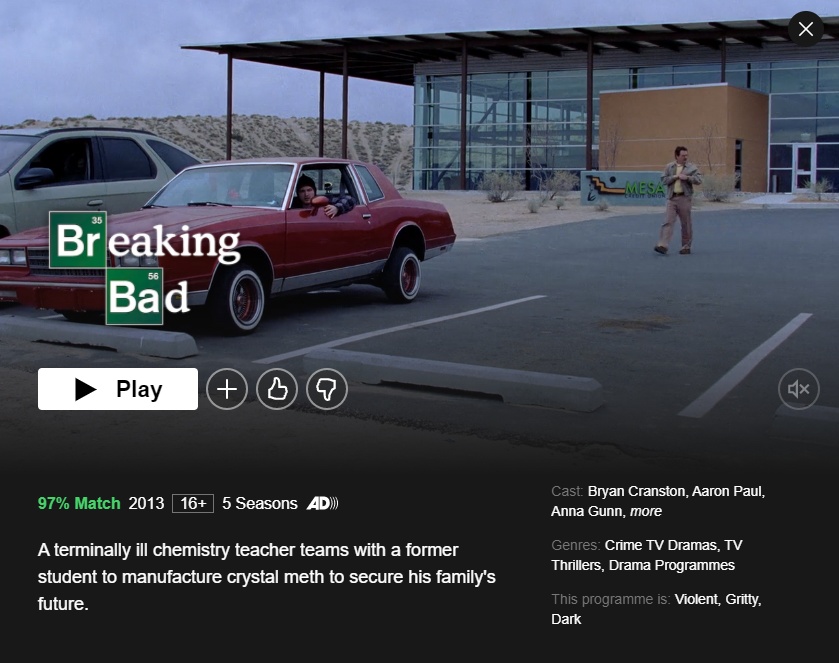 We're kicking off our list of best drama shows with Breaking Bad, a series that continues to be a go-to show for lots of people, even nearly eight years after its completion. The show follows Walter White, a chemistry teacher, who discovers he has cancer. In order to pay for his treatment, he turns to cooking meth alongside an old student of his, Jesse Pinkman. The show has action, battles with rivaling cartels, and plenty more. There are five seasons to watch, and you'll enjoy Bryan Cranston, Aaron Paul, Anna Gunn, Dean Norris, Giancarlo Esposito, Bob Odenkirk, and Jonathan Banks, to name a few.
2. Better Call Saul – 9.12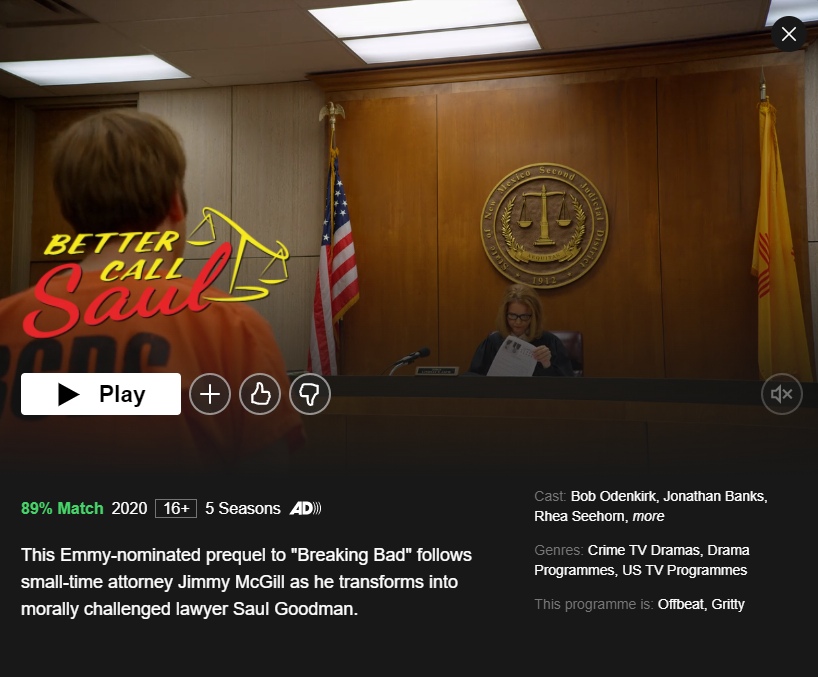 Next up, we have the Breaking Bad prequel Better Call Saul. The show premiered in 2015 and currently has five seasons, with a sixth and final one scheduled to air in 2021. We follow Jimmy McGill, a former con-man turned lawyer who ends up a greedy criminal defense attorney. Now known as Saul Goodman, he becomes affiliated with all sorts of bad guys. We also get to know more about Mike Ehrmantraut's story, a retired police officer who entangles himself with the drug cartels. Better Call Saul stars Bob Odenkirk, Jonathan Banks, Rhea Seehorn, Patrick Fabian, Giancarlo Esposito, Tony Dalton, and more.
3. Peaky Blinders – 9
Peaky Blinders is next, an absolutely epic show you must watch. This drama series takes place between World Wars and follows the Peaky Blinders gang, a crime family in Birmingham. They come in conflict with other gangs and the police, and later on try cleaning up their public image a bit. The show has five seasons so far, and another two are supposed to be released before the story is complete. Peaky Blinders stars Cillian Murphy, Sam Neill, Helen McCrory, Paul Anderson, Tom Hardy, Anya Taylor-Joi, and lots more.
4. Travelers – 8.83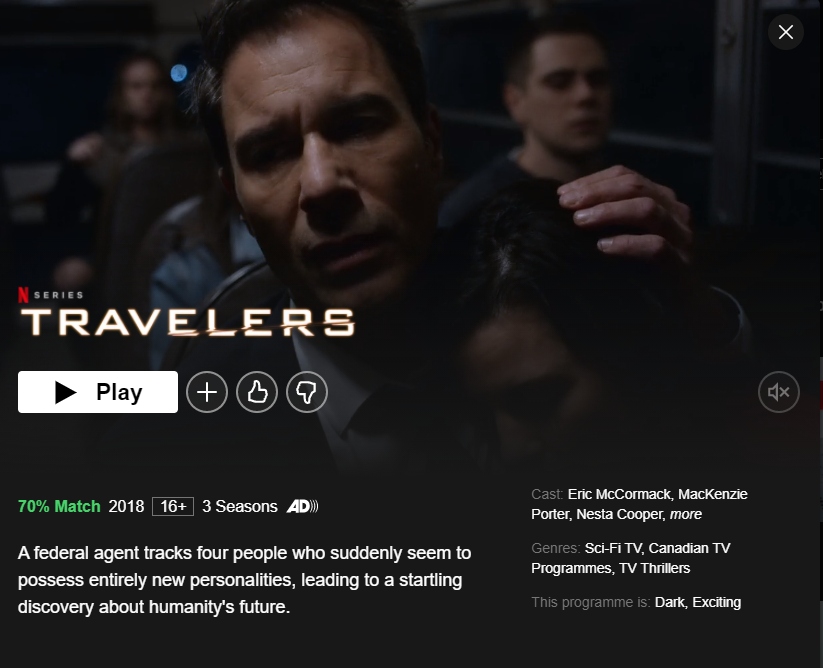 This next series is quite interesting. The story takes place in a post-apocalyptic future when special operatives are sent back in time to prevent the collapse of society. These people are called "travelers" and they have specific rules they must abide by, but things are easier said than done. The show stars Eric McCormack, MacKenzie Porter, Nesta Cooper, Jared Abrahamson, Reilly Dolman, and Patrick Gilmore. There are only three seasons to binge on here.
5. Mindhunter – 8.77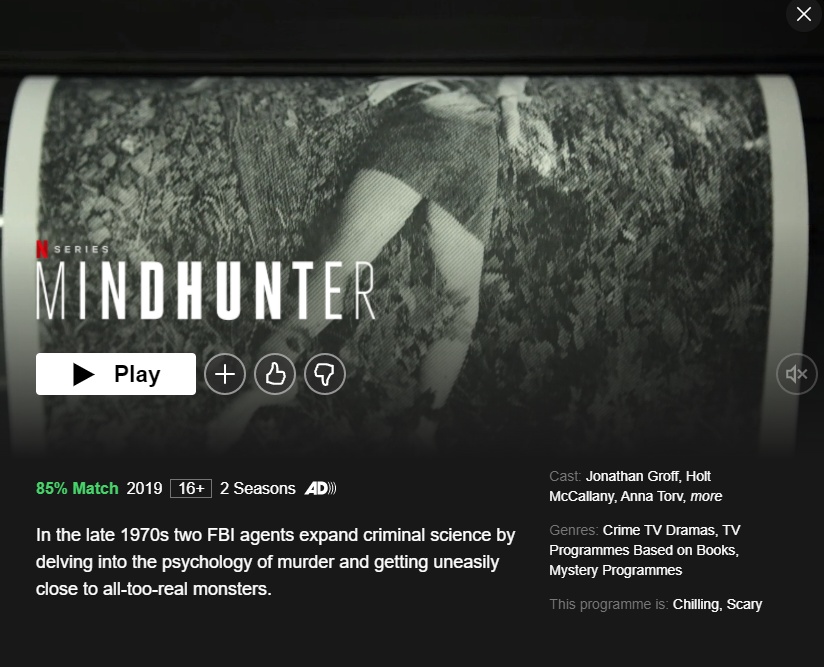 Next, we have Mindhunter, a drama series that's full of crime and psychological games. We follow two FBI agents who work at the brand new Behavioral Science Unit in the late '70s. The two interview serial killers in the hopes of understanding them and catching those at large. The series stars Jonathan Groff, Holt McCallany, Anna Torv, Stacey Roca, and Cotter Smith, to name a few. There have been two seasons of this show and while Mindhunter hasn't been canceled yet, production has been halted.
6. Pose – 8.77
This next series focuses on the African-American and Latino LGBTQ drag ball culture in the '80s and '90s. The characters are dancers and models who are looking for recognition and support. The show stars Mj Rodriguez, Billy Porter, Evan Peters, Kate Mara, James Van Der Beek, and plenty others. The series has received numerous awards over the years, including the Primetime Emmy Award for Outstanding Lead Actor in a Drama Series. There have been two seasons thus far, and the show has been renewed for a third season.
7. Lupin – 8.76
Although it has only been released, Lupin seems to be making waves already. The show tells the story of Assane Diop, a young boy who is left orphaned after his father hangs himself out of shame of being accused of theft. Decades later, inspired by Maurice Leblanc's character Arsène Lupin, Assane seeks to get revenge on the man who set his father up. The show stars Omar Sy, Vincent Londez, Ludivine Sagnier, Clotilde Hesme, and Herve Pierre, to name a few. The first season premiered in early January 2021 and is going to feature ten episodes released in two parts.
8. Broadchurch – 8.76
We've moving on to the next one on our list – Broadchurch. This show aired for three seasons between 2013 and 2017 and continues to be one of the shows everyone loves to go back to. We follow the events from a fictional town in the UK and the police detectives trying to solve various crimes that have rocked the citizens. Broadchurch stars David Tennant, Olivia Colman, Jodie Whittaker, Andrew Buchan, and Arthur Darvill, to name a few.
9. Call the Midwife – 8.76
This ongoing British period drama follows a group of nurse-midwives in the '50s and '60s. The show touches on a number of important topics, like the Baby Boom, poverty, various illnesses, the threat of nuclear warfare, domestic violence, and more. There are nine seasons thus far, and more are expected. Call the Midwife stars Jenny Agutter, Jessica Raine, Miranda Hart, Helen George, Laura Main, Pam Ferris, Kate Lamb, and lots more.
10. The Crown – 8.72
Next, we have one of the most controversial series in recent times, especially given the reactions it keeps pulling from the British Royal Family. The series focuses on the reign of Queen Elizabeth II, and it covers numerous decades. The most recent season, in particular, has focused on the issues between Princess Diana and Prince Charles and their messy divorce, and all the drama surrounding the issue. The show stars Claire Foy, Olivia Colman, Matt Smith, Tobias Menzies, Vanessa Kirby, Helena Bonham Carter, Emma Corrin, Gillian Anderson, and plenty others. Four seasons are out right now and more are to come.
11. Sherlock – 8.65
Also coming from the UK, we have Sherlock, a modern adaptation of the famous character, placed in current times. The show stars Benedict Cumberbatch brilliant Sherlock Holmes, while Martin Freeman plays Doctor John Watson. Other roles go to Rupert Graves, Una Stubbs, Mark Gatiss, Louise Brealey, Andrew Scott, and Amanda Abbington. Four seasons have been released thus far, as well as a New Year's special, but we haven't had any new content since 2017. There's always hope that more episodes will come when filming is possible due to busy schedules for Cumberbatch and Freeman.
12. Jane the Virgin – 8.62
The list continues with Jane the Virgin, an adaptation of a Venezuelan telenovela. During an appointment with her gynecologist, Jane, a virgin, is mistakenly artificially inseminated, resulting in her pregnancy. The show follows Jane over the years, dealing with the pregnancy and, later on, the baby. The show ran for five seasons between 2014 and 2019. Jane the Virgin stars Gina Rodriguez, Andrea Navedo, Yael Grobglas, Justin Baldoni, Ivonne Coll, and more.
13. Dark – 8.6
This German show follows the events that unfold in a small town after a child disappears. With the action taking place over multiple generations, an odd time travel conspiracy is revealed and four estranged families reveal the connection. It's a twisted story that will require all your attention, but it's a series you should not miss. There are three seasons to watch, and the story is done, so you can binge on it without worrying about any extras. The show stars Andreas Pietschmann, Maja Schone, Florian Panzner, and others.
14. The Haunting of Hill House – 8.6
Next up, we have The Haunting of Hill House, a supernatural horror drama that will keep you on your toes. There are only ten episodes to watch, and it continues with a completely different show, rather than a new season. The story follows five adult siblings who have memories of paranormal experiences at Hill House, things that continue to haunt them even after they fled the house. The show stars Elizabeth Reaser, Oliver Jackson-Cohen, Kate Siegel, Victoria Pedretti, and Michiel Huisman.
15. Teenage Bounty Hunters – 8.58
Teenage Bounty Hunters is the next one on our list and it's a show that integrates drama with comedy. There's only one season available, so you can binge on it whenever you have the time. We follow twins Sterling and Blair taking up bounty hunting in order to pay for the repair of their father's truck after banging it up. The show stars Maddie Phillips, Anjelica Bette Fellini, Kadeem Hardison, and Virginia Williams.
16. Narcos – 8.57
Next, we have Narcos, a crime drama TV series that follows the story of Pablo Escobar. We also get to see the DEA's efforts to catch the kingpin, the various fights between Escobar's cartel and his rivals and loads more. It's a series you should not miss, and it only has three seasons. Narcos stars Wagner Moura, Boyd Holbrook, Pedro Pascal, Joanna Christie, Eric Lange, Maurice Compte, and Paulina Gaitan.
17. Kingdom – 8.54
We continue with Kingdom, a TV series that ran between 2014 and 2017, totaling 40 episodes. We follow Alvey Kulina and his family as they run an MMA gym. Alvey works with his sons, all of them being part of the fighting world, something that becomes evident rather quickly. The show stars Frank Grillo, Kiele Sanchez, Matt Lauria, Jonathan Tucker, Nick Jonas, and Joanna Going.
18. Cobra Kai – 8.5
Now that Cobra Kai is owned by Netflix, you can enjoy the show on the service rather easily. There are currently three seasons, and the show had been renewed even before the latest one hit in early January 2021. The show is a sequel to the Karate Kid movies and it even stars Ralph Macchio and William Zabka, reprising their famous roles. Alongside them, we have Courtney Henggeler, Xolo Mariduena, Tanner Buchanan, Mary Mouser, Jacob Bertrand, and others.
19. Sex Education – 8.47
Sex Education may be a drama show, but it's also extremely funny. How could it not be funny when we have an insecure teenager playing sex teacher for his fellow students? Since his mother is a sex therapist, he knows a thing or two about the topic, but it's mostly theoretical knowledge rather than practice. Sex Education stars Asa Butterfield, Gillian Anderson, Ncuti, Gatwa, Emma Mackey, and Kedar Williams-Stirling.
20. A Series of Unfortunate Events – 8.46
The series adaptation of Lemony Snicket's A Series of Unfortunate Events is up next, telling us the story of the three Baudelaire siblings who must go into the care of Count Olaf after their parents' death. As he tries to get his hands on the entire fortune, various mishaps happen. The show stars Neil Patrick Harris, Patrick Warburton, Malina Weissman, Louis Hynes, Will Arnett, Cobie Smulders, Usman Ally, and Nathan Fillion, as well as guest stars like Joan Cusack or Don Johnson. The show ran for three seasons, between 2017 and 2019.
21. Longmire – 8.45
We continue with a modern western crime drama, namely Longmire. This series follows Walt Longmire, a sheriff in a fictional town in Wyoming. As major crimes take place on his turf, he goes on to investigate and get to the root of the problem. The show kicked off in 2012 and had its final season in 2017, more than 60 episodes later. Longmire stars Robert Taylor in the main role, alongside Lou Diamond Phillips, Katee Sackhoff, Bailey Chase, Cassidy Freeman, and Adam Bartley.
22. Outlander – 8.45
We're up to a historical drama next, namely Outlander, which started in 2014 and it's still going strong. The show follows a former WW2 nurse who gets transported in time to 1743, where she encounters a Highland warrior with whom she becomes involved. Outlander stars Caitriona Balfe and Sam Heughan in the main roles, alongside Tobias Menzies, Bill Paterson, Graham McTavish, Maria Doyle Kennedy, and others. The fifth season ran in early 2020, so a sixth one is bound to land sooner or later, this time featuring 12 episodes.
23. Bates Motel – 8.42
Bates Motel is next, a psychological horror drama that acts as a prequel to Hitchcock's Psycho and follows the lives of Norman Bates and his mother, complete with the emotional abuse that defined the relationship. The show features Vera Farmiga, Freddie Highmore, Max Thieriot, and Olivia Cooke. Bates Motel ran between 2013 and 2017 and has 50 episodes throughout the five seasons.
24. Dash & Lily – 9.32
Next, we have a comedy-drama that premiered in November 2020. We follow the ups and downs of a budding romance between cynical Dash and optimistic Lily as they share their dreams and desires in a notebook they pass back and forth at different locations. There are only ten episodes out so far, but more will sure come given the success of the first season. The show stars Austin Abrams, Midori Francis, Dante Brown, and Troy Iwata.
25. Good Witch – 8.3
The list continues with Good Witch, a fantasy comedy-drama series in which we follow mother-daughter duo Cassie and Grace, both of them having gifts like enchanted insight and magical intuition. Good Witch stars Catherine Bell, Bailee Madison, James Denton, Rhys Matthew Bond, Sarah Power, Catherine Disher, and Kylee Evans. The show has six seasons out thus far, and a seventh season is incoming too.
26. Bodyguard – 8.28
Bodyguard is a British political thriller drama series that ran for a single season in 2018. This six-part series follows David Budd, a police sergeant and army vet who starts working for the Royalty and Specialist Protection Branch. He gets assigned to protect Home Secretary Julia Montague, which is when things start getting interesting. Bodyguard stars Richard Madden, Keeley Hawes, Gina McKee, Sophie Rundle, Vincent Franklin, Pippa Haywood, and more.
27. Orange Is the New Black – 8.27
Orange Is the New Black is a really cool show that focuses on life inside a minimum-security federal prison. There's hardship, there are funny moments, friendships and rivalries, love stories and drama. The show ran for seven seasons between 2013 and 2019, and it has over 90 episodes. The show stars Taylor Schilling, Laura Prepon, Michael Harney, Kate Mulgrew, Jason Biggs, Uzo Aduba, Natasha Lyonne, and a ton more.
28. You – 8.26
This next show will certainly mess with your perception as we follow Joe Golberg, a full-time bookstore manager and part-time serial killer who falls in love with a customer. Delusion, obsession, toxicity, and messed up relationships are all part of this show. You stars Penn Badgley, Elizabeth Lail, Victoria Pedretti, James Scully, and Jenna Ortega. Two seasons have been released thus far, and a third one is scheduled for 2021, although a release date is not yet known.
29. Unorthodox – 8.26
Released in March 2020, Unorthodox focuses on a young Jewish woman who is unhappy in her arranged marriage. She escapes the ultra-Orthodox community she lives in and runs away to Berlin, where she tries to navigate her new life and new beliefs. There are only four episodes to watch, but it's a show that will help you see life from a completely different perspective. Unorthodox stars Shira Haas, Amit Rahav, and Jeff Wilbusch.
30. The Blacklist – 8.16
The Blacklist is the kind of show that will draw you in as soon as you start watching. The show follows Red, a high-profile criminal who turns into a secret informant for the FBI. Alongside him, we have Elizabeth Keen, a rookie profiler and her team, trying to catch as many criminals as possible, thanks to Red's tips. The Blacklist stars James Spader, Megan Boone, Diego Klattenhoff, Ryan Eggold, Harry Lennix, Amir Arison, and Mozhan Marno. There are seven complete seasons, and the eighth one is underway right now.
31. Sense8 – 9.07
Created by the Wachowskis, Sense8 is a sci-fi drama that stars a multinational cast, portraying strangers from different areas of the world who discover they are mentally and emotionally linked. Sense8 stars Aml Ameen, Doona Bae, Jamie Clayton, Tuppence Middleton, Tina Desai, Max Riemelt, Miguel Angel Silvestre, and Brian J. Smith. The series was extremely well-received, and there were supposed to be more seasons, but Netflix canceled the show after Season 2 ended with a cliffhanger. Eventually, they released a two-and-a-half-hour series finale, wrapping up the story.
32. The Walking Dead – 8.02
This next show has been going strong for a decade – The Walking Dead. In this post-apocalyptic world, survivors of the zombie apocalypse are trying to gather to protect themselves against the walkers. Sometimes, however, humans are worse than zombies. The show stars Andrew Lincoln, Lauren Cohan, Danai Gurira, Melissa McBride, Norman Reedus, Steven Yeun, Jeffrey Dean Morgan, and others. Given the fact that the show has ten seasons already, the cast has changed a bit. A final season 11 is scheduled for 2022.
33. All American – 8
All American is the next series on our list, and it's a sports drama that was inspired by the real-life story of Spencer Paysinger. The show follows the rise of a high school American football player that got recruited early. All American stars Daniel Ezra, Bre-Z, Greta Onieogou, Samantha Logan, Michael Evans, and Cody Christian. Two seasons have been released thus far, and a third one is scheduled for late January 2021.
34. The Queen's Gambit – 8
This next miniseries is one you want to start when you have enough time on your hands to binge all seven episodes in one go because you won't want to stop. We follow chess prodigy Beth Harmon who rises to the top of the chess world, defeating masters at a growing rate. Her struggle with drug and alcohol dependency is also pretty prominent throughout the series. The Queen's Gambit stars Anya Taylor-Joy, Bill Camp, Harry Melling, Thomas Brodie-Sangster, and Marielle Heller.
35. How to Get Away With Murder – 7.95
Now a complete series, How to Get Away With Murder is a cool legal thriller and drama show that ran on ABC. We follow a law professor who gets involved in a murder plot alongside her students and goes on to try and solve the situation. The show has six seasons of 15 episodes each, so there's plenty to watch. How to Get Away With Murder stars Viola Davis, Billy Brown, Alfred Enoch, Katie Findlay, Aja Naomi King, and Matt McGorry.
36. Ghoul – 7.93
The next series on our list is Ghoul, an Indian creation that is set in a dystopian future. When a terrorist is interrogated in a secret government internment camp, a series of supernatural events start occurring. The show features Radhika Apte, Manav Kaul, Ratnabali Bhattacharjee, S. M. Zaheer, Mahesh Balraj, Rohit Pathak and Mallhar Goenka. Ghoul has a single season with only three episodes, so you could go through it in one sitting.
37. Bridgerton – 7.9
Recently released Bridgerton is a show that is already going viral for a multitude of reasons, from the good looks of the cast to the twists on history, and the hot scenes. Talking of which, you probably don't want to watch this with your parents or your kids around. This period drama centers around a powerful family in England, their friends and relations, as well as the relationship between Daphne and Simon, a Duke. Bridgerton stars Adjoa Andoh, Jonathan Bailey, Phoebe Dynevor, Ruby Barker, Sabrina Bartlett, and Harriet Cains.
38. House of Cards – 7.9
Next, we have House of Cards, a political thriller drama show that ran for six seasons. The show was extremely popular and was nominated for 33 Primetime Emmy Awards over the years. We follow Frank Underwood, a congressman who will do everything and anything to attain power. The show stars Kevin Spacey, Eric Roth, Joshua Donen, Dana Brunetti, and Andrew Davis. We should mention that Spacey is not part of season 6 following sexual misconduct allegations against him, resulting in his character getting killed off.
39. Ozark – 7.9
We're up to Ozark next, a crime drama show that follows a family that relocates to Ozark in order to launder money for various dangerous individuals. The couple gets deeper and deeper into this mess as the story progresses. Three seasons are out now, and a fourth and final one is scheduled to be released, featuring 14 episodes. Ozark stars Jason Bateman, Laura Linney, Sofia Hublitz, Julia Garner, and Lisa Emery.
40. Dead to Me – 7.87
Next up, we have Dead to Me, a dark comedy-drama series that follows the relationship between Jen and Judy, two friends. While Jen is recently widowed, Judy is grieving the death of her fiance, which brings the two of them closer. Judy, however, may have a few secrets that will affect the friendship. The show stars Christina Applegate, Linda Cardellini, James Marsden, and Max Jenkins. The show has two seasons out already, and a third and final one is coming soon. So far, Dead to Me has received four Emmy nominations.
41. Grey's Anatomy – 7.8
Who hasn't heard of Grey's Anatomy by now? The medical drama is up to its 17th season after it started airing in 2005. It's unclear when the ending will come, but it may very well be soon, so watch it as long as you still can. The show follows Meredith Grey and her team at the hospital, dealing with various emergencies and their own personal dramas. Grey's Anatomy stars Ellen Pompeo, Chandra Wilson, James Pickens Jr, Sandra Oh, Katherine Heigl, Patrick Dempsey, Sara Ramirez, and Eric Dane, to name a few.
42. The Sinner – 7.8
We continue with the anthology crime drama The Sinner. Each season of the show has a different case, with Bill Pullman's character being the one thing that links them all together. The show stars Jessica Biel, Christopher Abbot, Carrie Coon, Natalie Paul, Jessica Hecht, and Parisa Fitz-Henley, to name a few. A fourth season has already been ordered, so we're curious to see what other cases we'll have on our hands next.
43. The Vampire Diaries – 7.74
This supernatural teen drama was extremely popular at the time of airing and continues to bring in new fans. The series premiered in 2009 and ran through 2017, reaching 171 episodes over the eight seasons. We follow the complicated relationship between Elena Gilbert, a teenage girl, and Stefan Salvatore, a vampire. When his older brother turns up too, things get even weirder. The show stars Nina Dobrev, Paul Wesley, Ian Somerhalder, Kat Graham, Candice King, and Steven R. McQueen.
44. Glitch – 7.7
Glitch is a show that has already wrapped up, so you can binge on all three seasons. The story follows the events in a fictional town when seven people return from the dead. They're perfectly healthy, but have no memory, which further puzzles townies. The mystery of their return is slowly unraveled. Glitch stars Patrick Brammall, Genevieve, O'Reilly, Emma Booth, Emily Barclay, Ned Dennehy, Sean Keenan, and others.
45. Jessica Jones – 7.7
Next, we have Marve's Jessica Jones, a show that's based on the same-named character from Marvel Comics. Jessica Jones is a former superhero who opens a detective agency, solving various mysteries for her clients, while indulging in alcohol and dealing with her own problems. The show stars Krysten Ritter, Mike Colter, Rachael Taylor, Wil Traval, Eka Darville, Carrie-Anne Moss, David Tennant, and J.R. Ramirez. Jessica Jones has three seasons and nearly 40 episodes, so start binging!
46. Shameless – 7.7
We continue with Shameless, a comedy-drama series that follows Frank Gallagher, a single father of six whose love for alcohol pushes his children to learn to take care of themselves. The show has ten seasons, with the last one still airing, and an extra Season 11 that's called "Hall of Shame," which features new and original scenes to offer us a retrospective on each character's journey. Shameless features William H. Macy, Emmy Rossum, Justin Chatwin, Ethan Cutkosky, Shanola Hampton, Steve Howey, and others.
47. Grace and Frankie – 7.65
Grace and Frankie is a comedy-drama show that stars Jane Fonda and Lily Tomlin in the main roles. The two are reluctant friends who have to live together after their husbands fall in love and leave them. The show also stars Sam Waterston, Martin Sheen, and Brooklyn Decker. Six seasons have been released already, and a seventh and final one is currently filming, so there's a lot more to come.
48. Good Girls – 7.64
The next show on our list is Good Girls, which features three mothers who are barely making ends meet, so they decide to rob a supermarket. When someone figures out their identity, they need to branch out and keep working to stay out of prison. Good Girls stars Christina Hendricks, Retta, Mae Whitman, Reno Wilson, and Manny Montana. The show has three seasons already, and a fourth one has been ordered.
49. Luke Cage – 7.52
Luke Cage is another Marvel hero whose series you'll want to watch. Luke Cage is a former convict with superhuman strength and bulletproof skin who decides to fight crime, leading to some action-packed scenes. The show stars Mike Colter, Mahershala Ali, Simone Missick, Theo Rossi, and Rosario Dawson. There are only two seasons of the show, and Netflix canceled it back in 2018, so no new content will be available.
50. Manhunt – 7.5
Finally, we have Manhunt, a series where each season handles a specific story. The first season follows the hunt for the Unabomber, while Deadly Games, season 2, seeks to find the Centennial Olympic Park bomber, Eric Rudolph. Manhunt stars Sam Worthington, Paul Bettany, Jeremy Bobb, Jane Lynch, Elizabeth Reaser, Cameron Britton, Jack Huston, Carla Gugino, and others. A third season is expected sometime in the future.
How to watch the 50 best drama shows from another country?
The shows we listed above are currently available in the US on Netflix, but they may not be for you, locally. That's because as Netflix is available in almost all countries in the world, it also has a separate library for each location. Each of these libraries is geoblocked, so you can't enjoy it from any other country since licensing deals have to be respected.
However, if you want to watch any of the shows we mentioned and they're not available for you in your country, you can use a VPN. VPNs are nifty tools that can route your Internet connection through a server of your choice. This will make it appear as if you are in that country instead of your actual location.
We recommend NordVPN, since it's a solid tool with thousands of servers, including lots of them in the United States. They use top-level encryption protocols to protect your data and give you the privacy you need.
Here's what you need to do:
First, sign up for NordVPN. Our readers get 70% OFF the 2-year plan, down to $3.49 per month!
Then, you have to get the apps for your device and log into your account.
Find a server that's located in the US and connect to it.
Once the connection is established, you can load Netflix in your browser window or launch the app on your device, depending on what you're using.
There you have it! Now you can watch anything on Netflix, no matter what country it's available in! We're sure you'll make use of this feature for lots of titles.