We are reader supported and may earn a commission when you buy through links on our site.
Learn more
How to Watch Frida on Netlfix US from Anywhere?
Frida Kahlo was certainly one of the personalities that no one can ignore, and the film bearing her name is also one that everyone must watch. Thankfully, Frida is on Netflix, so you should hurry up and watch it too.
The biographical drama film Frida premiered back in 2002 and it follows the professional and private life of the painter. The film scores Salma Hayek in the main role, alongside Alfred Molina, Geoffrey Rush, Antonio Banderas, Edward Norton, Diego Luna, and many more.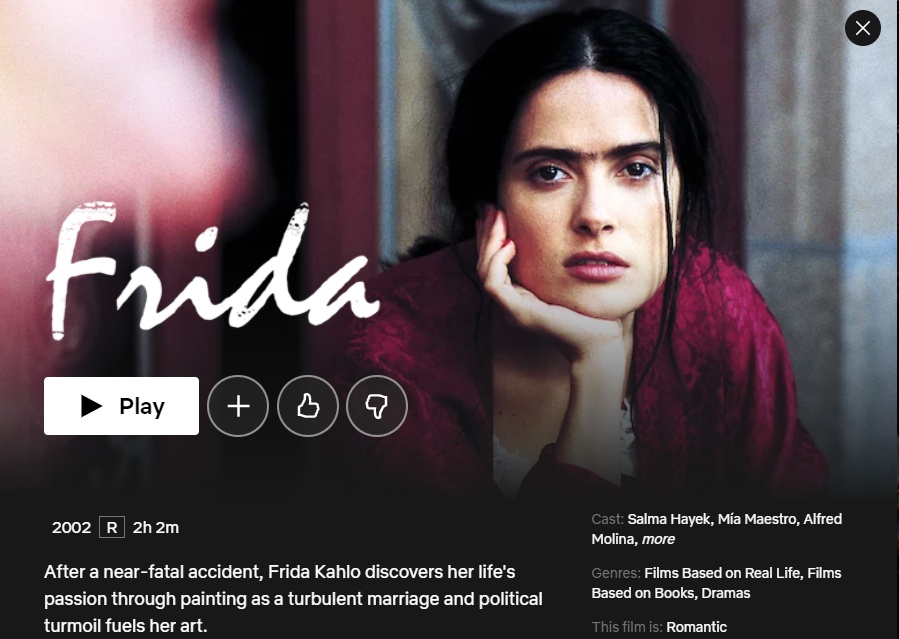 With a budget of just $12 million, Frida made over $56 million in the box office. It received six Oscar nominations the following year, including for Salma Hayek, winning two of them.
30-days money back guarantee
Is Frida Khalo (movie) on Netflix?
Frida is a great film and if you want to watch it on Netflix, you can do that. After scouring multiple local Netflix libraries, we found it is available in the United States.
As you already know, Netflix has individual libraries in each country it's available in. This is something that is directly tied to the licensing deals they've managed to sign for each country, and it's rather annoying, especially since everyone pays the same subscription fees, and yet some nations have a far more diverse library.
How can I watch Frida on Netflix US if I live elsewhere?
It's actually pretty easy to watch Frida on Netflix US, no matter where you are. All you need is your Netflix account and a VPN.
VPNs have the power to change your IP address in a few seconds. They route your Internet connection through their servers, encrypt everything, and assign a new IP address to your device.
We recommend NordVPN, which is the best tool we got our hands on, featuring thousands of servers in all corners of the world, and some great privacy features.
Here's how you can use NordVPN:
Start by subscribing to NordVPN and taking advantage of the 3 months they offer for free and 68% OFF the 2-year plan.
Next, sort out the apps and your account. Find a US-based server to connect to.
Once that's done, you have to reload Netflix in your browser or your app and search for Frida. Enjoy watching!
Won't Netflix know I'm using a VPN?
A while back, Netflix implemented technology to detect VPNs in an effort to stop people from watching movies they were, technically, not supposed to. However, that technology doesn't always work and we've generally noticed that NordVPN flies under the radar.
You never know, however, when they'll detect and block a set of IPs, and it's best to know what you have to do if you do have issues. The best way to go about this is to contact NordVPN's Customer Support and to ask for their help in finding a server that can circumvent Netflix. You'll get your solution in no time and get to watch Frida and anything else you want from Netflix US.
Why can't I use a free VPN?
Anyone that's run a simple Internet search has discovered plenty of so-called free VPNs. The problems with such tools are many and varied.
First of all, quite often, security researchers have found that VPNs marketed as free in app stores were, in fact, carrying Trojans or other malware designed to steal your personal information. From identity theft to financial fraud, and so on, you're simply at risk.
Editor's note: NordVPN is our #1 choice for unblocking Netflix. Sign up for the 2-year plan with NordVPN at $3.49 per month, as well as 3 months for FREE. A 30-day money-back guarantee is included on all plans, so you can cancel any time and get your money back.
Then, even if the apps truly are VPNs, they don't have loads of servers to use, but they do have loads of users. So, mixing these two elements together usually results in being unable to stream any type of content at a proper speed, which defies the whole purpose of using a VPN to watch Netflix.
Therefore, even if it does cost a few bucks, it's always best to go for premium tools that are reliable and work well.
Final thoughts
If you want to watch or rewatch Frida on Netflix, that's actually pretty easy to do, as you've noticed already. You simply have to use a VPN to get to any Netflix content you want.