We are reader supported and may earn a commission when you buy through links on our site.
Learn more
How to Watch Zodiac On Netflix US, UK, or Canada
When it comes to thrillers, Zodiac is certainly the type of movie you want to watch every now and then. Thankfully, Zodiac is available on Netflix, which makes things that much easier.
Zodiac premiered back in 2007, and it's directed by David Fincher, a name you'll know for making Fight Club, Panic Room, The Girl with the Dragon Tattoo, Gone Girl, or The Curious Case of Benjamin Button, as well as shows like Mindhunter or House of Cards.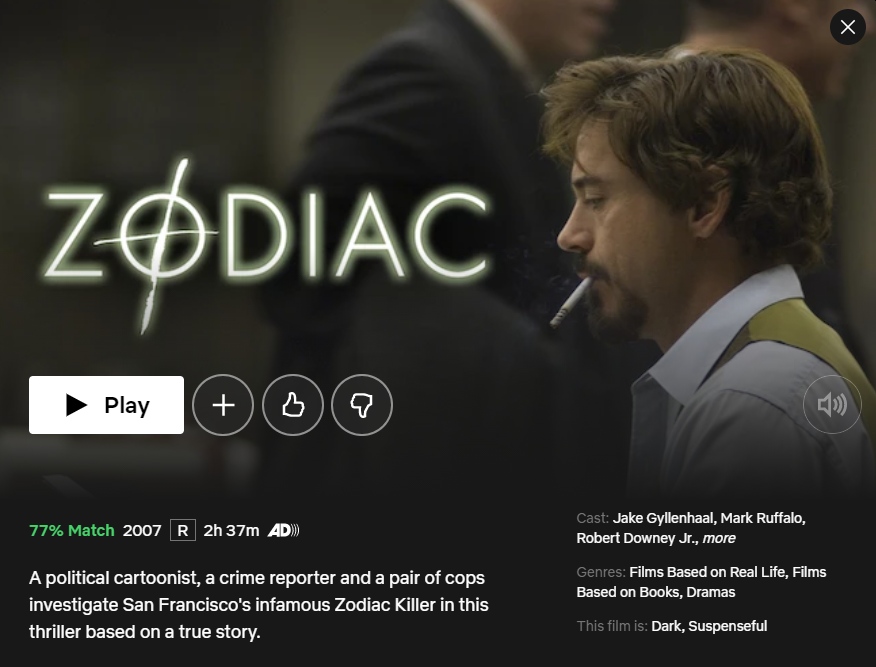 The film follows the manhunt for the Zodiac killer, a serial murderer who terrorized the San Francisco Bay Area in the 60s and 70s, taking his game one step further by taunting the police. In what seems like a pre-Marvel gettogether, we have Jake Gyllenhaal, Mark Ruffalo, and Robert Downey Jr. playing together.
30-days money back guarantee
Can I watch Zodiac on Netflix?
Thankfully, Zodiac is a movie that's available to watch on Netflix. Of course, the movie isn't available everywhere, as Netflix has different libraries for each country where it's available in. However, we did find it on Netflix US, Canada, and the UK, so that should be good enough.
Watching Zodiac on Netflix in these countries is easy to do if you live in these countries, but also if you live elsewhere. The only thing you're going to need is a VPN.
How can I watch Zodiac on Netflix US?
Even though we all pay similar subscription prices, Netflix US has a far more complex library. Therefore, if you'll access Netflix US to watch Zodiac, you'll also enjoy loads of other movies, documentaries, and shows that are missing from your home Netflix.
However, since Netflix only allows access to its libraries based on where you live, you won't get Netflix US from abroad without a little help. In order to do this, you'll need a VPN.
VPNs can route your Internet connection through their own servers, encrypt everything, and assign a new IP address to your account to match others in your chosen location. In this way, the sites you access will believe you are wherever your selected server is.
Our recommendation is NordVPN, which is a cool service that has thousands of servers in numerous countries, uses top encryption protocols to secure your connection, and is super easy to use.
Here's what you have to do:
First, you have to subscribe to NordVPN, and since they're offering 3 months for free and 68% OFF the 2-year plan, down to $3.49 per month, we think you should do that as soon as possible.
Once you sort out the apps and your account, you have to look for a server that's in the United States (or Canada, or the UK).
As soon as the connection is established, you'll be able to load Netflix in the browser and look for Zodiac.
Won't Netflix know I'm using a VPN?
Netflix has VPN-detection software on its platform, but it doesn't always work, especially with premium VPNs. Our experience has so far been smooth sailing, but it doesn't mean that there can't be issues in the future.
In the event that Netflix blocks your access while using NordVPN and tells you to shut down your app before reloading, you have to first contact NordVPN's Customer Support. Since they're available 24/7, it shouldn't be too difficult to get a response. As soon as you explain your situation, they'll guide you towards a server or two that will certainly circumvent Netflix.
Why not use a free VPN?
The market holds numerous VPNs today, including some so-called "free VPNs." Although we understand the temptation, we recommend against using such tools.
Quite often over the years, security researchers have managed to detect Trojans or other malware hidden in app stores as they posed in VPNs. Falling in this kind of trap can very well mean that you simply hand over your personal information, including banking data, to cybercriminals. This can lead to targeted ransomware, identity theft, or financial fraud. The list is, of course, quite long.
Editor's note: NordVPN is our #1 choice for unblocking Netflix. Sign up for the 2-year plan with NordVPN at $3.49 per month, as well as 3 months for FREE. A 30-day money-back guarantee is included on all plans, so you can cancel any time and get your money back.
Other types of free VPNs can be undesirable because they have a few servers and many users. With loads of people using the same servers, your Internet speeds will lower drastically, and you will barely (if at all) be able to stream Zodiac or anything else, for that matter.
There are also other free VPNs that will use your computer as a sort of server for other users, while you use theirs. This will translate into your device's performance lowering significantly.
Whichever way you put it, using free VPNs isn't a good idea as you put yourself at risk.
Final thoughts
We know that paying for a VPN on top of all your other monthly bills may not be something you want to do, but it's a good investment in order to protect your devices, your data, and your privacy. We hope that we've made it easy for you to watch Zodiac on Netflix anywhere you may be.