We are reader supported and may earn a commission when you buy through links on our site.
Learn more
How to Watch All Harry Potter Films on Netflix from Anywhere
Back in 1997, one of the most famous book series in the world was published, namely Harry Potter. Four years later, the movies also started to appear in what soon became the world's biggest franchise. If you are also a Harry Potter fan, then watching and rewatching the movies over on Netflix is certainly something you'll be attracted to, so let's see exactly how are you can do that.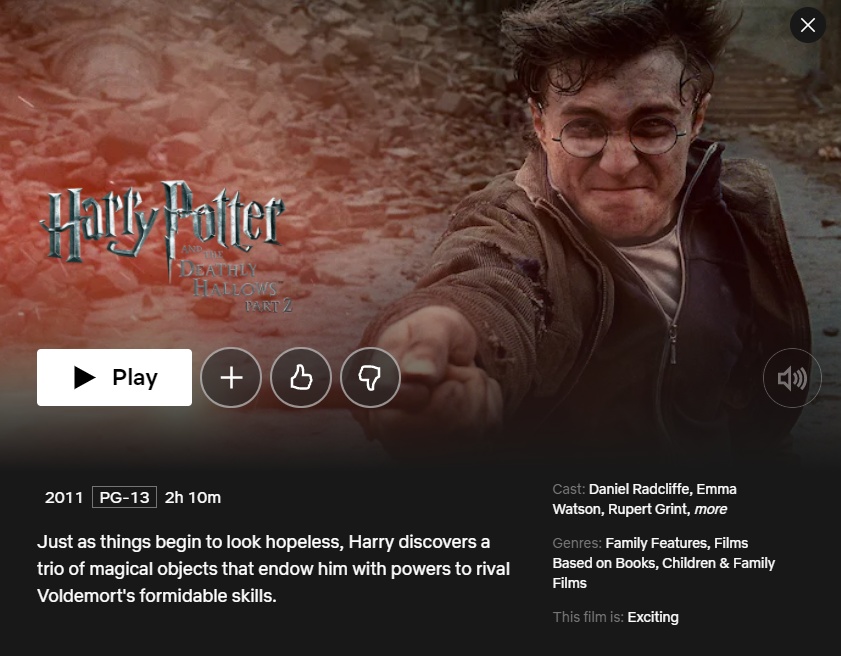 We watched the cast grow right before our eyes, as we grew to love them all, good and bad. The Harry Potter cast features Daniel Radcliffe as the Boy Who Lived, Emma Watson, Rupert Grint, as well as Robbie Coltrane, Tom Felton, Alan Rickman, Dame Maggie Smith, Richard Harris, Michael Gambon, Helena Bonham Carter, Ralph Fiennes, Brendan Gleeson, Gary Oldman, Fiona Show, David Thewlis, Mark Williams, and Julie Walters, and many, many others, as they brought life to the characters of the books we all love so much.
Seven books were translated into eight movies, and we can enjoy them anytime we want straight on Netflix.
Harry Potter and the Philosopher's Stone (Chris Columbus) – 2001
Harry Potter and the Chamber of Secrets (Chris Columbus) – 2002
Harry Potter and the Prisoner of Azkaban (Alfonso Cuaron) – 2004
Harry Potter and the Goblet of Fire (Mike Newell) – 2005
Harry Potter and the Order of the Phoenix (David Yates) – 2007
Harry Potter and the Half-Blood Prince (David Yates) – 2009
Harry Potter and the Deathly Hallows – Part 1 (David Yates) – 2010
Harry Potter and the Deathly Hallows – Part 2 (David Yates) – 2011
How can I find Harry Potter on Netflix?
As you may know, Netflix is present in close to 200 countries, and it has a separate library for most of these. Unfortunately, if you live in a different area, you won't get to access the content from your neighboring countries, for instance. The United States, for example, you cannot access the Canadian library and vice versa. In our case, that's quite unfortunate because Harry Potter is not present in the United States on Netflix.
However, if you have the right tools, it doesn't really matter where you live because you'll still get to enjoy the content you want – including Harry Potter movies – as long as you have an internet connection and an active Netflix subscription. You will also need to have a VPN.
30-days money back guarantee
We found the Harry Potter movies, all eight of them, available in the United Kingdom or Romania, for instance, while Canada features the last four films of the series.
VPNs have the awesome power to change your IP address so that you appear to be in whatever corner of the world you want to be. They will route your internet connection through their private servers and assign your device a new IP address, so the sites you are accessing will believe you are in a different location.
Our recommendation is to use NordVPN, as this is an awesome tool, with thousands of servers in all corners of the world and some great privacy features – which will certainly come in useful.
Here's how to set up your NordVPN account:
First, you'll need to visit the NordVPN website so that you can subscribe to the service. They offer three months for free and a huge discount for the 2-year plan, so you should definitely grab that deal.
Once you get the right app for your devices, you can find a server in the United Kingdom for you to connect to.
When the connection is established, you'll be able to load Netflix in your browser or reload the app and look for the Harry Potter movie that you are interested in watching.
That's it! You can now go ahead and enjoy the Harry Potter movies on Netflix no matter where you are.
Won't Netflix know I'm using a VPN?
Well, it's true that Netflix has implemented technologies to detect people who are using VPNs and then block their access, but this feature does not always work. In fact, if you have the right tools, you can sail right past it.
Netflix often detects free VPNs, and the IPs get blacklisted, so they cannot access any of the service's content. We've had a pretty great experience when using NordVPN on Netflix, but that does not mean that they cannot somehow blacklist some NordVPN IPs at one point or another.
If that were to happen to you, you simply have to contact the NordVPN support team, and they will be more than happy to help you find a server that works with the platform you are interested in accessing. They are available 24/7, so it doesn't matter where you live because there's going to be someone available to answer your questions and help guide you.
Why not use a free VPN?
Perhaps one of the biggest issues we have nowadays is that we've become accustomed to getting free software to use for our various needs, so we believe that's also what's best to use when it comes to VPNs. However, that's as far from the truth as it can be, as free VPNs can often be dangerous to use.
For instance, security researchers have discovered in the past that many so-called free VPNs were actually carrying malware. This type of malware can be quite problematic for those who fall for the ruse. Malware like this can steal your personal information and your login details for various platforms, including your emails, your banking data, and your company's information. This can lead to identity theft, banking fraud, or data breaches for your employers. That's a lot of headaches for just using a free tool.
Editor's note: NordVPN is our #1 choice for unblocking Netflix. Sign up for the 2-year plan with NordVPN at $3.49 per month, as well as 3 months for FREE. A 30-day money-back guarantee is included on all plans, so you can cancel any time and get your money back.
Some VPNs actually work, but they have few servers at their disposal, given how the funds are also limited. Under the circumstances, with loads of users on the servers, this can lead to internet speeds that will barely load you a text-based webpage. Streaming a film like Harry Potter is not going to be in the books for you with such a tool, even if they did make it past the security measures that Netflix has against VPNs.
There are also VPNs that will use your own device as a sort of server for others in exchange for you using theirs. There's can seriously affect your device's performance, so again, it's not advisable for you to use such a tool either.
Final thoughts
We know that it's going to cost you a few dollars each month, we really do think that using a premium VPN is the right way to keep your data and your devices safe, while also enjoying a good time when watching Harry Potter on Netflix.