We are reader supported and may earn a commission when you buy through links on our site.
Learn more
How to Watch All Supernatural Seasons on Netflix from Anywhere
Supernatural has been a part of our lives for 15 years now, and it's sadly coming to an end that is both highly anticipated and highly dreaded by fans around the world. Thankfully it's possible to watch Supernatural on Netflix, so you can always go back to the episodes you love.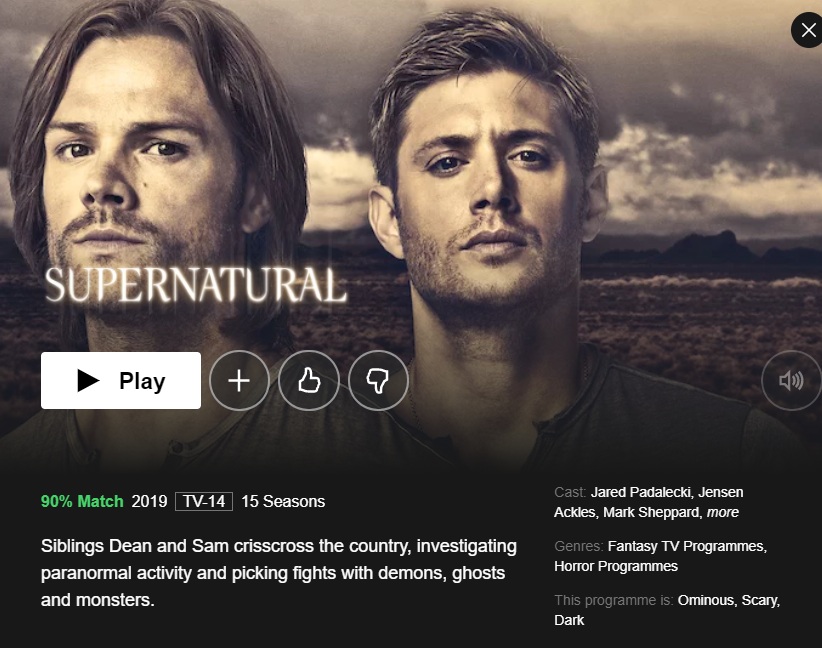 Supernatural is a TV series that was created by Eric Kripke for the CW, formerly known as the WB. The show stars Jared Padalecki and Jensen Ackles as Sam and Dean Winchester – two brothers who go to find and hunt demons, ghosts, and various monsters and supernatural creatures while also facing personal drama.
Over the years, the series has gained a cult following, and fans are pretty much everywhere. As the second half of the last season returns to The CW and the final episode is coming faster than ever, fans are quite eager, emotional, and distressed about finally having the series coming to an end and wondering whether it is going to be a happy one or a sadder one. Of course, as any series, especially one with a fan following like Supernatural has, there's a great pressure to deliver a proper ending that will make fans happy but also stay true to the story that's been told so far.
Is Supernatural on Netflix?
Supernatural was added on Netflix quite a while back, but it does depend on where you live, as the show is not available to stream in all Netflix markets. As you may already know, Netflix has about 200 platforms around the world, and each of these has its own combination of movies and shows, depending on what licensing deals they managed to sign and what other platforms are available locally. The problem with the situation is that everyone pays pretty much the same subscription price, but we're not all getting the same content, including Supernatural.
30-days money back guarantee
For instance, we managed to find Supernatural on Netflix in the United States, but it is sadly missing from many other countries, including the United Kingdom, Australia, and many others.
If you have a Netflix account, however, you will be able to watch Supernatural no matter where you are, and we're going to teach you how to do that.
When is Season 15 of Supernatural coming to Netflix?
Season 15 of Supernatural is actually already available to stream on Netflix, but it's only the first series of episodes that were released back in spring before the pandemic hit, and there was a break in the episodes. Therefore, if we want to watch the first 14 seasons of Supernatural plus half of Season 15, you can definitely head over to Netflix. Furthermore, we learned the rest of the episodes are likely to get added soon as well.
How can I watch Supernatural on Netflix?
If you are a Supernatural fan and you don't live in the United States where Netflix has the series available, it doesn't really matter because you can still watch it all. In order to do this, you will simply need to have an active Netflix account, an internet connection, and a VPN.
VPNs are really cool tools that allow you to stream content from any corner of the world because they allow you to appear to be in any country you wish to be. In our situation, you're going to want to pick the server from the United States.
Our recommendation is to use NordVPN, a great tool with thousands of servers worldwide and some great privacy features that allow you to protect your privacy and identity.
Here's what you need to do to make it work and watch Supernatural on Netflix US:
You'll need to start by subscribing to NordVPN. You'll get 3 months for free when you sign up, as well as a 68% discount on the 2-year plan.
Then, you need to sort out the apps for your device and sign in to an account. Find a server in the United States and connect to it.
Once the connection is established, you'll be able to load Netflix in your browser or relaunch the app on your device, find Supernatural, and start streaming the episodes you are interested in.
That's it! It's not exactly complicated, and we think we've made it even easier for you.
Won't Netflix know I'm using a VPN?
Netflix implemented a new technology some years back, enabling it to figure out when people are using VPNs. It's not exactly complicated, as they will scan for the people who share the same IP and block those IPs out. In fact, it's something that particularly works against free VPNs, as they have very few protections against this type of situation on Netflix.
When it comes to NordVPN and other premium tools of this kind, we've noticed that they usually fly under the radar of Netflix and do not get blocked. This may be a result of multiple technological reasons, but in the end, it's the fact that you get to watch Netflix from anywhere that actually matters.
If it does happen that you get blocked from Netflix even when using NordVPN, you should start by changing your server and clearing out your cookies. If that doesn't work, you can definitely head over to the customer support team and have a chat with them. They'll be more than happy to guide you towards a server that works with your desired service. The NordVPN support team is available 24/7, so it doesn't really matter where you live, as you get to talk to someone and sort your problems out.
Why can't I use a free VPN instead?
We know that paying for a subscription like the one for NordVPN is not something that you want to add to your monthly burden, but it's definitely something that will help you out. Free VPNs are more often than not detected by Netflix, and that's quite annoying, especially as you try to find a way to watch Supernatural.
Editor's note: NordVPN is our #1 choice for unblocking Netflix. Sign up for the 2-year plan with NordVPN at $3.49 per month, as well as 3 months for FREE. A 30-day money-back guarantee is included on all plans, so you can cancel any time and get your money back.
Another issue and even a more important one when it comes to free VPNs is that they are not the safest ones to use. Security researchers have discovered time and time again, various apps that were actually carrying malware. Obviously, that's not something you want on your device, and people who got infected had their data stolen by cybercriminals. With the type of data, the malware collected, financial fraud, identity theft, and data breaches are on the list of possibilities.
Personally, we wouldn't like to gamble with our privacy, especially under these circumstances.
There are also other things you need to take into consideration, such as the fact that free VPNs have few servers at their disposal and lots and lots of users. Even if your chosen free VPN could get past the blockade on Netflix, you would still want to make sure you had proper internet speeds, which is not something that a free VPN can provide. That's mostly because when there are numerous users and just a handful of servers, there are going to be really low internet speeds available for you. That being said, Netflix requires quite a lot of bandwidth, so watching anything on the service is going to be a pipe dream.
We must also mention another type of VPN that uses peer-to-peer routing, which is something that you won't exactly want to do. These apps are going to use your own device as a server for other people to bounce off of. The problem is that the app doesn't stop using your device in this matter when you stop using the app, so your computer's performance will be impacted heavily even after you shut the VPN down. We've also noticed quite a few reports that this type of apps rarely use any kind of encryption, so your personal information is at risk.
Final thoughts
Supernatural is a really great show, and we are sad to say that it's sending. With the final episode titled "Carry On," (after the famous "Carry On My Wayward Son" by Kansas that is used as the soundtrack for the first and last episodes of Supernatural), we can only expect things to get even more emotional. We are glad to be able to watch Supernatural on Netflix, and we think that you should definitely be joining in, even with the help of NordVPN.