How to Watch Swiss TV from Anywhere in the World?
Due to a long list of reasons, TV channels and streaming platforms are generally geoblocked. If you live in Switzerland, that means you won't be able to access the channels and platforms you love when you're abroad.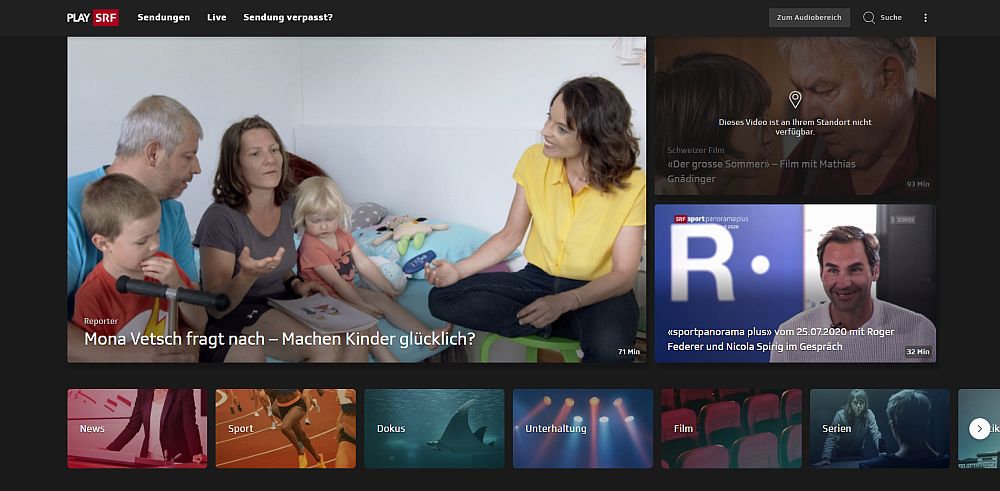 TV channels come with live streams, and streaming platforms work locally only – that's how things work. We can probably mention Netflix or HBO as services that work in multiple countries, but even with them, the service is blocked to specific countries so visitors can only enjoy the content that's available in that specific region.
The same applies to Swiss service, which will be quick to display a notification that tells you the content can only be viewed in Switzerland. This happens because the site reads your IP address and knows you're not within the country's borders.
Since they rely on IPs, however, it's easy to circumvent the blockade entirely with the help of a VPN. VPNs can spoof your IP, so you appear to be wherever you want to be, while also encrypting the traffic.
30-days money back guarantee
How to use a VPN?
VPNs are complex tools, but they're relatively easy to use, so you shouldn't have any issues in figuring things out. As a bonus, all these services have intuitive interfaces, so we're sure there won't be any issues in finding out what needs to be done.
We recommend NordVPN because it's a tool with thousands of servers worldwide and some great privacy features. It has servers in close to 100 countries, including Switzerland, so you'll be just fine whenever you travel away from home.
Here's what you need to do:
Start by subscribing to NordVPN. They're running a deal where you get 3 months for free and 68% OFF the 2-year plan, paying $3.49 per month, so take advantage of it!
Once you've got the apps set up, go look for a server that's located in Switzerland and connect to it.
The app will tell you when the connection is established. Now you can load the Swiss service you want to access!
This method is straightforward and should be easy for everyone, including the less tech-savvy.
What if I still can't watch anything?
Sometimes, streaming platforms and TV live streams will figure out that you're not where you "say" you are, meaning in Switzerland. Some services have VPN detection software deployed and will know when you're using a VPN. This only happens if they've somehow blacklisted a class of IPs used by the VPN service you have installed.
If this happens when you're using NordVPN, you need to contact NordVPN's Support Team, explain your situation, and they'll be happy to help you find a server that works with the stream you're looking to access.
Editor's note: NordVPN is our #1 choice for unblocking Netflix. Sign up for the 2-year plan with NordVPN at $3.49 per month, as well as 3 months for FREE. A 30-day money-back guarantee is included on all plans, so you can cancel any time and get your money back.
Don't use free VPNs!
We know that paying for a VPN may not be something you want to do, especially when we've all become so accustomed to so much freeware, but when it comes to VPNs, that's really not advisable.
Most of these VPNs have a few servers and a lot of users, which means you'll be handed a really slow Internet. Plus, they're easy to track by platforms, so they're usually blacklisted by most streaming platforms, which means they won't even help you watch the content you're looking for.
Furthermore, they're also quite risky as you may very well infect your device when you install these. Many Trojans have been found through app stores posing as a VPN.
What channels can I watch from abroad?
When you're traveling the world but still want to keep in touch with the services you like from back home, you can do that rather easily. Here are some of the Swiss platforms that can be unblocked with NordVPN:
ZDF
ARD
Rouge TV
TVM3
RTS