We are reader supported and may earn a commission when you buy through links on our site.
Learn more
Kodi on Fire Stick: How to Install The Latest Version of Kodi on the Fire Stick or Fire TV
Need some help getting the latest version of Kodi up and running on your Fire TV? We walk you through the process, using adbLink, Downloader, and apps2fire. They sound more technical and complicated than they are, so just follow our guide step by step, and you'll be streaming in no time!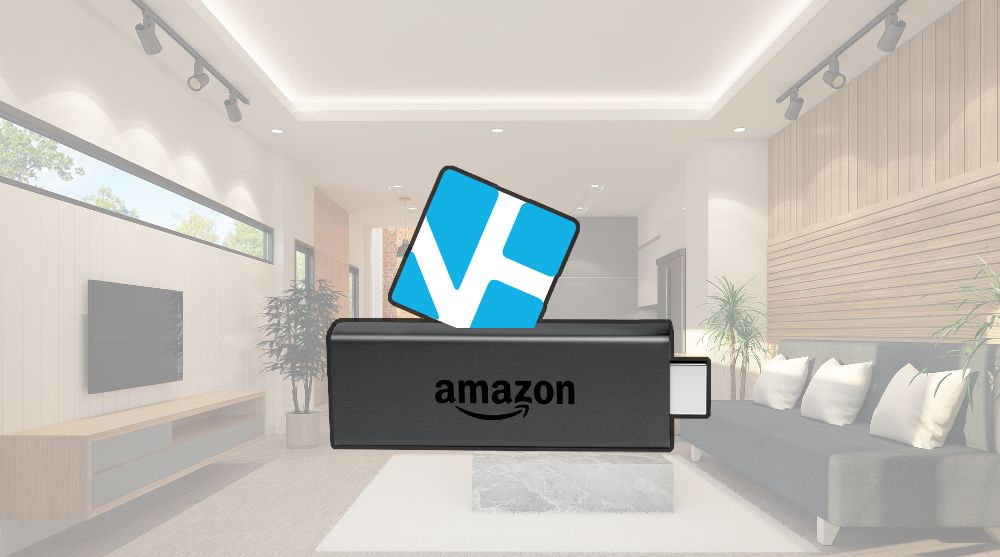 Kodi is by far one of the best media center apps around. It's free, easy to use, runs on a wide variety of devices, and it supports a ton of fantastic third party add-ons, everything from live sports to music to live TV channels. You can even download custom Kodi builds for Fire TV!
Keeping Kodi up to date with Fire TV can be a little more difficult than on other devices though, all due to the nature of Kodi installs. If you think your version of Kodi is starting to fall behind, read on for our full guide on how to install the latest version of Kodi on the Fire Stick or Fire TV. And don't worry, upgrades will only take a few minutes!
30-days money back guarantee
Remember – Always Use a VPN with Fire Stick
It doesn't matter if you're installing Kodi 17.6 on your Fire Stick, running a sideloaded copy of YouTube on Fire TV, or just streaming a few movies you rented through Amazon, using a VPN while running your device is always a smart decision. VPNs encrypt data leaving your home network to keep traffic anonymous and secure. Without it, it's easy for anyone to spy on your activity, including ISPs, government agencies, and even hackers.
Finding the best VPN to use with Fire TV can be challenging. You need top notch speeds to keep video quality as high as possible, but you can't sacrifice privacy or security in the process. We've researched the top VPN providers to find the services that work best with Kodi and Fire TV. Our recommendation is below, and it's the perfect solution for safe, private, and easy video streams on Fire TV.
NordVPN – Best VPN for Kodi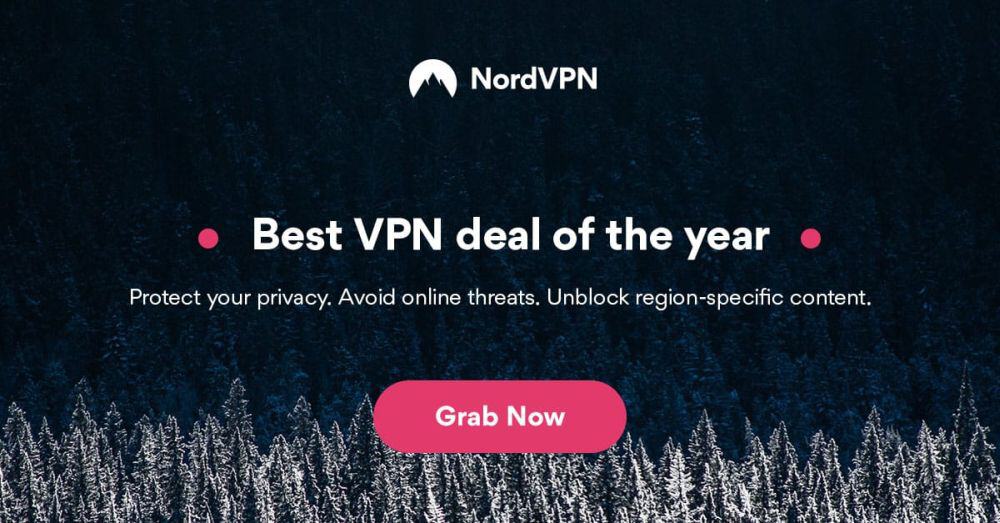 NordVPN has been around for almost a decade, but they've done anything but remain stagnant. They've taken in the feedback of thousands of users over the years, and have refined their offering to become the most sophisticated privacy solution on the market. And one of the more recent developments is a dedicated app for Firestick–no sideloading, jail breaking or router installations required.
What's more, NordVPN has grown its server network to epic proportions, covering more than 5,500 nodes in 59 countries. If that weren't enough, they also launched NordLynx–a branch of the cutting-edge WireGuard protocol–geared for speed but utterly uncompromising on your security. Shrouded by the 256-AES-GCM encryption cipher, you'll stop third-party surveillance of your Kodi traffic–blocking out ISP tracking and throttling for good.
Connecting to an encrypted NordVPN server also has the benefit of "spoofing" your IP address to match that of the country where the node resides. With your new false digital identity, you can fool websites, apps, and Kodi add-ons into serving you streaming content which would otherwise be restricted behind geoblocks. And, rolling with a spoofed IP anonymizes your traffic, making you intensely difficult to target with the most common cyber-attacks. Backed by NordVPN's strict no-logging policy, you can stream, download, or browse in total privacy.
Read our full NordVPN review.
Pros
SPECIAL OFFER: 2-yr plan (68% off - link below)
Extensive server park of over 5,400 different servers
Allows multiple connections (6 devices)
Strict zero logs policy on both traffic and metadata
Live chat support is available.
Cons
Very little
Can't specify City or Province in App.
Preparing Your Fire Stick for Kodi Installation
Since Kodi isn't available to download directly from the Amazon app store, you'll need to go through a process known as sideloading to get it installed. It isn't as complex as you might think, but before you begin, there are a few things you should check first.
Recommended vs Nightly Builds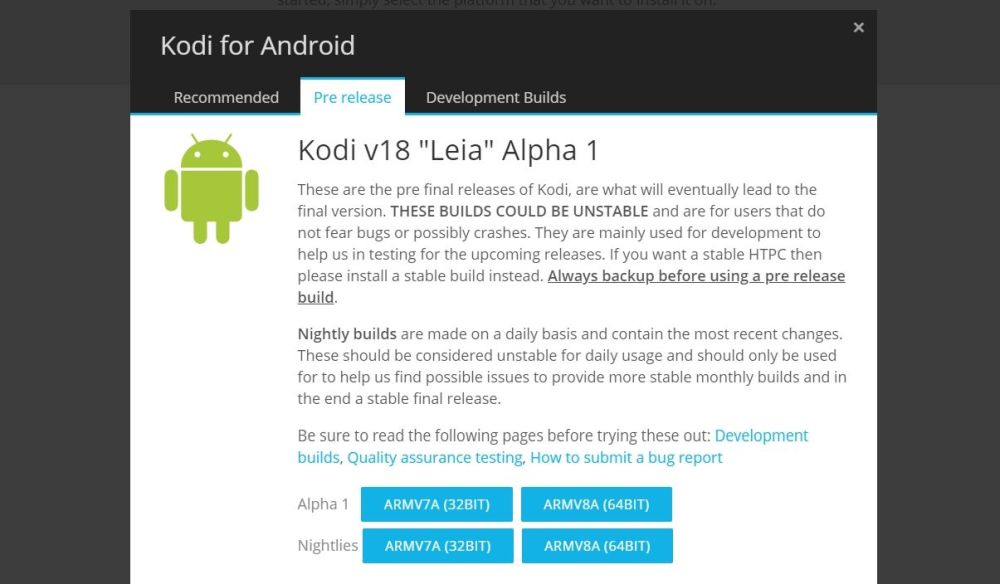 When you head to Kodi's downloads page and click on the Android icon, you'll notice several tabs at the top of the screen: Recommended, Pre-release, Development Builds. These three sections split the downloadable content into categories designed for a slightly different audience. Which one you choose depends on your specific needs.
Almost everyone will want to stay on the Recommended tab and download the latest stable version of Kodi. This may be a full release cycle behind the other tabs, but the compatibility is guaranteed, and you won't run into any kind of crashes or other errors that might be present in pre-release or development builds. Plus, since sideloading takes more time than a quick "click and install", you don't want to go through a new update every couple of weeks.
Pre-release builds are semi-stable alpha and beta releases of the upcoming Kodi version. This will be a bit further ahead than the recommended "stable" build, but you can run into compatibility and crashing issues, since the software isn't finalized. Development builds are even more cutting-edge than the pre-release builds and can be updated as often as every night.
Unless you need the absolute latest in Kodi software and don't mind sideloading an apk file every few days, always download the recommended build for Kodi, as it's the latest stable release.
Verify Your Kodi Version Number
If you're installing the latest version of Kodi, you'll first want to make sure it's actually necessary! Large Kodi updates are only released a few times per year, at their most frequent. Follow the steps below to check the version number of your Fire TV's Kodi installation.
Run Kodi on your current Fire TV or Fire Stick device.
Go to the main menu and click or tap the gear icon to enter the settings page.
Scroll down to the System Information icon.
Make sure you're on the Summary tab.
The Kodi version number will be displayed in the lower right corner of the screen where it says "Build".
Take this build number, then go to your PC web browser and visit the Kodi downloads page.
Scroll until you see the Android icon and click it.
Look under the "Recommended" tab for the current Kodi release. If it's equal to what you have installed, there's no need to upgrade.
Allow Unknown Sources
Installing software to your Fire TV device means going through the process of sideloading. The Fire TV operating system has a default setting that disables external installations by default, so in order to add Kodi to your system, you'll need to disable it. Doing this is perfectly safe and won't harm your device in any way. Follow the steps below and you'll be ready to sideload in just a few seconds.
Go to your Fire TV's settings page located at the top of the home menu.
Scroll right and choose Device
Move down to Developer Options
Set Apps from Unknown Sources to ON.
Accept the warning message about installing external apps.
Should You Uninstall the Old Version of Kodi First?
Unless you want to start over from a fresh install of Kodi, there's absolutely no reason to uninstall the previous version of the software before getting the latest release. In fact, it's better if you leave the original one installed, as this will preserve your settings, add-ons, and sources so you don't have to configure everything again. Simply install the new Kodi over the old one, that's it!
How to Install the Latest Version of Kodi on Fire TV
Got everything set up and ready to go? The actual installation process is a breeze once you've assembled all the materials. Below we'll cover three of the main sideloading methods most people use for adding new apps to their Fire Stick and Fire TV devices. You can choose any one you like.
Method 1 – adbLink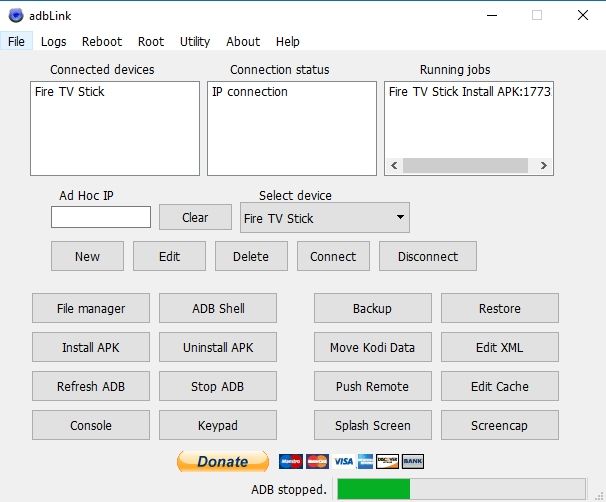 If you have a good laptop or desktop PC on the same network connection as your Fire TV device, or if you want to sideload or manage multiple apk files with ease, using adbLink is by far your best option. This free software lets you connect to your Fire Stick to wirelessly add new programs, uninstall apps, and even browse the built-in file structure. It's an incredible tool no Fire user should go without, especially if you sideload apps on a regular basis. Available for Windows, Mac OS and Linux.
Below are the instructions for installing adbLink and using it to sideload the latest version of Kodi on your Fire TV or Fire Stick device.
Switch on your Fire TV stick and turn on the connected TV.
Make sure "Apps from Unknown Sources" is set to ON. If you followed the preparation steps above, it will be set.
Go to Settings > About – Network and write down the IP address of your Fire TV Stick.
Visit the adbLink website on your PC and download the program.
Install adbLink and launch it.
In adbLink, click "new" next to the devices box to add your Fire TV Stick.
Type the IP address of your Fire TV Stick into adbLink and save the changes.
On your PC, visit the Kodi download page, click on the Android icon, and get the ARMV7A version of the apk. Save it somewhere easy to access, like your computer desktop.
In adbLink, click the Install APK button.
Select the .apk update file you just downloaded.
Click Yes when the Install APK prompt appears.
The new version of Kodi will install to your Fire TV Stick and be available to use in a few moments.
Method 2 – Downloader App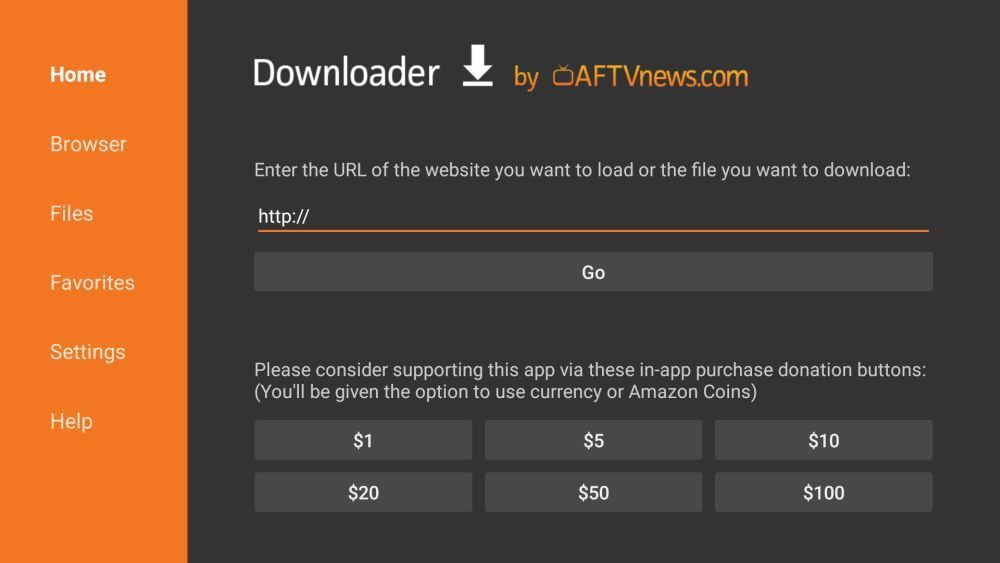 If you don't have access to (or just don't want to use) a separate PC program to sideload, the Downloader app is a fantastic alternative method. All you need to do here is get the app on your Fire TV by downloading it from the built-in marketplace, type in the URL to the Kodi apk, then install. It's simple and easy, though typing long links using the Fire Stick remote can be something of a hassle.
Follow the steps below to use Downloader to sideload Kodi onto your Fire device.
Open the Amazon Appstore on your Fire TV by going to the home page and choosing Apps.
Browse for Downloader under the utilities category and install it.
While that installs, visit the Kodi downloads website on your PC.
Click on the Android downloads icon and stay on the Recommended tab.
Look at the direct link for the latest Android ARMV7A release build. It should automatically point to the latest version of Kodi.
Copy this URL somewhere safe. You could also take a picture using a smartphone.
Back on your Fire Stick, run the Downloader app.
Type the URL from above into Downloader's URL box.
Downloader will fetch the file from the website.
When the download completes, choose to install and launch the apk automatically. Kodi will then be accessible from your Fire Stick at any time.
Method 3 – apps2fire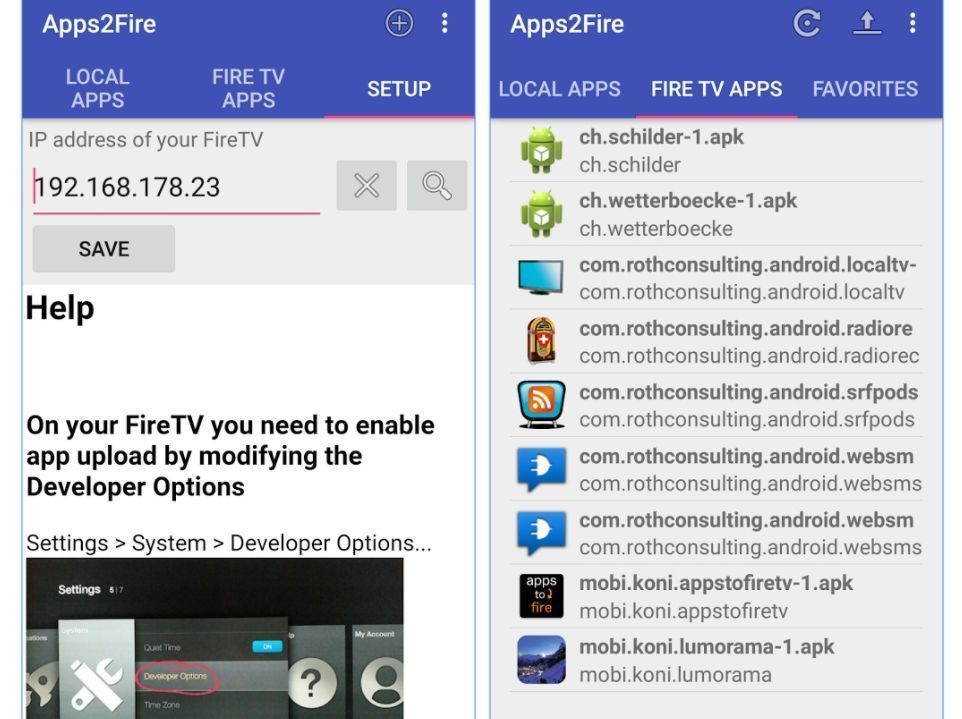 If you have a separate Android device you often use, installing Kodi to your Fire Stick via apps2fire is probably the most convenient method of sideloading around. The software simply copies Android apps from your smartphone to Fire TV, it's that simple. You'll need to install Kodi on your other device first, but then apps2fire will take care of the rest.
Follow the guide below to sideload the latest version of Kodi to Fire TV using apps2fire.
On a separate Android device from your Fire TV, install apps2fire. Make sure it's the official one developed by Koni, not one of the copycats.
Install or update Kodi on the same Android device. There's no need to visit the Kodi download website, just use the Google Play store.
Run apps2fire and let it create a list of your local installs.
When the scan is complete, slide the menu left and tap Setup.
On your Fire TV, go to Settings > About – Network and write down the IP address.
Back in apps2fire, enter your Fire TV's IP address and tap "Search Fire TVs".
Go to the Local Apps tab and scroll down to Kodi.
Tap the icon, then select "Install" when the window opens.
After a moment, Kodi will upload to your Fire TV and install. This can take a few minutes depending on the speed of your home Wi-Fi.
After a few moments, apps2fire will notify you when the install is complete. Now run Kodi on your Fire TV and you're set!
Conclusion
Kodi is an incredible piece of software that works as an unofficial alternative to Netflix and a replacement for dozens of other popular pieces of software. It runs like a dream on Fire TV, as well, so once you get it installed and start streaming, you'll be hooked!