We are reader supported and may earn a commission when you buy through links on our site.
Learn more
Best Kodi Add-ons for TV Shows in 2021: Stay Private and Still Use Fast Servers
TV has gone through a number of evolutions in the last few decades. It started with broadcast channels airing content at pre-determined times, then moved to VCRs and DVR devices that let you record shows and watch them at your leisure. Finally, the digital age introduced on-demand entertainment and internet streams, giving everyone the power to watch any TV show they wanted with just a few clicks.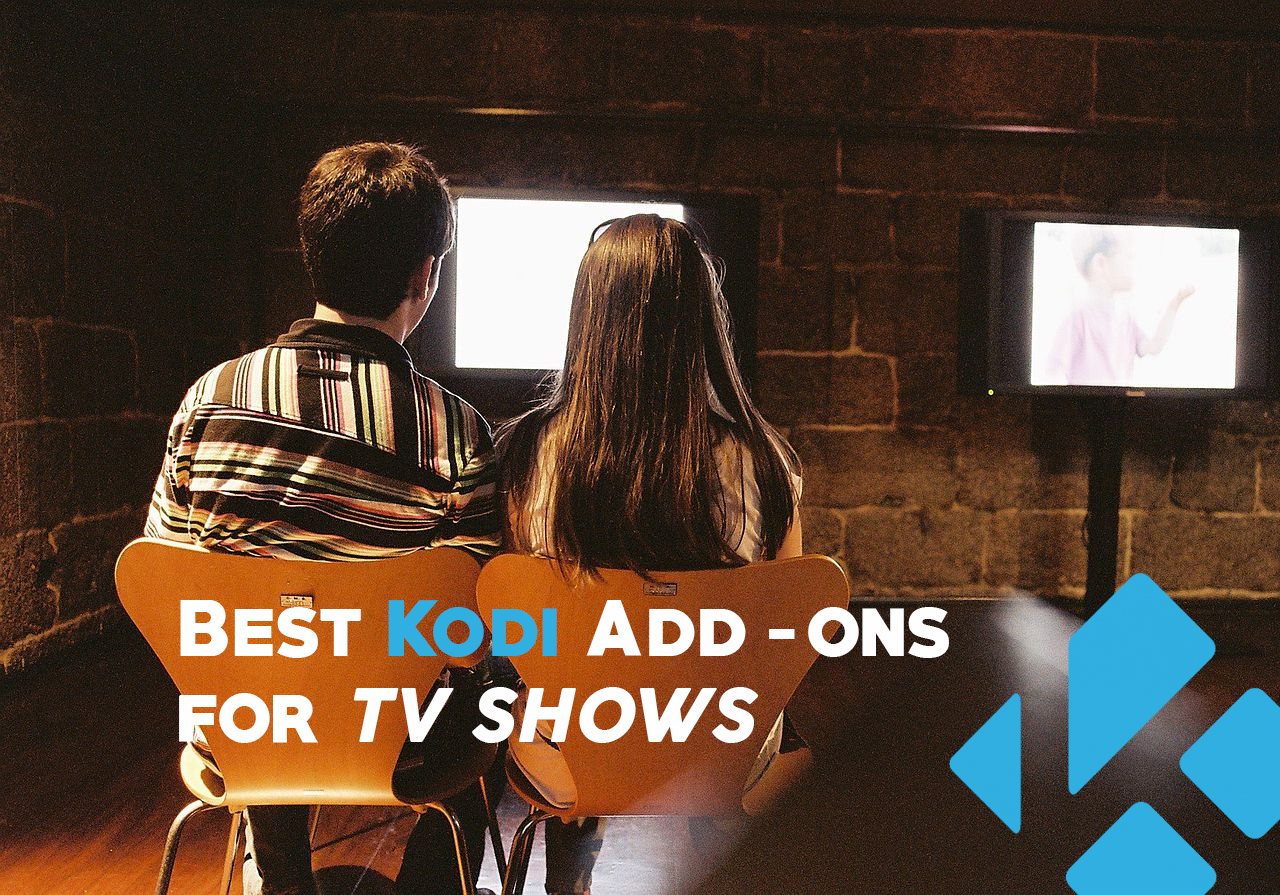 Kodi is the modern pinnacle of on-demand television entertainment. With this free media center software and the right add-ons you can access content from around the world, discovering the best new TV shows along with hidden gems you never knew existed. Below are our top picks for the best Kodi add-ons for TV shows.
30-days money back guarantee
Why Kodi users should always use a VPN
Kodi is a free, open-source piece of software that helps organize and stream media to any device you own. There's a wealth of unofficial add-ons you can install that may not be as wholesome, however. Some add-ons have been discovered linking to pirated content, prompting rights holders to threaten legal action. ISPs have responded by throttling Kodi traffic as well as sending copyright infringement notices to streaming users.
It's easy to protect yourself from these threats by using a virtual private network. VPNs create a private tunnel between your computer and the internet, encrypting everything you send so it's unreadable to outside eyes. ISPs can't tell what you're streaming or where it's coming from, ensuring your connection is as private and anonymous as possible.
In addition to making your online activities safe, VPNs also come with a few extra benefits:
Stream videos from region-blocked areas using Netflix, Hulu, HBO Go, BBC iPlayer, and more.
Unblock censored websites and gain access to geo-restricted content.
Stop websites and government agencies from tracking your activity.
Download all of Kodi's add-ons safely and securely.
Evaluating the Best VPN for Kodi
Picking the right VPN for Kodi streams can be a frightening process. There's a ton of information to sort through, everything from encryption protocols to server distributions, software availability and company reputation. To help make things easier we've provided a recommended VPN that's the best in the business for watching Kodi streams. We made the selection based on the criteria below, ensuring you'll have the fastest and most reliable connection for all your movie watching needs.
Fast download speeds – Speed is everything when it comes to Kodi streams. If your connection is sluggish, your videos will spend more time loading than playing. Always go with a VPN that places a high priority on fast servers.
Zero-logging policy – Privacy begins and ends at a VPN's logging policy. If your data is stored on logs they can be shared with third parties, including government agencies. The only way to ensure this never happens is to choose a VPN with a strict zero-logging policy.
Reputation – Trust is a major factor in choosing the right VPN. They handle all of your data and could be doing any number of things with it behind the scenes. To make sure this never happens, stick with well-respected and well-established companies that have a large customer base.
Bandwidth restrictions – Some VPNs put a cap on how much traffic you're allowed during a specific time period. If you stream a lot of TV shows through Kodi, you'll run out in a heartbeat. Unlimited bandwidth is the only way to go.
Allowed traffic – Many of Kodi's add-ons use P2P network and torrent based sources. Some VPNs block these types of transfers, which can severely cut into your streaming options.
The Best VPN for Kodi: IPVanish
IPVanish has everything you need for a fast and secure Kodi streaming experience. It all starts with a massive network of servers, over 850 in 60 different countries, each delivering great connections around the world. Traffic that passes through these servers is covered by a strict zero-logging policy, and you'll also take advantage of 256-bit AES encryption from end to end. Custom-built software offers DNS leak protection and an automatic kill switch to keep your identity a secret, as well.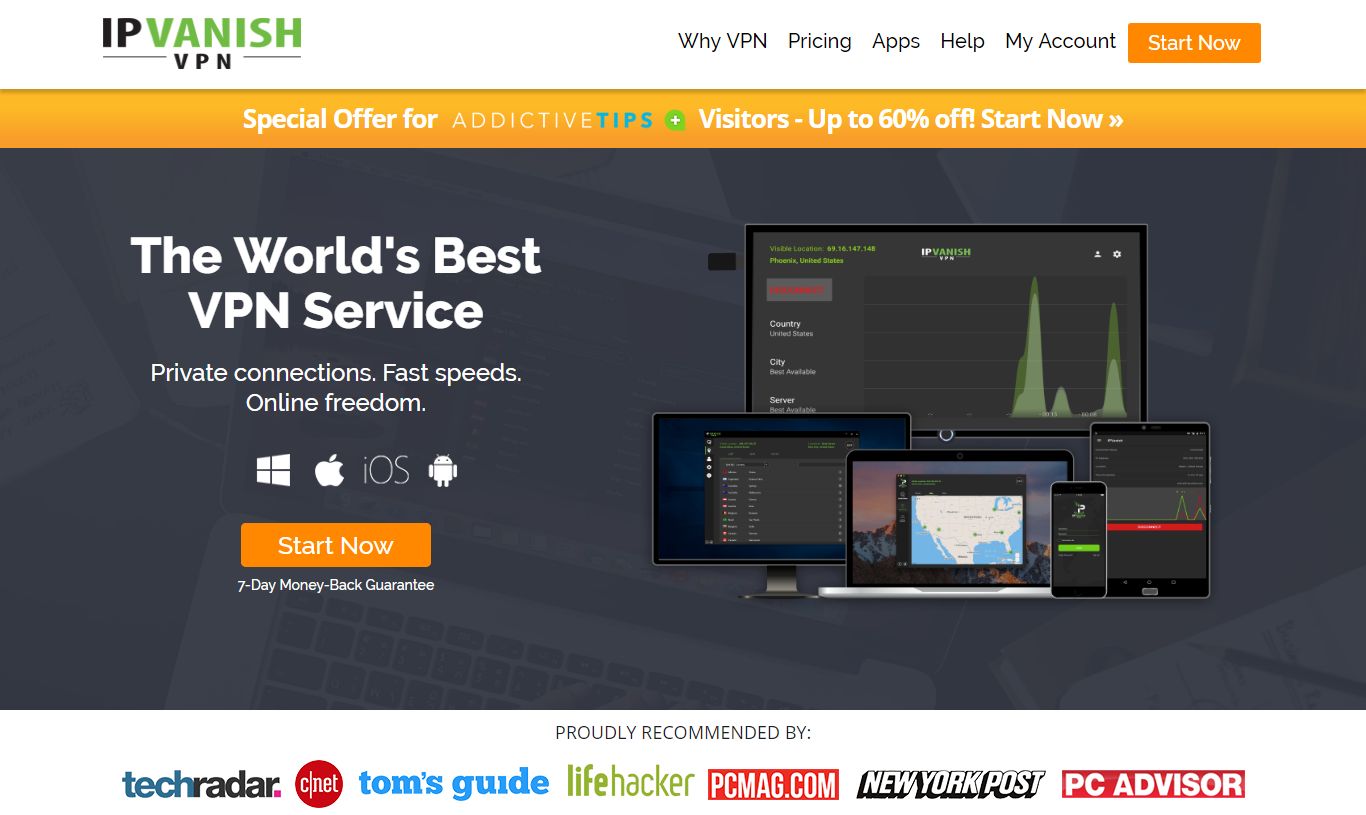 On the performance side of things IPVanish delivers a ton of value. Over 40,000 shared IP addresses means you're afforded an incredible amount of anonymity right from the start. You can use that anonymity to stream HD videos and 4K content as much as you like, all thanks to unlimited bandwidth and no restrictions on P2P networks or torrent traffic.
IPVanish's best features at a glance:
Lightweight and easy to use apps for Windows, Mac, Linux, Android, and iOS.
No speed caps and no restrictions on torrent traffic or P2P networks.
Extremely fast servers for HD video streams through Kodi.
Download torrents with full privacy and anonymity.
IPVanish offers a 7-day money back guarantee which means you have a week to test it risk-free. Please note that Addictive Tips readers can save a massive 60% here on the IPVanish annual plan, taking the monthly price down to only $4.87/mo.
How to Install Kodi Add-ons
Most Kodi add-ons are made available through repositories, zip files that collect dozens or even hundreds of add-ons into a single convenient location. This helps keep things up to date and makes it easier to discover new content. Instead of tracking down and installing every add-on you like, simply grab a repository, then pick and choose at your convenience!
Kodi offers a few different ways of installing add-ons and repositories, but we prefer the "external sources" method, as it works well across all Kodi compatible platforms. Before you can do this you'll need to change one of Kodi's settings so it can fetch files:
Open Kodi and click on the gear icon to enter the System menu.
Go to System Settings > Add-ons
Toggle the slider next to the "Unknown sources" option.
Accept the warning message that pops up.
Now that Kodi is ready to go, all you need to do is find a repository URL, then enter it into the file manager as a "source". Next, install the repo, then start digging inside for all the add-ons you like. It seems like an odd way to get new content, but after you install a few repositories you'll see just how convenient it can be. Our guides will always walk you through the process from beginning to end to make sure you never get stuck.
Note: The third party add-ons mentioned below link to a wide variety of constantly changing sources, making it impossible to verify the legality of each one. AddictiveTips does not condone or encourage any violation of copyright restrictions. Please consider the law, victims, and risks of piracy before accessing copyrighted material without permission.
UK Turk Playlists – HighQuality TV Shows and Movies
UK Turk is a powerhouse of HD TV series, movies, live sports, stand-up comedy, and so much more. The add-on is neatly divided between classic and current TV shows with all the latest episodes sectioned off for easy viewing. Diving into the current shows section you'll find a massive list of nearly 200 programs, all sorted alphabetically and ready to stream. Classic TV shows digs into the archives of the world's most beloved series and packs over 250 of them into one directory. Best of all, UK Turk is one of the more reliable add-ons for Kodi, making it an incredible resource for all your TV show needs.
UK Turk Playlists is available through the Cazwall repository, also known as Simply Caz. Follow the guide below to install Cazwall to your system. If you already have it, skip to step 14.
Please note, to install UK Turks Playlists from the Cazwall repo, you will need your version of Kodi to have the Live Resolver add-on installed. If you don't, the install will fail and the log file will tell you why it didn't go through: most likely because you don't have Live Resolver. Download the Live Resolver file and install it from ZIP, just like you do with other repos. Everything should work fine now. One last thing, because of server communication and server load, your install may fail from time to time. Just try again, for as many times needed – it works.
USTVnow – Live TV Broadcasts from the U.S.A.
USTVnow is one of the more legitimate third party add-ons for Kodi. It interfaces directly with the USTVnow website, a service designed to help military and other Americans abroad who want to watch programs from back home. USTVnow has a good selection of live broadcast channels, everything from ABC to CBS, Fox, NBC, PBS, and cable channels like Comedy Central, Syfy, and Spike, or even college football. You'll need an account in order to access the shows, but don't worry, there's a free channels plan that lets you watch the most basic content for free.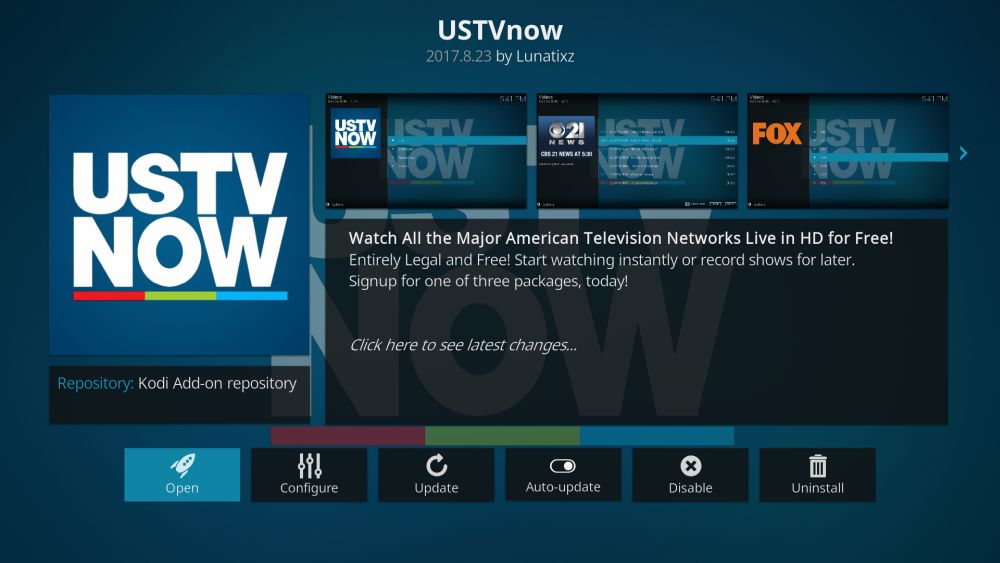 The USTVnow add-on is part of the official repository released with every Kodi download. This makes it incredibly easy to install, as you don't have to hunt down a separate repo. It also means the add-on is an officially approved part of the Kodi environment, making it one of the safest ways to enjoy live TV.
How to install USTVnow from the official repository:
Open Kodi on your local device and go to the main menu.
Select "Add-ons"
Click the open box icon at the top of the menu bar.
Choose "Install from Repository"
Choose "Kodi Add-on Repository"
Select the Video Add-ons folder.
Scroll down to USTVnow and install.
When the installation is complete, USTVnow will be available from the main add-ons menu.
Note: If you live in the U.S. or have a U.S.-based IP address you may be unable to access USTVnow through Kodi. If this is the case, use your VPN and change to an overseas server, then reload the add-on.
Bennu – Phoenix Reborn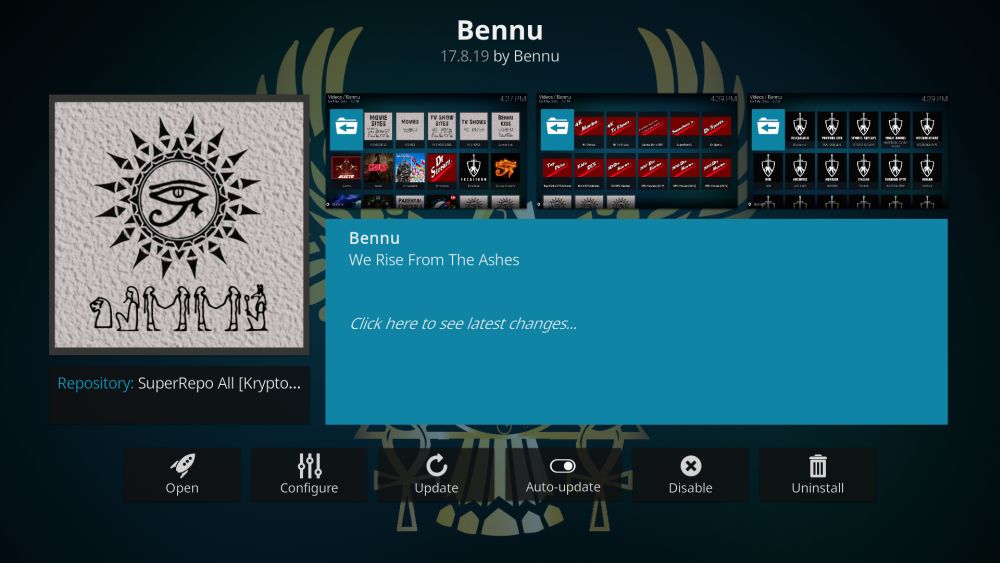 Ever since the TVAddons issues, Kodi users have been clamoring to replace one of the repository's best add-ons, Phoenix. Bennu aims to do just that. The new extension pulls together a wide variety of streams, including live TV channels, movies, full TV series, even a selection of content for kids. Its TV shows are split into three categories: soap operas, popular programs, and 24/7 streams of binge-worthy programs. All you have to do is scroll and select, then you're good to go. Bennu already has a ton of content and shows lots of promise.
To use Bennu you'll need to install the Cazwall repo, one of the better sources for the latest Bennu releases.
Elysium – All You'll Ever Need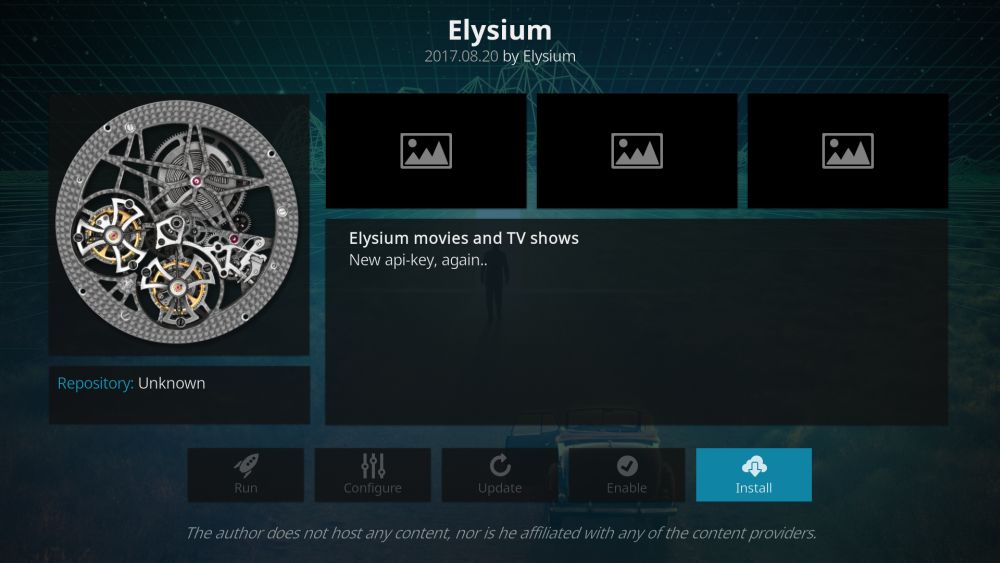 Elysium is a well-organized, content-rich add-on that makes for an amazing all-around viewing experience. The TV show selection is especially rich. As soon as you dive in you'll see over a dozen categories to choose from. The "in progress" folder has currently active shows updated on a daily basis. Featured, popular, and most voted sections help you find hot series to start your next addiction. There's also curated TV collections, genre categories, new shows, even a calendar that displays what's on-air tonight!
Elysium is available through several repositories, but one of the most reliable is Noobsandnerds.
Made in Canada – Live TV and Sports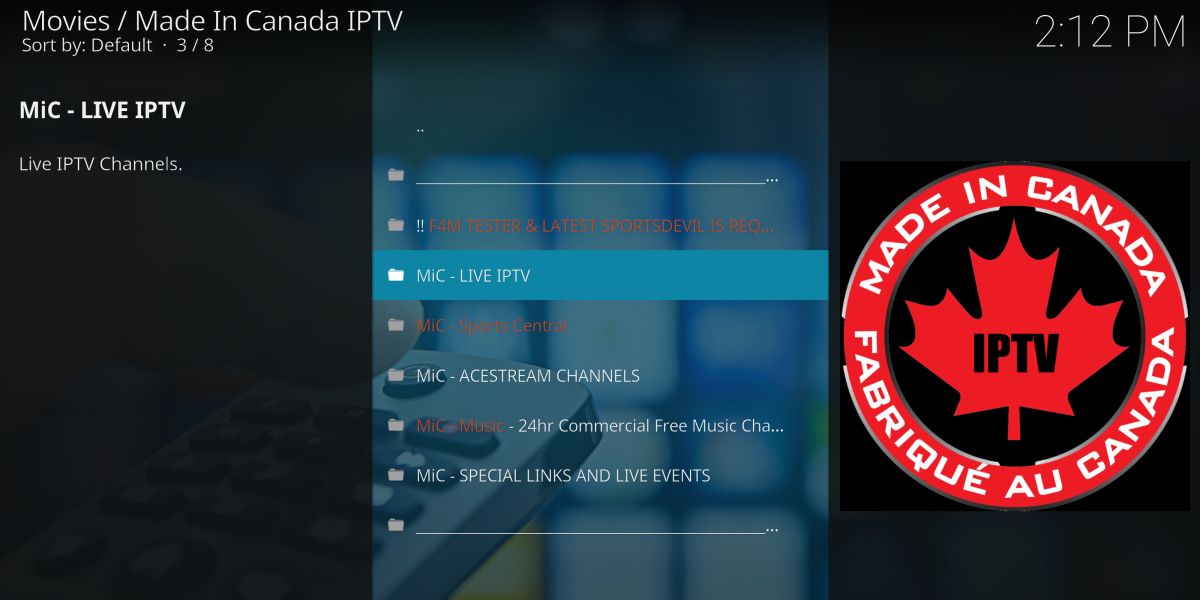 Made in Canada is one of the best Kodi add-ons for high quality TV streams. It bundles together a large number of Canadian IPTV channels that deliver a surprising amount of variety. Jump on to check CBC live news feeds, check out both English and French Canadian channels, or head straight to the list of U.S. and UK channels for even more high quality content. Everything is fast and reliable, making it an incredibly smooth TV watching experience.
To install Made in Canada, you'll need to add the Koditips repository to your device.
Is it Safe to Install Unofficial Kodi Add-ons?
The Kodi software is open-source and completely safe. Third party add-ons aren't verified or maintained by the Kodi team, however, which means they can be a little riskier to use. For the most part the Kodi community is good at keeping content free from malware and viruses. Occasionally you might bump into an unofficial add-on that does things differently, so you should always take a few precautions before downloading or streaming through Kodi.
The best way to stay safe while using Kodi is to only use reputable repository sources. These collections are maintained by dedicated teams who work to make sure nothing harmful slips through the cracks. We also download and verify each add-on featured in our articles. If they appear on the list above, they were safe at the time of writing. You should always have your anti-virus software and firewall active when installing new add-ons, of course, and when a stream begins make sure your VPN is up and running.
Conclusion
Never before have TV lovers had so many high-quality options to stream their favorite shows than with Kodi. We stand by our recommendations for the best add-ons to fulfill this purpose, but you may have your own favorites. If so, please let us know in the comments section below!